The 29 Best Outdoor Festivals in 2023, from Music and Sports to Food and Film
Celebrating everything from desert biking and alt-rock to bouldering and oyster-eating, these are some of the best outdoor festivals across the country in 2023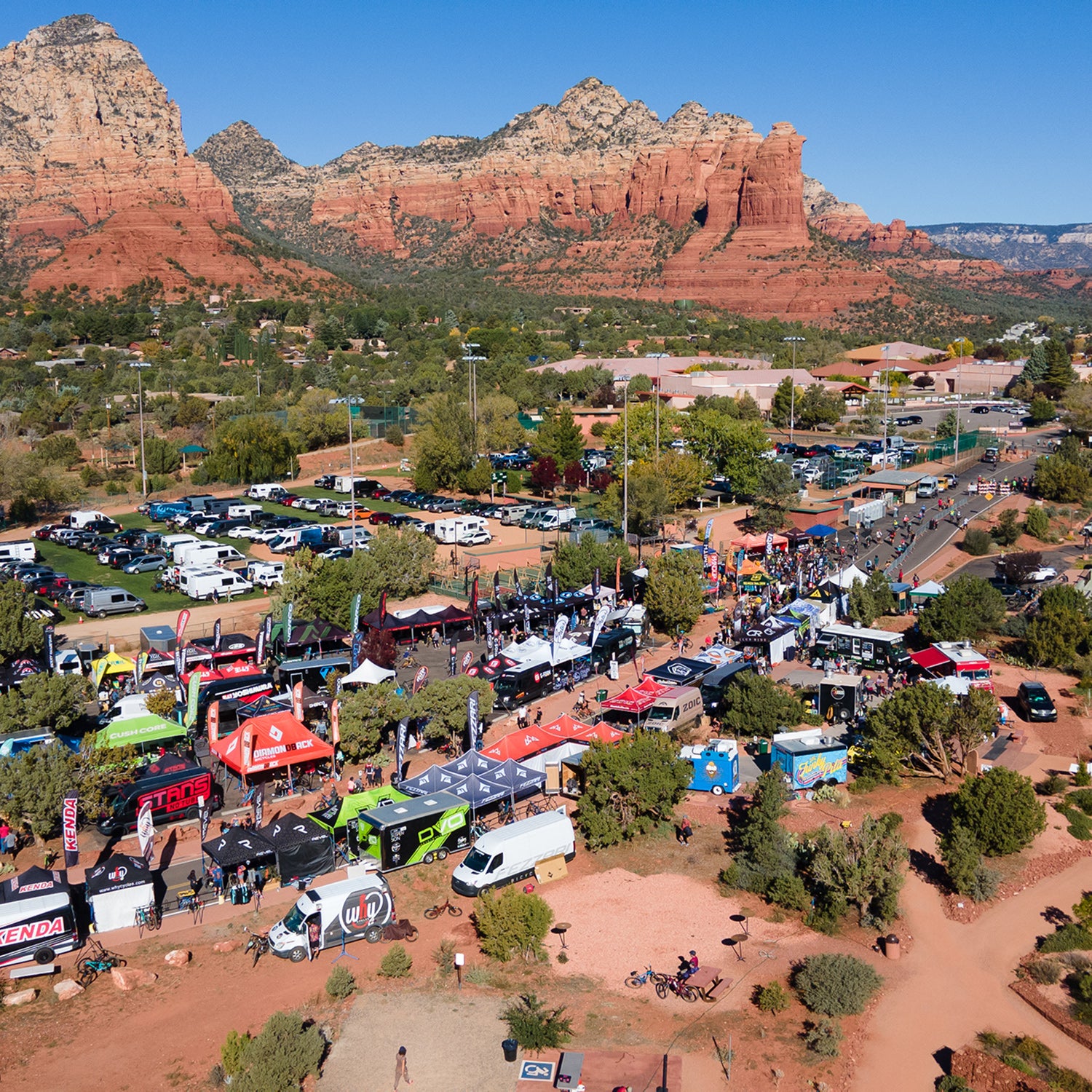 Edward Dennis
Heading out the door? Read this article on the new Outside+ app available now on iOS devices for members! Download the app.
Sure, you might feel a little party-pooped after the busy holiday season, but right now is the best time to drum up ways to fill your 2023 festival card. To help, we've pulled together our top picks for some of the most fun, varied, and can't-miss outdoor and outdoor-oriented experiences across the United States over the next 12 months. Whether you're an adventure junkie, a culture vulture, a music nerd, a party animal, a diehard foodie, or a parent of toddlers, we promise there's something entertaining here for everyone.
JANUARY
Saint Paul Winter Carnival
Saint Paul, Minnesota  / January 26 to February 5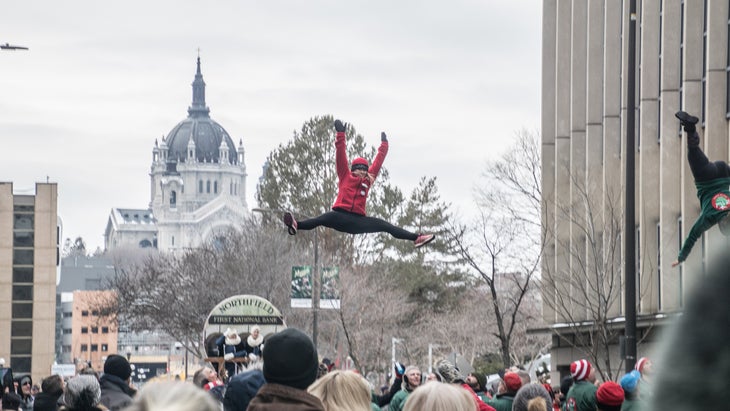 Launched in 1886, in jubilant defiance of a bunch of visiting East Coast journalists who ripped on the state capital as an uninhabitable midwestern Siberia, this frigid fete—the oldest wintertime festival in the U.S.—is a raucous celebration of the season. Ruled by an appointed King Boreas, and Aurora, Queen of the Snows, and backed by a royal court of nearly two dozen equally fantastic characters, the carnival has a vaguely Nordic, sorta Greek mythological backstory to get lost within, if that's your thing. But really, all you need to know is that Minnesotans take their winter fun seriously and are seriously competitive. If you want to play along, lace up for an icy running series, angle for bass and walleye during an ice-fishing tournament, scour the streets in a citywide scavenger hunt, join an all-ages jigsaw-puzzle contest, and flex your follicular prowess in a burly beard competition. If spectating is more your thing, enjoy a casual stroll through Vulcan Snow Park to admire frosty sculptures on display.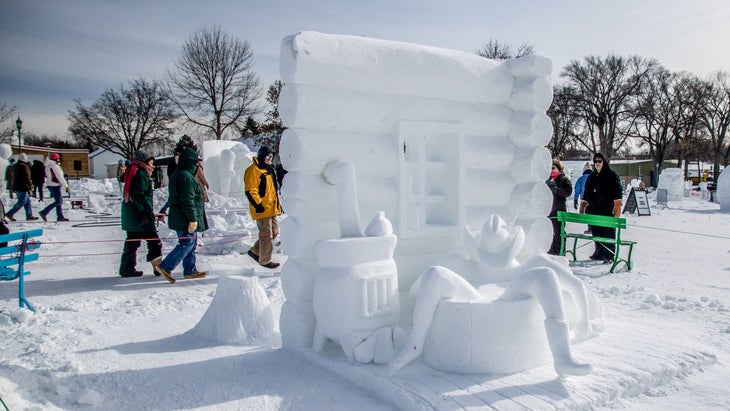 Sundance Film Festival
Park City, Utah / January 19 to 29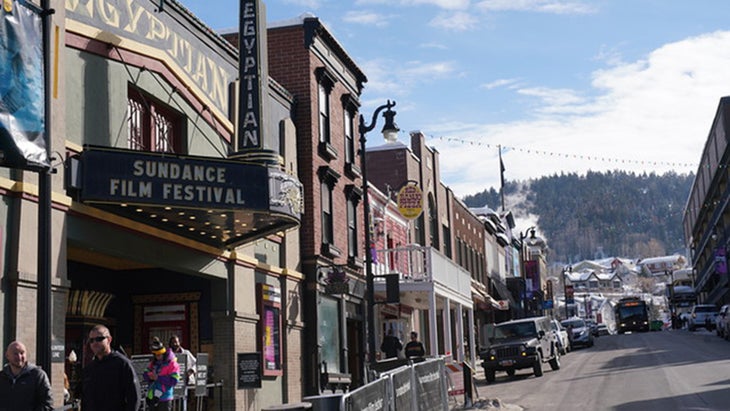 An offshoot of the Sundance Institute, the creative-arts nonprofit founded by legendary actor-director Robert Redford, this event isn't just the largest indie film fest in the nation, but one of the most venerated, awash in Oscar bait. While offerings run the topical gamut, it has always featured plenty of adventure-oriented and environmentally conscious gems—An Inconvenient Truth premiered here in 2006, and critically acclaimed documentaries like Chasing Ice, Crip Camp, and Meru have followed suit. Offscreen, a plethora of panels, parties, and meet and greets round out the action, and nearby resorts offer a powdery alternative to hours in the theater. While this year's event is the first in-person gathering after a pandemic-driven two-year hiatus, you can also screen entries from the comfort of home—although you'll be a lot less likely to bump into, say, Issa Rae or Jason Momoa when you get up for popcorn.
Honorable January Mentions:
FEBRUARY
Anchorage Fur Rendezvous
Anchorage, Alaska / February 23 to March 5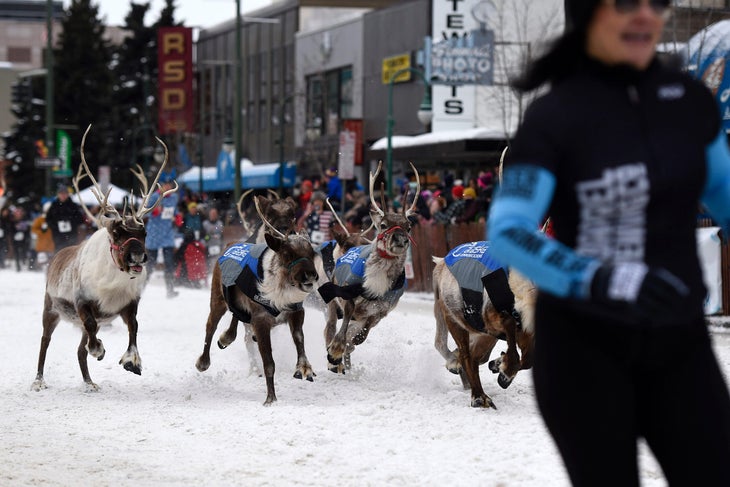 Known to its faithful as the Fur Rondy, or just Rondy, this tradition began in 1936 to mark the arrival of fur-trading season and give folks a way to shake off some cabin fever. While you can still eyeball (and purchase) an array of pelts during its three-day trade fair, this is your chance to interact with locals in lively ways over ten days. Find a spot to watch any stage of the multiday World Championship Sled Dog Race, get out there and try to beat Dasher and Dancer in a footrace during the Running of the Reindeer, or sidle up to see a bag-flinging throwdown at the Alaska Cornhole Championships. For something quirkier, strap on a pair of classic metal snowshoes for a chilly softball tourney, or wrangle your best wrangle your best toilet-on-skis (people are literally plopping toilets and outhouses onto a pair of skis for this race) and go for gold in the World's Largest Outhouse Race.
Fire and Ice Winterfest
Lava Hot Springs, Idaho / February 4 to 5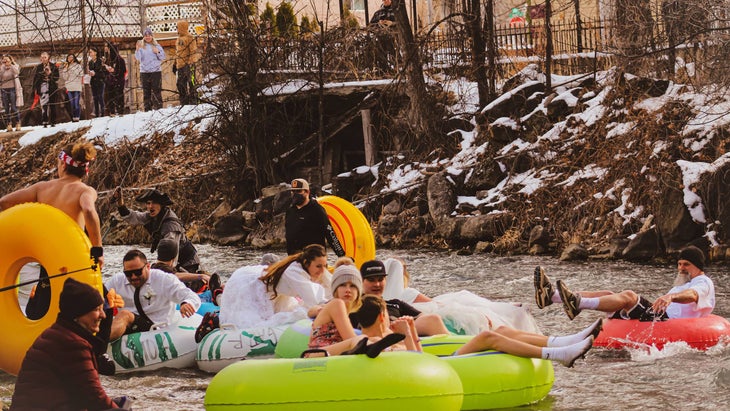 If you're the kind of person who enjoys chugging Fireball and getting cozy in the sauna after a day spent frolicking in the snow, make a beeline for southeastern Idaho to experience both extremes of the temperature scale. The festival's Polar Bear Float involves donning a wacky costume, then settling in on an inflatable for a brisk quarter-mile cruise down the Portneuf River. Luckily, opportunities abound to thaw out and relax with cozier pursuits, such as wine-tasting events, a torch-light ski run, and a fire-dancing show. To experience the best of both worlds, however, brave souls strip down to their Speedos for the Running of the Bulls, a mad dash through town that ends, mercifully, with a sizzling soak at the natural hot-spring pools.
Honorable February Mentions:
MARCH
Flash Foxy Climbing Festival
Bishop, California / March 17 to 19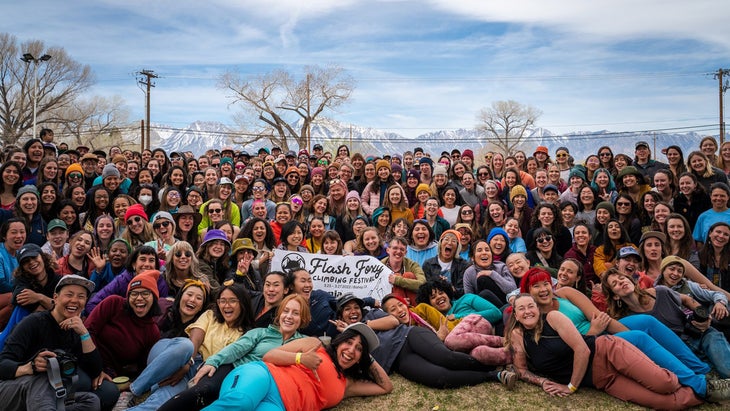 What was created in 2016 as a small gathering for female rockhounds has evolved into a celebration of community and climbing that now includes genderqueer, gender nonconforming, and nonbinary people. The main draw of this festival is, of course, the excellent climbing scattered around the eastern Sierra's jaw-droppingly scenic Payahuunadu region (also known as the Owens Valley), with clinics and workshops offered for all levels of experience. The event maintains deep ties to the local Bishop Paiute community and area businesses and organizes beneficial stewardship projects such as crag clean-ups.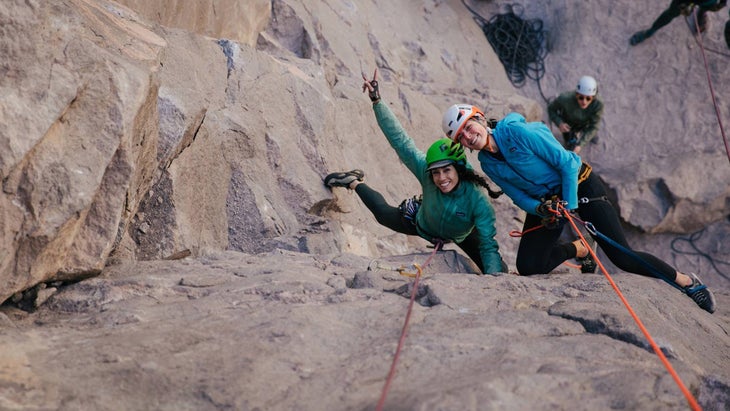 National Cherry Blossom Festival
Washington, D.C. / March 20 to April 16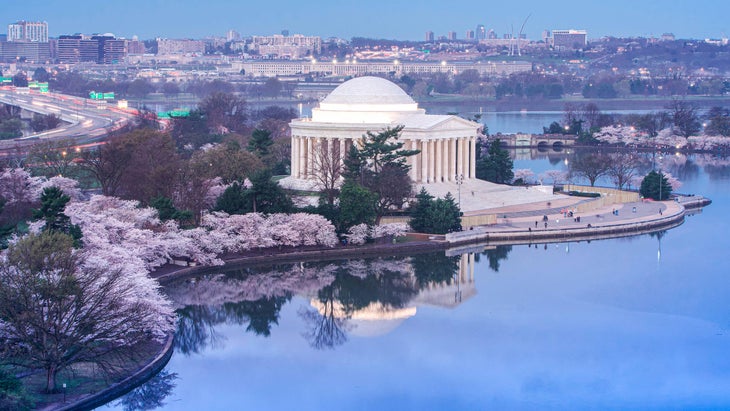 Banish the winter blahs with a trip here to witness the vibrant emergence of spring, as nearly 4,000 cherry-blossom trees around our nation's capital hit their pretty peak in a massive explosion of pink and white blooms. A 2.1-mile loop around the Tidal Basin reservoir puts you right in the floral action, but peel yourself away to revel in the sights and sounds of the PetalPalooza arts and music shindig, admire a different kind of colorful display at the Washington Monument's Blossom Kite Festival, and check out various cultural happenings around town that celebrate the long history of goodwill between the U.S. and Japan. In fact, the seeds of this whole petal-peeping gala were planted way back in 1909, when Yukio Ozaki, mayor of Tokyo, gifted 2,000 trees to Washington, D.C., to honor the countries' growing friendship.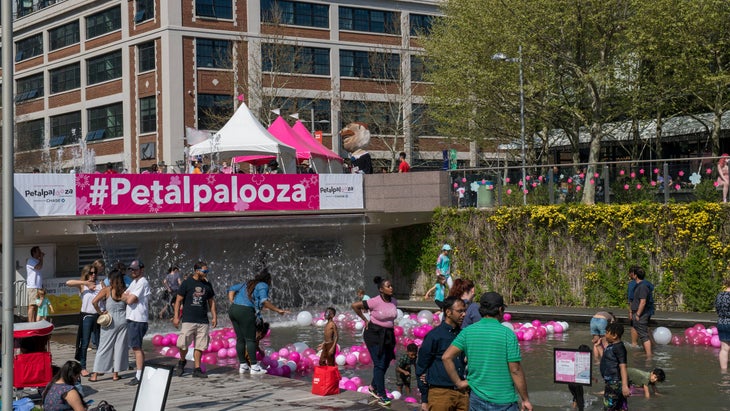 Sedona Mountain Bike Festival
Sedona, Arizona / March 3 to 5
Not that you need an excuse to pull out your mountain bike, but there's no better place to bid adieu to the dreary gray of a long winter than the sun-soaked red rock of Sedona. A loaded schedule of group rides at this event presents the perfect opportunity to explore the nearly 250 miles of world-class singletrack laced throughout the nearby Coconino National Forest, with many trails launching straight from town. At night, kick back with your new dirt-covered besties in a craft-beer garden, settle in for a film screening, or boogie down at a concert. Ride hard, party hard.
Honorable March Mentions:
APRIL
Gathering of Nations Powwow
Albuquerque, New Mexico / April 27 to 29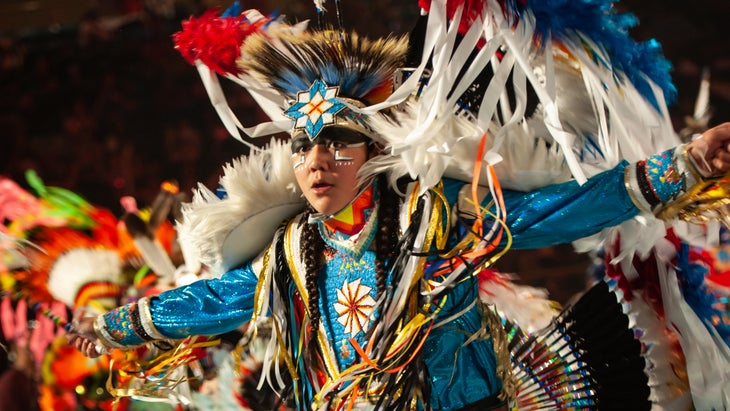 Once a small, hyperlocal celebration of culture, the Gathering of Nations has grown to become the largest powwow in North America, drawing upward of 700 tribes from the United States and Canada. While the traditional drummers, singers, and dancers are all Indigenous, everyone is welcome to enjoy festivities that include contemporary music, an extensive arts and crafts market, a Horse and Rider Regalia parade, and the Miss Indian World pageant, which is less a contest than a means of preserving and elevating Native heritage. Come here hungry—the food court brims with tasty bites, including favorite dishes like mutton stew and fry-bread tacos.
High Water Festival
North Charleston, South Carolina / April 15 to 16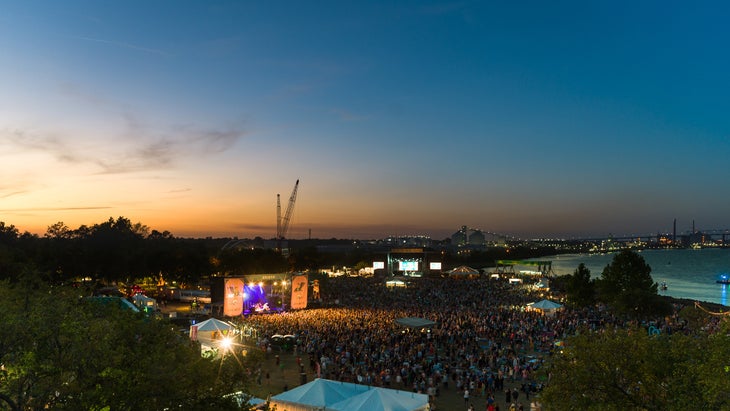 Held at the bucolic Riverfront Park on the banks of the Cooper River, and helmed by the Carolinian alt-country duo Shovels and Rope, this intimate indie-music festival is now in its fifth year. The lineup is small but mighty, with an emphasis on rootsy, homegrown sounds and regional acts. This year's marquee names include Wilco, Angel Olsen, Big Boi, Orville Peck, and Lucius. Low Country cuisine shares top billing; if you're feeling adventurous, sign up for an oyster-education class and learn how to shuck and slurp the briny mollusks.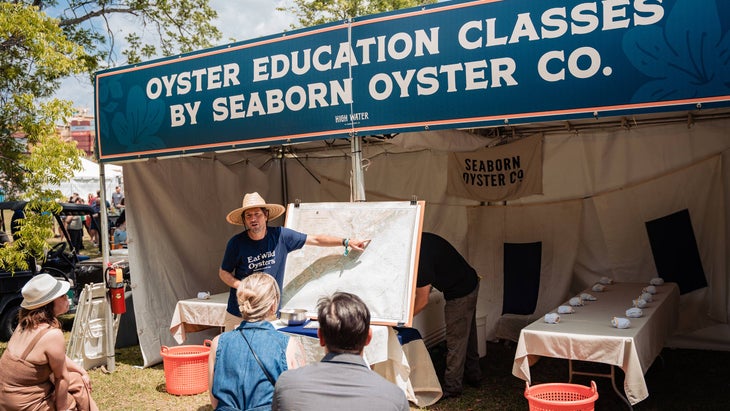 Vermont Maple Festival
Saint Albans, Vermont / April 28 to 30
Looking for something sweet, sticky, and traditional as heck? Tap (ahem) into the all-ages fun at this 50-plus-year-old celebration of "the official flavor of Vermont." The good stuff takes center stage, of course, with cooking and maple-syrup contests, and plenty of opportunities to indulge in divine confections. This is also an active event, where you can lace up for the 8.5-mile Sap Run, stroll through a maple-themed art show, enjoy kid-friendly entertainment at Taylor Park, and tour a family-run sugarhouse that boils up liquid magic from nearly 30,000 local trees.
Honorable April Mentions:
MAY
Dominion Energy Riverrock
Richmond, Virginia / May 19 to 21
The western U.S. steals a lot of the outdoor-rec thunder, but this massive music-and-adventure sports bash serves it up hot in the Mid-Atlantic. Spread across various parks and trail systems along the roiling James River, Riverrock cranks up the fun with a stacked schedule of trail races, climbing contests, mountain-bike competitions, and fishing tourneys. You can also peruse art installations, take in an indie-rock-heavy concert lineup, watch doggos catch some vert at the Subaru Ultimate Air Dogs event, give back through stewardship events, stretch out with some yoga, or try your hand at activities including kayaking and slacklining.
Mountainfilm
Telluride, Colorado / May 25 to 29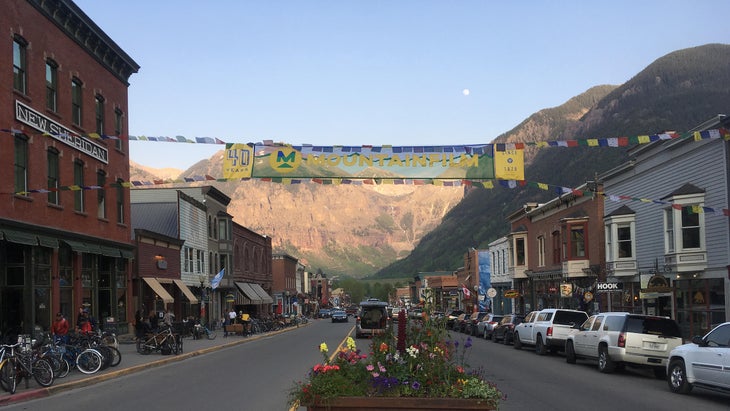 If there's one word that appears more times than you can count on the Mountainfilm website, it's "inspiring." But honestly, that's an apt descriptor. Once focused squarely on mountain-based adventure storytelling, the festival has grown into a much broader showcase for indie films from around the world that uplift spirits and spark thought and action. While screenings pop up around the country, it's worth showing up in person for the flagship event to bask in the (sorry) inspiring company alone. Past speakers have ranged from environmental activist Julia Butterfly Hill to groundbreaking climber Lynn Hill, acclaimed climate author Bill McKibben, and Arctic photographer Subhankar Banerjee.
New Orleans Jazz and Heritage Festival
New Orleans, Lousiana / April 28 to May 7
Don't let the name fool you—you don't need to own a single Miles Davis record to enjoy this sonic buffet. It might sound like sacrilege, but even though the lineup usually includes a pretty stellar top billing (last year The Who, Willie Nelson, and Lionel Ritchie headlined), the true heart of this musical bacchanal beats on its smaller stages and in tents, where local legends and knockout upstarts abound. Sway to the good vibes at the gospel tent, get down at the larger stages to regional icons like Big Freedia and the Preservation Hall Jazz Band, and if you're feeling frisky, wander over to the Fais Do Do area and let someone sporting a crawfish-patterned outfit guide you on the dance floor. Between sets, fuel up on a smorgasbord of southern delights that might just be the best grub on offer at any music festival in the States.
Honorable May Mentions:
JUNE
GoPro Mountain Games
Vail, Colorado / June 8 to 11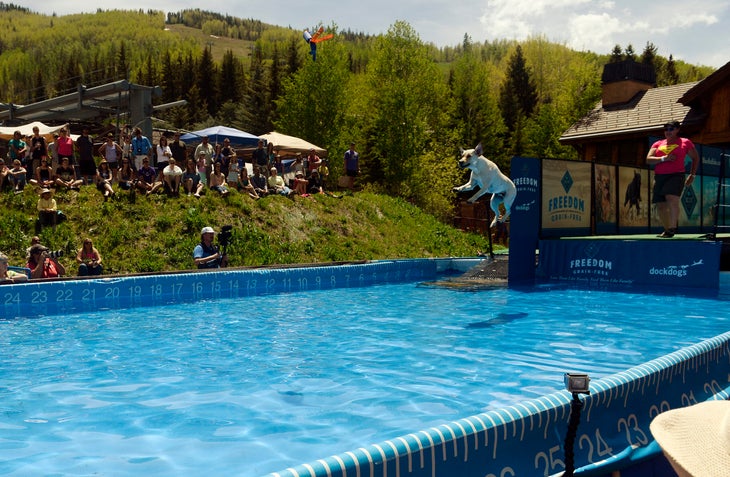 For most folks, the word Vail is probably synonymous with epic powder days or back bowls, but the Mountain Games prove that playtime in the Rockies shines just as brightly in the summer sun. Pros and amateurs alike compete in almost a dozen different disciplines—mountain biking, climbing, paddle sports, trail running, fly-fishing, and even disc golf—angling to nab a share of the $130,000 kitty. But the fun isn't limited to humans; adventure pups can test their mettle in trail runs, swimming events, a DockDogs Big Air competition, and a slew of canine-friendly parties. In the evenings, the Mountains of Music concert series draws rootsy headliners; last year's picks included Gov't Mule, Grace Potter, and the Wailers.
Waynestock Outdoor Adventure and Music Festival
Fayetteville, West Virginia / June 8 to 11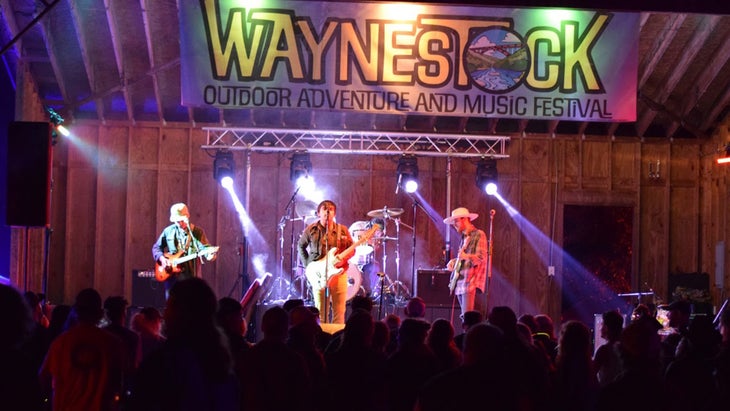 This down-home affair, which kicked off in the late 1990s as nothing more than a bunch of friends (including, you guessed it, a guy named Wayne) enjoying an annual rafting trip, is now a celebrated jamboree, a mash-up of a backyard Bonnaroo and an adventure-sports summer camp. A ticket snags you a spot at a communal campsite, where festivities involve nightly bonfires, local brews, and an assortment of regional bands that tend toward the jammier side of things. During the day, choose your own adventure, with options on or near the New River Gorge. Set off on your own or sign up with local guides to tackle the area's famed whitewater, rip through the forest along endless singletrack, or rope up to ascend one of the estimated 3,000 routes lining the steep sandstone cliffs. They don't call it the Endless Wall for nothing.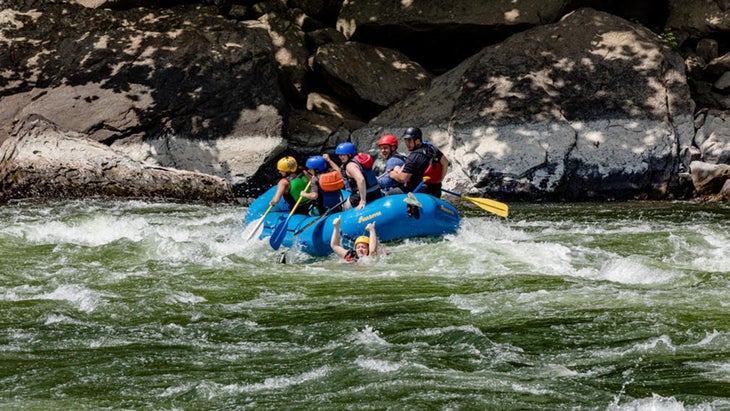 Honorable June Mentions:
JULY
Lumberjack World Championships
Hayward, Wisconsin / July 20 to 22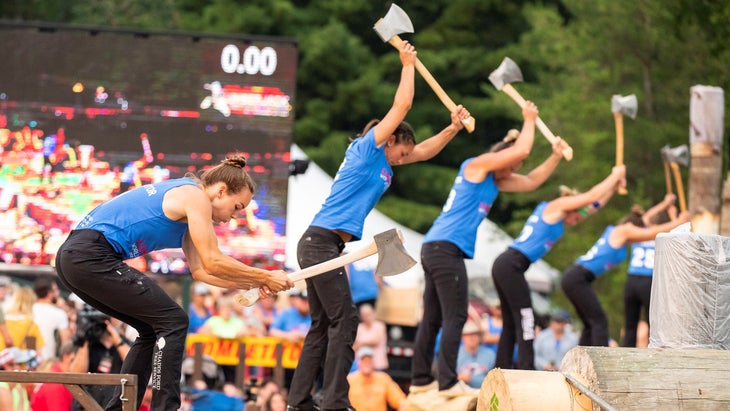 Each summer, flannel-clad masses flock to a tiny lumber town in the Wisconsin Northwoods to get their Paul Bunyan on at this celebration of all things timber. It's high profile enough that major TV networks often stream the action, as the Olympics of the Forest draws an international field of ax-wielding competitors vying for a share of a roughly $50,000 pot in woodsy tests of agility, precision, and brute strength. There's chopping and sawing, of course, but the biggest treat for spectators might be watching folks speed-race up 90-foot-tall cedar poles or attempt to outlast their nemeses in a wet and wild log-rolling competition.
Newport Folk Festival
Newport, Rhode Island / July 28 to 30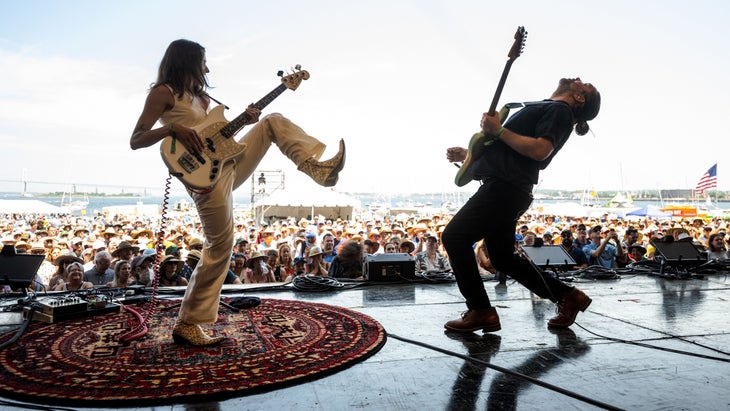 Held at the idyllic harborside Fort Adams State Park, this historic concert series pays homage to the countless forms of American folk music. That doesn't mean you're in for pure plucking; after all, this is the festival where Bob Dylan plugged in to go electric for the first time, much to the annoyance of purists. The original iteration featured icons like Pete Seeger, Odetta, and a then teenaged Joan Baez in her debut performance. Some of the legends still pop up today—and part of the fun is that they're not always announced in advance. Last year's event featured a surprise festival-closing appearance by Joni Mitchell in her first performance in over two decades. Grab tickets early; they often sell out before the lineup is revealed.
Honorable July Mentions:
AUGUST
Maine Lobster Festival
Rockland, Maine / August 2 to 6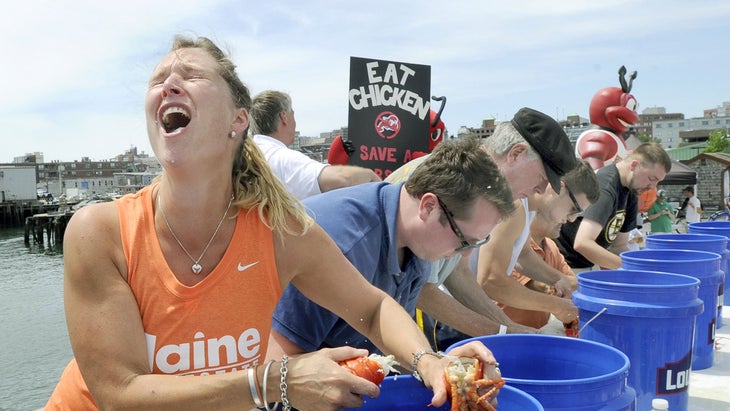 There might be no better place in the world to stuff your face with an ocean's worth of crustaceans than this blowout on the North Atlantic seaboard. Put down stakes at the seductively named Main Eating Tent, where thousands of pounds of fresh Maine lobster are served every which way—boiled in butter, swirled into a bisque, stuffed into gooey mac and cheese, spread across a toasted roll, and more. If you're feeling creative, live out your best Iron Chef fantasies as part of the amateur seafood-cooking contest. Then take a break at the Marine Experience Tent, where you can handle and learn about local sea critters, or cheer for your favorites at a pageant where competitors vie for the coveted title of Sea Goddess. Shake off the lobster overload by signing up for the festival's fun-run series, or try your luck at the International Great Crate Race, where participants attempt to blast across a line of wobbly floating boxes without tipping into the drink.
Refuge Outdoor Festival
Carnation, Washington / August 18 to 20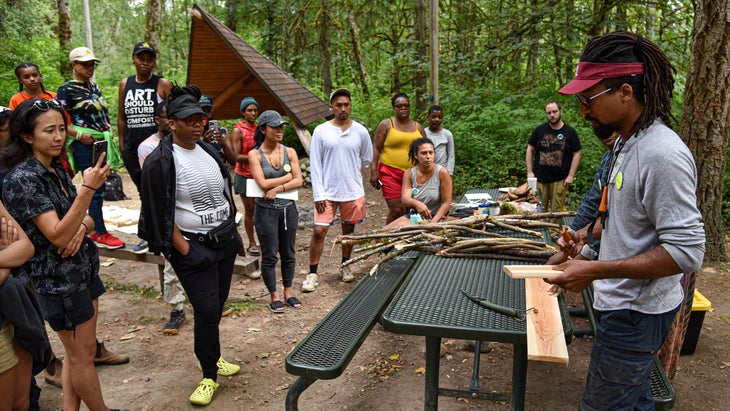 Held at Tolt MacDonald Park in the mountain-ringed, river-cut Snoqualmie Valley east of Seattle, this three-day campout celebrates the diverse experiences of Black, Indigenous, and other people of color in the outdoors, although it's open to all. The events on tap honor the myriad ways we find connection in nature, with a schedule that carves out equal space for those who crave adrenaline or those who would rather seek a quieter experience. Tons of traditional recreation activities are on offer, including mountain biking, hiking, fishing, stargazing, and birding, but attendees can also get their groove on at a silent disco or join an array of workshops on outdoor skills, poetry, and spirituality. Just like with any campout, however, the secret sauce is the community formed around the campfire each night.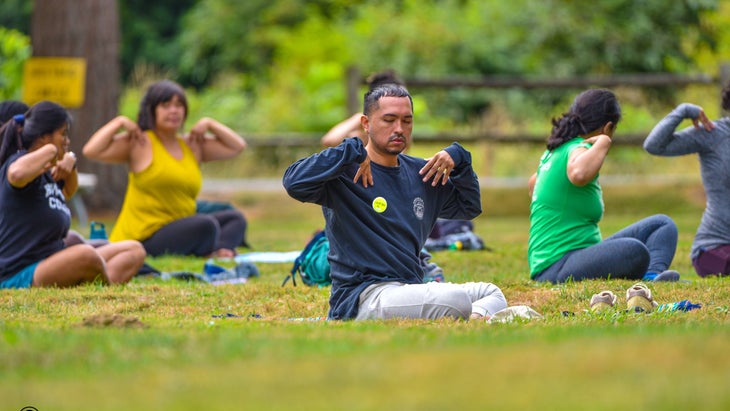 Honorable August Mentions:
SEPTEMBER
Afropunk Festival
Brooklyn, New York / TBD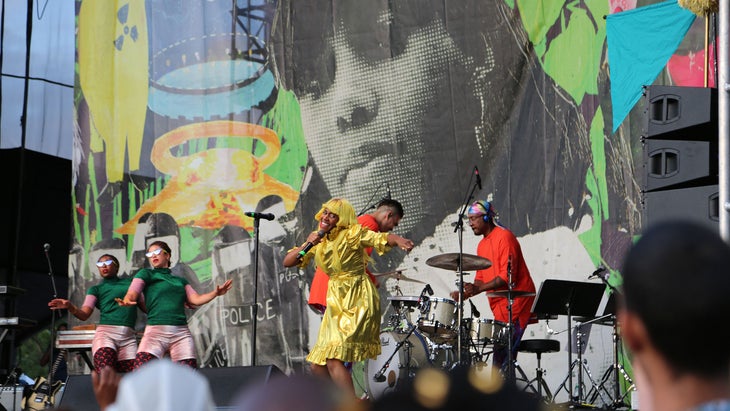 Inspired by a 2003 documentary film of the same name that explored Black punk-rock culture, this arts-and-music festival transcends boundaries to celebrate Blackness in all its forms. While you'll still spot plenty of guitars on stage, the eclectic lineup has formerly included genre-busting performers like Erykah Badu, the Roots, H.E.R., Doechii, and Janelle Monae. Between sets, indulge in a massage, stretch out in a yoga class, join a meditation practice, shop in a massive craft market, take a drum lesson, or just post up with a drink and admire the mind-blowing fashions on parade.
Aloha Festivals
Oahu, Hawaii / TBD
Forget winter break—the best time to visit Hawaii is in September, when the archipelago vibrates with aloha spirit during a monthlong, statewide celebration of culture and heritage. While dozens of events happen around the islands, the three signature happenings take place in Honolulu. The Royal Court Investiture kicks things off in old-school style with a coronation that pays homage to Hawaiian nobility of yore. Choose a lei, browse traditional crafts, and snack on tasty grindz (street food, in Hawaii) at Waikiki Hoolaulea, a massive block party that shuts down the beach's main drag. Head back later for the Floral Parade, where in a centuries-old practice, P'au riders pass by on horseback, their long skirts billowing in a blaze of color.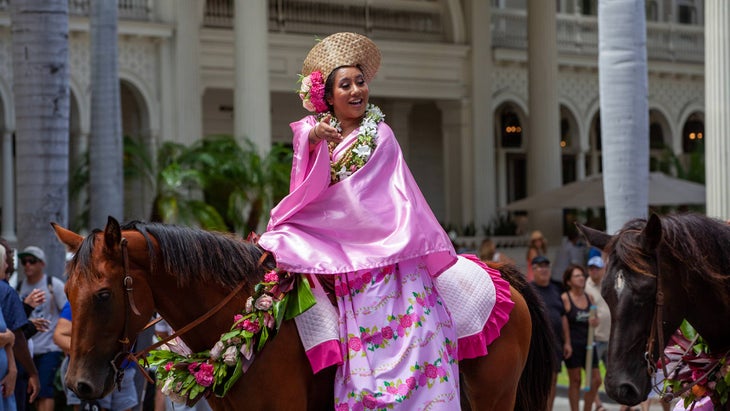 Ohana Festival
Dana Point, California / September 29 to October 1
You might not be able to hear them over the music, but the crashing waves of the Pacific serve as backdrop for this three-day celebration of sun and sound, held at SoCal's Doheny State Beach. The lineup is usually pretty heavy on indie and alt-rock—which should come as no surprise, since it's curated by Pearl Jam frontman Eddie Vedder.. Considering that last year's headliners included Stevie Nicks, Jack White, and Pink, however, the offerings are eclectic enough to give most festival-goers a reason to head-bob. Train your ears on something a little different at the Storytellers Cove stage, where conservation-minded adventurers, artists, and athletes share inspiring tales; past speakers have included freediver Kimi Werner and pro surfer Greg Long. At the end of the day, your ticket dollars go to an array of local and national nonprofits working toward environmental and social justice.
Honorable September Mentions:
OCTOBER
Dirtybird Campout
Modesto, California / TBD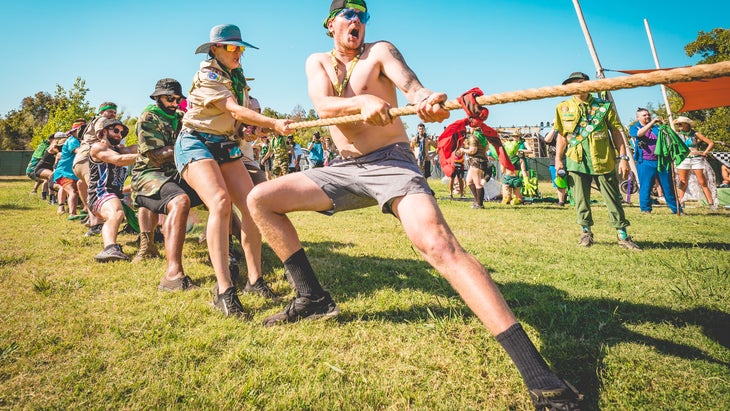 If you always wanted to attend summer camp as a kid—and don't mind doing it a few decades later—here's your chance. This rowdy bacchanalia, with every action set to a backdrop of thumping music, is something like what you'd get if you crossed Wet Hot American Summer with an EDM festival. Campers are faced with a wide array of ways to pass the time, from traditional camp activities (see: capture the flag, kayaking, archery, making friendship bracelets) to those that are a bit more inventive, such as twerking classes, drag shows, lap-dancing contests, and an opportunity to wake and bake with your favorite counselors at the Ganja Garden.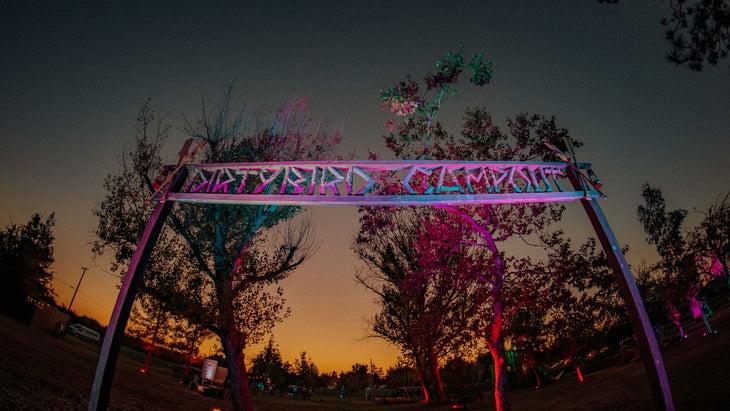 Hardly Strictly Bluegrass Festival
San Francisco, California / TBD
Funded by a banjo-loving venture capitalist who just wanted to bring a little finger-plucked joy to Bay Area music lovers, this might just be the best darn absolutely free, completely noncommercial concert event in the world. While acclaimed folk stars like Emmylou Harris, Gillian Welch, and Buddy Miller have graced its stages, the "hardly" in the fest's name alludes to the fact that the genres aren't limited to just bluegrass. Grab some friends, spread out a blanket, and settle in for a series of sonic delights. Past artists have included Henry Rollins, Big Freedia, Elvis Costello, and M. Ward.
Salmon Days
Issaquah, Washington / October 7 to 8
They say you can't go home again, but try telling that to the thousands of Chinook, coho, and sockeye salmon that swim back upriver each year to spawn in the cool waters of Issaquah Creek, east of Seattle. The whole town turns out to revel in their return with a family-friendly roster of events that include a welcome parade, fish hatchery tours, fun runs, a DockDogs competition, and an aquatic-themed sidewalk chalk contest. If you can stomach the thought of noshing on these hometown heroes, the local Kiwanis Club also hosts a barbecue of alder-grilled salmon.
Honorable October Mentions:
NOVEMBER
Blk Out Retreat and Boulderfest
Chattanooga, Tennessee / TBD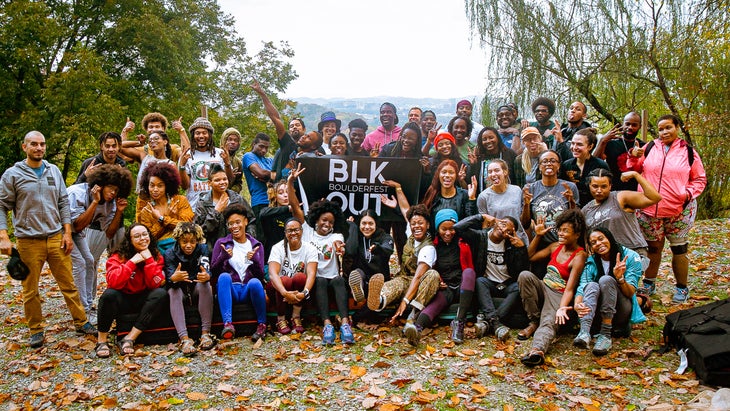 Tiffany Blount founded the Black Girls Boulder climbing club as a way to create community and draw more Black women into the sport; the Blk Out Retreat and Boulderfest builds on that promise. Open to all, but centered on Black climbers of all genders, the beginner-friendly event takes place in and around the Crash Pad, an adventure-oriented hostel in downtown Chattanooga. Attendees can hop a shuttle to the Wauhatchie Boulders for guided climbing, attend outdoor-film screenings, share in a group dinner, pitch in with stewardship projects, and join conversations and workshops to build skills and open horizons.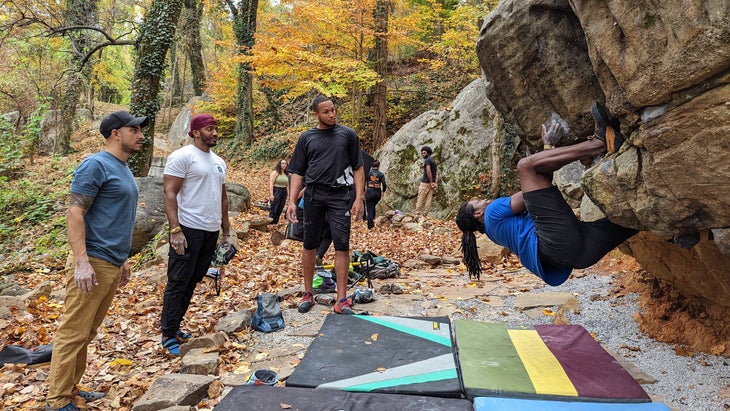 Florida Seafood Festival
Apalachicola, Florida / November 3 to 4
Billed as the state's oldest maritime event, this festival of the fruits de mer takes place on the Gulf of Mexico, in a town that touts itself as the Oyster Capital of the Southeast. That's good news for bivalve lovers, who descend in droves to shuck and slurp. Beyond that, choose from a range of gustatory delights like fried shrimp, crab cakes, steaming paella, and boiled crawfish. Take a break from stuffing your maw at a host of family-friendly events, including a parade, a blessing of the local fleet, the Redfish Run 5K, and Blue Crab Races, where the crustaceans make a mad dash for glory.
Honorable November Mentions:
DECEMBER
Indio International Tamale Festival
Indio, California / December TBD
It's best to arrive at this sprawling street fair, billed as the largest tamale festival in the world, with an empty stomach. Unlike food events where celebrity chefs draw big crowds, the stars here are everyday people, with street vendors and home cooks alike slinging thousands of sweet, savory, and salsa-smothered masa creations. It'll be tough to pry yourself away from their steamy wares, but a host of distractions provide (almost) equal temptation. Enjoy dozens of performers on stages scattered around town, cheer on masked luchadores competing in traditional Mexican wrestling matches, and try not to lose your lunch while whooping it up on an array of carnival rides. Stick around for the Mercadito de Noche, a night market that sparkles with holiday light displays.
Ullr Fest
Breckenridge, Colorado / TBD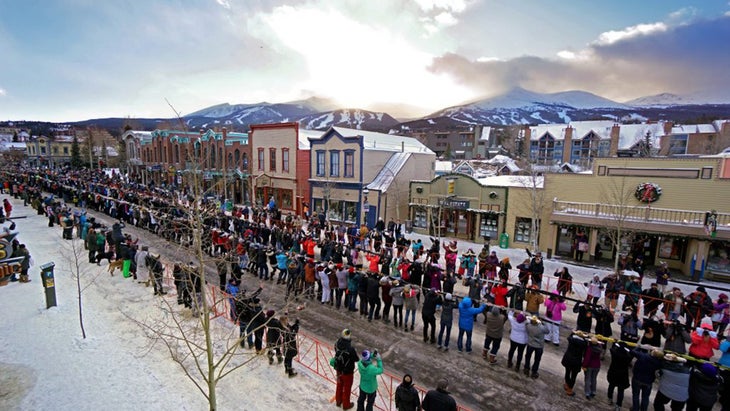 Your local weather anchor might read the forecast, but only the mighty Norse god Ullr knows the score. Each year the wintry faithful don Viking helmets and raise a glass to praise his glory in hopes of a ski season for the record books. While the mythology might seem a little suspect, the partying is solid, especially when you consider the event organizers' 2022 quest to draw over 1,300 people to partake in the world's longest shotski. There are also comedy shows, an ice-skating extravaganza, and a parade, where inventive float builders have a chance at a $1,000 prize. Remember, though—this whole thing is about honoring the mighty Ullr; be sure to toss a Christmas tree on the fest's ritual bonfire to appease him so that your calendar may be stacked with endless powder days.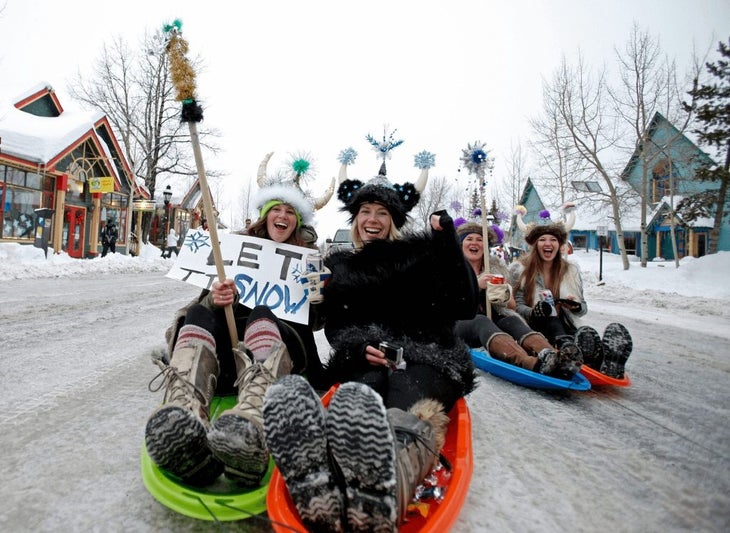 Honorable December Mentions:

Shawnté Salabert is a SoCal-based outdoor and travel writer who generally prefers listening to sweet birdsong instead of thumping bass while out in nature. That said, she's been a music festival nerd since the tender age of five, when she caught her first concert (Huey Lewis and the News) at Milwaukee's 55-years-strong Summerfest.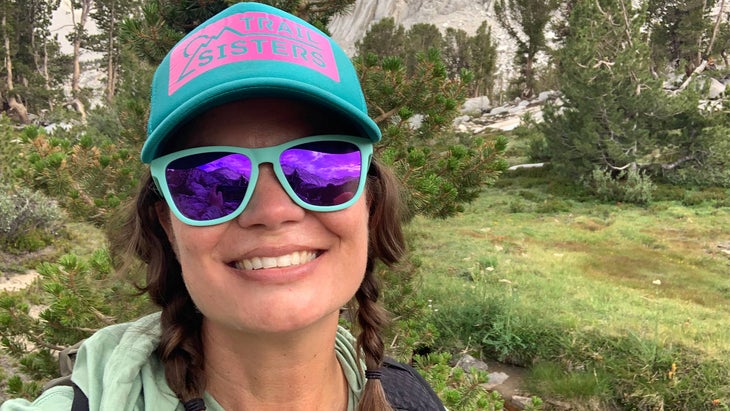 Lead Photo: Edward Dennis