The 26 Best Snowshoeing Trails in the U.S.
Explore America's favorite winter wonderlands on these scenic routes, which range from beginner to expert terrain
Heading out the door? Read this article on the new Outside+ app available now on iOS devices for members! Download the app.
This season transforms our favorite outdoor spaces into wild winter wonderlands, and snowshoeing offers one of the most heart-pumping and affordable tickets to the show. Even better, learning to snowshoe is a cinch. Here are the best trails in the U.S., selected based on their sights and scenery and grouped by their level of expertise. Don't miss our list of best snowshoes to gear up for winter trail fun, too.
Beginner
1. Sallie Barber Mine Trail, Colorado
There's snowshoeing to stunning viewpoints, and then there's snowshoeing to abandoned 1880s-era mines. Breckenridge's Sallie Barber Mine Trail is a three-mile out-and-back that promises a solid and scenic workout. Snowshoers gain 400 feet of elevation along the route, which starts at Highway 9. After mile one, be on the lookout for the main attraction: zinc-sulfide mining remnants, such as an ore bin, with interpretative signs detailing the area's history.
2. Cooper River Trail, Washington
Soak up some Pacific Northwest winter vibes via this snowy trail through the Snoqualmie region. Its eight miles follow the curves of its namesake river out to Cooper Lake. With 400 feet of elevation, expect to sweat, but the old-growth forest of firs, cedars, and pines make the heart-pumping miles well worth it. This trail starts from the Salmon la Sac parking area, two hours east of Seattle, and features mountain and river views, with potential wildlife sightings.
3. Trillium Lake, Oregon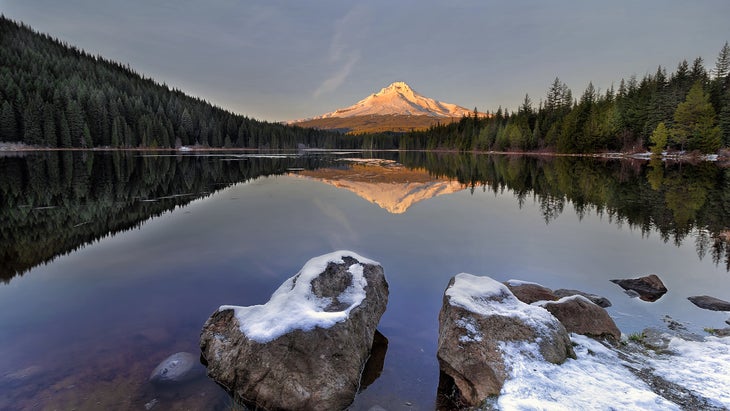 Trillium Lake beckons with top-notch snowshoeing terrain and tranquil scenery within two hours of Portland. Nestled in the pine-dotted Mount Hood National Forest, the lake's four-mile beginner-friendly snowshoe loop impresses with a peaceful meadow and soaring Mount Hood vistas. The Trillium Lake snowshoe trailhead is located right off U.S. Route 26; a Sno-Park parking permit is required at the lot.
4. Lincoln Woods Trail, New Hampshire
Enjoy one of the Northeast's top beginner snowshoe trails, Lincoln Woods Trail, in the White Mountains. Located in the Pemigewasset Wilderness area, this path follows a former logging railway beside a river, runs for roughly three miles with gentle inclines, and connects with other routes, such as the Black Pond Trail, for those who'd like a longer trek.
5. Colchester Causeway Trail, Vermont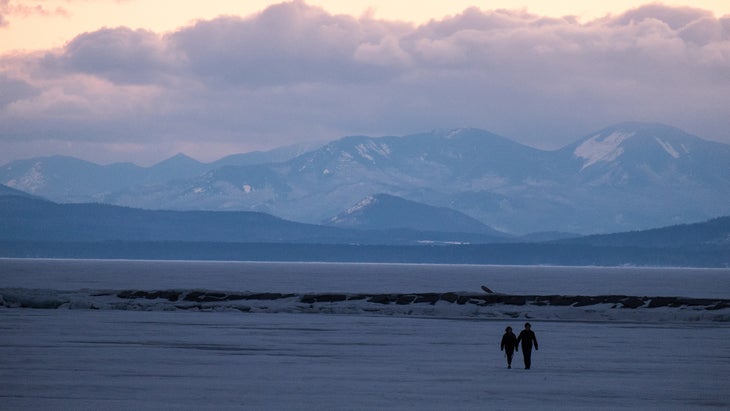 Soak up Lake Champlain's frozen splendor from the famed Colchester Causeway Trail, a four-mile converted railway that welcomes snowshoers each winter. The water-flanked path crosses the lake, rises just 100 feet in elevation, and affords views of the Adirondack and Green Mountains. But given that the causeway is entirely exposed, expect winter's whipping winds to whip even harder.
6. Catskill Scenic Trail, New York
This trail brings 25 multipurpose miles of outdoor adventure to upstate New York's charming Catskills region, just three and a half hours north of Manhattan. Come winter, those 25 gentle-grade miles attract snowshoers who come to take in the expanse of rolling hills, thick forests, and quiet farmland of Delaware County. Ample parking abounds along the trail, which stretches from Bloomville to Roxbury.
7. Iron Creek Trail, South Dakota
Iron Creek Trail packs boulders, waterfalls, a creek, and a canyon into its two miles. The easy creek-bordered route, located in Black Hills National Forest, is a favorite among locals. Catch the trailhead along Highway 14A in the northern stretch of national forest, just south of Spearfish.
8. Banadad Trail, Minnesota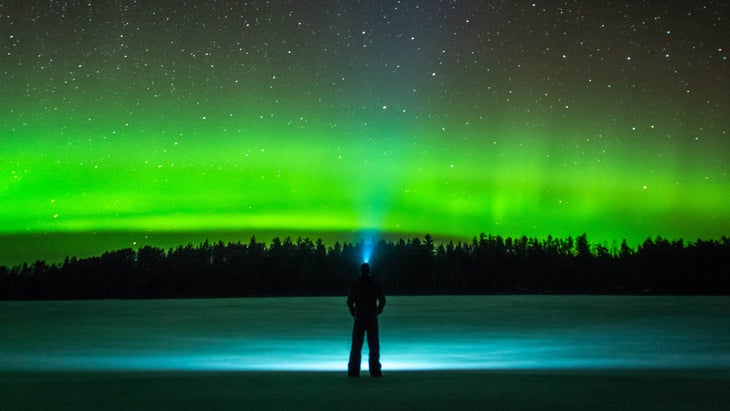 Few states embrace winter like Minnesota, and the Banadad Trail shows why it shines during this season. The wild route is the longest groomed cross-country ski trail in the Boundary Waters Canoe Area Wilderness, following former logging roads, with yurt-to-yurt ski accommodations and remnants of former logging camps dotting the route. Of its 18 miles of skiable terrain, five miles are designated for snowshoeing. A bonus: the Banadad Trail is carbon-neutral, with all CO2 generated from its upkeep sequestered via tree planting.
9. Pine Grove Trail, Ohio
Winters in Cleveland are no joke, but snowshoeing northeast Ohio's gem of an outdoor hub—Cuyahoga Valley National Park—makes the lingering snow flurries a bit more manageable. Head to the park's Kendall Lake Trailhead to reach the Pine Grove Trail, a forested snowshoe path amid hemlocks, oaks, and dramatic ocean- and glacier-carved rock ledges. The loop is beginner friendly, covering 3.5 miles with minimal elevation.
10. Empire Bluff Trail, Michigan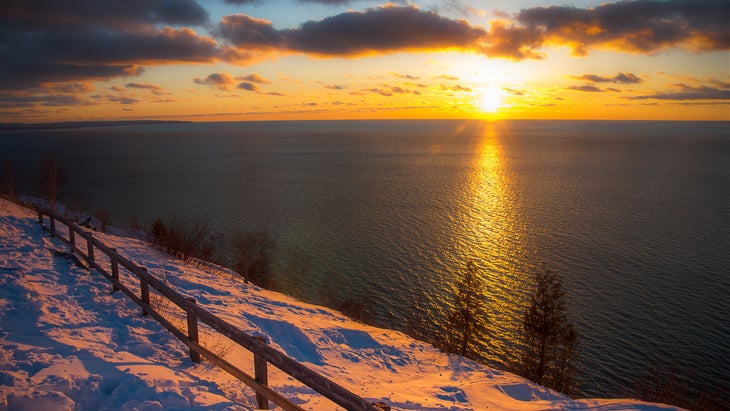 Snag one of the best Lake Michigan views from Sleeping Bear Dunes National Lakeshore's most picturesque snowshoe trail: Empire Bluff. The beginner-friendly 1.5-mile path transitions from Michigan's signature hardwood forests to sweeping sand-dune-perch views. It's a popular summer hike that only gets better—and less crowded—in the winter. From the trailhead, snowshoers will gain 170 feet of elevation en route to the top.
11. Observation Point Trail, Wyoming
The two-mile Observation Point Loop is Yellowstone National Park's most popular snowshoe-only path. It leads to a surreal winter attraction: the legendary Old Faithful geyser, erupting through a blanket of snow. Snowshoers trek from the visitor center along the Geyser Hill Trail, following switchbacks up to Observation Point, which overlooks Old Faithful. Expect an elevation gain of 160 feet and an average travel time of one to two hours.
12. Rim Trail, Utah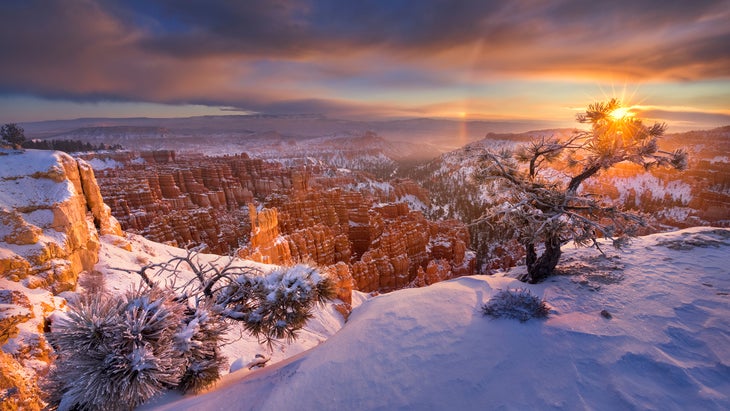 Bryce Canyon's maze of copper hoodoos and verdant cedars becomes even more striking with a dusting of snow—and snowshoeing takes visitors right into the heart of it. Enjoy a dreamy backdrop via the Rim Trail, an 11-mile out-and-back ideal for taking in views of the dramatic snow-flecked canyon. But note that the National Park Service closes the 1.5-mile section from Bryce to Inspiration Points during winter for safety reasons.
13. Glenwood Dunes Trail, Indiana
For a mix of pristine sand and fresh powder, try snowshoeing at Indiana Dunes National Park. The seven-mile Glenwood Dunes Trail, a loop frequented by cross-country skiers and snowshoers alike, weaves through a thick oak forest, with an elevation gain of 129 feet. Join the hike at the Glenwood Dunes parking lot, and for a full dose of winter fun, pack your sled for post-snowshoe play at the park's one sled-friendly spot: the western-facing slopes of the West Beach Trails.
Intermediate
14. White Pine Lake Trail, Utah
The tough ten-mile White Pine Lake Trail, located in the Lone Peak Wilderness, two hours outside Salt Lake City, follows aspen forests and pine groves across Little Cottonwood Canyon. The trail has a gain of roughly 2,500 feet elevation and ends with a stop at the glassy White Pine Lake, whose mountain-fringed setting becomes even more eye-popping when it's blanketed by winter snow.
15. Andesite Peak, California
For one of Tahoe National Forest's best snowshoe summits, head up Andesite Peak, a four-mile journey that starts just off I-80 near Boreal Mountain. Snowshoers follow a snowmobile road, then an orange-diamond-marked trail, to reach the 8,219-foot peak. The route meanders through fir forests and along Andesite Ridge before reaching the top, where a snowy 360-degree Sierra panorama awaits.
16. Meadow Trail to Dewey Point, California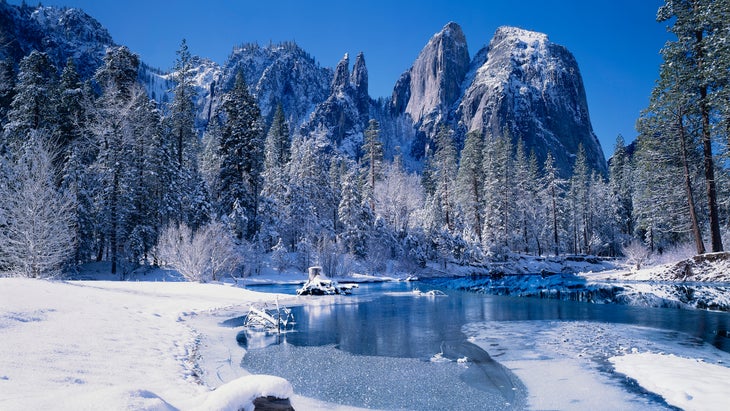 Yosemite is one of Outside's favorite national parks for winter exploration, and snowshoeing the Meadow Trail to Dewey Point shows why. This seven-mile jaunt through forests and meadows is as heart pumping as it is dazzling. Snowy Yosemite Valley views that take in El Capitan are the reward for ascending roughly 500 feet. The trail starts near the Badger Pass Ranger Station and follows Glacier Point Road for one mile before reaching the turnoff for Meadow Trail.
17. Caribou Mountain, Maine
Admire the snow-frosted landscapes of White Mountain National Forest with a snowshoe hike up Caribou Mountain. The roughly six-mile out-and-back trek twists through peaceful pine forests before topping out at the 2,850-foot peak, where views stretch across Maine, New Hampshire, and Quebec. Snowshoers will gain close to 2,000 feet of elevation on this trail, which starts just off Bog Road.
18. Mount Wachusett, Massachusetts
While commonly known as one of the state's top skiing destinations, Mount Wachusett, which Henry David Thoreau nicknamed the "observatory of the state," draws a snowshoeing crowd as well. Its most scenic snowshoeing route? Balance Rock Trail. This five-mile out-and-back begins at the Wachusett Mountain parking lot and joins the Old Indian Trail, proceeding through pine forests and around strewn boulders en route to the peak, with a gain of 1,000 feet of elevation.
19. Lakeshore Trail, Wisconsin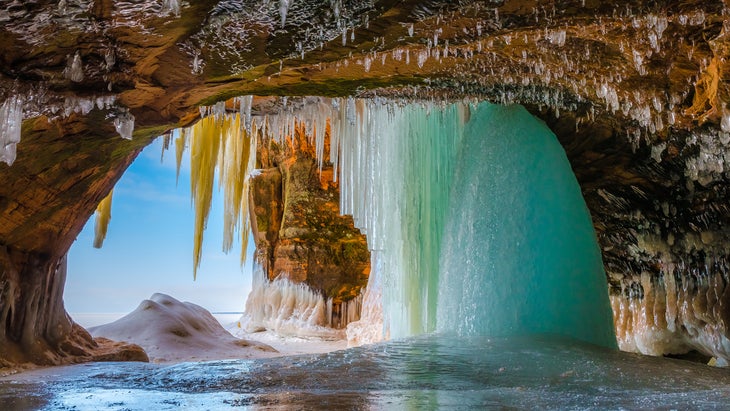 In winter, perfect weather conditions transform Apostle Islands National Lakeshore's sea caves into mind-blowing icy caverns. Snowshoers can reach these ice caves by trekking the six-mile Lakeshore Trail. The route follows the bluffs above Lake Superior, with a vantage point about two miles after Meyers Beach.
20. Maah Daah Hey Trail, North Dakota
Take in the Badlands from one of the state's best-loved snowshoe routes on this 144-mile trail through North Dakota's wild western side. For a day trip, try the Long X to Maah Daah Hey Loop, an 11-mile excursion outside Grassy Butte that features snow-dusted grass in the foreground with the striated Badlands in the distance. This portion of the trail starts near the CCC Campground and gains 1,100 feet of elevation throughout the loop.
21. Stargaze Point, Idaho
Marvel at Idaho's wintry mountain landscapes with a snowshoe trek up the three-mile out-and-back Stargaze Trail, 90 minutes from Boise. The blue-blaze route is virtually all uphill—plan on 800 feet of elevation gain—but the summit's Boise National Forest views are well worth the lactic-acid onslaught. To access the route, head to the parking lot at Beaver Creek Summit.
Advanced
22. Crag Crest Trail, Colorado
Explore the Mesa, the largest flattop mountain in the world, via one of the state's most stunning snowshoe experiences. The Crag Crest Trail loops for ten miles through a forest of aspens and birches. The full distance requires proper preparation and winter-mountaineering skills. But even newer snowshoers can enjoy an out-and-back on the scenic lower portions of the trail, where solitude, snow-swept landscapes, and strenuous terrain make for the perfect winter day.
23. Castle Rock Snowshoe Loop, New York
For a challenging New York jaunt, head four and a half hours north of New York City to the Adirondacks' Blue Mountain Lake region, where tough loops like Castle Rock promise a solid day trip. Sure, this three-mile loop may be short, but it boasts some serious elevation gain—2,430 feet. The steep trek ends with breathtaking panoramas and views of sparkling Blue Mountain Lake below.
24. Mount Healy Trail, Alaska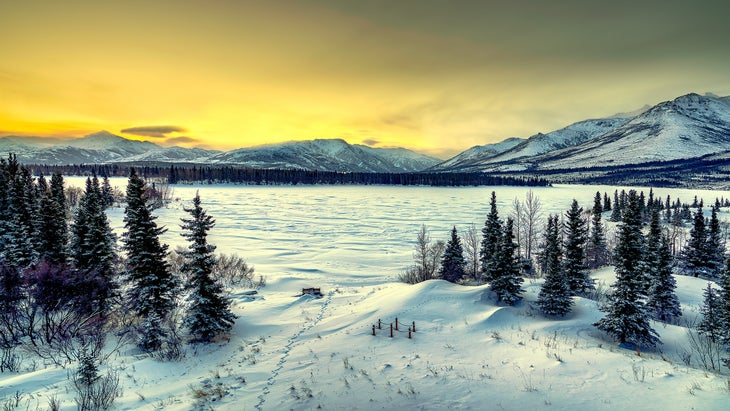 Get immersed in Denali National Park's winter scenery on the six-mile out-and-back Mount Healy Trail. This snowshoe-friendly route starts at the park entrance area and heads up Mount Healy. The 1,700 feet of elevation gain promise sweeping views of Denali. Prepare for severe wind and a tough climb; the National Park Service marks this route as difficult.
25. Moose Meadows Trail, Alaska
Traverse alpine tundra and cut between towering rock outcroppings on the Granite Tors Trail. This challenging 15-mile loop, located in the vast Chena River State Recreation Area outside Fairbanks, is not for the faint of heart. It starts at milepost 39 on Chena River Road and gains 2,900 feet of elevation. For a more beginner-friendly route, head to Fairbanks's Creamer's Field Migratory Waterfowl Refuge, where you'll find milder trails and abundant wildlife.
26. Camel's Hump Trail, Vermont
As Vermont's third-tallest mountain, the 4,083-foot Camel's Hump draws hikers year-round. These spruce-fringed trails become even more captivating after a winter snowfall—particularly the five-mile round-trip Burrows Trail up to the summit. On a clear day, snowshoers can expect stunning vistas from Lake Champlain to Mount Washington. Join the Burrows Trail via the parking lot at the terminus of Camel's Hump Road.
Lead Photo: Posnov/Getty