Camping the Shoulder Season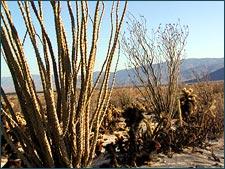 Heading out the door? Read this article on the new Outside+ app available now on iOS devices for members! Download the app.

Anza-Borrego's raw desert beauty
Q: I'm looking to camp someplace pretty, not too popular, and mild in temperature around this time of the year. Can you give me any suggestions?

— Anne Moore, Long Beach, California



Adventure Advisor:

A: There are few times of the year that can be as frustrating for landing an outdoor fix as this not-quite-spring, winter's-on-the-run limbo season. There's still much too much snow (or mud) on most of the country's trails to traipse around in the backcountry. Even if you do have a gorgeous day and fight the slop to get back in there, you'll be hauling down jackets and winter camping gear to enjoy the below-freezing nights. Of course, while many of your options are limited, this is THE time to hit the desert. There are lots of warm arid and lonely places to choose from—Joshua Tree, Death Valley, Big Bend—but a lesser-known park, Anza-Borrego State Park east of San Diego, took me completely by surprise during a visit this time last year. I was expecting vast swaths of bleak ridges and horribly contrived hiking options (1/4-mile nature walks, anyone?). Instead I found a respectable menu of longer hiking trails through stands of eight-foot-high ocotillo with red blooms dangling from the thorny tentacles like ruby tongues, cobalt skies, and, the kicker: palm-fringed oases! The park is the largest state park in the lower 48 (more than 600,000 acres), but unfortunately, it's also 50 degrees too hot most of the year. But come late March and early April, you can expect warm days (in the 80s) and nights so pleasant you'll barely need a sleeping bag.

You can pretty much camp wherever you like in the park, but set up shop at the Sheep Canyon Campground, along Coyote Canyon Road, about seven miles northwest of Borrego Springs. It's best to have a high-clearance, four-wheel drive vehicle to get back there, as you'll end up crossing a shallow stream at least twice. If you can't make it all the way back to the camp, just find a flat spot and pitch your tent there. (Don't go driving off-road through the desert, though). The trail back into Sheep Canyon is about 11 miles round-trip, but you'll find your first batch of hyaline pools only after a mile past the campground. The water is surprisingly chilly, with small waterfalls and large rocks to play around. Spend the day exploring around the pools and the only thing that'll be frustrating is the fact you'll have to leave.

Call the park visitors center for maps and more information about camping options in Anza-Borrego (760-767-5311; http://www.parks.ca.gov/default.asp?page_id=638). Expect to pay $5 per vehicle per day for exploring past the visitor center.