The 11 Most Dog-Friendly Beaches in the U.S.
We've sniffed out the best beaches for swimming, fetching, and tail-wagging fun for you and your pup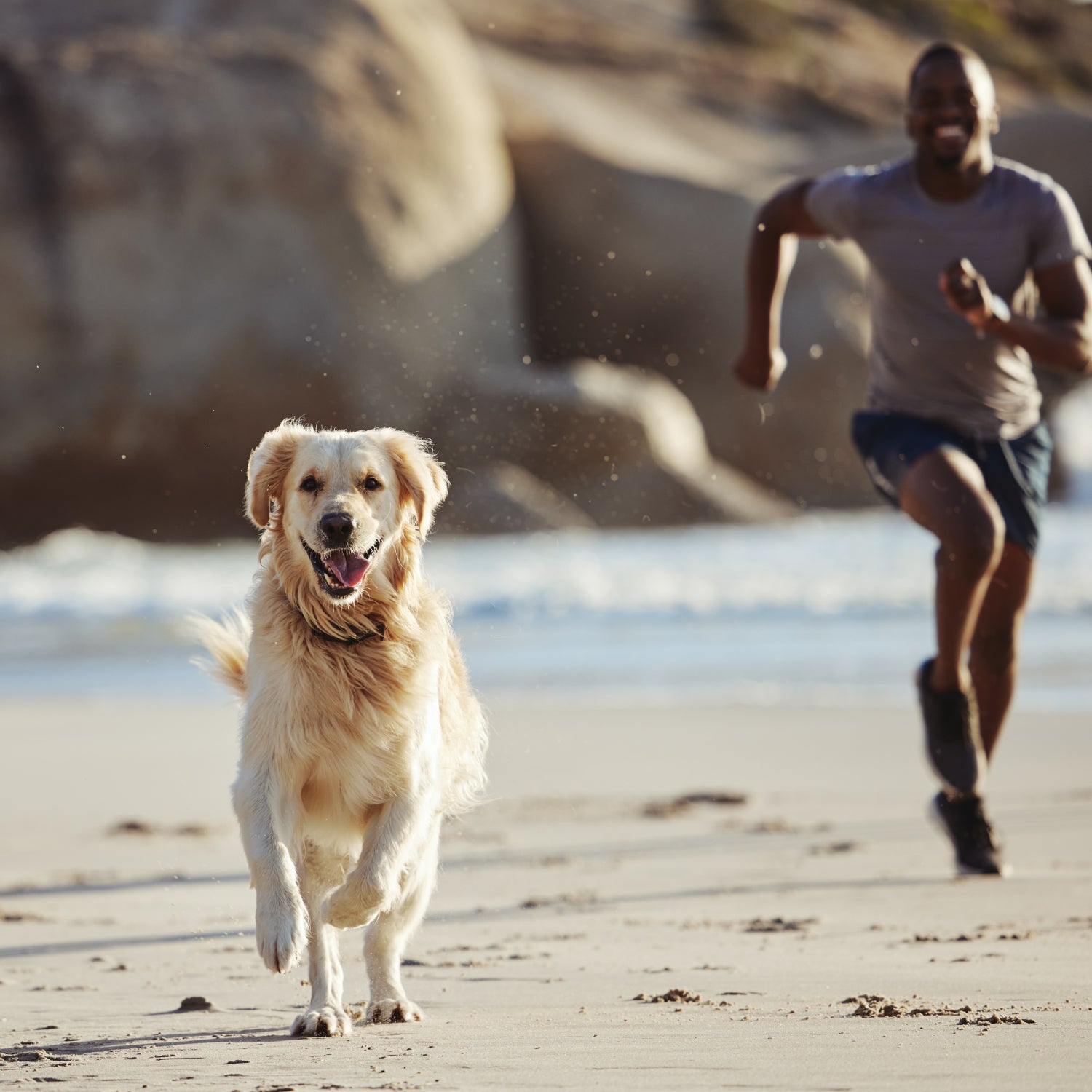 PeopleImages/Getty
Heading out the door? Read this article on the new Outside+ app available now on iOS devices for members! Download the app.
Salt. Sun. Wet dogs caked in sand. Few things are better than letting your canine kids run free on a wide-open stretch of beach.
But most beaches have strict no-pet or on-leash policies—rightly so. Dune landscapes are fragile ecosystems, and wayward dogs digging in the sand can cause immense damage to flora or fauna, like nesting turtles or endangered birds. That's why it's so important to follow the regulations and research them before you go.          
The rewards are worth it. My yellow Labrador, Magnolia, has traveled with me to 46 states and three Canadian provinces while swimming in the Pacific, the Atlantic, the Gulf of Mexico, and four of the five Great Lakes—not to mention innumerable other lakes and rivers. As far as rewards go, swimming, for her, ranks about as close to peanut butter as it gets. I would never deprive her of a chance to get in a body of water.
But I've learned it's critical to follow a few guidelines.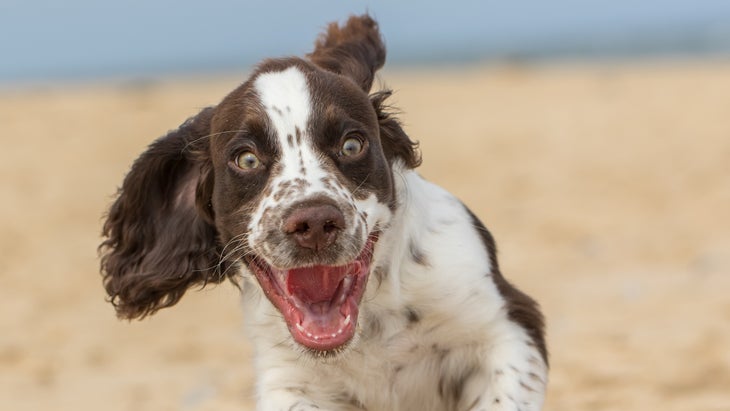 In general, most beaches that allow dogs still require them to be on leash. Even if the rules are being ignored by other dog owners, it's best to be safe and keep your dog on a leash—not just for other people and their dogs but for the local wildlife.
Second, many beaches have varying regulations by season, often to protect the aforementioned wildlife. For some beaches, regulations change throughout the course of the season and even at different times of the day—like no dogs after 10 a.m., for example. Make sure you know the current regulations wherever you go. Don't be the jerk that says your dog is fine off-leash digging in the sand. It may be digging up a turtle nest.
Also, bring poop bags and pick up after them. Sandy beach with vegetation usually means ticks, so make sure your pup is on a preventative. And be mindful of strong rip tides, which can pull a dog out very quickly. If your dog does get caught in a rip current, don't swim after them. Instead, get their attention and walk up or down the beach, so they swim out of the current rather than directly against it. Flag down a boat if you can. 
Finally, bring plenty of fresh water. Running on the sand can be hard for your dog, and they can get overheated in the summer quickly.
Otherwise, have fun and give in to the inevitable that there will be sand everywhere in your car—and a very happy dog.
1. Cannon Beach, Oregon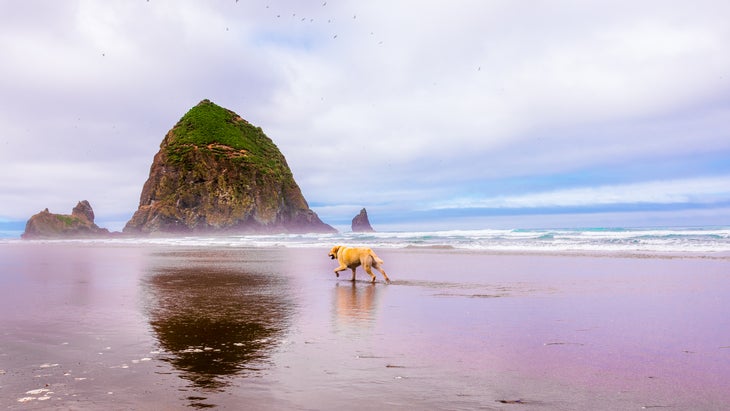 No list of dog-friendly beaches would be complete without this iconic stretch of sand in northern Oregon, roughly 90 minutes from Portland. It's primarily known for Haystack Rock, a stunning basalt monolith rising from the ocean that is one of the state's most recognizable landmarks. The beach itself is also an excellent place for dogs to play fetch with a piece of driftwood, because they're allowed off-leash, provided they are under voice control. Cannon Beach has miles of sand to explore and there are dog-friendly hikes, too, including eight miles of the Oregon Coast Trail, through the Sitka spruce forests in nearby Ecola State Park. (Dogs must be on leash in the park).
The community of Cannon Beach, in a testament to their canine love, also hosts an annual "Dog Show on the Beach" every October, with prizes awarded for everything from best trick to best costume. It all goes down in front of Surfsand Resort, an oceanfront hotel that also happens to be one of the most pet-friendly hotels on the West Coast, with a Four-Paws Cookie Jaw and a paw wash station located next to the hotel's beachside path. If there's a dog heaven, it can't be too far from this.
2.
Provincetown Town Beaches, Massachusetts
Situated at the northern tip of Cape Cod, Provincetown allows off-leash dogs on the town's beaches in the morning and evening. Off-leash hours, between Memorial Day and November 1st, are 6 a.m. to 9 a.m. and 6 p.m. to 9 p.m. (During the remainder of the year, dogs are allowed off-leash during all the park's open hours.)
West End and East End beaches are dog-friendly, with shallow water and soft sand. But East End Beach has an area aptly named Dog Beach, which is great for finding canine companions for your pup to play with. Getting there early is your best bet, as parking will be easier.
One important note about Provincetown beaches: When visiting with your dog, make sure you know the difference between the town beaches, which are directly adjacent to the downtown district, and the beaches of Cape Cod National Seashore, which surrounds Provincetown. The national seashore, like Race Point Beach, which is famous for its sunset views, still allows dogs but they must be leashed. The National Park Service also institutes temporary closures of certain areas due to nesting piping plovers, so you need to make sure to keep an eye out for signs banning dogs altogether.
As for P-town itself, it's regularly praised for being one of America's most dog-friendly vacation destinations, with dozens of pet-friendly restaurants and galleries to explore. There are even sailing and whale watching charters, like Dog Gone Sailing, that allow four-legged friends to tag along.    
3. Huntington Dog Beach, California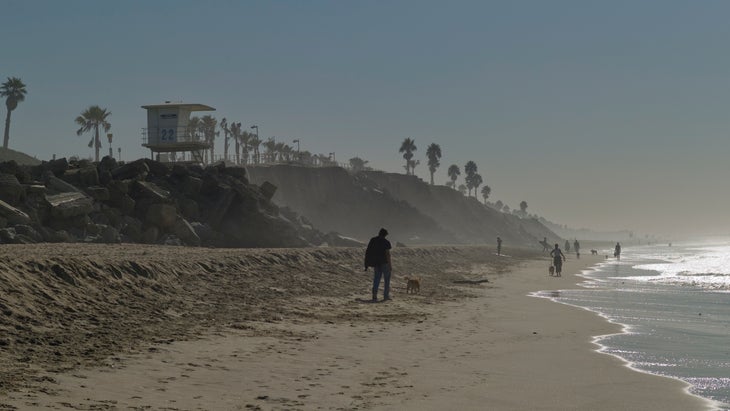 Southern California has a seemingly endless variety of beaches—for surfing, swimming, sea kayaking, and sunbathing. But they almost all require that dogs be on leash, with the rules often enforced aggressively. That's why Huntington Dog Beach makes this list: it's the rare SoCal beach with a mile and a half stretch of sand that has a dedicated off-leash policy.
Located along the Pacific Coast Highway on the north end of Surf City U.S.A, this beach is perfect for soaking up the sun and Cali beach culture while letting your dog frolic off-leash in the waves. As with the rest of Huntington Beach, there are exceptional sunset views and the surf break at Hunting Beach Pier is the stuff of legends, and the home to the U.S. Open of Surfing, which attracts more than half a million people to the beach when it's on.
When the competition is not on, walking from Huntington Dog Beach to the pier is a great stroll (just make sure to leash up your pup). (If the sun is too hot for your dog, head to Huntington Central Park, 10 minutes away, for its miles of walking trails offering shaded areas, open spaces, and a dedicated off-leash area.) This being Surf City, what would the dog beach be without its own surf competition for canine shredders, the annual Surf City Surf Dog contest, held each September.   
4. Jupiter Off-Leash Dog Beach, Florida
In 1989, the city of Jupiter, on the north end of Florida's Miami–West Palm Beach metroplex,  adopted a policy to allow dogs on its beaches. Today, the 2.5 mile stretch of sand from Carlin Park to Marcinski Road is one of the few off-leash beaches in Florida. It's a beauty, too. Beyond the coastal dunes, which are dotted with palm trees, is a wide stretch of sand that is perfect for strolling with your dog and watching kite surfers ply the waters when the wind is up.   
While the beach is off-leash, dogs must be under voice control and not create a "nuisance," per regulations. But everyone is generally relaxed about free-roaming dogs here, and any well-mannered pup will have more than enough room to roam, roll in the sand, and run with newfound friends. 
5. Kirk Park, Michigan
The Great Lakes are full of excellent beaches and hiking opportunities for canine companions, but most beaches have strict on-leash regulations. That's why this 68-acre park, 30 miles due west of Grand Rapids, is a gem for dog lovers. It has a stretch of sand on Lake Michigan with off-leash hours for your furballs: From May 1 to September 30, dogs are allowed to run free before 10 a.m. and after 6 p.m. (During the rest of the year, dogs are permitted on Kirk Park Beach off-leash all day.)
The beach here is narrow, sandwiched between high dunes and the cool water, but the sand is as soft as any in the Caribbean. Just make sure dogs stay on the sand to protect the fragile dunes and clean up after your pet.
Beyond the beach, Kirk Park offers short hiking trails where you can walk with your dog on-leash. If you're looking for a longer stretch, head to Ottawa Country's Hiawatha Forest, where there are a few miles of trails and dogs are allowed off-leash year round.  
6. First Landing State Park Beach, Virginia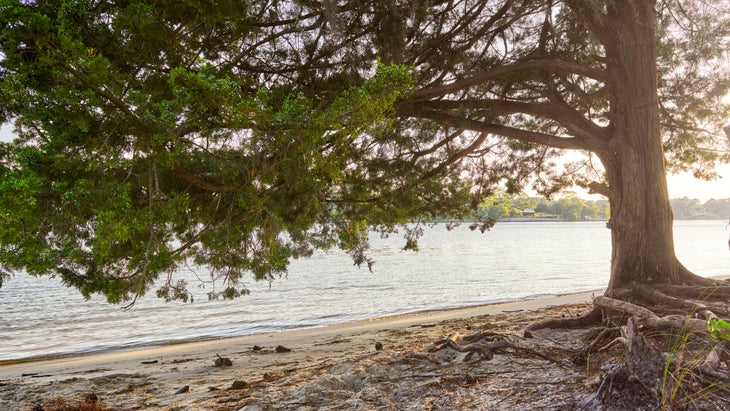 As the name suggests, this is the spot where English colonists first landed in 1607, and today it's Virginia's most visited park, with 20 miles of multi-use trails and a 1.5-mile stretch of sand on the Chesapeake Bay. Like all state parks in the state, First Landing is open to leashed dogs (although specific rules vary by park, so be sure to double check each one). This dog policy includes its beach, with a sandy shoreline and breathtaking views of the Chesapeake Bay.
Four boardwalks allow easy access to the sand and the shallow water just offshore, which makes it a good place to walk in the water with your dog. In addition to the beach, the 2,888-acre park has bald cypress swamps, lagoons, and maritime forest that offer easy, dog-friendly hikes. 
7. Carmel Beach, California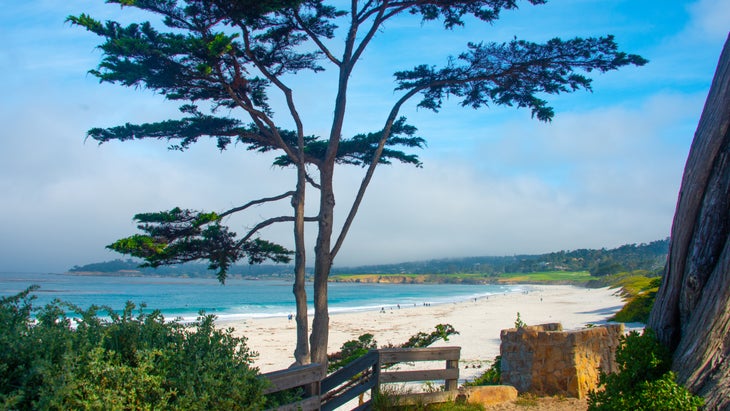 The city of Carmel-by-the-Sea has long been a haven for artists and actors and other unconventional characters, which may explain why it still has liberal policies that allow off-leash dogs on a beach adjacent to the Hamptons of the West Coast. Four-legged beachgoers need to be under voice command of their owner, but otherwise they have the freedom to roam a half-mile of sand, which is one of the prettiest in America.
The sand is fine and white and the water is electric blue. Gnarled Cypress trees frame its crescent shape. When conditions are good, surfers will be in the water catching a few small peaks, and the water is also occasionally home to bottlenose dolphins and sea lions. Carmel-by-the-Sea, which is directly adjacent to the beach, is also uniquely pet-friendly, with plenty of dog-friendly hotels, artists galleries, and restaurants, including The Forge, with a dog-friendly patio and even its own Canine Cuisine menu, offering items like a hot dog (the Hot Diggity Dog) and an eight-ounce sliced steak, called the Good Dog, naturally.    
8. Block Island, Rhode Island
You'll need to put in some effort to get to Block Island, nine miles south of mainland Rhode Island, but all of its beaches allow leashed dogs year round. One of the best to explore with your pup is Mansion Beach, a secluded stretch of powdery sand on the island's northeast side that's famous for its big waves. There's a small parking lot for visitors, which ensures that it never gets too busy—just make sure to come early to snag a spot and avoid the midday heat, which can be hard on dogs.
The island has plenty of other stunning coastline to explore, with picturesque bluffs and sweeping views of the Atlantic Ocean. The main town on Block Island, New Shoreham, is generally relaxed and pet-friendly. Just make sure to ask at any restaurant with a patio if it's okay to let your dog hang out. Getting here requires a ferry ride, and if you're bringing your car you'll need to leave from Point Judith, as that's the only ferry that takes cars (be sure to reserve a spot in advance). Otherwise grab one of the other passenger-only ferries. 
9. Nags Head Beach, North Carolina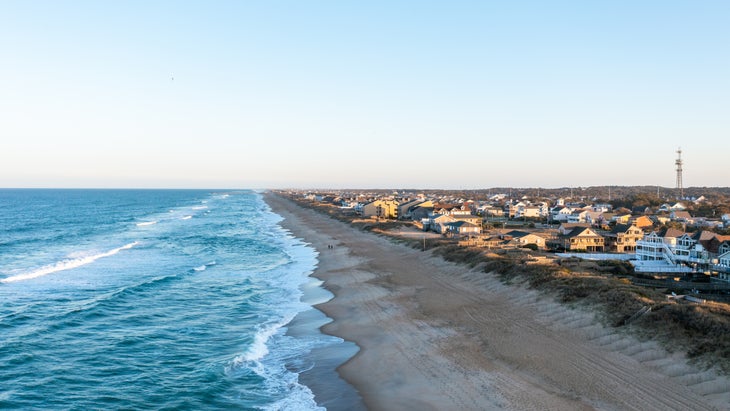 In summer, the Outer Banks can turn into a parking lot, thanks to the sun- and salt-seeking masses. The influx has made it increasingly difficult to find open beaches for dogs to run free. (The city of Duck's beaches allow off-leash dogs, but access is limited). OBX, however, is still an excellent destination to bring your four-legged friends, and Nags Head Beach welcomes leashed dogs year-round.
The beach, because of its proximity to the town of Nags Head and the mainland, can get busy at the height of summer, so it's best to come early with your pups, like before 8 a.m. Once the late-morning rush starts, you can ditch out to go paddling with your pup (Kitty Hawk WaterSports rents both kayaks and SUPs and allows dogs on them) or hiking at Jockey's Ridge State Park, which allows dogs on leash and is home to the tallest living sand dune system on the Atlantic coast.  
10. Cape San Blas, Florida 
The Florida Panhandle is already remote by Florida standards and Cape San Blas, on the southwestern point of the Emerald Coast, connected to the mainland by a spit of land, is littered with miles and miles of uncrowded, white sand beaches. Besides St. Joseph Peninsula State Park, the county's beaches are mostly open to leashed dogs.
One of the better ones is the stretch of sugar-like sand at Cape Palms Park which offers miles of beach to walk with your dog and Gulf waters to cool off in. The peninsula also has plenty of opportunities for hiking, fishing, and birdwatching. The nearest town, Port St. Joe, is quiet, if not exactly brimming with tourist amenities. But it's relaxed enough that there's no need for most official policies regarding dogs. Bring them as they are—wet, covered with sand, and wagging their tails.  
11. Double Bluff Beach, Whidbey Island, Washington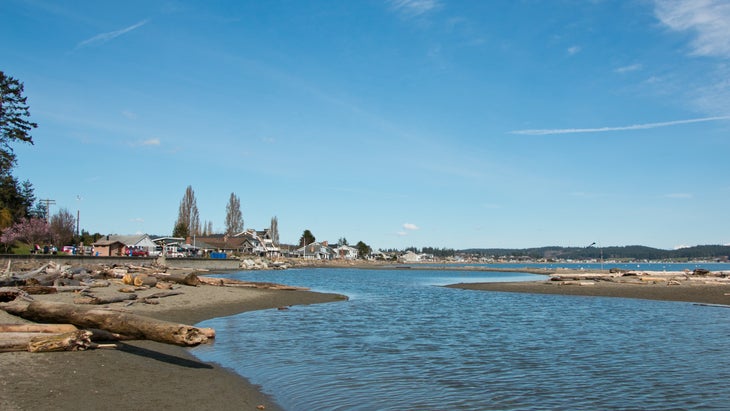 With its liberal off-leash policies, excellent views of Mount Rainier in the distance, and plenty of room (and sand) to roam, it's hard to beat this beach on Whidbey Island, 40 miles north of downtown Seattle. Double Bluff County Park is free for visitors and is a popular place for locals harvesting clams and kite surfers hitting the water when the wind is right.
For dog owners, there's a good parking lot next to a grassy park (leashes are required here), and it's just a short stroll to miles and miles of open beach with a mix of sand and rocks that overlooks Puget Sound. From Seattle, the quickest route to Whidbey Island requires a 20-minute ferry crossing at Mukilteo, but the island is worthy of a full day-trip (even a weekend-long one), with a series of quaint towns with dog-friendly restaurants, coffee shops, breweries, wineries, galleries, hotels, and hiking trails to explore. Be sure to check out Blooms Winery, which offers tastings of its award-winning wines (try its bold reds, like the malbec) and a bistro—and the requisite dog-friendly patio.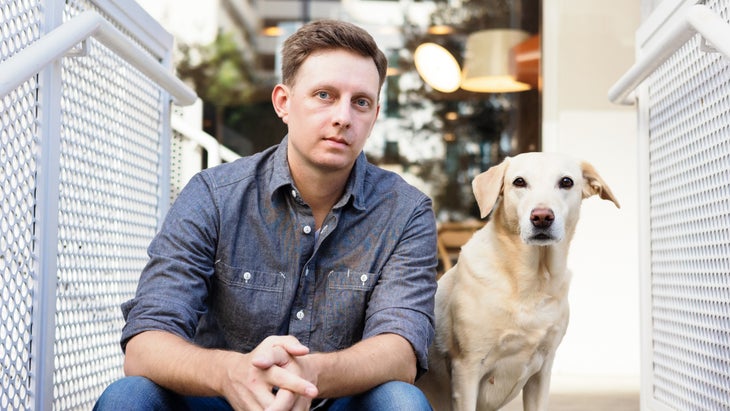 Ryan Krogh is a former Outside editor and an avid angler and hunter who takes his lab Magnolia for beach walks and swims as often as he possibly can.
Lead Photo: PeopleImages/Getty
Trending on Outside Online