The Land of Clear Light
Warm, windswept, unfettered, ever-changing—North America's four great desert regions hide untold possibilities for classic winter adventure. They may be scorching and sere, with prickly dangers over every horizon, but if you know where to go—and how to explore wisely—you'll find these 500,000 square miles of desolation downright hospitable.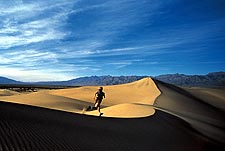 Heading out the door? Read this article on the new Outside+ app available now on iOS devices for members! Download the app.
Water From A Stone
The Desert Always Provides

America's Sandbox: the dunes of California's Death Valley

There is nothing I desire more than this. I am moving through the desert, walking the barrens of southwest Arizona to the Kofa National Wildlife Refuge. The thought of water is potent, almost obscene—and when I find it, it is never passed with a casual glance. It is stared at. Admired. It becomes as powerful as fire.
My hat brim leaves a curve of midday shade across my face; from under it I watch the plain open in front of me. With my friend Irvin Fernandez, the manager of a wildlife refuge in California, I am taking three weeks to cross a couple hundred miles of daylong basins and volcanic peaks that stand as sheer as icebergs. I am careful about who I travel with out here. Irvin is a person to trust, a man who knows how to set a broken bone and care for the swell of a rattlesnake bite. Our eyes follow the terrain in the same way, trained to find any sign of water. We each carry only what we need for the day, so if we don't find water now, we can last three, maybe five days until hallucinatory thirst overwhelms our bodies, until our tongues swell and our minds shrink and we collapse on the ground. But that won't happen. Irvin is already a half-day's walk ahead of me, scouting for a new source.


Every time we leave a water hole, there's a feeling of free fall as we stretch across the desert in search of the next. These holes are not marked on any maps. They are sequestered up in the peaks, perched among capsized boulders and the stern postures of saguaro cacti. I figure I have ten miles to go before catching up with Irvin. My boots in the gravel make the sound of cracking walnuts as I head toward a thumb of rock a thousand feet tall where I will meet him by dark. I abandon the thought of his failure or success. There will be water. The desert always provides, even if a few days late.


I was born in the desert, as were my parents, and most of my grandparents. I grew up in love with its lethal desolation. The silence and starkness always seemed impenetrable, yet I could somehow walk out into it. I could pause in a dry, sandy wash, smelling the heat, absolutely still. Every venture felt like a miracle.


The deserts of North America—the Mojave, Chihuahuan, Sonoran, and Great Basin—range from apricot to garlic, spanning a total of more than 500,000 square miles. The Sonoran is rich with tiny-leaved trees and giant, columnar cacti, while the sparse and open Mojave is home to strange and twisted Joshua trees with grass-skirt trunks. Rugged shrubland of agaves and yuccas marks the Chihuahuan, and the wildly diverse Great Basin is sagebrush basins in one spot, a hive of bare canyons and cliffs in another.


These places are where you come to see what the inside of your planet looks like—the ribs, scapulas, and tender membranes brought to the surface. I've spent decades piecing together a Gray's Anatomy of the desert, filling notebooks: 120 consecutive days in the Grand Canyon, an entire winter on foot in the canyonlands of southern Utah, 37 days across the Cabeza Prieta of southwest Arizona, and thousands of other miles walking here and there.


I have found in all of this travel that common definitions don't work for the desert. When you return and say the word "creek," you have to explain that it is not the pastoral creek that we have in our minds. The rare creeks of the Chihuahuan Desert in southeast Arizona flow only at night in the high heat of summer. During the day their gravel beds are fruitlessly passed over, mistaken for dry washes. Somehow, at night, there are fish.


The desert guards every one of its oddities. Near roads I frequently find abandoned couches unraveling under the sun, and hulks of washing machines as ancient and pitted as Sputnik. I have to smile at these. People come to dump their sins, but nothing washes away.


I arrive at our landmark just before sunset. My partner sits atop his pack as if floating on it, lost at sea. I know instantly that he has found water ahead. Otherwise, he would have unloaded his gear for a camp. "About a mile from here" is his greeting.


We reach the water hole, a depression in the canyon floor, in the blue of dusk. Dragonflies are dabbing invisible eggs into the pool. So primed for this ritual are desert dragonflies that they will drop their eggs onto the reflective hoods of cars if there is no true water source nearby. About 800 gallons, this is rainwater four months old. We do not cool our foreheads with it. We take only what we need and then back away, as if bowing out of a church.


The next morning we explore above the water hole, working up into the narrow canyon. On the ground we find something completely unexpected, the dead fan of a palm tree. Picking it up as if it were the wing of some great bird, we study it carefully. Palms are mythological in this part of the desert, as strange as gnomes.


Rounding the next bend is like discovering a forest of candelabras. Two dozen palm trees are crowded back here, and I feel the familiar cold flush of adrenaline in my body, the one that tells me to pay attention, that I may never see such a thing again. Tall and seductively thin, the palms soar 40 feet up against the rhyolite walls. There are places in this desert that have not seen rain in seven years. Yet here is a tropical holdout, leftovers from 10,000 years ago.


A breeze comes through and the canyon erupts into the sound of a waterfall. The leaves splash and shudder against each other, a sound that I never dared imagine in this desert. I close my eyes and stand as still as possible, because suddenly this will end, and the desert will again be dry.
Rattle & Roll
When mountain biking this swath of border country, you hope that all the snake bites is your derailleur

SONORAN > IN BRIEF
Classic desert full of 50-foot-tall saguaro cacti and endless small mesquite, paloverde, and ironwood trees. Its seven subdivisions, including California's Colorado Desert, cover 120,000 square miles that are the hottest and driest in North America.
Dodging rattlesnakes on a mountain bike is easy. Here's the scene: It's just after daybreak on Puerto Blanco Drive, a 53-mile dirt road that loops through Organ Pipe Cactus National Monument in southwestern Arizona. Cacti and ocotillos throw confusing shadows across the track. I'm cranking along at good speed when a strip of shade suddenly turns three-dimensional. A microsecond for the brain to register yup, snake; a fraction more for yikes, rattlesnake! It recoils into a defensive loop, and as I skim past I lift both legs high. Nine times out of ten the snake just rattles, and if it strikes, all it usually gets is a mouthful of Shimano. This one just glares.

If Puerto Blanco Drive were a video game, it would be called something like "Bike or Die." The loop is doable in a day, but on this April trip I stop halfway. Camping is allowed anywhere except within a half-mile of the road, so I hide the bike and lug the panniers between two volcanic outcroppings, where I lay out a pad and sleeping bag. The view makes one wonder why we call it desert: It's a tawny jungle of ironwood and paloverde trees, bur sage, the park's eponymous cacti, and brittlebush.
For the last dozen miles of Puerto Blanco Drive, the road parallels a sagging barbed-wire fence and a highway sprinkled with tire-repair shops and taquerias that mark the border. A platoon of Mexican army troops on patrol waves. A mile farther on I risk dire punishment by hopping the fence to buy an orange Fanta. At last there's but one hazard left en route to my truck: the four miles of Arizona 85, where hordes of motor homes careen southward. I feel like a spawning salmon in grizzly country, but there's cold beer in the truck. Bike or Die.

Details: Organ Pipe Cactus National Monument [520-387-6849; www.nps.gov/orpi] is about 150 miles west of Tucson. There's no water on Puerto Blanco Drive, which starts about a quarter-mile from the visitor center.

More Sonoran Adventures

Backpacking the Superstition Mountains
Countless treasure seekers have failed to find the fabled Lost Dutchman Gold Mine in this wilderness 40 miles east of Phoenix, and it's unlikely you'll do better. So skip the crowds near Weaver's Needle and enjoy the less-traveled nine-mile Reavis Ranch Trail, which winds from desert into oak woodland. Near the abandoned ranch house at trail's end, set up camp alongside Reavis Creek and explore the side canyons. Season: Spring and fall. Distance: 18 miles round-trip. Do-It-Yourself: From Phoenix, head east on U.S. 60 and then north on Arizona 88 about 30 miles to Forest Service Road 212. Guided Trips: Apache Trail Tours runs customized backpacking trips into the Superstitions (all-inclusive three-day trips, $499 per person; 480-982-7661).

Sea Kayaking Isla del Tiburón
Two miles off mainland Mexico in the Gulf of California, Tiburón is a pristine, 435-square-mile desert refugio—with beaches. The island's interior harbors bighorn sheep and coyotes, while dolphins and sea lions frolic offshore. From Punta Chueca, a Seri Indian village, paddle the channel and then head south to explore the island's cliffs and rock islets. Season: Fall, winter, and spring. Distance: 30 miles round-trip. Do-It-Yourself: Punta Chueca is about 315 miles south of Tucson. Ask in the village for naturalist Ernesto Molina, who will collect a camping fee (about $5 per night). Guided Trips: Maine Island Kayaks leads trips to Tiburón in February and March ($1,200-$1,500 per person; 800-796-2373; www.maineislandkayak.com).

Backpacking Aravaipa Canyon
The 11-mile hike up Arizona's Aravaipa Canyon is one long bushwhack. You'll wade through the creek (a lot), hop boulders, and push through mesquite. Watch for bighorn sheep and mountain lions on the 1,000-foot canyon walls. A strong hiker can make it in a day, but it's better to backpack in for two or three—camp halfway up at Horse Camp Canyon—and explore some of the nine side canyons. Season: Fall, winter, and spring. Distance: 11 miles one way. Do-It-Yourself: The West Trailhead is 70 miles northeast of Tucson; exit at the East Trailhead or do the 22-mile out-and-back hike. Permits cost $5 per day; call for reservations (928-348-4400). Information: www.az.blm.gov. There's car camping at both trailheads.
The Phantom Stampede
Coyote howls and other high-desert chills in Joshua Tree National Park

MOJAVE > IN BRIEF
The smallest desert in North America, the Mojave is a transition zone between the Sonoran and Great Basin covering 25,000 square miles, where distinctive Joshua trees and creosote bushes dominate the landscape.
They always wait to tear through camp until after you've stargazed yourself into bleary slumber. Then the frenzied desperation of blood-lusting coyotes sends you leaping from your epidermis and burrowing deeper into your down cocoon. It lasts as long as a buffalo stampede, although you never hear footfall, only sixteenth-note yips and whole-note howls, followed by the unearthly frequencies of rabbits in the grip of death.

The aural horror of this nighttime pageant is my dark lure to the Joshua Tree wilderness. It's a chill you don't get in the car campgrounds, where you hear the coyotes, but mingled with the climbers' campfire stories and the truck radios of Marines patrolling for Twentynine Palms girls.

Before I discovered a wilder, lonelier alternative, I spent many nights in just such a car camp—Indian Cove, in the northern part of the park. I'd hole up there with groups of friends to try out the guidebook climbs in a vast jumble of boulders called the Wonderland of Rocks. But I'd always noticed, off the Indian Cove approach road, a strange, semidistinct track that headed west across flat sand before it disappeared—where? I resolved to find out. I loaded my pack with a couple of collapsible gallon jugs of water and set off alone toward the horizon, only slightly put off by the name, Boy Scout Trail. To my delight, it loped southwest into a wash that cleaved a northern extension of the Wonderland, and soon I was in a solitary defile surrounded by rock hills and boulders. I hiked half of the eight-mile trail before setting up my tent in the stone cloisters, where I could boulder for hours amid a maze of sandpaper-grippy rocks, rest in the shade, watch lizards rustle by, and feel the heat of day yield to high-desert chill. It's where I return for a convenient dose of solitude, and the sounds of wildness that still haunt my favorite patch of Mojave Desert sand. —Robert Earle Howells

Details: Joshua Tree National Park [760-367-5500; www.nps.gov/jotr] Entry fee, $10 per vehicle; backcountry camping is free.

More Mojave Adventures

Mountain Biking Death Valley
You could take the easy way out and bike Death Valley National Park's cool high country. But that's not why you're here. Get the real low-down desert experience on the dirt road from Ubehebe Crater to Racetrack Playa. You'll pedal out of volcanic rubble, through Joshua-tree forest, and finish in a mirage-inducing dry lake bed. Season: Anytime but summer. Distance: 28 miles one way. Do-It-Yourself: The road is out-and-back, so set up a shuttle or do the 56-mile round-trip. The campground ($10 per night) at Mesquite Springs is a good staging area. Elsewhere, you must camp two miles from the road. Information: 760-786-2331; www.nps.gov/deva.

Backpacking the Inyo Mountains Wilderness
In this precipitous 11,000-foot range overlooking the Saline Valley and the California-Nevada border, the rough 40-mile Lonesome Miner Trail starts at 1,800 feet among Mojave Desert sagebrush and climbs into bristlecone and pi-on pine at 8,600 feet, with a total of 17,000 feet of elevation gain on the way. The reward: immense views and three refurbished miners' cabins for shelter. Season: Spring and fall. Do-It-Yourself: The southern trailhead in Hunter Canyon is reachable from Saline Road in Death Valley. The north trailhead is at Reward in the Owens Valley. Information: Call the Ridgecrest BLM office (760-384-5400) or visit www.ca.blm.gov/ridgecrest.

Climbing Red Rock Canyon
Half an hour west of Las Vegas, the 200,000-acre Red Rock Canyon National Conservation Area boasts more than 800 climbing routes ranging from 5.3 to 5.13+. A classic Red Rock ascent is the two-day, 13-pitch original route up Rainbow Wall, three hours from the Pine Creek trailhead. Then it's a 5.9, A2 mix of finger cracks and laybacks with a bivy eight pitches up. Season: Year-round. Do-It-Yourself: The park is day-use only except with permits for multiday routes (702-647-5050; entry fee, $5 per car). Guided Trips: Jackson Hole Mountain Guides (702-254-0885; www.jhmg.com/redrocks.cfm) runs tours of the best climbs ($80-$125). —Jonathan Hanson
Night of the Blue Norther
A thawing-out spring break on the Rio Grande is anything but

CHIHUAHUAN > IN BRIEF
Blooming yuccas, giant prickly-pear cacti, stark limestone peaks—the 175,000-square-mile Chihuahuan is North America's largest and highest desert, lying mostly between 2,000 and 6,500 feet.
We were cooking curried mac and cheese on a cobble beach on the Mexican side of the Rio Grande. It was the third day of a six-day, mid-March river trip and eight of us from the mountains of Colorado had come to Big Bend to thaw out and to clear our brains of a winter's worth of snowdrifts and mud. Except it hadn't been exactly hot. The river was low and rocky, hard on the two canoes and four kayaks. Since Santa Elena Canyon was too low to run, we put in just below it, with plans to head 73 bumpy miles downstream to Rio Grande Village. We wore sweaters and dragged our boats over slick shoals. But it was beautiful. The prickly pears were blooming yellow. Vermilion flycatchers flitted like brilliant wind-torn flowers along the bank.

Now we huddled around the small fire. I looked across the river at Texas. The Chisos Mountains, some 15 miles to the northwest, abrupt and rugged and black, absorbed the last light like a pile of coal. Then I noticed movement. A clump of spindly ocotillos waved urgently. Cottonwoods, just upstream, began to thrash. Then it hit. The fire exploded. The pot tipped and the lid sailed into Chihuahua. In the 50-mile-an-hour gusts, we were blinded by sand. It was a blue norther, out of nowhere. I fell asleep in the roar, and when I woke up in the night the wind had died and the temperature had plummeted.
In the morning there was ice in our water bottles and sand in our ears. We had to use Ziploc bags for gloves. It didn't matter: That afternoon as I paddled slowly into a huge flock of ducks I heard the air rip. A dark missile sheared down over our heads, and a mallard burst sideways in a flurry of feathers and landed on the gravel bar; a peregrine falcon double-pumped his wings and proudly gripped his prey. The desert had worked its magic. In that moment I forgot an entire Colorado winter. —Peter Heller

Details: Desert Sports in nearby Terlingua [888-989-6900; www.desertsportstx.com] rents canoes, kayaks, and rafts; provides shuttle service; and runs two- to seven-day guided raft trips on the Class II-IV Rio Grande.

More Chihuahuan Adventures

Camping in White Sands National Monument
The backcountry campsite in White Sands is barely a mile from the tourist road, but you might as well be on a planet circling another star. Gypsum dunes rise all around, glowing with almost phosphorescent power in the starlight. If you're lucky a kit fox might poke its nose over a dune to check you out. And, staring at the brilliant night sky above, you'll wonder: Hey, is that a meteor or a UFO headed toward Roswell? Season: Spring and fall. Distance: 2 miles round-trip. Do-It-Yourself: Permits are $3, available at the park visitor center only on the day of use. The backcountry campground has no facilities, and no fires are permitted (they would fuse the sand). Information: 505-479-6124; www.nps.gov/whsa.

Hiking the Guadalupe Mountains
One of the Southwest's "Sky Islands," the Guadalupe Mountains soar 3,500 feet above the Chihuahuan desert scrub to Guadalupe Peak at 8,749 feet (the highest point in Texas). From the Pine Springs Campground you can launch a 25-mile backpacking trip through the pine- and fir-clad high country, with views across two states and two countries. Season: Spring, summer, and fall. Distance: 25 miles round-trip. Do-It-Yourself: Pine Springs Campground ($8 per night) is 103 miles east of El Paso, Texas, on U.S. 180. Take the Tejas Trail to 8,631-foot Bush Mountain, and loop back down on the Bush Mountain Trail. Pick up a free backcountry permit at the visitor center. Information: 915-828-3251; www.nps.gov/gumo.

Mountain Biking the Big Hatchet Mountains
Agoraphobics need not apply. The section of the Continental Divide Trail that runs the length of the Little and Big Hatchet Mountains is smack in wide-open, Louis L'Amour country in New Mexico's boot heel. For a cross-country challenge, start at the town of Old Hachita and head southeast for 30 miles along the flanks of the 8,000-foot ranges, and watch for desert bighorn sheep on the slopes. Season: Spring and fall. Distance: 30 miles one way. Do-It-Yourself: From Las Cruces take I-10 west 90 miles, and then go south on New Mexico 146 to Hachita. About 25 miles south on New Mexico 81, park at Old Hachita and head south on the road marked by a cairn. Information: New Mexico BLM, 505-525-4300. —Jonathan Hanson
The Gulch Club
Four friends play the slots in Utah's canyon country and win big

GREAT BASIN >IN BRIEF
This 200,000-square-mile basin-and-range country is known for its cold winters, beautiful sandstone arches, and slot canyons. Extending all the way into Canada, the Great Basin is dominated by plains full of sagebrush.
Hole in the Rock Road turned my dog's teeth into castanets. A godforsaken strip of red dirt running southeast from the desert-rat town of Escalante, Utah, Hole in the Rock could be the most hideously washboarded road in the Lower 48. Driving to the slot canyons of Coyote Wash in Grand Staircase-Escalante National Monument meant 27 miles of rattled skulls for my wife M'Lissa, our friends Dave and Michele, and me. When we turned off to camp on the rim of the wash, we tagged the road "Gaping Chasm in One's Soul Road"—though I'm sure it's been called worse.

We awoke to sunrise over ruddy mesas, which glowed as if lit from within, laced up our trail-running shoes, and dropped into Coyote Wash, following a path of cairns through juniper bushes. All the slots in Coyote Wash are under a mile, so we hiked several that day.

First came Dry Fork, with 50-foot-tall slabs so close together that we could plant our hands on one wall and our feet on the other. Then came Spooky Gulch, one of the narrowest—even Calista Flockhart would need to turn sideways in order to squeeze through. The upper section of the half-mile-long gulch is technical, demanding an occasional bouldering move.

We ended with Coyote Wash's signature slot: Peek-a-Boo Gulch, erosion at its weirdest. Peek-a-Boo winds for a quarter-mile among sandstone bridges, Swiss-cheese holes, spiral staircases, and V-shaped pinches. As Habitrail is to gerbils, Peek-a-Boo is to hikers—or at least it should be. To those Utahans worried that this part of the Great Basin will attract too many tourists, I say anyone who survives Hole in the Rock road deserves to explore there. Not that my dog is in any hurry to go back. —Rob Story

Details: The Escalante Interagency Visitor Center [435-826-5499] in Escalante issues backpacking and overnight-camping permits (backcountry camping is free). Its Dixie Interpretive Association sells maps and guidebooks. For more information, visit the Grand Staircase-Escalante National Monument Web site, www.ut.blm.gov/monument.

More Great Basin Adventures

Llama Trekking the San Rafael Swell
Once a million-acre sandstone bump, central Utah's San Rafael Swell has eroded into a labyrinth of buttes, towers, and natural arches, with canyon floors exposing 250-million-year-old rock. The soft footpads of llamas make no sound and leave no trace as they schlepp your gear along the San Rafael River, leaving you free to swim and hunt for petroglyphs and pictographs in side canyons. Season: Spring and fall. Distance: 6 to 12 miles round-trip. Do-It-Yourself: BYO llama. Guided Trips: Rosebud Llamas (three-day trips, $360 per person; 435-548-2630) leads fully catered treks along the river.

Mountain Biking Capitol Reef National Park
Sure, iron oxide dyed the sedimentary rocks, but all you need to know is that the Navajo called Capitol Reef "land of the sleeping rainbow." The 60-mile Cathedral Valley Loop road tours the best of it, with plenty of switchbacks and a river ford. Expect deep mud after rains. Season: Spring and fall. Distance: 60 miles. Do-It-Yourself: From the visitor center on Utah 24 (435-425-3792), head east 12 miles to Hartnet Road, where the loop begins. Guided Trips: Timberline Adventures (800-417-2453; www.timbertours.com) includes Capitol Reef on its ten-day Canyon Country Classic tour ($2,195).

Canyoneering Paria Canyon
It's the quintessential slot-canyon primer. Northern Arizona's Paria combines claustrophobic splendor and a strict 20-person-per-day permit system. The best route takes five to six days and begins with a shortcut through the shoulder-width Wire Pass to Paria and into Lee's Ferry. Wading icy pools is mandatory. Season: Spring or late fall. Distance: 43 miles. Do-It-Yourself: Reservations are available from the BLM (paria.az.blm.gov). Guided Trips: Wild Horizons (888-734-4453; www.wildhorizonsexpeditions.com) offers a three-day, 17-mile sampler of the Paria wilderness ($625). —Jonathan Hanson
Best Close-to-the-City Day Hikes
Desert Hors D'oeuvres

Phoenix, Arizona
Echo Canyon Trail, Camelback Mountain Recreation Area

Where: Echo Canyon Place off McDonald Drive (44th Street) in the middle of Phoenix

This steep 1.25-mile trail, popular with local runners, rises a total of 1,300 feet through cacti, creosote, and chuparosa to the 2,704-foot summit of Camelback Mountain. Your sweat earns you the best view of town—from town.


Albuquerque, New Mexico
Rinconada Canyon Trail, Petroglyph National Monument
Where: Three miles north of I-40 on Unser Boulevard

Thousands of petroglyphs, up to 12,000 years old, dot the basalt boulders along this gentle 2.5-mile trail. The rising and setting sun reveal different glyphs throughout the day, so even if you don't happen to see a roadrunner or a circling hawk, you'll always see something new.
Los Angeles, California
Devil's Chair, Devil's Punchbowl County Park
Where: End of Longview County Road, about 60 miles from downtown L.A.
Hike one mile on the Burkhart Trail, passing through the jumbled sandstone seam of the San Andreas Fault, then take the upper trail to Devil's Chair, two miles farther. The 6,300-foot outcropping overlooks crater-size Devil's Punchbowl and the Mojave Desert.


Las Vegas, Nevada
Silica Dome Trail, Valley of Fire State Park
Where: 55 miles northeast of Las Vegas on I-15, near park headquarters at Rainbow Vista Trailhead

A 1.5-mile trail leads to the summit of Silica Dome, with the ochre Jurassic sandstone also found in Zion and Bryce National Parks spread out below. Hike in the morning, and in the afternoon devour that all-you-can-eat buffet on the Strip or swim at equally depraved Lake Mead, five miles east.


San Diego, California
The Slot, Anza-Borrego State Park
Where:
Buttes Pass Road (dirt) off California 78 at mile marker 87

Named after Spanish explorer Juan Bautista de Anza and the local borrego, or bighorn sheep, 938- square-mile Anza-Borrego State Park is 85 miles east of San Diego. On this two-mile in-and-out trip you probably won't see borregos (or Juan Bautista), but you will drop into the dark and narrow Slot, one of the park's twistiest sandstone canyons.
Sip, Don't Chug
—And other Desert Lies
Ultimate Desert Myth
Deserts are infernos.

Well, yeah—and freezers. In general, temperatures in the desert are the most extreme on earth. In a single month in Big Bend National Park in 1949, the high temperature reached 82 degrees Fahrenheit while the low hit minus three. Know what the weather can be like at your destination and prepare for the worst. For example, visitors to Antarctica, the world's largest desert, are advised to forgo Tevas in favor of mukluks.

Myth #1:
Strip down to cool down.

Cotton may kill in the mountains, but in the desert it can save lives. Indeed, light-colored clothing not only protects you from sunburn, but also traps sweat that would otherwise evaporate in the dry heat. Cloaked in a cool layer of your own perspiration, you're less vulnerable to heat exhaustion and heatstroke. Stripping is fine in Vegas, but in other desert locales indecent exposure is a capital offense.


Myth #2:
Food and water are equally important when you're lost in the desert.

Humans can survive without food for up to three weeks—but without water say sayonara, Sonora, in three days or less. Not only do you need water sooner, but you need more of it. Food can actually suck H2O from your gut during digestion, speeding up dehydration. Put simply, you're better off studying your map for the nearest water source rather than grilling up comfort food. (Mmm… javelina burger.)


Myth #3:
Deserts are full of fantastic mirages.

Well, there's no such thing as a Disney-style mirage where pantalooned sheiks eyeball a harem of buxom belly dancers (unless you're suffering from dehydration-related dementia, which is another story), but faux lakes and funky mountains do creep into view from time to time, caused by layers of heated air bending rays of sunlight. If you're not prepared, mirages can distort distances, leading to bad judgments and wrong turns. Trust your map, not the dancing girls.


Myth #4:
Cacti are lifesaving wells of potable water.

Well, you wouldn't exactly call the stuff inside a cactus "water." If you slice the top off a cactus, you'll find mushy green innards, and though you may be able to squeeze some juice from them, the bitter, alkaloid-rich liquid can cause vomiting or diarrhea, dehydrating you even more. Of course, a lucky gamble might keep the buzzards away a little longer.


Myth #5:
Sip to conserve your water supply.

What you learned in college applies in the desert as well: Chug, chug, chug, chug. You need to maintain the volume of water in your bloodstream to keep your billions of cells hydrated and your brain functioning, and demure little sips aren't going to get the job done. So go ahead and take a big gulp or two—rescuers have found more than one dead miser clutching a half-full canteen.


Myth #6:
If a rattlesnake bites you, cut open the wound and suck out the venom.

Steer clear of the old cut-and-suck and you avoid more than a nasty hickey. Slicing open a snakebite exposes capillaries to the venom, speeding it on its way to destroy blood vessels and muscle tissue. Instead, splint the punctured limb before hiking out to the nearest hospital ASAP. Chances are you'll survive. Of the 7,000 or so people bitten by venomous snakes in the United States each year, only nine to 14 bite it, so to speak.
Q+A: Dry Advice
Nobody feels more at home in parched, prickly places than David Alloway. One of the country's leading desert experts, he runs a school, David Alloway's Skills of Survival (www.skillsofsurvival.com), near Big Bend National Park in west Texas. We caught up with David after he'd just finished working on an episode of a new reality-television series, The Worst Case Scenario.

How'd the TV shoot go?
We filmed it in the Anza-Borrego Desert in southern California. The ambient air temperature was 121 degrees, and the ground temperature was 163 degrees. We had four people drop on the camera crew. One day they brought in this motorized glider with a heck of a camera system for overhead shots. Anyway, it got so hot in the plane, the cinematographer threw up on the electronic gear and blew it all out.
So in this episode you teach about survival situations?
Yeah, but I didn't do any Crocodile Hunter stuff like kiss a snake on the lips. We did put a scorpion in my boot and I dumped it out in the morning to show why you should do it. But because this scorpion was a rented scorpion, I didn't squash it.

What's the weirdest thing you've ever eaten in the desert?
Probably iguana with chile sauce in Mexico. I've eaten kangaroo and some grubs in Australia.

What do grubs taste like?
It depends. Some have a nutty flavor; some are slightly sweet. You can bake them, like a bacon rind. Cook 'em up by the fire. But what most people don't do, you need to tear those legs off first, because they really scratch going down as they're trying to climb back out. But seriously, people say, "You eat it guts and all?" Some people eat sardines. And those are not clean, you know.

What's the most common mistake in a survival situation?
The panic factor. Instead of sitting down and logically thinking things through, people panic. They start running. They get lost and decide they're going to run their way out of it, and they leave the trail. And that's where they screw up. If they stay on the trail, that will be covered first thing by a search. A lot of times people go off and start looking for food, which is pretty far down, way down, the list of things you should be doing.

What is the most important thing in your survival kit?
I would say it would be potassium permanganate. It's a vial of little chemical crystals, and with it you can make water potable, you can start fires with it, it's a topical antiseptic, and it's a fungicide. That vial will purify 300 gallons of water.

What's the most evil plant in your area?
Lechugilla. It has a chemical on the tips of the thorns that causes immediate pain and swelling. It's also somewhat antiseptic, so if that thorn breaks off in you it won't fester up. It might take ten weeks to pop out, so you have to have it surgically removed.

How do you stop a bad case of the runs out in the desert?
You can take a piece of charcoal—let's say about the size of a walnut—and grind it up real good, mix it in water, and drink it. That'll help bind you up.

Tell me about things you've been bitten, stung, clawed, or poked by.
Well, I've never been snakebit. I came very close once. I had a rattlesnake strike my boot, and one of the fangs penetrated, and the venom dribbled down my ankle. I've been stung by scorpions half a dozen times. Usually it was my fault, putting on my boots without shaking them out.
A Brief Desert Canon

PHOTOGRAPHY
Desert: The Mojave and Death Valley, by Jack W. Dykinga

Brilliant, color-saturated images of deep canyons and patches of lush green scattered throughout the harsh and beautiful Mojave.


FICTION
The Sheltering Sky, by Paul Bowles

The story of three young Americans who find themselves in North Africa, where they encounter the desert's shifting moods and alien cultures.


MUSINGS
Desert Solitaire,
by Edward Abbey

The classic meditation on deserts by America's crustiest codger, Abbey's masterpiece is part rant, part celebration, and still prickly after 30 years.


GUIDEBOOK
A Natural History of the Sonoran Desert, edited by Steven J. Phillips

The award-winning text includes a calendar of natural events highlighting animal migrations, full moons, and the Sonoran's awesome spring flower show.


CLASSIC FILM
Beau Geste

This 1939 Gary Cooper film follows the Geste brothers as they join the Foreign Legion and head off to do battle in the Sahara.


DOCUMENTARY
Cadillac Desert

A four-part PBS series based on the Marc Reisner book chronicles the West's quest for water in the 20th century.


ADVENTURE FLICK
Lawrence of Arabia

The brilliant dramatization of the career of T. E. Lawrence, the man who reshaped the map of the Arabian Peninsula.
Hot Stuff
Fierce sun, thorny foes, and bewildering terrain: The desert is no place to skimp on critical gear, such as these essentials heartily endorsed by a desert rat who's made most of his mistakes already�but never again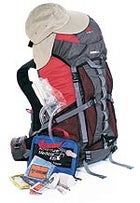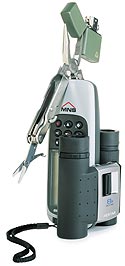 FOR YOUR BODY
Covering your skin with tight-weave clothing trumps sunscreen, especially if the garments are as copiously ventilated as RailRider's Eco-Mesh Shirt ($50, buy a size too big for extra airflow) and Pants (with side-zip mesh panels, $70), both developed especially for the Marathon des Sables race across the Sahara. 800-437-3794; www.railriders.com

The desert wind and intense glare off sand and rock take a toll on your eyes, making wrapping UV-resistant shades a necessity. Oakley's Straight Jacket Electric Blue shades ($195) do it all while staying color-true. 800-431-1439; www.oakley.com
You'll cease sneaker madness once you've been cactus-thorned; opt for leather boots. (But not Gore-Tex-lined— too hot!) The nubuck leather Montrail Cristallo ($165) is out-of-the-box wearable and amazingly breathable, and a pair of Fox River HikingFox merino wool socks ($11-$14) will keep feet dry and in thermal equilibrium. Montrail, 206-621-9393, www.montrail.com; Fox River, www.foxrivermills.com

FOR YOUR SAFETY
The old gallon-a-day saw is for loafers. Hard hiking under the desert sun requires you to drink even more water, but few hydration packs have the ability to handle that much liquid. The 2,770-cubic-inch Ultimate Direction Warpspeed ($140) can tote an impressive 2.6 gallons— 128 ounces in its primary reservoir, 96 ounces in a second reserve bladder ($26), and a 54-ounce flask in each of two side pockets ($7 each). 800-426-7229; www.ultimatedirection.com

Shade is easier to wear than to find. Besides protecting skin and pate, a hat reduces UV bombardment of the eyeballs by 95 percent. Sportif's Wind Knot Hat ($29) also shades the neck with a removable cape that tucks into a pocket on the cap. 800-776-7843; www.sportif.com

Desert: cholla thorns, scorpion stings, rock abrasions, heat exhaustion, sunburn, blisters. Adventure Medical Kits Day Tripper ($38): splinter-picker forceps, tincture of benzoin, double antibiotic ointment, antiseptic towelettes. Add a few packages of CeraLyte oral rehydration salts ($7 for two liters' worth) and some sunscreen (SPF 30, at a minimum) and you'll probably cheat the buzzards…this time. 800-324-3517; www.adventuremedicalkits.com

FOR YOUR POCKET
Navigation is tricky in the wide-open desert, but you damn well better know where the next waterhole is. Brunton's Multi-Navigation System ($400) uses 12 GPS satellite channels to pinpoint your locus within three feet, and a built-in magnetic compass minimizes battery drain when you simply need to take or follow a bearing. 800-443-4871; www.brunton.com

Whether it's to signal your location or light your camp stove, you need fire in the desert, but incessant wind renders most sources impotent. A Zippo Outdoor Series Windproof Lighter ($20) is the virile solution—stays lit in a howler, antarget=_blankd is practically eternal. 814-368-2700; www.zippo.com

Binoculars are a necessity and a pleasure—for route-finding and dispelling mirages, and for viewing wildlife. The light weight (10.6 ounces) and sure grip of the Pentax 8×22 DCF MC ($290) strike just the right balance of size and power. 800-877-0155; www.pentax.com

The Leatherman Pulse ($72) has a locking blade so you can open up your can of Dinty Moore without opening your thenar muscles, too. Great for sharpening your chuckwalla-roasting stick, repairing your shades, or popping a Corona back at camp. 800-847-8665; www.leatherman.com