Let the Games Begin
The just-in-time, let's-party, fear-no-evil Winter Olympics get ready to rip in the country that needs 'em now more than ever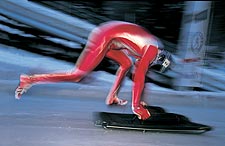 Heading out the door? Read this article on the new Outside+ app available now on iOS devices for members! Download the app.
AN UNPRECEDENTED 3.5 billion people are expected to tune in February 8 and watch the opening ceremonies of the XIX Olympic Winter Games, including, quite possibly, you. But try for a moment to look beyond the events, the athletes who compete in them, and those silly Lycra spiderman suits that U.S. Ski Team members have been forced to wear for almost a decade. Fast-forward to day 17 of the Salt Lake City Games and imagine the collective sigh of relief as the Olympic flame is doused, the razor wire is rolled up, the F-16s have departed, and the M-16s have been stacked and stored. Consider how these Games will be remembered.
Austria's Franz Planegger races in skeleton, a daring sport returning to the Games after a 54-year hiatus.

With luck, the carryover will be fervor, not fear. Well in advance of winter, this year's international sports pageant seemed destined to go down in Olympic annals as the Comeback Games—for those athletes who've overcome grueling personal battles just to show up; for the host city itself, which has grappled with a doozy of a sports-bribery scandal; and for the host nation as a whole, which has had a rough five months.
Few doubt that what is intended as a global celebration will be a rallying point for a country in serious need of a good time on its home turf—a fact that has not escaped NBC, which holds exclusive U.S. broadcast rights to the Games. While David Neal, the network's head of production for the Olympics, insisted in an interview last fall that "jingoism is not in our vocabulary," he also allows that the televised Games, which run through February 24, will "take on an enhanced American flavor." Translation: NBC will paint its on-screen graphics with stars and stripes, and roving cameras will, says Neal, "document whatever spontaneous displays of patriotism there may be."


And don't expect any shyness on the flag-waving front. In November, the Salt Lake City Organizing Committee began draping downtown office towers with 141-by-97-foot banners depicting sports like skiing and skating—the largest Olympic pennants ever—but these were dwarfed by the football-field-size Old Glory that had decorated the group's own building two months before.


If the Games do play out as a comeback party, then Picabo Street makes a fitting homecoming queen. Salt Lake City represents the second against-the-odds return for the 30-year-old Street, who rebounded from a blown ACL to wear silver in Lillehammer, and then ripped the same knee again but rebounded to win gold at Nagano—only to tear, fracture, and shred her knees and legs in a crash in Switzerland one month later. She will compete this month with enough pins and plates in her lower extremities to set off every metal detector in Utah.


For other athletes, the Games will offer a chance to heal wounds of the self-inflicted variety. Coach Peter Foley promises that the U.S. women's snowboarding team is primed for victory, and that, unlike in Nagano, where nearly every member of the team crashed, they won't be spending the day before competition sightseeing and playing video games.


But it remains to be seen how much the flag-waving will really matter when it comes to the hard facts of gold, silver, and bronze. Though the U.S. ski team is strong this time around, America is not traditionally a Winter-Games powerhouse, and the competition—including Austrian downhiller Michaela Dorfmeister and Norwegian slalom champ Kjetil Andre Aamodt—won't easily be cowed. David Wallechinsky, author of The Complete Book of the Winter Olympics, puts his money on Yankee victory in short-track speed skating, women's bobsled, and two-man luge. He's also predicting a nail-biter match between the U.S. and Canadian women's hockey teams. As for men's hockey, things can only get better: At Nagano, after losing to the Czech Republic, America's puck men went on a Mötley Crüe-style hotel-room rampage, breaking chairs, emptying fire extinguishers, and chucking the resulting debris off a fifth-floor balcony.


A successful Games will also offer redemption for the good people of Salt Lake City, determined as they are to move beyond a scandalous Olympic bid tainted by more than $1 million in alleged bribes. Back in July 2000, a federal grand jury indicted former Salt Lake City Organizing Committee bid chief Tom Welch and deputy Dave Johnson for plying International Olympic Committee members with Super Bowl tickets and other gifts. Having dismissed four of the charges last July on the grounds that they amounted to a misapplication of the law, a federal judge threw out the remaining 11 counts in November. An appeal could still keep the case rolling through 2002, but for now at least, the affair is off the table. Which is just fine with the locals, who all along insisted that their town had won its Olympics based solely on its outstanding snow and hospitality.


If preparation counts for anything, Salt Lake City will get high marks. Anxious to avoid the logistical disaster that was Atlanta (those Games flunked out on security, transportation, and technology), Utah organizers constructed $322 million worth of cutting-edge facilities such as the splashy Utah Olympic Oval, where even the Zamboni is environmentally correct (it runs on natural gas). Meanwhile, the state invested $1.5 billion to revamp local highways and $431 million to build an urban rapid-transit system. Olympic maestros are crossing their fingers and hoping for no traffic snarls, no computer glitches, and no Tom Clancy terrorism nightmares. Pointing to a $300-million-plus security budget, three times what was spent to batten down Atlanta, International Olympic Committee member Gerhard Heiberg promised reporters last fall that Salt Lake City will be "the safest city in America" during the Games. More than 7,000 soldiers, federal agents, and police officers will be there to make the point clear.


In the end, organizers hope the 2002 Winter Games will be remembered as a rallying point for national and international resolve in the face of terrorism and war. Like most athletes, Picabo Street understands that there's more riding on her Všlkls than a medal. She hopes her Olympic runs will "give America something to smile about," she says, "because it's been a little bleak." And while some foreign athletes—French slalom champ Pierrick Bourgeat, to name one—have suggested Salt Lake City might as well paint a bull's-eye on itself, most athletes feel sure that going ahead with the competition only makes sense.


"That's one way that we can show that we're not afraid," says Emily Cook, 23, an aerials specialist on the U.S. Ski Team. She should know; she lost a cousin at the World Trade Center—an attendant aboard American Airlines Flight 11.
The Ones to Wasatch

Schlopy > World Cup Giant Slalom, January 2001
Picabo Street may be the poster girl for Yankee pluck, but she's not the whole story. U.S. Ski and Snowboard Team honchos are talking about scooping up as many as ten medals in Salt Lake City, including possible golds in downhill and Super G. The boast isn't merely a PR stunt; 78 Americans will compete at five venues in the Wasatch Mountains around Park City and Ogden, in the disciplines of alpine skiing, nordic skiing, and snowboarding. The team's final selection occurred after this issue went to press, but it's clear from a look at top contenders that this year's Team USA should improve on the dismal performance at Nagano. —Eric Hagerman



/ Slalom / Giant Slalom /
Erik Schlopy

Some athletes crank the tunes. Others snarl at their competitors. Buffalo, New York, native Erik Schlopy lines his helmet with flash cards that read, "Drive hips at apex of turn while maintaining snow contact." Hey, whatever works. Indeed, Schlopy's ruthlessly analytical character may be just the thing to get the job done in a discipline that's all about technical precision. The 29-year-old finished last season ranked third in giant slalom, after taking second in two World Cup races. The breakthrough sets him up perfectly for a top-three finish in Salt Lake. "It's never been a question of talent with Erik," says Dave Striegel, a sports psychologist who's worked with Schlopy for three years now. "It was just a matter of time. He has gotten really good at being comfortable skiing at the edge of his potential, that fine line between being too aggressive and too conservative."
/ Half-Pipe Snowboarding /
Danny Kass

If Danny Kass could be anything when he grows up, it would probably be a punk-rock front man. But for now, the 19-year-old snowboarder would settle for Olympic medalist, so long as he can listen to the Misfits through his headphones while he competes (he can, and will). Kass, who hails from Mammoth, California, cropped up at the top of the national standings last year thanks to a fluid style developed after 12 years on a skateboard. That and his "lofty amplitude" (read: big air) went over well with judges, who might be tiring of the trend toward herky-jerky technical accuracy that has come with the transformation of snowboarding from lifestyle to sport. Kass's agent Bob Klein, who has worked with such notorious figures as Shaun Palmer, sums it up this way: "Putting a routine together like a figure skater is what he's not doing." Kass will have to worry about a handful of Scandinavians, but then, don't they listen to Abba?


/ Parallel Snowboarding /
Rosey Fletcher

It's impossible to talk about Fletcher's odds without bringing up the ignominious bonk of her entire team at Nagano, where the Americans hoped to own the podium. "All the girls sucked there," snorts coach Peter Foley. "They all crashed. It was horrible." Plenty has changed since then, not the least of which is the format itself. Instead of zipping through a line of gates one at a time, the fastest 16 racers now blaze along on side-by-side courses. New, too, is Fletcher's maturity at the ripe age of 26. "We went into Nagano so naive. We were saying, ÔWe're going to kick butt!' and it came back to haunt us," says Fletcher, who placed second to Switzerland's Ursula Bruhin at the World Championships last season. "I feel like I'm a completely different person now. I have my energy going in one direction instead of every which way." With any luck, this Alaska native should be able to give her coach something nice to say come race day.


/ Freestyle Aerials /
Eric Bergoust

"Head and shoulders, Eric is above everybody else in the world," says U.S. freestyle-skiing coach Jeff Wintersteen, and not just because that's the sort of thing he gets paid to say. Bergoust has won 12 World Cup events, posted the three highest aerials scores ever, and invented the "double-in takeoff" technique that most of his competitors now use to launch themselves into their acrobatic routines. He is unquestionably the Zen master of executing three flips with four twists on a pair of skis, the trick it'll take to win in the Wasatch and the same one he used to take gold at Nagano. But don't expect a slam-dunk medal this month—Wintersteen charges that the judges may not have adequate experience to recognize how much more advanced his twist is. If the score givers don't get it, or if our favorite so much as twitches midtwirl, you might instead be hearing about American Joe Pack, a crowd (and judge) pleaser who will be particularly dangerous given that he went to high school in Park City. "What we do is kind of a show, and I'm one of those guys who likes to hear some noise," says the 23-year-old Pack, ranked second in the World Cup last season. "I'm antsy, man."


/ Combined Sownhill / Slalom /
Caroline Lalive

At Nagano, where an 18-year-old Lalive finished seventh in the combined—an event whose score is determined by adding a racer's times in one downhill run and two slalom runs—she viewed her feat as a delightful surprise. "But now if I got seventh," she says, "I'd be pissed." And rightly so. Lalive won the Junior World Championships in 1999 and has since been adjusting to the grind of the World Cup circuit. The task is especially difficult because she spreads herself so thin, competing in all four disciplines of alpine skiing. Her challenge at the Snowbasin Resort, where the downhill events will be held, is not physical (she can set an edge just as well as Croatian phenom Janica Kosteli"c or anyone on the powerful Austrian team) but psychological: She admits to a touch of performance anxiety. "One of my teammates had this dream that she showed up to the start and was just wearing her underwear and boot liners," Lalive says. "I definitely have some of that." Assuming Lalive can keep her pants on, there's an excellent chance she'll be standing on the podium.


/ Downhill / Super G /
Daron Rahlves

The Salt Lake Olympics couldn't be a better match for Daron Rahlves, the first American man to win the World Championships in the Super G. First, the course at Snowbasin Resort is steep and technical, ideally suited to a racer of his smallish stature. (At five-foot-nine and 175 pounds, he can't glide over flat stretches as fast as, say, an Austrian bricklayer.) Second, the 28-year-old Truckee, California, resident isn't exactly insecure: "I know I have what it takes," he says, narrowly averting arrogance. "I don't have to do anything special." Third, as he proved last season at a World Championships event at St. Anton, Austria, he thrives under pressure. "I remember being at the top and just laughing with my coach, looking at how many fans there were—it was, like, 60,000 people." (At Park City, there will be a mere 22,000 on hand.) Rahlves responded by beating Austrians Hermann Maier and Stephan Eberharter on their own turf. Now, he expects to repeat those wins at home.


/ Nordic Combined /
Todd Lodwick

For those in need of a refresher course, nordic combined goes like this: Whoever jumps the farthest from a 90-meter ramp leads off in a 15-kilometer cross-country ski race, with the pack staggered in intervals behind. The format agrees with Todd Lodwick, 25, who is perhaps the fastest skier in his sport. Throw in his fondness for high altitude (he hails from 6,695-foot Steamboat Springs, Colorado), and Lodwick's chances start to look pretty good for the Olympic course, which sits at 5,478 feet. His takeoff can be spotty, but he tweaked his technique several years ago, and late last season seemed to be finding his groove; in January 2001, before a hometown crowd in Steamboat, he won a World Cup event. "In simple terms," says Tom Steitz, team program director for U.S. Nordic Combined, "if he gets his jumping down, he will be one badass mother."
Pack Animal
Apolo Ohno blazes through one of the flashiest events on ice: short-track racing, wherein five guys on razory blades take off in a clump—and only one leaves it behind
Cheat Sheet
Apolo Ohno

World Cup Medals:

17 gold, five silver, five bronze

Look For Him On:

February 16, 20, and 23
Breakout Moment:

A 12-year-old Ohno ripped up his in-line skates to jury-rig his first pair of blades.

Ohno > Olympic 1,500-meter qualifier, October 2001
UPDATE: Charges that Ohno conspired to fix race at U.S. trials dropped.


WITH A NAME LIKE a Marvel Comics hero, Apolo Ohno arrives this month in Utah poised to become a star on ice. After dominating last year's World Cup short-track speed-skating season—Ohno swept the overall championship and the individual 500-meter, 1,000-meter, 1,500-meter, and 3,000-meter titles—the 19-year-old Seattle native could well end up as the first American man in the sport's history to wear Olympic gold. "When he's on his game," says Susan Ellis, his coach, "he has been unstoppable."
And what a game it is. Short trackers are cunning pack racers, their contest a Roller Derby without elbows. They zip around a rink in a five-man knot, cutting ice at 30 miles an hour on 17-inch blades that could flense a whale. Fallen long-track skaters suffer only embarrassment; downed short-trackers hit the boards like cannonballs.


"Long-track seemed kind of boring to me," says Ohno, who switched from in-line skates to blades at age 12, after catching a broadcast of the short-track finals in Lillehammer. "I need the intensity of the pack." Two years later, Ohno beat four-time Olympian Andy Gabel to take the U.S. title. But when the Nagano Olympic trials rolled around in 1998, Ohno found himself fed up with the rigorous demands of training, and didn't even make the team. "My attitude towards skating," he later said, "was crap." Soon after, realizing he'd blown it, Ohno retooled everything: Diet, training regimen, skating style, and, most of all, his head. "At the world-class level, everyone comes with the same strength and speed," he says. "The difference between first place and fifth is all in strategy and mental edge."


He'll have the timing and drafting down, but to lead the way at the Salt Lake Ice Center, Ohno will have to play a little catch-up. The September 11 attacks canceled the American team's participation in this year's opening World Cup events in China and Japan, so Ohno will compete with only a half-season under his belt. Still, according to the now-retired Gabel, his momentum makes him a favorite for gold. "When the other guys expect you to win, you've already almost got 'em beat," he says. "That's what's happening with Apolo now."


The "other guys"—contenders like South Korea's Kim Dong-Sung, Canada's Mark Gagnon, and China's Li JiaJun, all from countries that traditionally dominate the sport—will try to get inside the American's skull and throw a split second of doubt into his race. If his inner game holds, though, he'll hobgoblin their minds instead. They'll toe the line, glance at his cherry-red helmet, and think: Oh, no.
Powder Tools
Behind every modern Olympian there are geeks—titanium-smelting gear wizards whose ideas can mean the difference between gold and goat. Straight from the secret labs, here are four of the hottest innovations for the Salt Lake City Games.

[ Ice Hockey ]
Bauer Tri-Flex Full Composite Stick
How it works: The company molded both the shaft and the blade using carbon and fiberglass, and then fused the two pieces together into a single unit. On the Tri-Flex, the typically solid shaft is hollow—stiff in the middle, whippy at the end. Weighing only a pound, the finished product is 30 percent lighter than a wood stick and 7 percent lighter than a two-piece composite stick with a replaceable blade.
Why it matters: A light swing weight spells faster blade speed for more power in shooting and passing. It's the same theory behind hollow aluminum baseball bats, where improved head acceleration translates into more ball speed.
Who'll have it: "Anyone who wants it," says Bauer product manager Troy Mohns. Including you, if you have a spare $180 come April.


[ Half-pipe Snowboard ]
Burton Dragon
How it works: While the laminated wood-and-composite strips inside most snowboard cores are sandwiched together in a fore-and-aft alignment, this one's laid out in three zones. Underfoot, the strips run edge-to-edge to maximize grip. At tip and tail, they run in the traditional direction, out toward the ends. The resulting board is stiff laterally (for better edge hold) and soft-flexing at the tip and tail for a forgiving feel in the pipe.
Why it matters: Better edge grip means athletes will have a solid platform from which to launch judge-pleasing rotation tricks like the 540-fakey.
Who'll have it: Olympic hopeful Kier Dillon, a 25-year-old veteran who first made his mark at the Gravity Games and X-Games, and who last January placed first at Austria's European Open Halfpipe.


[ Alpine Skiing ]
Deep-Sidecut Slalom Skis
How it works: Rule changes last spring permitted women to use slightly shorter skis—150 centimeters, as opposed to the 155-cm planks that men are still stuck with. Since manufacturers had to come up with new factory molds, they opted to tweak the overall shape of the skis. To maximize the amount of edge gripping the snow, most companies adopted wider tips and tails. The Völkl P50 Slalom Carver shown above measures 110 millimeters across the tip, 97 across the tail, and just 64 underfoot.
Why it matters: The new deeper sidecut—the hourglass-shaped side profile of the ski—will allow racers to muscle sharper, more powerful turns.
Who'll have it: U.S. slalom champ Kristina Koznick began training on the new Všlkl last summer, and loves it.


[ Cross-Country Skiing ]
Salomon Carbon Pro boot
How it works: When American sprinter Maurice Greene won the 100-meter gold in Sydney, his spikes contained a stiff, light sheet of carbon fiber designed to return some of the energy lost each time he flexed his foot. Banking on the theory that the material will return power just as well on the snow, Salomon is giving aspiring Winter Olympians its Carbon Pro—the first cross-country boot to use a carbon-fiber sole.
Why it matters: If a stiffer sole can influence the outcome of a 100-meter dash, the theory goes, then all that extra power flowing back into the ski will translate to Utah gold.
Who'll have it: A limited pre-Olympic production run will put the Carbon Pro on the top 30 Salomon-sponsored men and women on the World Cup circuit in both skate and classic nordic events, including Sweden's Per Elofsson, the sport's top dog.
Let the Women Drive
Bobsledding goes coed this year, with the U.S. paced by two legstrong gals who may do something completely different: win
Cheat Sheet
Davidson and Racine
World Cup Medals:

12 gold, six silver, two bronze
Look For Them On: February 19
Breakout Moment: Davidson tried out for bobsled after answering a want ad in the Salt Lake Tribune.

The Bobsled Girls > Bobsled World Cup, February 2001
UPDATE: The Bobsled Girls have split up!


"WE'VE BOTH developed nice plump rear ends—we call them our power packs," says Jen Davidson, who at five-foot-eleven is the taller half of the American team favored to ride the chute February 19 at Park City in the Olympic debut of women's bobsled. The label is fitting—ever since the earliest Norwegian bob racers zoomed down icy roads in the 1880s, powerful glutes and quads have been essential for muscling the sport's massive sleds down the start ramp and then, once driver and brakeman have leaped aboard, as ballast for their near-90-mph plunge.
"Every pound we put on our body gives us an advantage," adds Jean Racine, 24, a ten-year veteran of competitive bobsledding and luge who will pilot the 374-pound fiberglass-and-steel sled while Davidson, a former track star from Layton, Utah, rides the brake. Every pound, that is, until the scale reads 770, the limit set by the sport's governing Fédération Internationale de Bobsleigh et de Tobogganing for the combined weight of riders plus sled. "The key is to have the lightest sled with the fastest, strongest athletes," explains Bob Cuneo, who designs the rigs for the U.S. Bobsled Federation.


After spending the past eight months packing on muscle via endless weight training and Mega Whey protein shakes, the self-described "Bobsled Girls" are poised to wear this nation's first Olympic bobsled medals in 46 years. Their odds are good: Though the Swiss and Germans have dominated men's bob for most of this century, Americans have done well on the women's side of the sport—a staple of the World Cup circuit since 1995. In the four years they've competed together, Davidson and Racine have medaled 20 times.


Whatever the outcome in Park City, these two clearly know how to sell themselves. In addition to TV-commercial deals struck with Visa and NBC, they scored the ultimate athletic coup in December by gracing the fronts of three cereal boxes (Crispix, plus two kinds of Mini-Wheats). Yet Davidson, 29, does admit that her marketable bobsled physique has one drawback: With glutes and quads that can squat 300 pounds, she can no longer buy pants without a drawstring waist.
In Your Face
THIS MONTH, when an obscure event involving a sled with no brakes and no steering returns to the Olympics after a 54-year hiatus, skeleton racing will feel less like a sport steeped in history and more like a crossover from the X-Games. "It looks extreme," says Park City's Lincoln DeWitt, 34, a candidate for a medal. "It definitely has that Mountain Dew image."


Skeleton involves even scarier body dynamics than the Olympics' other open-sled race, the luge. In both events, competitors shoot themselves down an icy track atop a steel serving tray equipped with razor-sharp runners—but skeleton racers lead with their face, not their feet. Sliding at 80 mph, with a mere two inches of clearance between chin and ice, athletes are all too aware that a mistake can make them look like something Popeye punched out. "When we hit the wall," says 31-year-old racer Tricia Stumpf, also of Park City, "we're covered in bruises."
Though there are no clear front-runners in skeleton, the U.S. stands a pretty good chance. Last season a trio of Americans—DeWitt, Stumpf, and Jim Shea Jr., a native of Lake Placid, New York—captured top-three World Cup or World Championship finishes.


Whoever wins, skeleton is sure to appeal to adrenaline junkies. Though U.S. coach Ryan Davenport insists it's "far safer than luge or bobsled," it's still potentially deadly. Competitors were reminded of that last October, when 33-year-old Girts Ostenieks, a Latvian slider, smashed into a runaway bobsled in Sigulda, Latvia. He died instantly.
This Must Be the Place
Bound for Utah? Beyond the Olympic venues, here's what to do—indoors and out—in one of the nation's greatest backcountry playgrounds.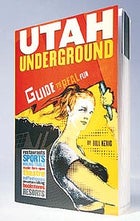 Best Guide
Utah Underground: Guide to Real Fun
, the new book that proves the state does have a nightlife
SLC l to do:

Skin up Grizzly Gulch near Alta, or anywhere in Big Cottonwood Canyon with a deep accumulation of snow. Build a ski jump. Try your first front and back flips into the powder.

Sleigh ride to 8,000 feet at The Canyons, a few miles north of Park City off Utah 224, and then cross-country ski or snowshoe for 20 minutes. Finish with a gourmet supper at The Viking Dinner Yurt (435-615-9878; www.parkcityyurts.com). Propose marriage over banana-bourbon bread pudding.

Rent a mountain bike from Highlander Bike (801-487-3508) and take it out to Antelope Island, a state park just north of Salt Lake in Davis County (from I-15 take exit 335 and head west). There it'll be just you, 40 miles of trail, and a herd of 550 bison.

Rockreaction, Salt Lake City's indoor climbing gym, offers routes all the way up to 5.13. The Black Diamond Equipment factory and store is right next door. (2074 East 3900 South, 801-278-7473). Pick through the racks for deals on fleece at the only Patagonia Outlet within 300 miles. (3267 South Highland Drive, 801-466-2226).

Paragliding in winter? You bet. A good wind is almost always blowing at The Point of the Mountain, a hillside just south of Salt Lake City in Draper. Call Steve Mayer at The Cloud 9 Soaring Center (801-576-6460; www.paragliders.com).

Go heli-skiing with Wasatch Powderbird Guides (800-974-4354). If the conditions are right, you might talk them into taking you to Provo North—a heart-pounding, 50-degree, 3,300-vertical-foot powder chute.

For an American twist on the Scandinavian tradition of camping alongside nordic-skiing courses, pitch a tent at Jordanelle State Park, 45 minutes south of SLC, and practice your Norwegian and Danish with the visiting fans. Bring herring.

Go ice fishing one hour southeast of Salt Lake City at Deer Creek State Park or one hour east at Rockport State Park (for permits call Wildlife Resources at 801-538-4700). Visualize perch and wear thick skivvies.

Attempt The Great White Icicle in Little Cottonwood Canyon: 650 vertical feet, rated WI3.

Take your altimeter watch and sticks to The Canyons and lap all day on the Ninety Nine 90 chair. With 1,500 feet of vertical for every six-minute ride, you could conceivably log 54,000 feet of of trees, moguls, and steeps in one day.

Bag five of the country's top ski resorts—Park City, Alta, Snowbird, Brighton, and Solitude—in one day on a lift-served, interconnected tour of the Wasatch Mountains. (801-534-1907).

SLC l eats:

[Chic] Metropolitan, 173 West Broadway, 801-364-3472
[Italian] Lugano, 3364 South 2300 East, 801-412-9994
[Sunday Breakfast] Ruth's Diner, 2100 East Emigration Canyon, 801-582-5807
[Comfort Food] The Blue Plate Diner, 2041 South 2100 East, 801-463-1151
[Greasy Spoon] The Cotton Bottom, 2820 East 6200 South, 801-273-9830
[Thai] Bangkok Thai, 1400 South Foothill, 801-582-8424
[Winter Picnic Fixings] Liberty Heights Fresh, 1242 South 1100 East, 801-583-7374

SLC l drinks:

[Pub] Wasatch Brew Pub, 250 Main Street, 435-649-0900
[JumboTron] The Fiddler's Elbow, 2100 South 1063 East, 801-463-9393
[Meat Market] Port O'Call, 400 South 78 West, 801-521-0589
[Internet Hub] Orbit Café, 540 West 200 South, 801-322-3808
[Olympian-Spotting] Harry O's, 427 Main Street, Park City, 435-647-9494

Local Lingo
[ A Glossary of UTAH SLANG ]

"Oh my heck!" Expression of either delight or disgust, as in "Oh my heck, I spilled chowder all over my ski chaps."

"Wanna sponsor me?" What you must call out to the patron sitting closest to the door at a Salt Lake City "social club" (that is, a bar serving hard alcohol) in order to obtain the legally necessary referral that gets you in. Sponsorship also involves a $5 to $12 "membership fee."

"Heavy beer" Full-strength suds, available only at government-run retail stores or social clubs. Beer with 3.2 percent alcohol is widely available in grocery stores, restaurants, and brewpubs.

GO WHERE THE PROS GO Three Favorite Backcountry Playgrounds From Those Who Know

Andrew McLean, ski guru and author of the backcountry-skiing guide The Chuting Gallery
Take a day trip into the Wasatch Mountains for some of the best backcountry skiing in the world. "The south face of Mount Superior has it all,"he says. "It starts at 11,200 feet, and you can ski right from the summit."

Peter Metcalf, president of Salt Lake City-based Black Diamond Equipment
Head to Park City's White Pine XC Area for nordic track skiing and "a great aerobic pump with grace and speed that's perfect if you only have an hour or so."

Conrad Anker, climber
The Utah climate is typically dry and mild, so if the sun's out, Anker—a former Salt Lake City resident, at left—recommends "the south-facing rocks of Little Cottonwood Canyon,"anywhere from the base of the canyon to Lisa Falls, 2.8 miles up the gorge.
Olympic Almanac
The Official Flabbergasting TriviaTM of the 2002 Winter Games

Volume, in gallons, of Olympian urine that the University of California, Los Angeles, will test for illegal performance-enhancing substances:
20




Estimated number of potential Olympic visitors who will stay home because of terrorism fears, according to Thayne Robson, researcher with the University of Utah's business school:
300,000




Original retail price for the Green Gelatin Lapel Pin, a souvenir badge depicting a bowl of green Jell-O that honors Utah's status as the nation's leader in the dessert's consumption:
$7




Market value of the pin among collectors:
$150




Number of Utah public-school students who will be excused from classes during Olympic events because of security and safety concerns:
14,996




Number of free hamburgers expected to be consumed by athletes at the Olympic Village McDonald's outlet:
135,000




Pounds of kimchi imported by the Olympic Village kitchen for Korean athletes:
1,500




Total events in the "Donut Olympics" to be held February 8 to 24 at Salt Lake City's Tommie's Donuts:
5




Glazed donuts consumed in a two-minute period by the current "donut luge" champion:
9




Distance, in miles, from which a set of 160-foot-diameter Olympic rings—illuminated and mounted 6,000 feet high in Salt Lake City's Twin Peaks—will be visible each night of the Games:
10




Gallons of 2002 Unofficial Amber Ale expected to flow from the taps of Salt Lake City's Wasatch Brewing Company during the Games:
19,000




Minimum bid required by eBay seller for 18 nights' exclusive use of a 6,000-square-foot historic downtown mansion with four floors plus round-the-clock concierge service and a 2,200-square-foot entertaining area "ideal for hosting large groups of 60 or 70 people":
$65,000




Damage deposit required:
$20,000




Speed, in feet per second, that a bullet travels when fired by a Fortner .22 biathlon rifle:
1,100




Speed, in feet per second, that a bullet travels when fired by a National Guard regulation M-16 semiautomatic rifle:
3,300