NYC Bound: Cycling's Mayor of Central Park
Avalo York once ruled the Central Park bike loop. He's still there, almost every weekday, but he's been done with racing for a long time.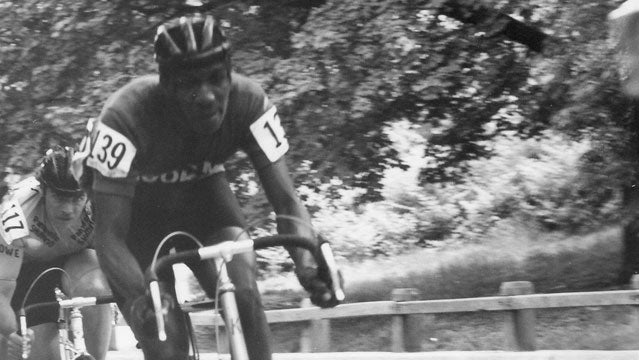 Heading out the door? Read this article on the new Outside+ app available now on iOS devices for members! Download the app.
Avalo York used to own the Central Park bike loop, but he's more or less an anonymous figure these days, especially on the weekends when the masses, with their $10,000-bikes and their zero institutional knowledge, descend to ride the six-mile circuit. He's one of the last of the old-school riders, a breed of athlete you rarely find flying around the drive anymore. But a few people know who he is. And those who do, they understand what a treasure the unassuming man is.
"Avalo is the only rider in the city that I'm comfortable riding with," says John Eustice, one of the first Americans to race in Europe, "He's the only guy who rides like a pro. The only one. He knows how to ride. He doesn't half-wheel. If you bump him, he doesn't panic. He knows all the unwritten rules of how to be and how not to be."
York got his start on a bike when he was 14, trading his tape recorder for a fixed-gear track bike. He started riding around the park with his brother and another friend, and they eventually found their way to the famed Kissena Velodrome. The trio came home from Queens early one morning, found a race in the park, and entered. York finished third. He kept racing between 1976 and 1981, joining outfits like Team Brooklyn and a Harlem-based crew sponsored in part by Muhammed Ali. ("I met him. He contributed some money.") After York "did well" during a race in Allentown, he was approached to be part of the Shimano team, one of the biggest in the country, but they never got sponsorship for an outfit in New York City, so nothing came of it. "If that would have happened, York told me, while he drank a fruit tea at an Upper West Side coffee shop, "my life would have changed in cycling. I would have had team support."
Instead, he continued on the semi-pro circuit, traveling to Milwaukee one weekend, Delaware the next, and somewhere in the Carolinas for the one after that. He became a cult figure in Central Park, always riding, always racing, always laughing, always doing well. York's form was impeccable, a product of thousands of hours spent in the saddle. "He just looks like a professional," Eustice says. There were nationals, Pan-Am trials, and other big events. York placed highly in many of them, but never broke through. It was a brutal schedule, and eventually it got to be too much. "I quit the sport when the pro culture started to get here," the excruciatingly modest man says. "We were racing for components. When I quit, I didn't feel like I was missing out on anything."
His relationship to the sport also changed. "When I started, it was about personal discovery. I got to a certain level and I stopped learning. You get a little arrogant and you stop discovering," he says. "In the last 10 years, I'm learning again. You slow down, you back away from it, and you realize that all that effort was kind of in vain."
TODAY, HE'S NEARLY AS slight as he was during his high point as a racer when he checked in just north of 140 pounds. York no longer needs to be ready for the start of the March racing season, which means he can take it easy in the winter. But during the warmer months, he hits Central Park between five and seven times a week. He frequently takes the weekends off, turned away by the crowds. 
When he really wants to get away, he'll head "over the bridge," off the island of Manhattan. It's just him and the bike. "I go alone. I can stick to my own plans," he says. "I go slow: 13-16 miles per hour. That's where the real discipline comes in." This is the Zen of Avalo, a faraway world from the speed-demon riding of his youth or the testosterone-charged racing that currently takes place in Central Park. York, who recently got into Johan Sebastian Bach, took violin lessons for a brief time. His teacher told him to always play slowly because anything he could do slowly, he could speed up as needed. He took that advice to heart with his cycling as well. He watches riders do early season hill repeats, intervals, and sprints, knowing it's all a waste until they put in the long slow miles.
York, who does marble and tile installation and only works for himself, sometimes trains riders, but while he likes the money, he finds another aspect of training tedious. "You wind up becoming a surrogate therapist. You hear a lot of stories. A lot of times people need to vent. I was fine with it, but if you're riding with people two and three times a week, it gets to be a lot." There's another reason, too: "When you start going over the bridge and going upstate, it reminds me so much of racing." If he's not doing it on his own terms, he doesn't want to do it at all. 
After almost 40 years in the city's riding scene, he's seen plenty of changes, not many of them good. "Riders today are riding 12,000-14,000 miles a year. Do you know how much time of your life that is? If you do that for a hobby, that's disturbed," he says, laughing. "I do it for fun. When I go to the park, I have no agenda." 
And so, he cruises around Central Park on his own time and schedule, and at his own pace, happily anonymous. 
"Some people know him, but they aren't very interested in the past," Eustice says. "He's a good egg, that guy."
Noah Davis (@noahedavis) is a freelance writer living in Brooklyn.
Lead Photo: Courtesy of Avalo York