Pushing the Boundaries
Finding uncrowded bliss from Olympic to Acadia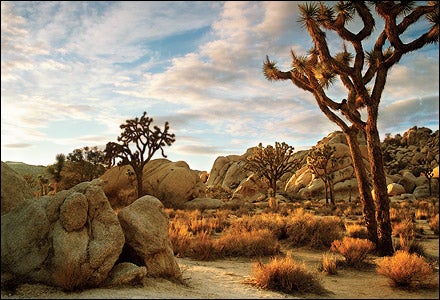 Heading out the door? Read this article on the new Outside+ app available now on iOS devices for members! Download the app.
This is what the last straw looks like: a parade of Harleys and their leather-clad riders rolling past the granite monoliths and spiky plants of California's Joshua Tree National Park. After a morning of sharing the high desert with youth groups and retirees, the bikers' bleating chrome exhausts seemed a sad confirmation that the solitude we seek in wild places is nowhere to be found in the national parks. Or is it? I parked my car, shouldered my pack, and left the pavement behind. I hiked until the sun dipped below the horizon and pitched my tent on a patch of sand, creosote, and juniper—just me and the emptiness and my sputtering camp stove. The next morning, after scrambling up a nearby ridge, past jackrabbit and coyote tracks, I stared down at the wide valley a thousand feet below, feeling like the master of all I surveyed—which, as a taxpayer, I sort of was.
Remarkably, fewer of our fellow taxpayers have been enjoying America's national parks. Total visits to the park system—more than 84 million acres spread over nearly 400 parks and monuments—numbered 272 million in 2006, down from 287 million in 1999. But fewer visitors means more park for the rest of us. And since most patrons rarely stray more than a doughnut's throw from their minivans, people like us—as I discovered at Joshua Tree—can usually have the backcountry to ourselves for the price of a little sweat.
Where to begin? We polled national-park experts for their secret stashes, the places they go to escape the masses. But there's just so much we can do. As John Muir wrote in his 1901 book Our National Parks, "To defrauded town toilers, parks in magazine articles are like pictures of bread to the hungry. I can write only hints to incite good wanderers to come to the feast." The feast awaits—still.
Yosemite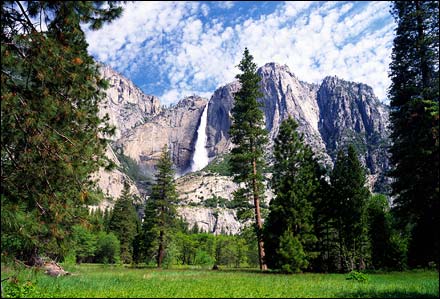 Stats
>EST. 1890
>ACREAGE 761,266
>VISITORS 3,242,644(2006)

There's nothing like driving into Yosemite for the first time to see El Capitan and Half Dome shooting thousands of feet into the California sky from the valley floor. But if you spend your whole day looking upward at those monuments to nature, you'll get a stiff neck. And you'll miss the crystalline lakes, golden eagles, black bears, and the park's signature thousand-foot waterfalls dotting more than 800 miles of trails.

EXPERT ADVICE: "Look at some of those access points that may be outside the park," suggests Yosemite ranger Adrienne Freeman. "Starting from Lundy Lake, you have the canyon, then these great high lakes, and then talus and glaciers." From Lundy Lake—just outside Yosemite's eastern boundary in the Inyo National Forest's Hoover Wilderness—follow the Lundy Canyon Trail 5.5 miles up to Twenty Lakes Basin. Cross the basin—passing several lakes—then ascend the 11,000-foot saddle between North Peak and Shepherd Crest and continue into the park to McCabe Lakes (another three miles).

CRASH PAD: The Tioga Pass Resort is just two miles from the park's eastern entrance, at an elevation of 9,641 feet. With ten log cabins and a café featuring famous homemade pies, it's the perfect takeoff point for the high country. From $185 per cabin; tiogapassresort.com

DETAILS: nps.gov/yose, 209-372-0200; Inyo National Forest, fs.fed.us/r5/inyo
Rocky Mountain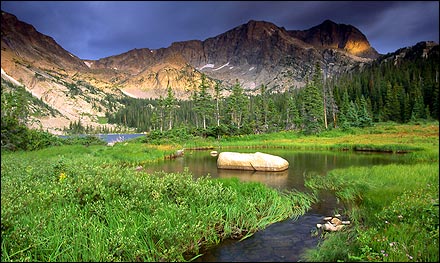 Stats
>EST. 1915
>ACREAGE 265,828
>VISITORS 2,743,676(2006)

Cue John Denver. With more than 60 mountains soaring 12,000 feet or higher—capped off by 14,255-foot Longs Peak—this Colorado park, just 65 miles north of Denver, offers enough Rocky Mountain highs for all of its nearly three million annual visitors. Innumerable climbing alternatives and over 350 miles of hiking trails allow you plenty of opportunity to find a view to call your own.

EXPERT ADVICE: "One great option for a nontechnical ascent is the summits of Ypsilon, Fairchild, and Hagues peaks," says Andrew Councell, a guide with the Colorado Mountain School. "They can be linked in a day from the Chapin Pass trailhead." (Heads up: The lot is tiny.) The Old Fall River Road leads to the Chapin Pass Trail, a 3,000-vertical-foot climb over three and a half miles to the summit of 13,514-foot Ypsilon. After that, it's roughly another mile to the less visited Fairchild (13,502 feet) and another mile to the Mummy Range's even more remote Hagues Peak (13,560 feet). "On a good day, you're seeing a hundred miles, easy," says Councell.

CRASH PAD: If you do the three-peak traverse in a day, you'll have earned a soak in the hot tub at the Allenspark Lodge Bed and Breakfast. Built in 1933 of pine logs and native stone, this rustic resort is 15 miles south of Estes Park, near the park's south-eastern corner. Doubles from $75; allensparklodge.com

DETAILS: nps.gov/romo, 970-586-1206; Colorado Mountain School, totalclimbing.com
Olympic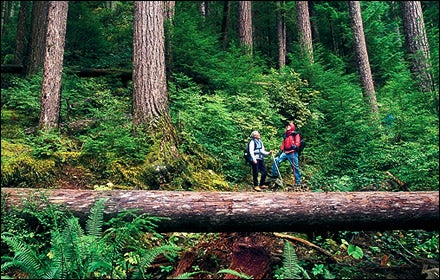 Stats
>EST. 1938
>ACREAGE 922,651
>VISITORS 2,749,197(2006)

The silver lining to more than 200 inches of annual precipitation is this: more than 3,000 miles of rivers and streams, 60 named glaciers, spectacular wildflowers, crashing surf, and fauna like mountain goats and elk—all presided over by 7,965-foot Mount Olympus.

EXPERT ADVICE: "Ozette Lake is this remote, amazing freshwater lake," says John Kuntz, owner of the Olympic Outdoor Center, referring to the third-largest lake in Washington State, located at the northern end of the park's coastal strip. Paddle to the Erickson's Bay campsite (grab a permit from the Ozette ranger station to overnight), on the lake's western shore, from either Ozette campground, on the north side of the lake (4.5 miles), or the Swan Bay put-in, on the eastern shore (3.7 miles). "Once you're over there, you're only a mile or two from the ocean," says Kuntz. "You get the rainforest, the lake, and the ocean all in one trip."

CRASH PAD: After exploring the wilder part of the coast, head to the cedar-shingled Kalaloch Lodge, at the southern end of the coastal strip, where 44 cabins sit atop a grassy bluff, 20 of them with ocean views. From $169 per cabin; visitkalaloch.com

DETAILS: nps.gov/olym, 360-565-3130; Olympic Outdoor Center, olympicoutdoorcenter.com
Acadia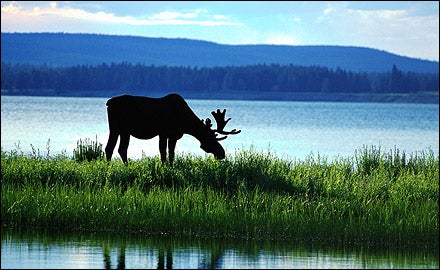 Stats
>EST. 1919
>ACREAGE 47,390
>VISITORS 2,083,588(2006)

Thank God for aristocracy. When John D. Rockefeller Jr. and his Gilded Age pals decided to share some of their private summer playground on Maine's Mount Desert Island, they donated what would become part of Acadia in 1919. Now the park's multisport options draw more than two million visitors to this dramatic chunk of coastline every year. Bikers cruise the 45 miles of gravel carriage roads, kayakers explore the coves and islands, hikers scramble up 1,530-foot Cadillac Mountain, and climbers scale the oceanside Otter Cliffs while Atlantic breakers slap the rocks 110 feet below.

EXPERT ADVICE: "The Maine Island Trail is sort of like the Appalachian Trail of sea kayaking," says Glenn Tucker, owner of Bar Harbor–based Coastal Kayaking Tours, referring to the 350-mile thoroughfare that connects 162 islands along the coast, including many around Acadia. One of the best stretches starts just south of the park in the town of Stonington and ends approximately 30 miles later on Mount Desert Island. Coastal Kayaking offers three-day trips, suitable for all levels of paddlers, with overnights on small islands.

CRASH PAD: The Maine Island Trail passes by the north side of Isle au Haut, but it's the south side of the island that's park property. The Duck Harbor campground there is Acadia's only remote island camping, so reserve ahead for one of the five ocean-view lean-tos. Access Duck Harbor by kayak or via thedaily mail boat from Stonington, a 45-minute ride. From $16 one-way; isleauhaut.com

DETAILS: nps.gov/acad, 207-288-3338; Coastal Kayaking Tours, acadiafun.com
Denali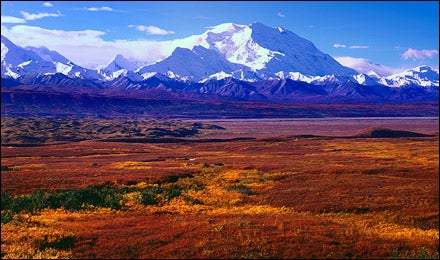 Stats
>EST. 1917
>ACREAGE 4,740,912
>VISITORS 415,935(2006)

Everything about Denali is big. Home to some of North America's largest animals, including moose, caribou, and grizzly bears, the park could swallow up six Rhode Islands. Then, of course, there's Mount McKinley, the capstone of the Alaska Range and the continent's tallest peak, at 20,320 feet. The 92-mile gravel Park Road runs from the main entrance and is plied by hop-on, hop-off buses. Most private vehicles are not permitted past mile 15, though the strong-legged might consider tackling portions of it by bike.

EXPERT ADVICE: To get to the wildest parts of this beast, an aerial assault is your best option. "One place we sometimes drop people is Purkey Pile, an old mining site all the way at the west end of the park, up on the base of the Alaska Range," says Greg LaHaie, owner of Kantishna Air Taxi. "From there it's about a mile trek across tundra to get to the hills that rise up to 4,000, then 10,000-plus, feet." Most visitors spend three days exploring the glaciers, peaks, and rivers in the area before the plane comes back for them. Round-trip prices for up to four people are $1,800 from the park entrance to Purkey Pile, $900 if you're flying from Kantishna; katair.com

CRASH PAD: Recuperate from the backcountry with three days in one of 18 McKinley-view cabins at Camp Denali, 85 miles from the park entrance. Doubles, $2,610 for a minimum of three nights, including meals; campdenali.com

DETAILS: nps.gov/dena, 907-683-2294
Glacier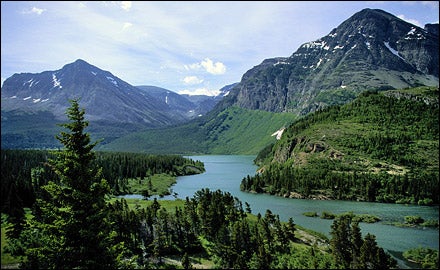 Stats
>EST. 1910
>ACREAGE 1,013,572
>VISITORS 1,964,399 (2006)

Before global warming renders it the "Park Formerly Known as Glacier," visit this northern Montana refuge to appreciate its 700-plus miles of trails, 653 lakes, dozens of glaciers, and hundreds of animal species, including bighorn sheep and gray wolves. The North and Middle forks of the Flathead River are magnets for both fly-fishermen looking to hook cutthroats and rainbows, and whitewater kayakers and rafters after thrills on Class III rapids with names like Jaws and Bone Crusher. What's more, the park has a foreign flair: Canada's Waterton Lakes National Park, in southern Alberta, linked up with Glacier in 1932 to form the Waterton-Glacier International Peace Park.

EXPERT ADVICE: "You can take hiking trails all the way to the Canadian border," says Denny Gignoux, co-owner of local outfitter Glacier Guides. The best route begins at Logan Pass, a popular trailhead off the park's main road, and runs for 33 miles to the remote Goat Haunt ranger station, near the Canadian border. From there, you can either hike ten miles around or take a 45-minute boat ride across Waterton Lake to the Canadian town of Waterton. Don't forget your passport.

CRASH PAD: En route to the border, spend a night at the Granite Park Chalet, 7.4 miles up the High Line Trail. One of the mountain lodges built by the Great Northern Railroad Company in the early 1900s, it has 12 rooms with little more than bunk beds and a large, shared kitchen where guests can cook their own food. $70 per person; graniteparkchalet.com

DETAILS: nps.gov/glac, 406-888-7800; Glacier Guides, glacierguides.com
Joshua Tree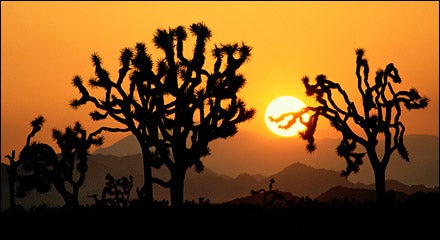 Stats
>EST. 1994
>ACREAGE 789,865
>VISITORS 1,256,421(2006)

Though its Seussian vegetation will have you on the lookout for lorax crossing signs, California's Joshua Tree isn't some arid novelty. When it became a national monument, in 1936, visitors flocked to this park to marvel at the palm-lined oases, spring wildflower blooms, and dueling desert ecosystems (J-Tree is the meeting point of the higher Mojave Desert, to the north, and the Sonoran Desert, to the south). But the real draw is the rock: thousands of acres of bizarre monzogranite formations that have become the climber's winter playground of choice.

EXPERT ADVICE: "A walk through the Wonderland of Rocks is like your own little adventure," says Mark Bowling, director of the Joshua Tree Rock Climbing School, which meets just inside the park's west entrance. "Find a drainage and follow it in." The more than nine-square-mile Wonderland is a grove of rock spires and mounds, interspersed with yuccas, Joshua trees, and creosote—and even the occasional abandoned gold mine. But if staring up at the rocks leaves you itching to stand on top of one, sign up for the school's Basic Rock Climbing Weekend, a $390 four-day beginner's class that will give you the skills you need to scale some easier routes.

CRASH PAD: Run by the Joshua Tree Climbers Association, the Joshua Tree Climbers' Ranch is an 18-acre campground that lies just outside the park, providing a haven for climbers, thanks to support from the American Alpine Club. You've got to be a member of one or the other to camp, but in true dirtbag fashion, membership to the JTCA is free. climbersranch.com

DETAILS: nps.gov/jotr, 760-367-5500; Joshua Tree Rock Climbing School, joshuatreerockclimbing.com
Yellowstone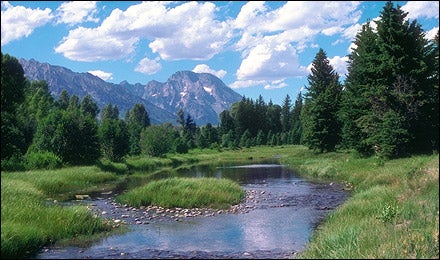 Stats
>EST. 1872
>ACREAGE 2,219,791
>VISITORS 2,870,295 (2006)

The world's first national park is more than just Yogi Bear and Old Faithful, though the latter is nicely emblematic. The park sits atop more geothermal features—geysers, hot springs, steam vents, and mud pots—than anywhere else on the planet. Work Old Faithful to your advantage: While RVs stick to the 142-mile Grand Loop Road and jostle for parking spots at the premier attraction, beat a quick retreat to the park's 950 miles of trails.

EXPERT ADVICE: A three-day trip to the Shoshone Geyser Basin, on the park's south side, is the best way to find your own little patch of hot earth. "It's one of the most remote geyser basins in all of Yellowstone," says Steve Koning, owner of Jackson, Wyoming–based Snake River Kayak and Canoe. "An awesome display of various types of geothermal features, in a very primitive setting." Snake River's trip begins with a paddle across Lewis Lake and a paddle/portage up the two miles of the Lewis River Channel to Shoshone Lake.

CRASH PAD: From the lake, take Highway 89 to the 82 cabins and sports pub of Flagg Ranch Resort. From $159 per cabin, tent sites from $20; flaggranch.com

DETAILS: nps.gov/yell, 307-344-7381; Snake River Kayak and Canoe, snakeriverkayak.com
Big Bend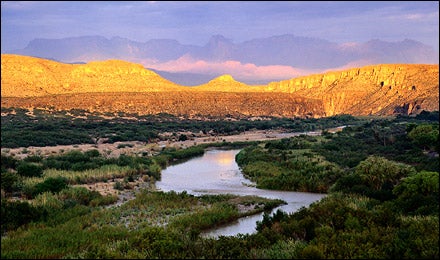 Stats
>EST. 1944
>ACREAGE 801,163
>VISITORS 298,717 (2006)

In southwest Texas, they say it can get "hotter than a goat's ass in a pepper patch." But with the Chisos Mountains rising more than 7,500 feet from the Chihuahuan Desert in the center of the park, and the Rio Grande marking its southern edge, there's plenty of opportunity to cool off. The park's top draw is a series of spectacular limestone canyons, some 1,500 feet deep, that the river has spent millions of years carving.

EXPERT ADVICE: "One of the hidden jewels is Mariscal Canyon," says Greg Henington, owner of Far Flung Outdoor Center, in Terlingua, Texas, who's been guiding the Rio Grande for 21 years. "It's right at the bottom of the Big Bend, wild and remote and not frequently traveled because of how difficult it can be to get to." Hire either Far Flung or Big Bend River Tours—both can take you to the park's most intimate canyon, which features ten miles of Class II rapids inside 1,400-foot walls that narrow to only 50 feet in places.

CRASH PAD: After a few days in the canyon, treat yourself to a night in the mountains (and a hot shower) at one of six stone cottages at the Chisos Mountains Lodge, in the middle of the park, about a three-hour drive from the Mariscal take-out. From $115 per cottage; chisosmountainslodge.com

DETAILS: nps.gov/bibe, 432-477-2251; Far Flung Outdoor Center, ffoc.net; Big Bend River Tours, bigbendrivertours.com
Great Smoky Mountains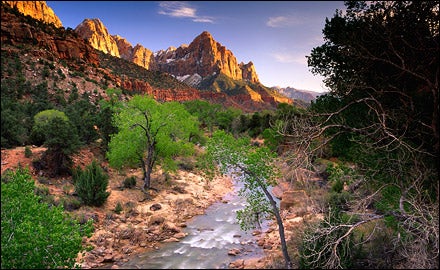 Stats
>EST. 1919
>ACREAGE 146,598
>VISITORS 2,567,350(2006)

You'll find a different definition of "Southern Gothic" in the Smokies. A place of mist-shrouded ridgelines and truly primeval chunks of eastern old-growth forest, this park—which straddles the southern Tennessee–North Carolina state line—is less than a day's drive away for a third of the U.S. population. And its more than 800 miles of hiking trails and 730 miles of fishable creeks draw the most visitors of any park.

EXPERT ADVICE: "Explore the Eagle Creek arm of Fontana Lake, on the south side of the park," says Johnny Molloy, a writer who has logged more than 600 nights in Great Smoky's backcountry while researching two guidebooks to the park. "It's remote, and you can hike to the Shuckstack fire tower, one of only four fire towers left in the Smokies." From the Fontana Village Marina (call ahead to arrange canoe rental or a boat shuttle), paddle or ride five miles across the lake and up the Eagle Creek arm to the Lost Cove campsite. From there, hike almost three miles up the Lost Cove Trail to the Appalachian Trail and head south half a mile until you hit the fire tower and its expansive views of the lake and 6,643-foot Clingmans Dome.

CRASH PAD: Check out the LeConte Lodge, which has a cluster of seven rustic cabins atop 6,593-foot Mount LeConte. The best part: Appalachian comfort food, including biscuits and grits. $93 per person, including breakfast and dinner; leconte-lodge.com

DETAILS: nps.gov/grsm, 865-436-1200; Fontana Village Marina, fontanavillage.com/marina/marina.htm
Zion
Q & A
Do carrots really improve your vision?

Not likely. The carrot myth appears to be rooted in government propaganda. During WWII, Britain's air ministry didn't want the Germans to know that they were using radar during bombing raids, so they allegedly spread the rumor that they were feeding pilots carrots to improve their vision. Carrots do contain a high concentration of vitamin A, which is essential for healthy eyesight, but consuming them improves your vision only if you have a serious vitamin A deficiency, which is rare in developed countries.
Owner's Manual: Your Eyes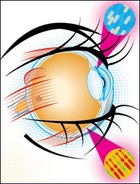 First called Zion by an early Mormon homesteader, this corner of southwestern Utah does seem like utopia. The 229-square-mile maze of red and orange sandstone—carved into massive canyons, towers, and natural arches by the waters feeding the Virgin River—contains the 287-foot Kolob Arch, one of the world's longest, and marquee canyons like the nearly tunnel-shaped Subway.
EXPERT ADVICE: "Orderville is a great canyon," says Travis Tomlinson, owner of Springdale, Utah–based Zion Rock Guides. "It's a really tight slot, narrower than the Narrows but almost as tall—just a great experience that seems to get overlooked a lot." The 11-mile hike to Orderville starts with a 15-foot rappel down a waterfall. In places, the canyon is lined with thousand-foot walls, sometimes no more than 25 feet apart and bedecked with spectacular hanging gardens. Zion Rock and Mountain Guides or Zion Adventure Company can teach you the basic canyoneering skills you'll need to tackle Orderville. But before you head into the backcountry, be sure to check on conditions with the ranger station.
CRASH PAD: Zion Lodge lies in the heart of the park and is a more than pleasant place to recover from a day of splashing through snowmelt in the bottom of a sunless canyon. Its 40 cabins feature porches and stone fireplaces. From $162 per cabin; zionlodge.com
DETAILS: nps.gov/zion, 435-772-3256; Zion Rock and Mountain Guides, zionrockguides.com; Zion Adventure Company, zionadventures.com