Sponsor Content: Bonjour Québec
Québec Leads the Way in Sustainable Travel
North America's first hydrogen-powered train, the Train de Charlevoix, is your ticket to eco-friendly travel between Québec City and Charlevoix regions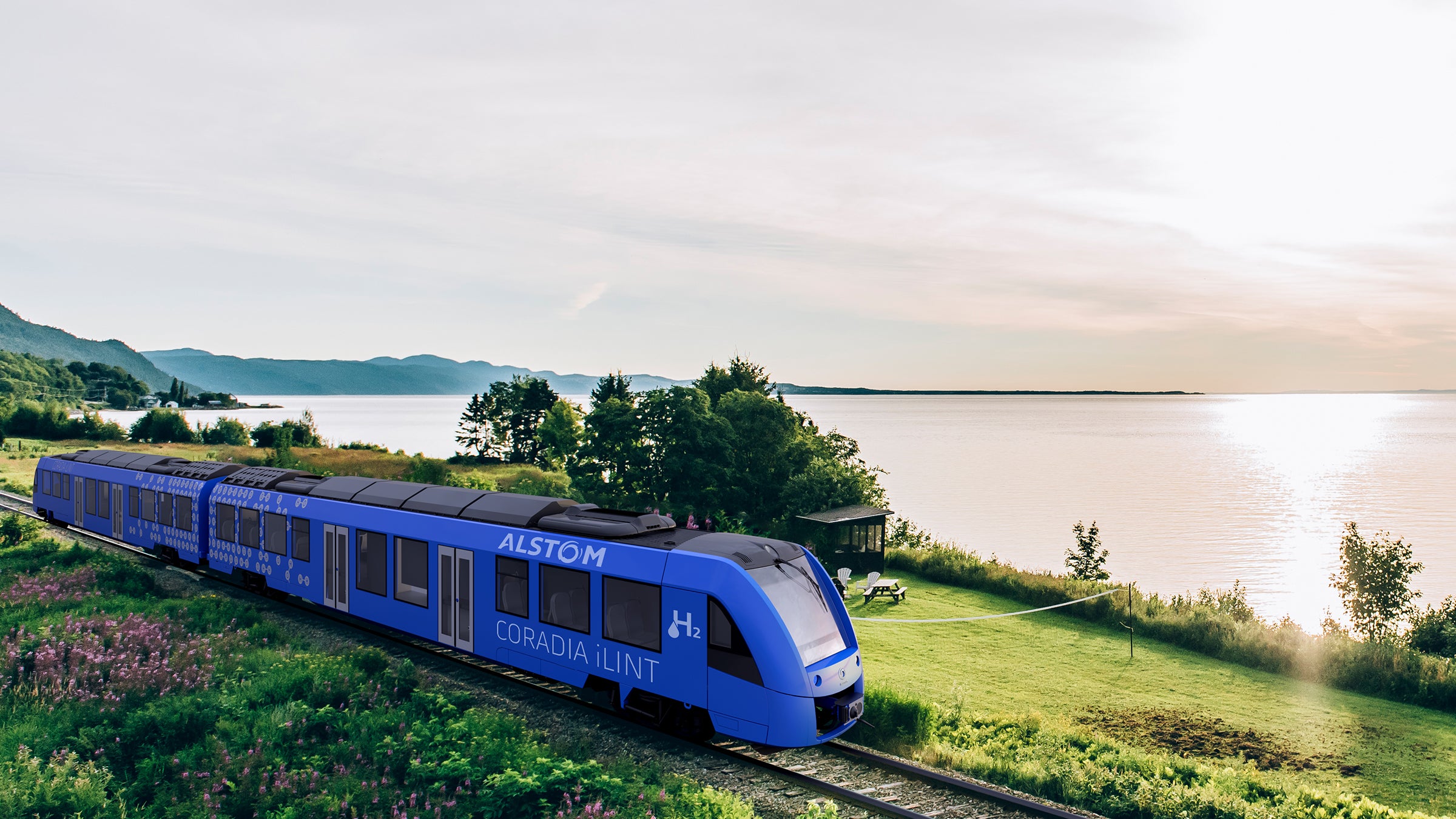 Train de Charlevoix, Charlevoix © Alstom et Studio AC &D
There were already plenty of reasons to visit the Charlevoix region of Québec: boating and wildlife-spotting on the St. Lawrence River, a slew of hiking and biking trails, natural beauty galore, local food, and much more. Now you can add sustainable travel to that list. A new zero-emissions train between Québec City and Baie-Saint-Paul in Charlevoix gives eco-conscious travelers a better way to visit these must-see regions. Here's how and why to use the first-of-its-kind railway to plan a more sustainable trip to Québec this summer. 
Why Charlevoix?
How's this for an origin story? The Charlevoix region's unique topography was shaped by a meteorite that collided with Earth roughly 400 million years ago, leaving behind a 33-mile (54-kilometer) crater that is still visible today. If that geologic feature isn't enough of a draw, many visitors also report feeling a particular magnetism and heightened energy at the site.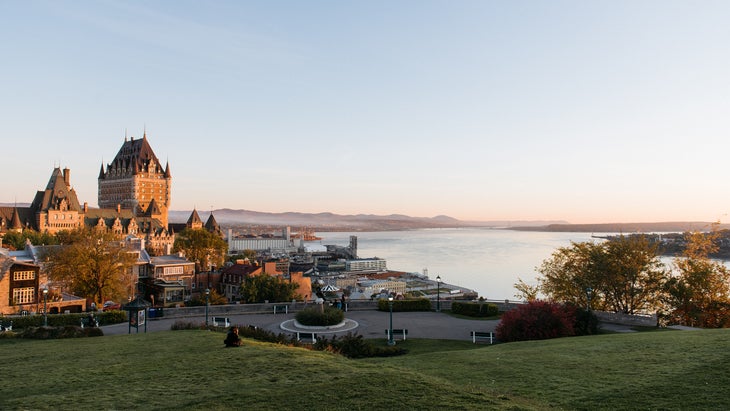 Regardless, you're guaranteed to feel drawn to the stunning landscapes and scenic byways with panoramic views. You could fill a vacation with outdoor adventures, but of course there's much more in Charlevoix. The local cuisine (imagine farm-to-table dishes with a European influence) and warm welcome are highlights of any visit. Because Charlevoix is only an hour north of Québec City, it's easily accessible for international visitors. We recommend spending a few days in the historic city before catching the Train de Charlevoix to the next part of your adventure.
The Train de Charlevoix
For a scenic and sustainable way to travel between Québec City and Charlevoix, book a ticket on the Train de Charlevoix. This privately owned railway is piloting a zero-emissions passenger train using Alstom's Coradia iLint train, which is powered by green hydrogen—a clean, renewable energy source derived from splitting water molecules to create a renewable source of hydrogen power. While this green hydrogen power has been utilized in European transportation since 2018, this train is the first of its kind in the Western Hemisphere.
Aside from being a sustainable option for transportation, the Train de Charlevoix is an incredibly scenic way to travel the region. The 2.5-hour route runs along the St. Lawrence River, offering breathtaking mountain and river views between Parc de la Chute-Montmorency, located a mere 15 minutes from Old Québec and the city of Baie-Saint-Paul. Fun fact: The railroad is owned by Daniel Gauthier, co-founder of Cirque du Soleil, so it's no wonder the scenic ride feels like a show in itself. 
The eco-conscious train operates from June 17 through September 30. Traveling outside of the summer service schedule? Charlevoix offers EV charging stations throughout the region.
Culture, Outdoors, and Cuisine
To experience arts and culture in Charlevoix, stop in Baie-Saint-Paul. Known as the birthplace of Cirque du Soleil, this charming city continues to foster creativity. Stroll Saint-Jean-Baptiste Street, where stilt walkers and fire eaters once performed. Today you'll find an array of art galleries, boutiques, and artisans. Although the acclaimed circus arts troupe no longer performs in its hometown, you can catch a brand new show, Éclats, held in La Malbaie from August to October.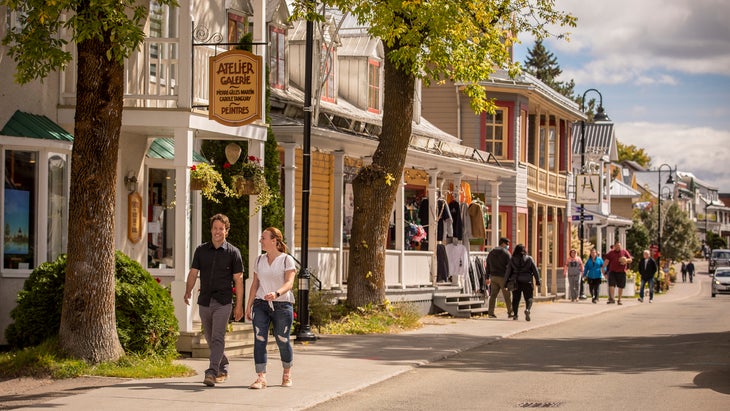 The area surrounding Baie-Saint-Paul is a hot spot for outdoor recreation. Get into nature with a hike in Charlevoix. With more than 340-miles (550 kilometers) of hiking trails in the region, there's plenty of room to explore. Baie-Saint-Paul is also within proximity to Le Massif de Charlevoix, which has a variety of mountain biking trails for every skill level. And if you want a thrill, experience mountain views in Parc national des Grands-Jardins on the scenic via ferrata route. 
Want to sample local flavors? The Charlevoix food scene revolves around high-quality local ingredients. Everyone from local farmers to restaurateurs has a certain savoir-faire when it comes to sustainable food, and those values come across in the menus you'll see throughout the region. Get the full Charlevoix culinary experience on the Flavour Trail, which guides epicureans to the best food and drink in the region.
Nearby Québec City
A trip to Charlevoix wouldn't be complete without a few days in Québec City. Visitors can experience the history and charm of Europe right in North America. Tour Old Québec—a UNESCO World Heritage treasure and the only fortified city north of Mexico in the Western Hemisphere. Practice your French with friendly bilingual locals. Take your taste buds on a mouthwatering culinary journey inspired by the city's French and Indigenous roots. Or explore outdoor attractions just outside of the city, including Parc de la Chute-Montmorency and its 272-foot (83-meter) waterfall, or Parc national de la Jacques-Cartier, home to one of the province's most beautiful glacial valleys.
---
Operated by Réseau Charlevoix, the Train de Charlevoix's vision of sustainable, eco-friendly development builds partnerships and drives local economic and social spin-offs. Their goal is to offer alternate, safe, respectful public transit and a unique experience in tourism—a spectacular one, in fact—between Québec City and Charlevoix's coastal towns and villages.
Lead Photo: Train de Charlevoix, Charlevoix © Alstom et Studio AC &D