10 Reasons Why You Should Visit the South Right Now
Dixie is bursting with adventures, hip breweries, and a new river to raft (we'll explain). And it hasn't lost any of its down-home charm.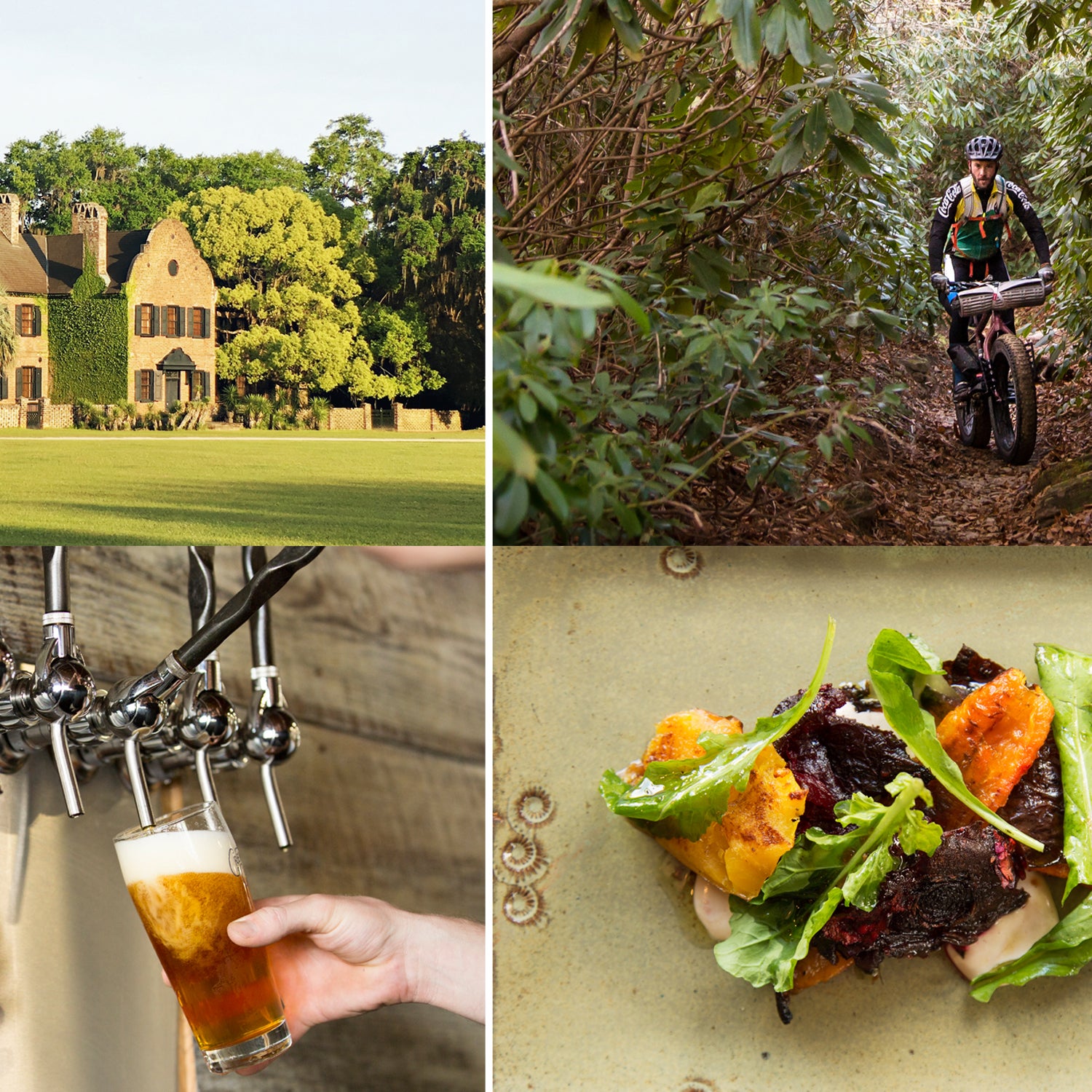 Jordan Causey; Colt Fetters/Tand
Heading out the door? Read this article on the new Outside+ app available now on iOS devices for members! Download the app.
With great beer and epic adventuring, you should be paying more attention to the South.
---
Belly Up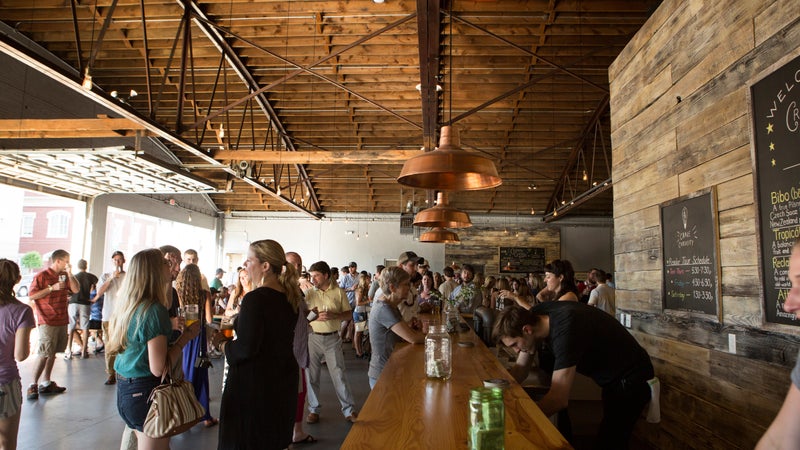 Some of the South's most buzzed-about beers are being made at Creature Comforts, in a renovated Chevy dealership in downtown Athens, Georgia. The brewers use local fruit in limited releases, like the pineapple-spiked Curious No. 2, but even their year-round Tropicalia IPA is a juicy revelation. Thankfully, Creature Comforts started canning in 2014, so now you can find its beers throughout the Atlanta area. Free tours available Tuesday through Saturday.
---
Ride the Trace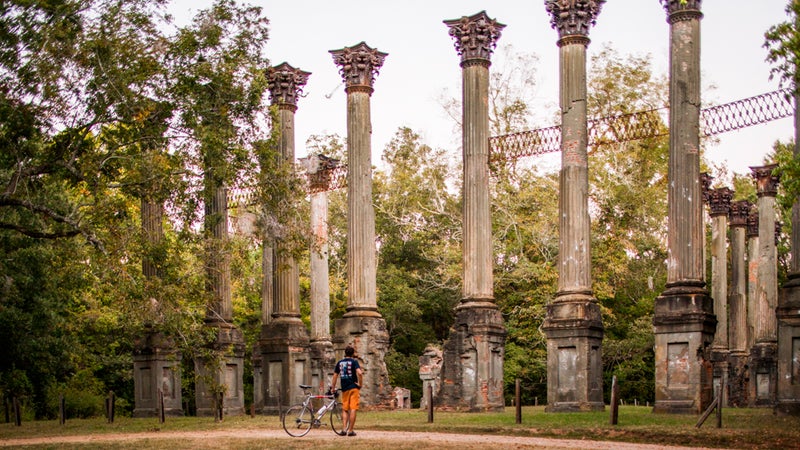 The original Natchez Trace was a trail used by Native Americans traveling between the Cumberland Plateau and the Mississippi River. Today the Natchez Trace Parkway lures touring cyclists. Think of it as the Blue Ridge's mellower little brother, running 444 miles between Natchez, Mississippi, and Nashville, Tennessee. The pavement is smooth, traffic is nonexistent, and the scenery alternates between farms and historic sites like the R&B mecca Muscle Shoals, Alabama. There are even bike-only campgrounds. "Very little is going to disrupt that two-wheeled experience," says Paul Wood, owner of Black Bear Adventures, which offers guided tours of the full route. Ride northbound to Nashville for some honky-tonk therapy. Trips from $3,100.
---
Paddle the Cheoah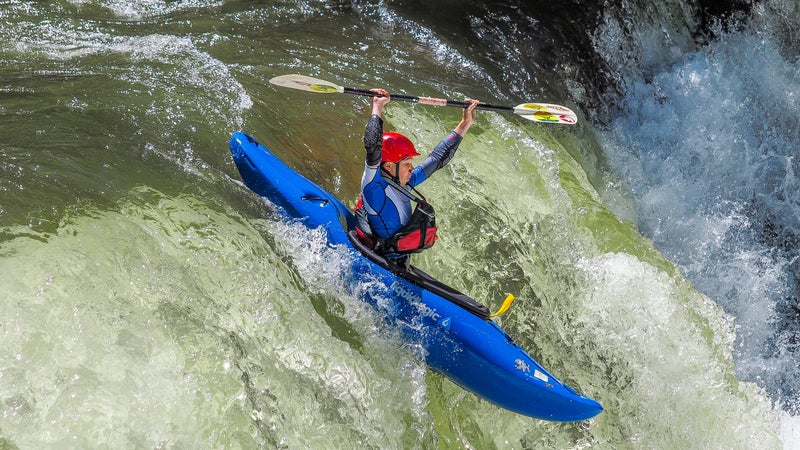 There are better-known rivers in the South—like the Chattooga, made famous by Deliverance—but none are as wild as North Carolina's Cheoah, at least none that you can tackle in a raft. The Class IV-plus river combines creek lines and big water that includes two of the steepest commercially run miles in the U.S. "It's a relentless blend of haystack waves, ledge holes, slots, boofs, and vertical drops," says Linc Stallings, a guide with Endless River Adventures. "It's humbling." And it's the South's newest whitewater: before a series of recreational releases began in 2006, the gorge was dammed dry for 70 years, during which the riverbed sprouted a forest. The surreal, jungle-like setting makes the river even wilder. Guided trips, $159.
---
Head to the Low Country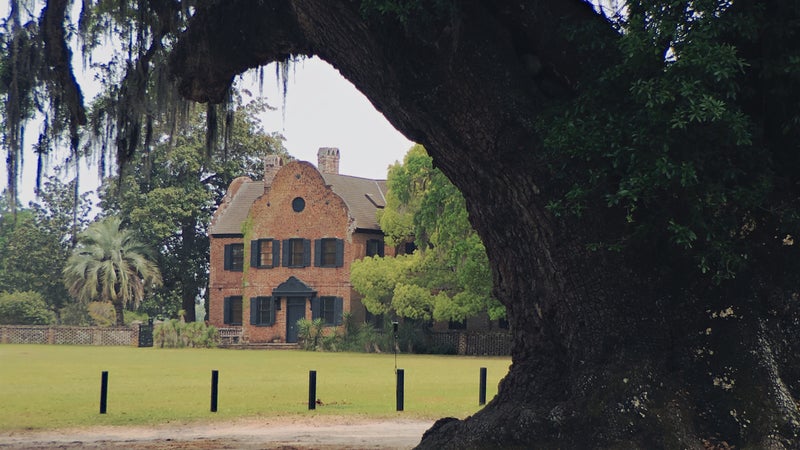 Arthur Middleton, a revolutionary who signed the Declaration of Independence, would probably be a bit baffled by the Inn at Middleton Place, an ultramodern boutique hotel built on his former estate in South Carolina. The tall-windowed concrete and black-wood structure is an architectural marvel in the midst of a 65-acre landscape dripping with Spanish moss. Guests can check out the colonial-era main house, amble through the enormous gardens, or launch a kayak onto the lazy Ashley River, which borders the property. From $179.
---
Fall Off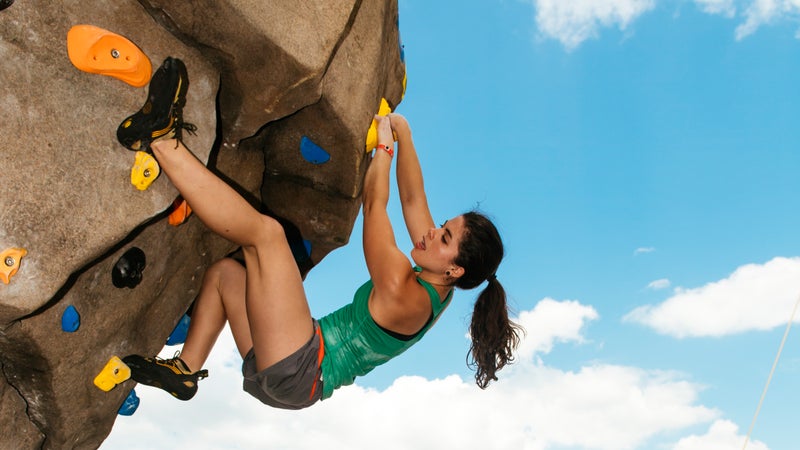 Deepwater soloing allows climbers to safely scale long vertical pitches without ropes. Now the U.S. National Whitewater Center, in Charlotte, North Carolina, is building the sport's first permanent climbing complex, set to open this summer, where aspirants will be able to send three different walls perched over a 16-foot-deep man-made pool. Celebrate with a cannonball. $25
---
Stock Up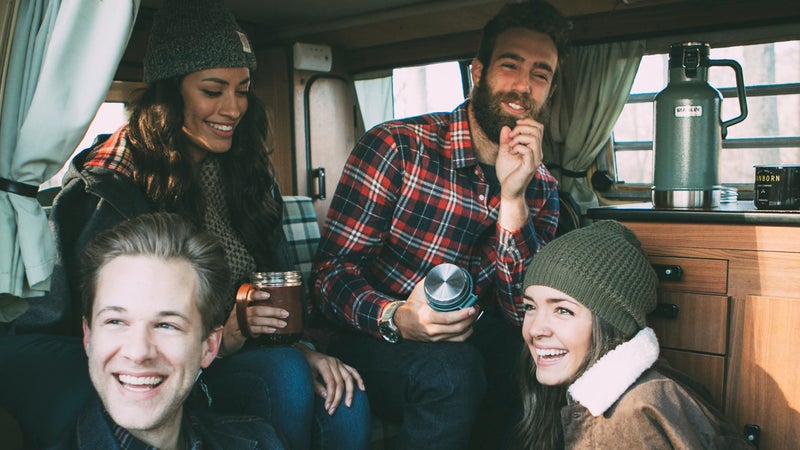 Hatchets, beard oil, canoe paddles so pretty you'll want to hang one above the fireplace—the Fouled Anchor in Johnson City, Tennessee, offers everything that cultured mountain folk could want, from brands like Coalatree and Pillbox. Bonus: the store shares its renovated warehouse with a barbershop, so get a fresh cut to go with your new gear.
---
Go Coastal
Virginia's Northern Neck is a 70-mile-long peninsula separating the Potomac and Rappahannock Rivers before they meet in Chesapeake Bay. It's a quiet region that leans heavily on its watermen heritage—oysters and crabs are a way of life here. Bring a bike, a kayak, and your appetite, and experience the Northern Neck at its finest.
Westmoreland State Park
Paddle the park's two-mile shoreline, spotting bald eagles and hunting the sand for fossilized shark teeth.
RapPahannock River Valley National Wildlife Refuge
Go for a paddle along Cat Point Creek, keeping an eye out for eagles and wild rice.
Denson's Grocery and R&B Oyster Bar
Tackle a plate of roasted bivalves in Colonial Beach.
Tides Inn
Crash at this water-side resort for sailing and crabbing.
Kinsale Loop
Ride the mellow 30-mile bike route around its namesake city, with wineries and big views of the Potomac at Sandy Point.
Four Brothers Crabhouse
Order the crab cakes and peel-and-eat shrimp.
---
Get Some Local Flavor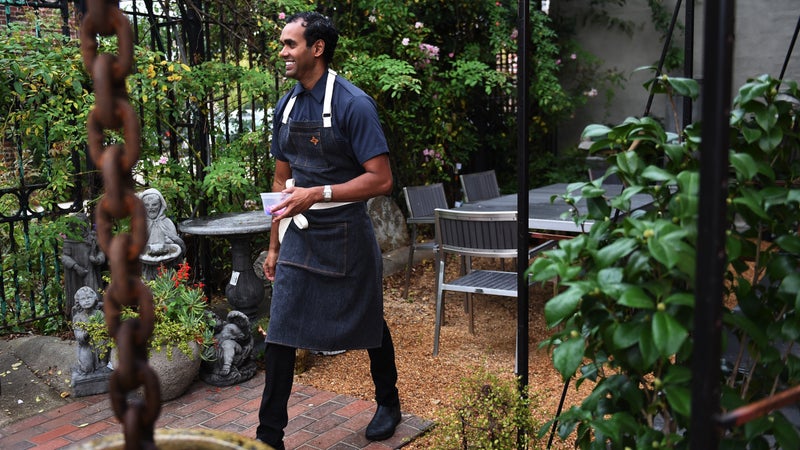 Chef Chris Hastings won a James Beard Award for best chef in the South with the upscale southern fare at the Hot and Hot Fish Club in Birmingham, Alabama. His new venture with Caribbean-born chef Sedesh Boodram, OvenBird, adds international flair to the down-home recipe. The airy dining room is stunning, the prices are gentle on the wallet, and who doesn't want to try braised goat with their grits?
---
Hunt and Gather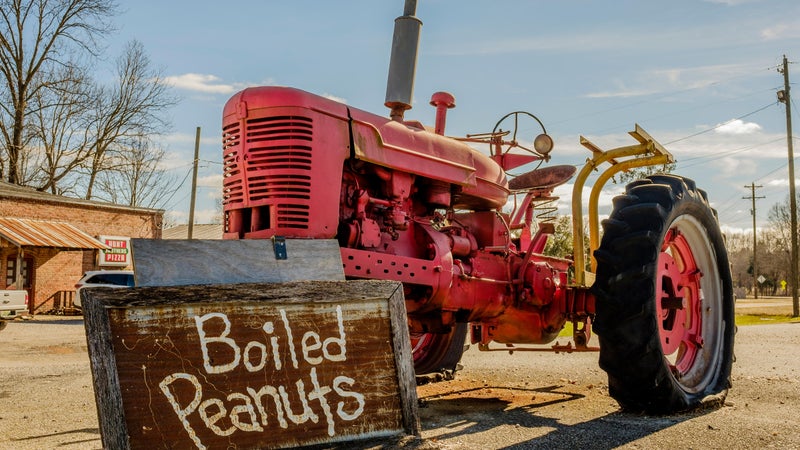 The South's greatest cultural contribution to the world might just be its food.
Hot Chicken
Prince's Hot Chicken is the original purveyor of Nashville's signature dish—a take on southern fried chicken jacked with cayenne pepper. If you're foolish enough to get it extra hot, don't say we didn't warn you.
Shrimp and Grits
You'll find endless takes and variations on sautéed shrimp on a bed of cooked cornmeal, but we think the best is the version at Crook's Corner in Chapel Hill, North Carolina, loaded with bacon, mushrooms, and scallions, with the perfect touch of citrus and Tabasco.
Barbecue
Daddy D'z in Atlanta, a self-proclaimed "joynt," works wonders with ribs and pulled pork.
Boiled Peanuts
A salty, mushy, southern road-trip staple, they're best purchased from shacks advertised on spray-painted plywood. But you can also go upscale with boiled-peanut "hummus" at 5&10 in Athens, Georgia.
Crawfish
Mud bugs, crawdads, poor man's lobster—no matter what you call them, Hawk's in Rayne, Louisiana, has the ultimate plate.
---
Venture Offshore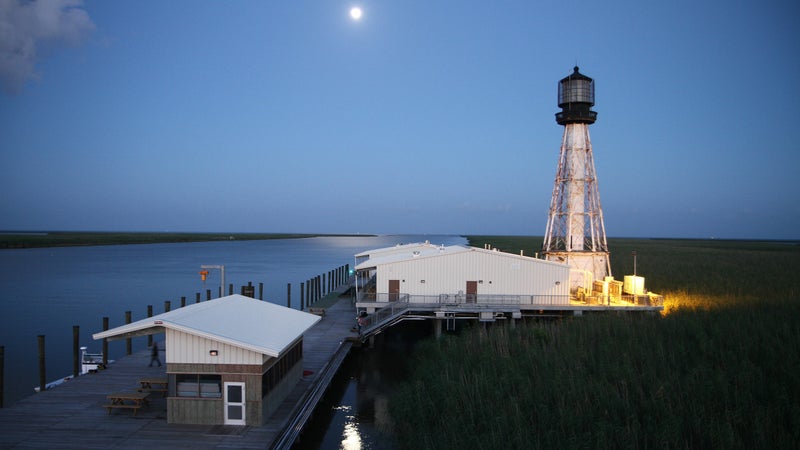 To get to the Port Eads marina, drive until the pavement ends in Venice, Louisiana, then hop on a boat for another 23 miles. The marina and a bare-bones lodge, run by the High Adventure -Company, sit on stilts at the site of an old Coast Guard barracks at the edge of the marsh where the Mississippi River gives way to the Gulf of Mexico. By bare bones we mean there's a fully equipped restaurant, but don't expect cell service or cars. Out here anglers can choose between hunting for speckled trout in the marshlands or reeling in giant tuna and marlin offshore—there's nothing to distract you from landing the big one. Bunks from $60, rooms from $300