Make Mine Raw
Mama's boys, beware: Portsmouth Island is nature untethered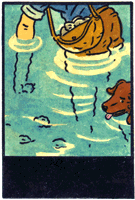 Heading out the door? Read this article on the new Outside+ app available now on iOS devices for members! Download the app.
Often, during a stretch of many happy years, I'd find myself at the southern tip of Ocracoke Island, on past the village and the ferry docks and the lighthouse, staring out across the channel and its fatal toss of waves to a luminous bar of sand, golden and divine, that connected to the sea-hazed horizon of trees on the next isle down, Portsmouth. In the summer I'd rake the sound side of the point for clams, the water up to my chest, feeling with my toes for the hard bumps below in the sand, my two setters swimming circles around me (because if I'm clamming, they're clamming too), glancing over my shoulder at that place, that mystery. Occasionally I'd hear a gunshot out in the inlet—some cowardly fools trying to boat a cobia, which is something that's tricky and dangerous if the cobia's big and the boat's small—and see that place, Portsmouth Island, shimmering in the heat.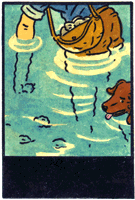 There was a boat, I had heard, that would take you from Ocracoke to the abandoned eighteenth-century village of Portsmouth, once the region's most active commercial port, but I held back from the place, as if the idea was to preserve something inside myself by staying away from it. I'd drive back home to Hatteras, somehow gratified by the sight of that other, inaccessible island, the ideal of it, the dreamy itch.


I don't know why I clung to that notion of Portsmouth, but I did. I did, until I could no longer live on the Outer Banks, chased off by development and traffic jams and the dog-hating, people-hating cops masquerading as the National Park Service, whose intention seemed to be to turn the Outer Banks into a sanitized theme park for a steady flow of retirees. Only then did I tell myself, as if my life depended on it, I've got to get to Portsmouth.


A tiny, private wooden ferry, which can haul no more than four vehicles at a time, runs from the village of Atlantic, on the mainland, out to the island. Surf fishermen want to go, a few shell collectors—nobody else. Portsmouth is too raw, too primitive and windblown, to appeal to anybody who can't go all the way with nature, as we have it here on the last true scraps of the eastern seaboard.


But what I want from a place is a sense of the fundamental constant, the weight of the elements pounding you or soothing you with the message that there's little time left for things that hardly matter, and an eternity for things that do. Upon first setting foot on Portsmouth, as I drove to the beach through the clapboard fishcamp that serves as the island's only nod to civilization, a five-foot wave popped up in the surf, and in its absinthe-green translucence, like an insect suspended in amber, was a 12-foot-long hammerhead shark, backlit by a sun about to set, its silhouette like a logo for a wild heart.


Whatever dune lines there are on Portsmouth are natural, which means the island overwashes during storms. I pitched my tent on a knoll of sand and for dinner grilled a redfish, caught on the rising tide. The next night I tied my tent to the truck as a nor'easter blew in hard and fast, and in the morning when I woke up I was surrounded by foaming water, on an endless strand of foaming water, a riot of seagulls in the tempestuous air, the only person in the world, waiting for the storm to slacken, and—make your own sense of it—I was happy.
Twenty-three miles long, Portsmouth Island, part of Cape Lookout National Seashore, is a primitive haven for birdwatchers, fishermen, sailors, and ocean junkies. It once boasted Portsmouth Village, the largest town on the Outer Banks, but hurricanes and Civil War evacuations eventually turned the village into a ghost town of a dozen historic cottages, a post office, and a well-preserved Methodist church — still a popular spot to tie the knot.


Getting There: Morris Marina (252-225-4261), in Atlantic, operates car-ferry service to Portsmouth Island. Boats depart three times daily; round-trip fare is $13 per person, $65 per vehicle.


On Your Own: Perhaps the best way to explore Portsmouth and environs is from the deck of a 16-foot motorboat, with Captain You at the helm. Rent one in Ocracoke from Byron Miller (252-928-5480) for $95 a day. Keep in mind, however, that private boats must be anchored offshore, and stock up on supplies before you go, since there are no grocery stores on Portsmouth. If your plans include catching dinner, Tradewinds (252-928-5491), a full-service fishing shop in Ocracoke, can give you the latest on what's biting where—no license is required.


Outfitters: Ocracoke Adventures (252-928-7873) offers half-day, naturalist-guided sea-kayak trips ($35). Fishermen, meanwhile, may avail themselves of the local wisdom provided by Dave Nagel, captain of The Drumstick (800-825-5351), who runs deep-sea excursions for $650 per day.


Where to Bunk: Morris Marina Kabin Kamps ($100-$110 per night; 252-225-4261) offers Portsmouth's only overnight accommodations. Each of its 20 cabins sleeps six. Camping is free and allowed almost everywhere, but fires are permitted only below the high-tide line. For more information, call Cape Lookout National Seashore at 252-728-2250.