How ATVs Are Reviving a Forgotten Region of Appalachia
After centuries of coal mining, West Virginia looks to a new form of economic growth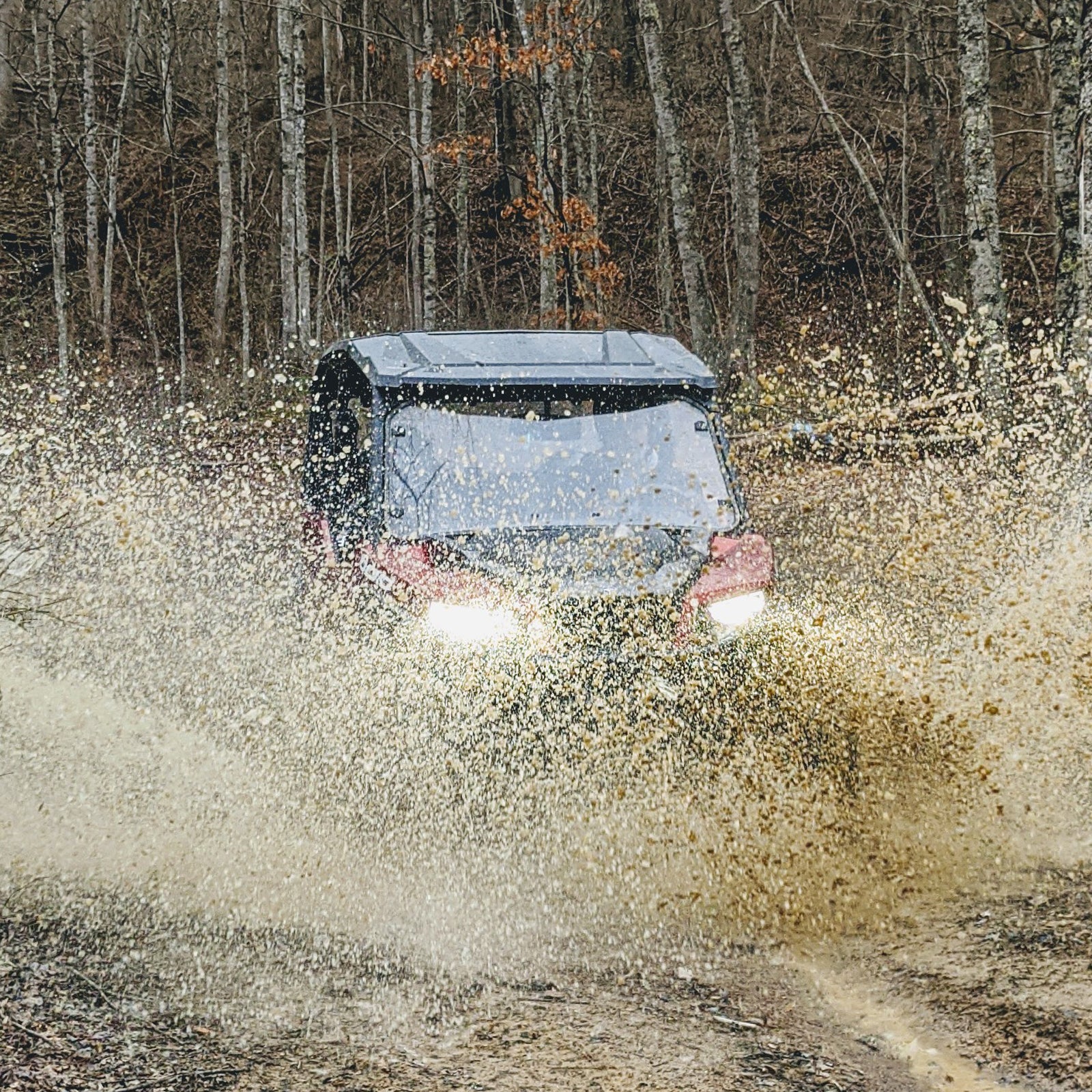 Eric Barton(Photo)
Heading out the door? Read this article on the new Outside+ app available now on iOS devices for members! Download the app.
West Virginia has the highest average elevation of any state east of the Mississippi. That's not due to the mountains—its tallest peak is still lower than Denver—but the hills that roll out like endless moguls.
More than a century ago, towns rose up in the valleys, built from coal fortunes. In the late 1800s, the city of Bramwell used to boast more millionaires per capita than any place in the country. Its bank was once so flush with cash that its janitor would transport bags of money down the street in a wheelbarrow. Nearby, the city of Bluefield was built next to the world's richest coal deposit, which became a mini metropolis and earned it the nickname Little New York.
But things have changed. Most of those towns are empty and crumbling now. In Bluefield, the population has dropped by half, to under 10,000, and a quarter of its residents live in poverty. In Bramwell, a few rehabbed mansions share the streets with a largely barren business district and derelict homes that stand as a reminder of what was. In the 1980s, coal companies employed more than 40,000 West Virginians, a number that has since dropped to fewer than 14,000, despite promises from politicians to bring jobs back.
But for the first time in a generation, after many have accepted the fact that coal money isn't going to come back, optimism has returned to these valley towns. Even with the nation's economy imploding from the pandemic, some West Virginians finally see a way they could turn things around: ATV tourism.
It's possible thanks to more than 700 miles of doubletrack trails cut through those endless hills. In the past 20 years, motorcycle and ATV riders have arrived in increasing numbers, and last year the state sold more than 56,000 permits for the Hatfield-McCoy Trails, a professionally managed network amid beautiful old-growth forests. This enterprise helped fuel a West Virginia tourism industry that has experienced a nearly 10 percent growth in two years. Today 45,000 West Virginians work in tourism-related jobs—more than the coal industry employed a generation ago.
---
It's perhaps a bit ironic that the Hatfield-McCoy Trails got their start in large part from a man who had no interest in using them.
In 1989, John English didn't ride ATVs, even though he was director of state government affairs for the national Motorcycle Industry Council. He met up for lunch one day with Leff Moore, now deceased, who was executive director of the West Virginia Recreational Vehicle Association. Moore started talking about the former coal-mine roads. English, now 75, recalled, "A little light came on, and we both started thinking, Gee, how could we maybe take advantage of that?"
A handful of corporations own a large chunk of West Virginia, especially in the southern part of the state, where as much as half of all land is possessed by a few companies. The two men realized that if they could convince the companies of those trails' tourism potential, they could conceivably develop a network unlike any other in the world.
The companies had sliced trails through virgin hemlock forests more than a century ago to get workers to the mines, often using school buses with jacked-up suspensions and off-road tires. Dave Preston, 63, still recalls bouncing along on gravel roads on his way to work. He's a third-generation coal miner from Matewan, the West Virginian town memorialized in the 1987 Chris Cooper movie by the same name that documented bloody conflicts between miners and the companies that mistreated them. In 1974, at just 18, Preston went to work in the mines.
"Well, you're from coal country. It was in your blood. It's dangerous work. It's hard work. But it paid good," Preston said. "The money in the mine was so good, you had school teachers quitting to go work in them."
Miners would make upward of six figures a year, Preston remembered. But he was laid off in 1983, with the local coal mines nearly exhausted, and he picked up a job at an auto-rebuild shop. "It wasn't a real good time," he said. "Nobody likes being unemployed. I kept a job, but it was like a quarter of the money."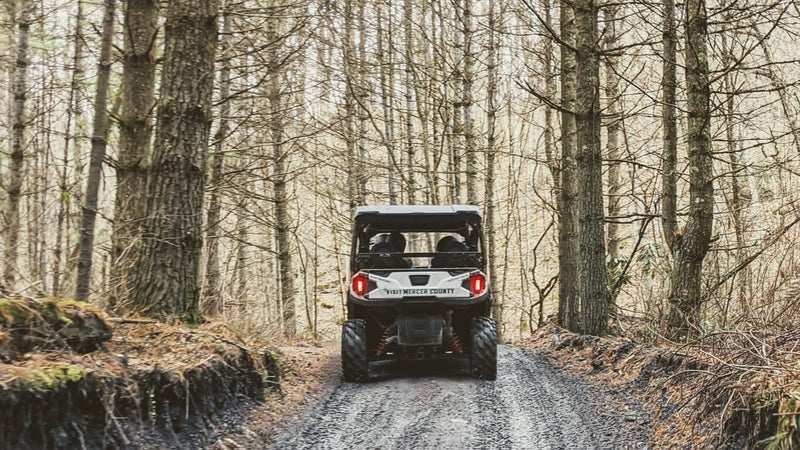 In his downtime, Preston and other former miners began taking their ATVs out to explore the trails they used to ride to work. The affinity for the machines, he said, is something West Virginians have in their blood. You'll often see people shuttling their kids to school or pulling up to a McDonald's drive-through on one.
But the problem with the former coal roads becoming recreational trails, English realized back in 1989, was that none of them connected. Mostly, they ended at the mines and offered few scenic destinations.
So in the 1990s, English and the other trail founders set out to change things. They convinced the state legislature to allocate $1.5 million to create an authority that would oversee trail maintenance, sell permits, and take on liability in case anybody got injured. Then they brought in a team from the Bureau of Land Management to suss out how to connect everything into what would become a thousand contiguous miles of trails and draw up the first maps of the network.
Named after the families who once attracted international attention for a blood feud that started over a stolen hog, the Hatfield-McCoy Trails opened in 2000. Nobody had any idea what to expect next, said Jeffrey T. Lusk, executive director of the Hatfield-McCoy Regional Recreation Authority. "We were so concerned," Lusk said. "We were thinking, Oh my goodness, when we turn this on, is anybody going to come use them?"
That first year, the state sold 5,000 permits (which cost $26.50 for residents and $50 for out-of-state visitors), far more than anyone expected. "In those first few months, we knew we had something. We had something people wanted to do," Lusk said.
It wouldn't take long for interest in the trails to turn into a business opportunity for a state that needed it badly.
---
Cameron Ellis grew up on top of a cleared hillside near the town of Gilbert, West Virginia. His father, grandfather, and great-grandfather had all mined coal in the hill. It dried up before Ellis came along. As a little kid, he knew the family's land only for what it had once been.
Ellis, 29, was in elementary school when the trails opened, and his family was among the first to see the potential. They added ten primitive campsites to their property in 2002. With no facilities, the campers showered at the town's community center.
Those first guests were all one demographic: young men traveling in groups. That changed, however, after a shift in the ATV industry that became a big reason for the success of the Hatfield-McCoy Trails. In the early 2000s, ATVs were essentially four-wheel motorcycles, with controls on the handlebars and an open cab. Then the industry switched to a vehicle known as a side-by-side; largely enclosed, it has a car-like steering wheel and pedals. The demographic of the people arriving to the Ellis's campground soon included families, with dad and mom and the kids all piling into four-seat machines.
The family's Twin Hollow Campground and Cabins now features 20 primitive tent sites, 43 full-hookup campsites, 11 mountaintop cabins with kitchens and baths, ATV rentals, and a barbecue restaurant. It has welcomed guests from every state in the nation and numerous foreign countries.
"It was nothing but primitive when we first started," Ellis said, "and we've built up to everything we've had now. Even just ten years ago, you wouldn't have thought it would grow into something so large. It's a lifeline into southern West Virginia now."
Today the trails are the number-one draw in Mercer County, said Jamie Null, executive director of the local tourism board. Her organization, Visit Mercer County, even bought its own ATV three years ago, outfitting it in green and white and emblazoning it with the county's name across the door. Null grew up in Princeton, West Virginia, in a family that wasn't very outdoorsy. But now she takes journalists and politicians on trips across the county in her Polaris General four-seater (and she bought one for her own family). She sees a lot of optimism in the ATV-rental businesses and in hotels like Buffalo Trail Cabins outside Bluefield, which promotes itself as "designed to meet the needs of ATV riders."
"As far as me having a crystal ball and saying this could save a town, who can do that?" Null says. "But we have to look at the bigger picture and look at how we can revitalize our towns."
In the past five years, the trail system has added two new sections, increasing Hatfield-McCoy from 550 to 730 miles and connecting more towns that might benefit from that same kind of economic growth, said Lusk. Last year the trails saw a 12 percent uptick, with 56,258 permits sold, mostly to visitors from out of state.
"It's a lifeline into southern West Virginia now," said Cameron Ellis.
Like all tourism-focused industries nowadays, Lusk is undoubtedly concerned with how COVID-19 will affect things, especially considering a good deal of his business happens in early spring. On March 21, the West Virginia governor closed the trails, but that didn't last long; two months later, the state reopened them, and since then, riders have returned in numbers surpassing 2019 figures. During the closure, the state initiated the Hatfield-McCoy Emergency Relief Lending Program, and Lusk says that, so far, no trail-related businesses have been forced to close.
The biggest challenge currently is a lack of supporting infrastructure. If the trails are to grow, the state needs more hotels, restaurants, and shops to cater to riders. "These towns have the opportunity to reinvent themselves," Lusk said.
---
The trails have undoubtedly changed things for Dave Preston, the former coal miner. In 1991, he went back to work underground and continued in the mines until 2013, when they laid him off again. It was then that he heard about a job as an ATV guide. He grew up in a family that "knew how to eat off the land," and taking tourists out into the woods now is something that makes him proud, able to show off the countryside where he was raised. "It's my cup of tea," he said. "I grew up in the outdoors."
While some might look down on motor-powered ATV recreation on public lands, Preston explains that the vehicles are the only way to access terrain that few would otherwise see. The trails are officially multi-use, but they are far too muddy in the winter and spring and too dusty in the summer for other modes of transportation. Even fat-tire bikes would get bogged down in the ruts or struggle on the inclines, and all of it would be laborious for hikers or horses.
On a trip into the woods of Mercer County earlier this year, Preston bombed through mud pits and maneuvered knobby wheels through ruts running with mud. His machine seemed unstoppable, and it easily forged up steep inclines, charged over exposed rocks, and blasted down hillsides.
He took a couple zooms through a mud pit for photos. Then he made a precipitous descent, followed the trail on a 90-degree turn, and stopped next to a near vertical hillside. Tucked between the roots of trees, he pointed out a cave the size of a kitchen window. A century ago, miners had drilled there to reach a small cut of coal. Preston picked up a chunk of black rock they left behind; a streak of soot remained on his fingers after he tossed it back.
On the way out, the trail passed by a graveyard miles from anything, just perched atop a bald nob. Preston explained that his ancestors used to bury their dead out here in unofficial graves found along these trails, markers to a civilization that's moved on.
Lead Photo: Eric Barton
Trending on Outside Online