North America's Best Hike-In Lodges
You can't drive to these backcountry lodges. This is a feature in our book, not a drawback.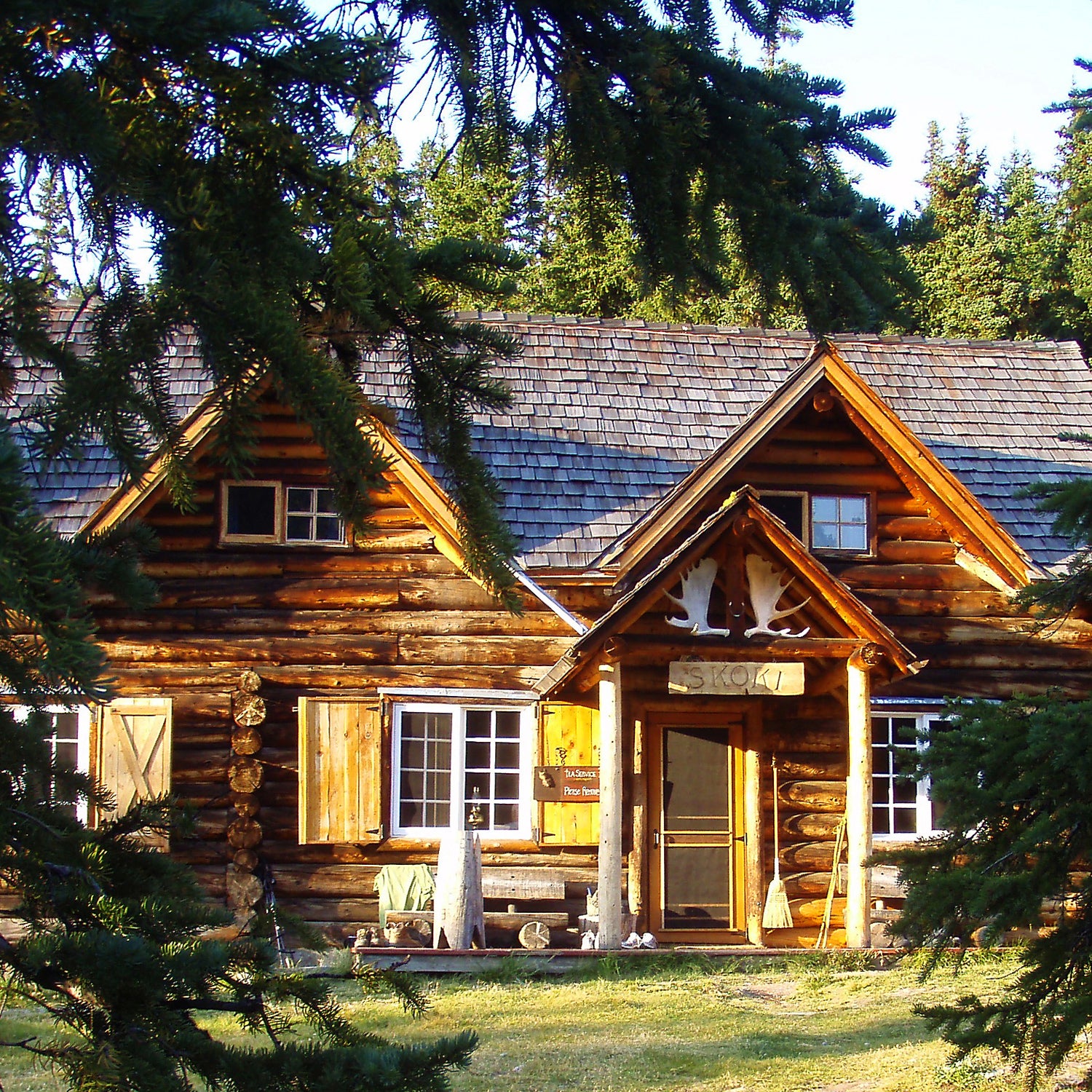 Heading out the door? Read this article on the new Outside+ app available now on iOS devices for members! Download the app.
Don't come expecting a full-service hotel. These are rustic and remote lodges where you'll be treated to a mattress, a hot meal, and a shower (if you're lucky). But if you make the effort to get there on foot—crossing mountain passes and trekking deep into wilderness zones—and you'll appreciate the simple things that much more. Plus, unlike backpacking, you don't have to carry the kitchen sink on your way in.
---
Skoki Lodge, Banff National Park, Canada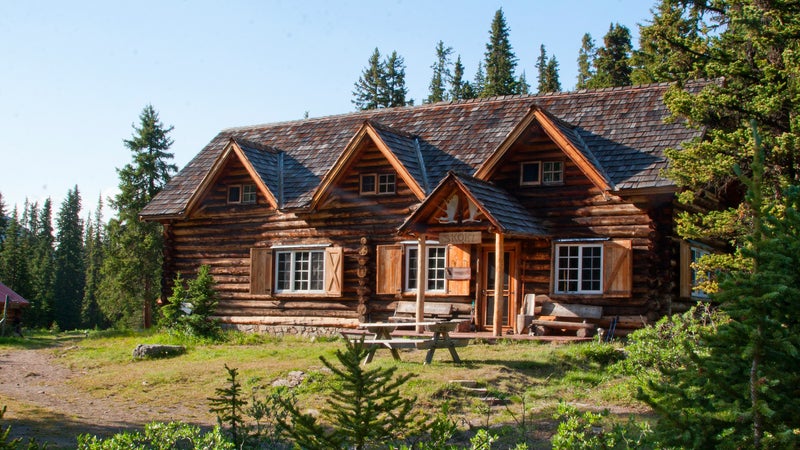 Open from late June to early October, the historic Skoki Lodge, at 7,100 feet within Canada's Banff National Park, feels like taking a step back in time. First owned by the Ski Club of the Canadian Rockies, the lodge opened to guests in 1931 and is accessible only via a seven-mile hike from Lake Louise. There's no electricity or running water, but you'll get washbasins of warm water and at night, the dining room is lit with candles and kerosene lanterns. No sleeping bags necessary: beds come with down comforters and flannel sheets. From $245.
---
Sperry Chalet, Glacier National Park, Montana
You'll reach this historic landmark, built in 1913 within Glacier National Park, via a nearly five-mile, 3,300-vertical foot hike. Once you're there, you'll get a private room plus three meals a day, including a bag lunch to take with you on day hikes, which are plentiful from the lodge. The chalet is open from early July to early September. From $220.
---
Len Foote Hike Inn, Chattahoochee National Forest, Georgia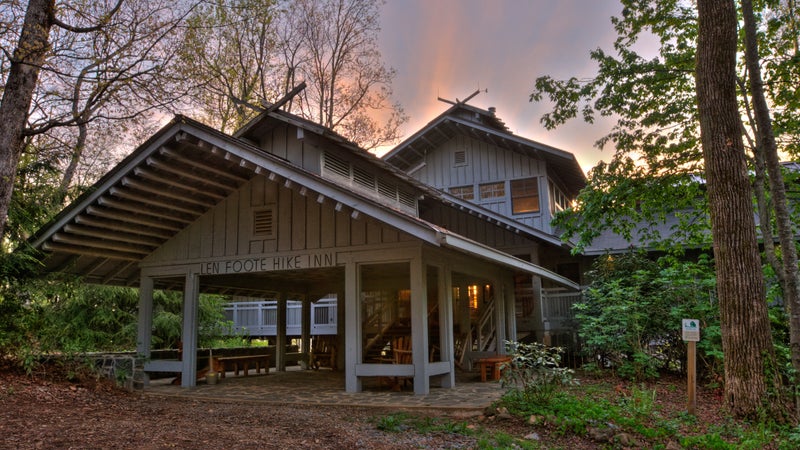 Less than five miles from Springer Mountain, the southern terminus of the Appalachian Trail, the Len Foote Hike Inn is located in Georgia's Chattahoochee National Forest. A favorite starting point for thru-hikers on the AT, the inn has basic bunkrooms that sleep 20, hot showers, and two meals a day that include a breakfast spread with eggs, grits, and apple cornbread. You won't find room service or a concierge, but the showers do come with shampoo and fresh towels. Trail lunches are available for $8 for the hike out. From $117.
---
Lake of the Clouds, Mount Washington, New Hampshire
Part of the Appalachian Mountain Club's stellar hut system, Lake of the Clouds hut on the flanks of Mount Washington is the AMC's highest in elevation, at 5,012 feet.  It's also the most popular. To get there, you'll climb 4.6 miles and a steep gain of 2,983 feet into the White Mountains. In the morning, you can hike to Mount Washington's 6,288-foot summit, the highest peak in the northeast, or traverse the Presidential Ridge. The place sleeps around 90 in co-ed bunkrooms (bring a headlamp—there's no electricity in the sleeping cabins) and breakfast and dinner are included. From $109.
---
Muir Trail Ranch, John Muir Wilderness, California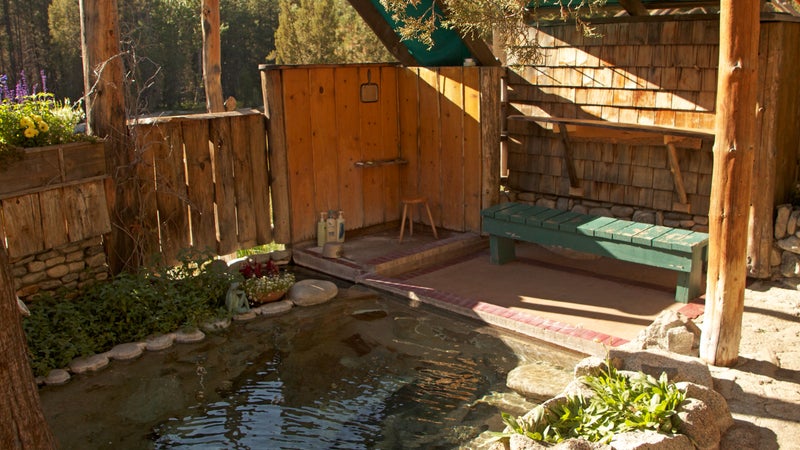 The Muir Trail Ranch first opened as a public guest ranch in 1940. Today, it's a popular mid-way stop for backpackers thru-hiking the 211-mile John Muir Trail, which passes steps from the ranch. Located deep in California's John Muir Wilderness, you'll reach the ranch via a five-mile hike from a trailhead at a remote lake. You'll sleep in a campaign tent or a log cabin, eat communal dinners like steaks barbecued on a wood-fired grill, and soak in 107-degree hot spring baths. From $165.
---
Paradise Lodge, Rogue River, Oregon
You can either raft or hike your way to the aptly-named Paradise Lodge, a remote wilderness lodge on the shores of Oregon's Rogue River. Either way, guides are available to escort you there and schlep your supplies. At the lodge, 18 rooms are nestled amongst cedar cabins along the river; locally-roasted coffee arrives weekly via raft. By day, hike sections of the 38-mile Rogue River National Recreation Hiking Trail, and by night, enjoy dinners in the lodge. Beer, wine, and ice cream are for sale in the general store. From $155.
---
Opus Hut, Ophir, Colorado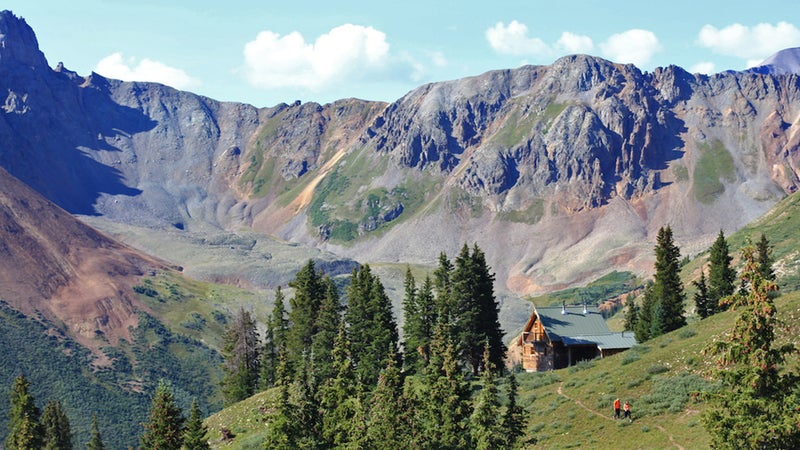 Colorado's San Juan Mountains offer jagged peaks and desolate wilderness. To reach the Opus Hut, located deep in the range, you'll drive a dirt road east of Ophir Pass, between the old mining towns of Silverton and Ophir, and hike just a quarter of a mile to reach the hut. Meals—curries or enchiladas for dinner, pancakes and bacon for breakfast—are cooked fresh for guests. From the hut, you can hike mule trails out the door into neighboring alpine lakes and meadows of wildflowers. From $40.
Dreaming up your adventure to one of these huts? Download Gaia GPS to plan your route and navigate along the trail.
Lead Photo: Courtesy of Skoki Lodge