The Wilder Amazon
Hit the biodiversity jackpot in Brazil's Pantanal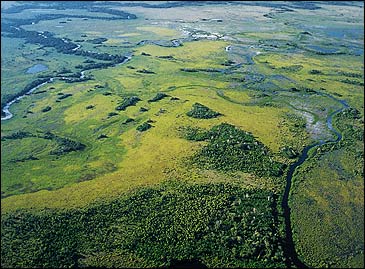 Heading out the door? Read this article on the new Outside+ app available now on iOS devices for members! Download the app.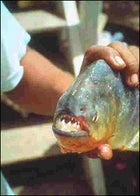 A Pantanal piranha
SIX HOURS EARLIER, hiring a local with a four-wheel-drive pickup truck had sounded like a brilliant idea. But Luciano and his boss's Mitsubishi had proved no match for western Brazil's Pantanal, and now a particularly mucky portion of the 90,000-square-mile wetland was settling in around our bogged-down vehicle.
In the glow of a rising moon, I could see only the lagoon Luciano had swerved to avoid. Luciano ran down his emergency inventory: no flashlight, flares, shovel, or winch. In case of deep muck, like the kind currently gripping our tires, he did have the city dweller's rescue tool of choice, a cell phone.
But we were in a dead zone—nearly 200 winding miles northwest of Campo Grande, the capital of Brazil's Mato Grosso do Sul State—mired in the home turf of millions of toothy alligator-like caimans and the planet's largest jaguars.
In the 16th century, cartographers labeled this watery world the Sea of Xaraes, after a local indigenous tribe. It's easy to understand why: Every fall, rains overwhelm the region. As a result, 80 percent of the shallow basin becomes an Oklahoma-size lake, inundating massive stretches of Brazil, Bolivia, and Paraguay and rendering roads impassable. In April, the epic flood recedes, leaving a shifting mosaic of open savanna, gallery forests, scrub grassland, and meandering rivers.
This extreme and varied habitat supports 3,500 plant species, 650 bird species, 260 types of fish, and more than 100 different mammals, including such endangered species as the jaguar, the maned wolf, and the giant otter. It is the Pantanal, not the Amazon, where you'll see the greatest concentration of New World fauna.
After the wildly popular Brazilian soap opera Pantanal debuted in 1990, curious travelers began to arrive in the region. Inns appeared along the Trans- pantaneira, a decrepit 90-mile causeway south of Cuiabá, the capital of Mato Grosso State, that is the only route into the northern section of the floodplain. Now a multitude of lodges in the southern Pantanal cater to a growing number of year-round visitors.
In 1999, Conservation International (CI), a Washington, D.C.-based global environmental organization, bought a sprawling ranch—the Fazenda Rio Negro, where Pantanal was filmed—and converted the main house into a guest lodge. The original ranch was founded in 1895 by a descendant of Colonel Candido de Silva Rondon, the famed Brazilian explorer who accompanied Theodore Roosevelt on his 1914 expedition through the Pantanal. Now the fazenda runs just 100 cattle on its 19,000 acres, and its mission has shifted to research, conservation, and low-impact tourism. This month, CI is expected to announce the creation of a 271,700-acre biodiversity protection area composed of three private reserves and the newly established Rio Negro State Park, just west of the Fazenda Rio Negro.
With rustic rooms, two suites, and a guest house, the ranch can accommodate 28 visitors. Its all-inclusive program includes tracking wildlife by horseback, boat, canoe, and open truck. Heaps of free-range beef and savory feijão com arroz, or beans and rice, are on the menu every day. Afternoons are spent taking a siesta in a hammock; sunsets are for sipping lethal caipirinhas. That is, if only we could get there.
THERE'S NO EASY WAY into the Pantanal. We'd hopped a Varig shuttle from Rio de Janeiro to S‹o Paulo, then flown almost 600 miles west to Campo Grande. Because I didn't want to risk my family—wife, seven-year-old son, and mother-in-law—flying on a bush plane to the ranch, I'd arranged for a truck and driver through a local outfitter, Delgado Tour. Luciano Barros, who met us at the airport, confessed he had never driven to the ranch. But his boss had handed off the job and a crude map.
"I have a mouth," Luciano assured me, in Portuguese. "I'll just ask directions."
I bought the best map I could find at the airport gift shop. In the midst of the void, I spied a faint red 40-mile line running to the ranch. This was August, the best time of the year for a road trip.
From Campo Grande we made good time to the village of Aquidauana, where we found a washboard road leading north into the Pantanal. We saw rare pampas deer and ostrich-like rheas along the desolate route, but we only encountered a handful of motorists, all outbound. By nightfall, that thin red line we were following had disintegrated into sandy tracks. We blundered on for hours, passing through the cattle gates of anonymous ranches, scattering cows, coatis, and caimans, before we got stuck.
Then, a miracle. By standing tiptoe on the truck cab and raising his cell phone, Luciano finally reached his boss. Shortly before midnight, a truck from the fazenda rumbled out of the gloom.
"I've worked here three years, and three people have come by car," ranch manager Paula Rego told me when we arrived, nearly 12 hours after leaving Campo Grande. "All the tourists fly—even the people who live here get lost."
The next morning broke with the chatter of a half-dozen cobalt-blue hyacinth macaws, the world's largest parrots. Beyond the horse paddock, a troop of capybaras, pig-size aquatic rodents, emerged from the tree line and settled serenely into a wallow. Down by the boat landing, several dozen caimans basked in the rising sun.
As our piloteiro, David Albuquerque, maneuvered an aluminum fishing boat along the tannin-stained Rio Negro, we saw toco toucans and jabiru storks. More capybaras materialized from the forest, while the caiman count approached three figures. That wasn't all: Paula told us that camera traps had photographed three jaguars near the ranch.
Our swamp savior, Elio Antonio "Picole" Martins, later took us on a three-hour, 15-mile circuit of the northern and eastern sections of the fazenda. Wheeling his truck along rutted savanna trails, Picole found giant anteaters, monk parakeets, and a pair of crab-eating foxes. Near a remote salina, a brackish water hole, the tracks of ocelots and lesser anteaters dimpled the shoreline. After watching a tapir feed on the algae covering a lagoon, Paula led us to a giant egret rookery, where the twilight screamed like a million soccer fans.
The next morning, there was no hope of sleeping in, not with the racket made by flocks of nesting monk parakeets. After a breakfast of papaya, pastries, and bracing coffee, it was time to explore the back forty by horse.
Paula took us across the ranch's grassy airstrip, where a wind sock hung limply in the heat. A squadron of hyacinth macaws glided into a grove of acuri palms behind a whitewashed house, now the home of former owner Don Orlando de Castro Rondon.
Longtime employees like Pedro "Japan" da Costa, who was born under a tree behind the big house, back in the thirties, could recall a time when the pantaneiros embarked on six-day cattle drives to the slaughterhouses in Aquidauana. But by 1999, falling beef prices, reduced government aid, and advanced age had convinced Don Orlando to sell out. Once a passionate jaguar hunter, he now saw his fazenda as a model for conservation in the Pantanal. In a deal that allowed him to maintain a modest home, CI bought out Rondon.
After fording the swift Rio Negro, Paula rode along the banks of an old channel, pointing out a tapir's tracks and the skittish prints left by a drove of white-lipped peccaries, a favorite jaguar victim.
While Fazenda Rio Negro has survived for more than a century in relative harmony with the Pantanal, other areas suffer development pains. Cuiab‡ discharges the untreated sewage of its 800,000 people into Pantanal tributaries, which also carry mercury from gold-mining operations near Poconé.
Compared with the Amazon, however, the Pantanal remains healthy. Steeled by the annual cycle of wet-season floods and dry-season fires, the marsh demands badass Darwinism: In a place where 30-foot snakes eat 120-pound rodents, there's no room for the unwary.
The day of our departure, we took two canoes and headed upstream, following a pair of giant otters for several hundred yards, then landed near a bend in the river. The lurking caimans ceded the beach but hung ten yards downstream while I took a wary dip.
"Don't worry about piranhas," David advised. "They prefer still water."
Fishing with a bamboo pole and a scrap of beef, however, my son pulled a piranha from the water. Time to get out; I'd seen enough feeding frenzies on TV.
Then the clouds opened and heavy rains pelted the parched earth. Our return promised to be another gripping adventure. Back at the ranch, Picole drew a map; at each cattle gate he indicated one direction: Segue. Continue.
"What day is your flight back to the States?" Picole asked.
"Sunday night," I replied.
"Then you have three days to get to Aquidauana," he said with a little smile.
No problem. Luciano still had his mouth and his mobile.
FORGET THE AMAZON, the Darién, even Patagonia—the Pantanal, centered mostly in Brazil but edging into Bolivia and Paraguay, is the best spot in South America to view wildlife. The dry season (May through October) finds the Pantanal at its most pleasant: no flooding, cool temperatures, and big beasts such as tapirs, capybaras, and caimans clustered around water holes. The rainy season (November through April) attracts birders who come to feather their life lists with sightings of the hyacinth macaw, the crested caracara, and the turkeylike southern screamer. Bear in mind, however, that much of the swamp will be flooded, the roads will be a quagmire, and the mosquitoes, known affectionately as "the Bolivian Air Force," will be relentless.
LODGING The FAZENDA RIO NEGRO (011-55-67-326-0002, www.fazendarionegro.com.br) is open year-round. Lodging, all meals, and guided activities cost $130 per day per adult. The fare for children under 12 is $84 per day. The comfortable, if basic, accommodations range from suites in the main house to a five-room guest house. All rooms have private baths and air-conditioning.
EARTHWATCH INSTITUTE (800-776-0188, www.earthwatch.org) needs Fazenda Rio Negro-based volunteers to help scientists study jaguars and giant otters.
Several other fazendas in the southern Pantanal offer a similar mix of adventures. An oasis about 100 miles north of the Rio Negro, POUSADA CAMPO NETA (011-55-67-382-2068, www.ecopan.com.br) is best accessed by plane, and is affiliated with the Wildlife Conservation Society.
An easy 22-mile drive north from the Campo Grande-Corumbá highway, the REFÚGIO ECOLÓGICO CAIMAN (011-55-11-3079-6622, www.caiman.com.br) has four lodges on its 130,000-acre property.
POINTS OF ENTRY Almost 400 miles northwest of Campo Grande, and 200 miles north of the Fazenda Rio Negro, Poconé is the starting point for the TRANSPANTANEIRA, a road intended to bridge the swamp. After 90 miles, a third of the way in, the project was put on hold. But the causeway has been a boon to naturalists. Animals congregate on the road in the wet season; during the dry season, ditches along the highway are the only permanent water sources. Eighty-seven miles south of Cuiabá, the 15-room ARARAS PANTANAL ECO-LODGE (www.araraslodge.com.br) offers horseback riding, hiking, biking, and canoeing.
The area's sole national park, 486,000-acre Parque Nacional do Pantanal Mato-grossense, is accessible only by plane or boat. Call the IBAMA office in Cuiabá (011-55-65-648-19147) for permit information, but be prepared to converse in Portuguese.
GETTING THERE Varig Brazilian Airlines (800-468-2744, www.varig.com.br/english/index.htm) has several daily flights from the United States to São Paulo and Rio de Janeiro. Varig flies nonstop from S‹o Paulo to Campo Grande, with continuing service to Cuiabá. Fazenda Rio Negro can arrange for chartered single-engine bush planes from Campo Grande ($870 for three) or Aquidauana ($455).
Avis (800-230-4898, www.avis.com) has offices in the Cuiabá and Campo Grande airports. From Campo Grande, the roads are decent to Corumbá. Be prepared, however, for sloppy conditions while motoring the Transpantaneira. Don't even think about trying to reach Fazenda Rio Negro by yourself. But if you must defy common sense, the lodge's coordinates are 19°34'29.2″ S, 56°14'37.1″ W.