The Top 10 New Zealand Hikes
No hike will ever be the same again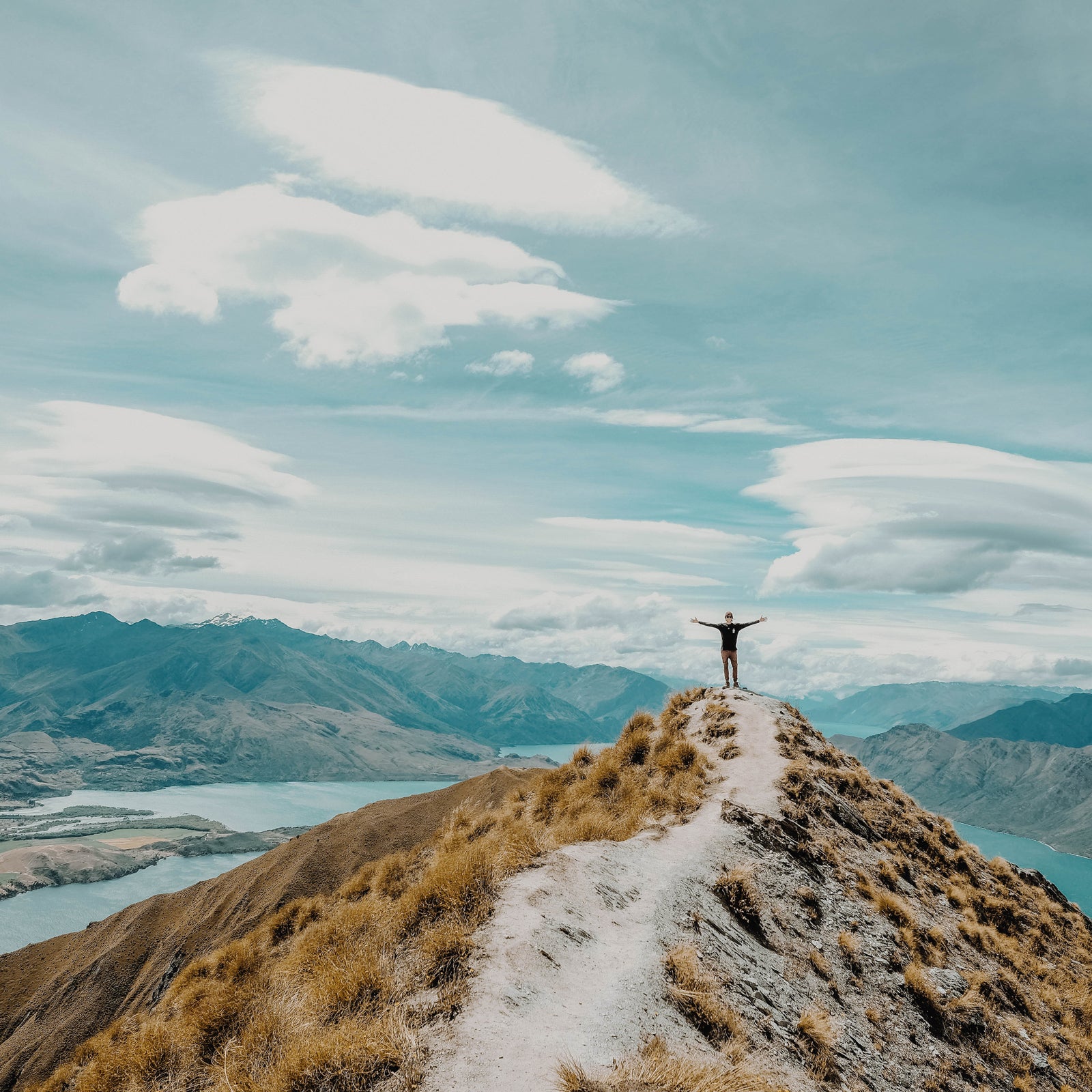 Heading out the door? Read this article on the new Outside+ app available now on iOS devices for members! Download the app.
Misted mountains and emerald fjords, ancient fern-ridden forests and cascading waterfalls, miles of empty black and white sand beaches. You're likely to find any sort of wild path you're willing to tread in New Zealand's manifold lands rife with majesty. At times you'll feel you've stumbled into a fantasy. And perhaps you have: your own. To navigate the Land of the Long White Cloud is easy, but to choose your path when time is shorter than your desire—that's an overwhelming prospect. Here, we guide you, in your drop-jawed stupor, to the best terrain for two intrepid feet on both islands. You'll need a sturdy rain jacket, good boots, and a hunger for adventure. Ramble down one path or hoof them all. We can't promise you'll want to leave, but you won't leave the same. 
Best Beach Hike
Abel Tasman Coast Track, Abel Tasman National Park, South Island
Some 30 miles of golden sand beaches, granite cliffs, and subtropical bush line this coastal track, lapped by clear azure waters where fur seals amass in play. Named for the first European to set foot on Aotearoa's idyllic shores, the Abel Tasman Coast Track is perhaps the least strenuous of New Zealand's iconic Great Walks but equally rewarding. The two- to five-day one-way track takes you alternately through verdant fern and manuka groves and along empty shores, where you'll camp at water's edge or stay in Department of Conservation huts (arrange both beforehand). Several tidal inlets require that you time your crossings with low-tide, so plan ahead and set out early. Then spend your afternoons watching seals swim, spotting birds, and diving into the tumbling surf.
Best Day Hike 
Tongariro Alpine Crossing, Tongariro National Park, North Island
For Lord of The Rings fans, Tongariro National Park is the land of Mordor in the dark, craggy flesh. In moody weather the jagged volcanic rock and steep climbs over barren landscape evoke an eerie sense of foreboding. But on a clear day you'll see Mt. Ngauruhoe—otherwise known as Mount Doom—in full glory on this 12-mile, seven-hour hike. Even better, once you crest Summit Crater, you can take the optional side scramble up the mountain, which has no ordained path, if time and weather permit (add 1 to 2 hours). Then head down the ridge from Red Crater to bask at the edge of the neon turquoise, geothermally heated waters of the Emerald Lakes before your final descent, another six miles through lava fields and tussocked meadows, to the Ketetahi trailhead where you'll catch your bus back to the start.
Best Overnight Hike 
Mueller Hut Route, Mount Cook National Park, South Island
The snowcapped dome of Mount Cook, New Zealand's tallest peak at 12,316 feet, dominates the glaciated terrain rising above the path to Mueller Hut, a spare red trekker's hut cantilevered into the side of a scree slope on a high alpine plateau. The three-mile hike from the valley floor is steep and switchbacked, so you'll have no problem stopping to take in the immaculate view to the valley's braided river system or the bright blue glacial pools catching meltwater at the mountain's foot. Once you pass the tussocky Sealy Tarns, you'll scramble up a huge field of loose talus to the plateau ridge at 6,000 feet. At the hut, claim your bunk, then savor meditative sunset views to the iconic Mount Cook summit and the distant valley below. Katabatic winds churn clouds down steep cliff faces above, and the occasional sound of thunder marks distant avalanches.
Best Hike Not in Your Guidebook 
Buck Taylor Track Loop, Karekare, North Island
Forty-five minutes west of Auckland, the Waitakere Ranges roll with untamed subtropical bush down to a rollicking Tasman Sea. Hike downhill from the Lone Kauri Road car park amid towering manuka, cabbage, and fern trees big enough to camp in to a marshy inlet banked by black sand dunes. Follow the dune ridges, lined with emerald cliffs and craggy outcroppings, to a rock tunnel and the vast, empty black sands of Karekare Beach, where seals crawl onto high, rocky perches thrashed by the surf. Just past the Karekare Surf Club, you'll take the Zion Hill Track back up the steep forested slopes to your car (via the Zion Ridge and Buck Taylor tracks). But first, take a short detour across Lone Kauri Road to the paradisiacal Karekare Falls, a 100-foot horsetail cataract that plunges into a shallow pool where you can soak your tired feet or take a swim.
Best City Hike 
Mt. Victoria Trails, Wellington, North Island
It's no secret that New Zealand boasts huge stretches of rugged, bucolic landscapes with more livestock than humans. But even Wellington, the Kiwi's capital city of 450,000, is buffered by a swath of semi-wild green hills, dubbed the Town Belt, that was set aside for aesthetics and recreation in 1840. Scores of paths meander through these hills, but the best skirt Mount Victoria, easily accessible from the city's center. Choose your path along the winding turns of the 6.8-mile Southern Walkway, and the sounds of the city die away beneath a thick canopy where several Lord of the Rings scenes were filmed, including the hobbits' flight from the Black Rider. Tread the path to 643-foot Mount Victoria's summit for the best view atop Wellington where you can watch boats sailing in the harbor. Call it a day or keep trekking over miles of connecting trails among the city's hills and down to the sea.
Best Cave Hike 
Abbey Caves, Whangarei, North Island
At the edge of Whangarei, a sleepy town in the often overlooked Northland, the Abbey Caves hold some of the best displays of amassed glowworms in New Zealand, though the secret is well kept. Walk through ancient-looking fields studded with stands of web-pocked monoliths, climb the stepping stool over a gnarled fence, and slither into the slippery throat of Organ Cave, the first of the three caverns, where you'll walk shin-deep along 200 yards of a subterranean stream to a vast canvas of glowworms. Then head to the poorly marked Middle Cave to find fluted limestone stalactites and constellations of glowworms streaked across the ceiling like a green Milky Way. Drop last into Ivy Cave through a steep and bouldery descent alongside a rushing stream. You'll plunge deep into a room with dripping walls and a cavernous ceiling of speckled phosphorescence before trudging back through muddy grass to your car.
Best Long Trail Hike 
Te Araroa, Cape Reinga to Bluff, North and South Islands
This is a country whose endless beauty begs a slow study. Absorb the varied landscapes on foot, tip to tip, via the youngest of the world's long trails, Te Araroa—Maori for The Long Pathway—which officially opened in December 2011. At 1,864 miles, Te Araroa is the Kiwi answer to the Appalachian Trail with bigger views and dramatic strolls amid huge dunes, lush subtropical rainforests, snow-crowned peaks, and alpine lakes. Not to mention scores of native and endemic birds, like the kiwi, kea, and the schizophrenic tui, that abound in all corners. From glacial river valleys to rolling grasslands, you'll tread through every kind of ecosystem in New Zealand over rugged terrain and into several towns for resupplies. Hiking the entire trail (start at Cape Reinga and head south to Bluff) takes roughly four months, but because it was created by connecting existing trails, shorter section hikes are easy to tackle.
Best Mountain Scenery Hike 
Kepler Track, Fiordland National Park, South Island
Wake early and in awe at Luxmore Hut atop a fairy-tale blanket of white clouds hovering over an invisible, mountain-ringed Lake Te Anau. Thus begins your second day on the four-day Kepler Track, one of New Zealand's famed Great Walks. You'll have company on this popular route, but you'll hardly notice as you climb the tussock-lined ridge amid frosted alpine peaks rising steeply out of the South Fiord of the lake. Take the 10-minute side hike up 4,829-foot Mt. Luxmore for a mesmerizing Fiordland panorama as the cloud blanket disperses in the rising sun. Several scenic miles later, you'll zigzag down 93 knee-pounding switchbacks (count 'em) into a verdant hanging valley to the Iris Burn Hut or tent site, a tufted field with mountain views at the forest edge.
Best Multi-Day Hike 
Milford Track, Fiordland National Park, South Island
Verdant valleys and misted mountains, tumbling cataracts and a vast green fjord. The four-day Milford Track is deemed the world's finest walk for good reason. Once a route Maoris used to hunt greenstones, Europeans cut the 33-mile path in 1888 from Lake Te Anau to Milford Sound, and 14,000 annual hikers now tread it. The track is one-way, beginning with a boat ride to the head of Lake Te Anau and ending with a boat pickup at the aptly named Sandfly Point in Milford Sound. Between, you'll hike along rivers, lakes, and soggy wetlands and climb the stunning 3,786-foot MacKinnon Pass for dramatic alpine vistas before descending into another river valley rife with waterfalls and a glacier.
Best 'Lord of the Rings' Hike 
Mount Sunday (Edoras), Canterbury, South Island
Mount Sunday is as remote as it gets, even in wild New Zealand. An hour down Canterbury's Hakatere Potts Road, a bumpy gravel track that carves 16 miles into the upper Rangitata Valley, the craggy hump of Mount Sunday occupies the center of a gorgeous dale ringed by immense peaks of the snowcapped Southern Alps. Atop this tussock-clad hill, the Lord of the Rings film crew built Edoras, capital of Rohan. Nothing of the set remains, but you'll recognize the scene and feel you've been dropped in the far reaches of Middle Earth. Hike the mile-and-a-half path to the windy summit, where you'll glimpse a stunning view of the braided Rangitata River weaving through the plains, the perfect backdrop for an epic picnic.
Lead Photo: Paula May/Unsplash