The Exhaust-Free, Self-Propelled Foliage Tour
Let the motorized leaf peepers have their New England. It'll keep them far away from ours.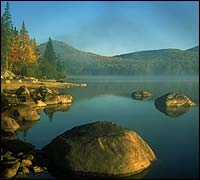 Heading out the door? Read this article on the new Outside+ app available now on iOS devices for members! Download the app.
Migrationally speaking, almost everything leaves New England in autumn. The exception? Tour buses, of course, fall foliage tours in the Northeast being the single most popular trip in busdom. Every year, thousands of motor coaches rumble through at the peak of leaf-peeping season—no wonder the birds, butterflies, even whales get a little antsy and head elsewhere. The indigenous primates know the feeling, too: It's easy to view the 16-wheelers as a pestilence. But the more evolved view is this: Let the buses have their clichéd itineraries—you know, North Conway, Route 100 in central Vermont, the coastal road that runs past the Bush estate in Kennebunkport. That leaves about 65,000 square miles for the rest of us.


VERMONT

Flying Above the Green Mountains

Sure, the fall-color voyeurs along Vermont 100 can make the river-hugging two-lane as congested as the Long Island Expressway at rush hour. But nowhere in New England are the aviation options for foliage-watching better than right in the middle of the Green Mountains—since you can't beat 'em, might as well fly over 'em. In the fall, the standing mountain waves—dramatic updrafts caused by prevailing westerlies—are at their best. Coming over Lake Champlain, these winds run up against a wall of 4,000-footers, contour over the rounded summits, and ricochet off more stable air below, giving whatever's afloat a goose toward the heavens. Meanwhile, the massive Green Mountain National Forest unfolds below, a seamless canopy dolloped in the season's glory: crimson red, flaming orange, and mind-bogglingly deep shades of purple.


Sugarbush Soaring, based at the Warren-Sugarbush Airport right off Route 100, pioneered the concept of the multiday soaring camp in 1978. Its three-flight weekend sampler for novices ($179; 802-496-2290) puts you at the controls with an FAA-certified instructor flying in tandem and will teach you how to fly level, control speed, and soar in thermal, ridge, and wave lifts. Participants are eligible for discounted lodging at The Valley Inn in Waitsfield (doubles, $65, including breakfast; 802-496-3450).


With its cooler air providing more buoyancy—and an easier time humping up a hill with 30 pounds of parachute on your back—autumn in Vermont is also ideal for paragliding. This fact was not lost on Rick Sharp and Ruth Masters, who a decade ago bought and cleared Cobble Hill, arguably the best place in the region for learning how to launch and land. Of course, when they cleared the top of the 900-foot slope 12 miles north of Burlington, they made sure to preserve its autumnal crest, a brilliant 20-acre sugar maple grove that gives customers their first airborne glimpse of the Green Mountains' pigment extravaganza. Beyond it, the views stretch across Lake Champlain to the Adirondacks. A weekend package, which includes up to 40 flights over two days, costs $250; for an extra $25 a night, Sharp and Masters provide accommodations at their own B&B. For information and reservations, call 800-727-2359.


On the eastern slope of the range, there's Brian Boland's hot-air balloon operation (802-333-9254), based at the Post Mills Airport off Vermont 113. One of the country's premier pilots (he holds 30 world records for altitude, distance, and duration) and most respected balloon makers, Boland offers customized trips in addition to his two regularly scheduled daily outings ($150 per person). The latter depart at dawn and dusk, last about 90 minutes, and cover up to 20 miles of the southern Green Mountains.


Mountain Biking near Randolph

With no ski resorts to draw crowds or chic commerce, central Vermont's White River Valley looks much as it did 100 years ago—some huge dairy farms, a few country stores, and lots of bumpy paths through the woods. In fact, Orange County has 242 miles of maintained dirt roads and designated trails. From a mountain biker's perspective it's manna from heaven, providing the one thing autumnal that New England has never had: a first-class off-road multiday bike loop.


Now, thanks to a few intrepid trailblazers, there's the Circus Ride, a single-track double entendre that's been hailed as one of North America's gnarliest. The 45-mile loop crosses three passes, including the 2,500-foot Randolph Gap over Rochester Mountain, on the same trail that was used to bring the circus into Randolph during the late 1800s. The route was pioneered in 1993 by the folks at Randolph's Slab City Bike & Sport (rentals, $20 per day; 802-728-5747), who have since added side trips that let you extend the dawn-to-dusk marathon to more than 100 miles. For the less suicidal, the route can be broken up quite nicely with a couple of well-chosen overnights. The campground at Allis State Park, off Vermont 12 in Brookfield, ten miles north of Randolph, has 28 sites with potable water, flush toilets, and coin-operated showers ($10 per night; 802-276-3175). The Three Stallion Inn (doubles, $103; 800-424-5575), perched on a quiet meadow 1.5 miles west of Randolph, is a popular haunt for cyclists.
New Hampshire: Hiking and Biking Sandwich Notch

When the mobs descend on Squam Lake (of On Golden Pond fame) and Lake Winnipesaukee, Granite State locals take refuge in the high country off Sandwich Notch Road, one of the last undeveloped mountain roads in New Hampshire. Narrow, steep, and unpaved, the road runs northwest for 11 miles, from New Hampshire 113 in Center Sandwich to New Hampshire 49 near Waterville Valley. Half of this historic route—in stagecoach days it was a major mountains-to-sea trade route terminating in Portland, Maine—is located smack in White Mountain National Forest.


A half-dozen excellent hiking paths start from trailheads right on the road. Near the southern end, the 2.1-mile Wentworth Trail to the summit of 2,630-foot Mount Israel has a reputation for giving the most foliage bang for your perspiration buck of any spot in the state. On the northern end, you'll find somewhat more demanding terrain on the 4.5-mile Algonquin Trail, with dramatic ledgy overlooks of Waterville Valley on the way to the top of 3,993-foot Sandwich Mountain. If you're looking for a multiday route or prefer to do your rambling by fat tire, consider the rugged 16-mile trip to Flat Mountain Pond, accessed via the Guinea Pond trailhead, 5.7 miles north of Center Sandwich. The hills get steeper and the gullies get nastier as you near the pond, so even mountain bikers should plan on at least a lunch break at Flat Mountain, if not an overnight at its wonderfully secluded shelter (free; first-come, first-served; 603-528-8721). Another nearby mountain-bike option is the Dickey Notch Trail, which starts just off New Hampshire 49 north of Sandwich Notch Road and forms the first leg of a 25-mile loop around Dickey Mountain.
Before heading out, pick up a copy of the Appalachian Mountain Club's White Mountain Guide ($17, from AMC Books; call 800-262-4455 to order), which has four topo maps as well as detailed information on nearly every trail in the state. For advice on the area's many mountain-bike routes, as well as rentals ($24 per day), stop by the Greasey Wheel in Plymouth (603-536-3655), about 15 miles west of Center Sandwich. For a soft place to bunk, try the Red Hill Inn, atop a witheringly steep hill 20 miles east of Sandwich Notch Road, with 21 lake- and mountain-view rooms spread over 60 acres. A three-night package, including full country breakfasts and one candlelight dinner per couple, starts at $200; call 800-573-3445.
Massachusetts: Hiking the Northern Berkshires and Sea Kayaking Cape Ann

Hiking the Northern Berkshires

With 3,491-foot Mount Greylock at its spiritual, if not physical, center, residents of the Bay State know there's little reason to venture to the northern foliage meccas. After all, every 400 feet one ascends above 2,600 is the equivalent of traveling 100 miles north, arboreally speaking. Which means that they save both time and gas by exploring Greylock or its neighbors in the state's northwest corner, true wilderness mountains with old-growth forests and 70-mile, three-state views.


The highest point in Massachusetts, Greylock isn't a secret. But though hordes of visitors drive to the summit, relatively few venture into the backcountry of the Mount Greylock State Reserve, which includes more than 43 miles of trails. To reach the summit under your own steam, take the 3.5-mile Cheshire Harbor Trail from the end of West Mountain Road in Adams. An even more solitary journey is to the Hopper area, a 1,600-acre bowl-shaped valley to the west of Greylock that's home to 200-year-old stands of red spruce, hemlock, and mountain ash. To get there, take Massachusetts 43 to Williamstown, ten miles northwest of Greylock, and turn left onto Hopper Road; the Hopper Trail begins at road's end. For a stunning overview of the state's four highest peaks—Greylock, Fitch, Williams, and Prospect—take the Roaring Brook trail, off U.S. 7 in South Williamstown, a half-mile east to the Stony Ledge Trail; 2.5 miles later you'll find the eponymous hunk of Berkshire schist perched 2,500 feet above the valley floor.
Maps and trail information are available at the Greylock Visitor Center (413-443-0011), off U.S. 7 in Lanesboro. Sperry Campground, six miles north of Lanesboro, has 37 sites for individual and group camping ($4-$8 per night; 413-499-4262). Longtime Berkshire resident Bob Leverett, one of the country's foremost authorities on old-growth forests east of the Mississippi, leads rugged four- to six-hour tours of the region for a voluntary donation; call 413-538-8631.


Sea Kayaking Cape Ann

Just 35 miles north of Boston, Massachusetts's lesser-known peninsula may pale in comparison to Cape Cod in summer, but not in fall. With barrier beaches, river estuaries, and remote islands along nearly 20 miles of coastline, the Essex/Rockport/Gloucester area is fast becoming a playground for both novice and veteran sea kayakers. Conditions are particularly good in October, when the offshore recreational boat traffic vanishes and the cape's thickly wooded interior swells with color.


The place to start an 18-mile clockwise tour of the cape is in Essex on the Essex River, launching from the public dock at the end of Island Road, just off Massachusetts 133. Flush in front of you is Hog Island, a steep, lushly forested drumlin surrounded by salt marsh and a maze of tidal estuaries. The island has meadowy hiking, pockets of red oak amid stands of rare Norwegian blue spruce, and a natural history museum that's open on weekends (508-356-4351). The striped bass fishing in the estuaries is excellent, so consider stowing fly-fishing gear.


To the north and east of Hog Island, Crane's Beach and Plum Island form an 11-mile stretch of barrier-beach dunescape that's one of the East Coast's best migratory shorebirding spots. To the southeast, on the other side of Halibut Point, lies 52-acre Thacher Island, one-third of which has been designated a national wildlife refuge (leave your kayak on the concrete slab next to the boathouse, not on the Town of Rockport launch). Thacher, a 25-minute paddle from the route's terminus at Gloucester's Good Harbor Beach, has a free 20-site campground as well as a three-bedroom guest house—complete with kitchen and shower—available on a first-come, first-served basis. For more information, call the island caretaker at 508-546-2326.


The Cape Ann Sea Kayak Company (508-356-5264) in Gloucester offers rentals for $37 per day, but only to "qualified paddlers," defined as those with knowledge of personal rescue and navigation techniques. Other folks can sign up for a guided trip with Essex River Basin Adventures ($40 for three hours or $75 per day, including kayak, guide, and shuttle service; 800-529-2504). For relaxation's sake, don't plan on rounding the cape in a day—though competitive paddlers can make it in about four hours—but rather chart out a couple of day trips, an approach that allows for plenty of island hopping. Shore camping is available at the Cape Ann Campground on the Annisquam River estuary in Gloucester ($15 per night; 508-283-8683), but if you're going the guided route, you might as well stay near ERBA's headquarters in Essex. The George Fuller House (doubles, $75-$125; 800-477-0148), a seven-room renovated colonial bed-and-breakfast, backs right up to the river.
Rhode Island: Traversing the State

A challenging multiday trail for hiking, horseback riding, and mountain biking in Rhode Island? Sure, it seems like the start of yet another joke ragging on New England's smallest, flattest, and most green-space-challenged state. But in western Rhode Island's rural and, yes, hilly farm country, the North South Trail parallels the Connecticut state line while linking up eight wildlife management areas over the course of 70 miles, making it possible to hike the entire state in a long weekend.


The trail was officially unveiled in 1998 and runs from Quonochontaug (try saying that fast three times—or even once) in Charlestown to Wallum Lake in Burrilville. Parking is available in most of the state parks that the trail crosses, including Burlingame, Carolina, Arcadia, George Washington, and Buck Hill. But for those who don't want to hoof across every mile, there are a few stretches that offer a solid sampling of what the North South has to offer.
A good taste of the North South's first stretch starts in the state's northwest corner, near Burrillville, with a rigorous five-mile hiking-only section in the Buck Hill Management Area. Park at the reserve's main lot off Rhode Island 100 and pick up the Follett Trail, which winds past Wallum Lake en route to the Massachusetts state line. Just four miles south of Buck Hill you can also explore the route's second section, the eight-mile Walkabout Trail in the George Washington Management Area, which also has a convenient 45-site campground perched near the trailhead off Rhode Island 44 ($12 per night; 401-568-2013).


Another good 18-mile stretch lies further south, bisecting the 14,000-acre Arcadia Management Area, a reserve known throughout New England for its superb 40-plus-mile network of mountain-bike trails. More advanced single-track riders favor the 12-mile perimeter loop, pedaling counterclockwise from the John B. Hudson trailhead off Rhode Island 165, through stands of mountain laurel, up to the shores of Breakheart Pond. For the area's best biking map and information on other routes, call the Eastern Fat Tire Association at 401-364-0786.


Another draw in Arcadia is the Wood River, which boasts the best flatwater paddling in the state. Hope Valley Bait & Tackle (401-539-2757) rents passable canoes ($22 per day) and can provide advice on fishing the river, as well as the required permits ($26). The Wood is heavily stocked: It recently received a drop of rainbow, brown, and brook trout from the Perryville hatchery, and for the last three Octobers the state Department of Fish and Game has also stocked the river with landlocked salmon, some weighing upward of 20 pounds.


For maps, route descriptions, and information about the North South Trail, call the Department of Environmental Management at 401-277-2776. The Division of Forest Environment (401-539-2356) handles reservations for Arcadia's popular backcountry shelter ($15 per night).
Maine: Paddling the St. Croix River

Flowing along Maine's eastern border with New Brunswick, the 37-mile stretch of the St. Croix between Vanceboro and Grand Falls is the state's least famous, least crowded, and best multiday fall river trip. Most of this section is banked by boreal forest, but there are also regularly spaced pockets of meadows bordered by flaming orange, yellow, and scarlet hardwoods, ideal for riverside overnights.


A good weeklong trip begins near Forest City with two days of warm-up flatwater paddling, island camping, and fishing (the uniquely colored northern smallmouth bass are the elite of their species) on the Chiputneticook Lakes. Then comes a four-day paddle on the St. Croix, an ideal beginner's river with enough rips and rocks—as well as one challenging Class II+ drop, Little Falls—to keep the adrenaline flowing. For a more serene St. Croix experience, make sure to stop at Porter's Meadow, one of the best areas on the river for viewing nesting bald eagles.
If you're a do-it-yourselfer, pick up a copy of the New England White Water River Guide ($15, from AMC Books, 800-262-4455); be aware, however, that you'll need to bring your own boat—the closest rentals are nearly two hours south of Forest City. Consider also Martin Brown's Sunrise County Canoe Expeditions, which has operated on the St. Croix for more than 20 years. On its guided outings you sleep in platform tents, average ten miles per day, camp on both the Canadian and American sides of the river, learn traditional Down East whitewater techniques, and are among the first Americans to see the sun rise each morning. The six-day trip costs $679; call 800-748-3730.
Connecticut: Exploring the River-hugging AT
Come foliage season, Connecticut's northwest corner typically gets only a quick look-see from the motorcades of New Yorkers zooming north to the Berkshires. But unbeknownst to most, the blurry landscape in their rearview mirrors is the Berkshires, the southernmost edge of the range and home of one of the best, if briefest, portions of the Appalachian Trail, a 56-mile section hovering above the clear blue Housatonic River.


Start at Housatonic Meadows State Park, off U.S. 7 just south of West Cornwall. A 19.2-mile section of the AT passes through, but the river takes center stage. The five-mile stretch between Cornwall Bridge and West Cornwall, a fly-fishing-only trout-management area, is one of the East's premier spots for hooking browns; for licenses and supplies, stop by the Wilderness Shop, on U.S. 202 in Litchfield (203-567-5905). Farther north, there's good paddling on the 11-mile stretch between Falls Village and Cornwall Bridge, with Class II whitewater as late as October, thanks to dam releases. Kayaks and canoes can be rented at Clarke Outdoors in West Cornwall ($35 and $45 per day, respectively, including shuttle service; 203-672-6365).
Off-river, the AT offers plenty of opportunities to view foliage and wildlife. On the eastern flyway for spring and fall migratory birds, the area has seen kettles with as many as 5,000 broadwing hawks steaming overhead. A particularly good birding spot is off River Road in Kent, on the west side of the Housatonic near St. Johns Ledges, a stunning band of cliffs that rises 600 feet above the river.


Though classic white-clapboard inns and B&Bs are abundant, the place to stay is the campground at Housatonic Meadows ($10 per night). Twenty-two of its 94 sites are right on the river and hence are reserved months in advance in summer, but they're available on a first-come, first-served basis after Labor Day. For maps and more information, call Housatonic Meadows State Park at 203-672-6772.