Valhalla on Wheels
Two guys, ten days, 500 miles by bike through gorgeous Norway. The only rule? No suffering.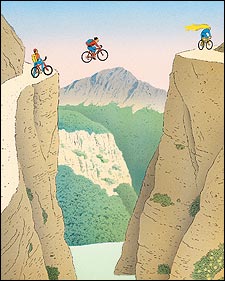 Heading out the door? Read this article on the new Outside+ app available now on iOS devices for members! Download the app.
ROLLING THROUGH A MAJESTIC fjord along a sun-splashed bike path—that's the way we were supposed to begin our ten-day tour of Norway. Cobalt ocean, azure sky, and soaring granite walls, the two of us boldly pedaling forth inside this picture postcard.
Biking Norway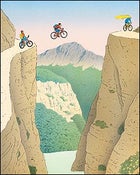 Ah, well. It was pelting cold rain when we bounced our bikes off the train at a remote station in southern Norway. We'd intended to take the bus down to the coastal village of Flekkefjord, but a baby-Thor stroller filled the storage compartment. My partner, Harald the Fairhair, wanted to cram our bicycles inside, but the bus driver shook his head, closed the doors, and drove off.


The map told us Flekkefjord was only about ten miles away. We climbed into rain suits, threw our light panniers over our lean Specialized touring bikes, snapped ladies' shower caps (courtesy of Harald's wife) onto our helmets, and wobbled innocently onto a deserted two-lane highway called E-39.


Soon traffic was zooming by, headlights yellow smears in the miasmic downpour. There was no shoulder, merely a slick white line beside a drop-off into forested oblivion. By then we'd realized that E-39 is the autobahn of southwestern Norway. The rain was so dark and heavy, I was certain the motorists couldn't see us. I feared for Harald.


Harald the Fairhair—a nom de guerre I bestowed on him in homage to the first king of Norway, a ninth-century Viking longhair—was a friend in publishing, a large, good-humored, deskbound man. Harald could elucidate the subtexts in Pynchon or Roth and was an aficionado of detective novels. Ex–New Yorker, cynical optimist, audiophile, he was a cycling enthusiast but was forthright about his physical reality. "I'm built like a fuckin' Shetland pony." Which he was. Broad shoulders, stout legs, huge heart.


I'd been trying to get him on an adventure for years and finally forced the issue by buying plane tickets. Norway was his idea—"someplace civilized yet still connected to nature." (Harald was of pure Norwegian stock: mayonnaise skin, wispy blond hair, all four of his grandparents having unaccountably emigrated from this perfect little country.) But he'd agreed only under one condition:


"No Jenkins sufferfest. I mean it, Mark."


Harald was familiar with my unique ability to turn even the most innocuous outing into an epic.


"And no camping. This is a vacation, not an expedition. You do understand the difference?"


So here we were, hour one, wearing women's shower caps in public and defying death by riding bikes on a perilous mountain highway in a sheeting downpour. And that was before the tunnels.


The first one was short but dark—and so terrifying that we pulled off to the side immediately afterwards.


"This is just the kind of thing my wife said you'd get me into!" Harald shouted. "If I die, which appears extremely likely, she will track you down and kill you, you know this."


Around the next bend we slid unwillingly into another tunnel—long, and black as blindness. Tractor-trailers were roaring by inches from our mortal bodies. This time it occurred to me that we could become roadkill.


Beyond the tunnel I stopped along the guardrail and waited in the torrential rain. Ahead, I could just make out the maw of the next dreaded tunnel. It took exceptional sangfroid, not to mention bicycling technique, to hold your line in the slick subterranean darkness. I peered nervously behind me.


Out of the hole Harald came as if blasted from a cannon, shoulder to shoulder with a barreling semi, his wet brakes squealing as he closed in on me.


"All right. All right! I've had quite enough!" He was apoplectic, his red face steaming. "This is deeply insane! It's like a very bad acid trip!"
PEOPLE MAKE MUCH of ominous beginnings. Not me. The first day could be great, could suck—either way, it portends nothing about the rest of the trip. It's a shakedown. You make a mistake or two, things go wrong, you get in a fix, you get out of it. That's adventure.


We took the first exit and with boundless gratitude escaped E-39. (The term became part of our private trip lexicon: "E-39, n: anything ghastly, deadly, or outrageously stupid.") In Flekkefjord, we fortified ourselves with hot chocolate in a cozy wharfside café, watched a grizzled, white-bearded sailor repairing his nets in the rain, then set out north along the crenulated coast of Norway.


Harald and I had chosen to travel by bicycle because it was where our disparate physical worlds overlapped—and because bicycling is a singularly sensory form of exploration. You roll through geography, unhurried and immersed. You smell the rain, feel the voluptuous ground, hear its whispers and groans. And every day you grow stronger, your body slowly transforming into the physical specimen it was meant to be.


Our plan was to link together three epic Norwegian bicycle trails—the North Sea Cycle Route, the Rallervegen, and the Numedalsruta—on a 500-mile arc through some of the most stunning landscapes in Northern Europe.


Staying in hotels was part of my compromise with Harald. All my previous bike tours—across the U.S., Europe, Africa, Russia—entailed "stealth camping": riding till dark, then pitching a tent wherever I was. I'd slept illegally in Central Park, the Bois de Boulogne in Paris, fancy estates with low fences, cornfields, vineyards, town parks, and beaches. Alas, Harald wasn't interested in roughing it. Instead we would be wallowing in elegant Scandinavian hospitality—hotels with blond-wood floors, ergonomic faucets that separately adjust volume and temperature, large windows that actually open, fluffy down comforters, chocolates on the pillows.


That first night on the coast, we had reservations at the Sogndalstrand Kulturhotell, 50 miles southeast of Stavanger. We wheeled in just at dusk, having climbed over Jossingfjord Pass, and were met by one of the hotel's hosts, May. She was expecting us. I'm afraid May was the woman you dream of when you dream of Norway: blond, piercing blue eyes, athletic physique. She showed us to our private house, once the shop of the village tailor. When we asked where we could lock up our bikes, May was amused.


"There is no criminality here," she said, smiling gaily. "Leave them there."


That night we had a traditional Norwegian dinner: delicate boiled monkfish and heaps of peeled potatoes with a robust bottle of Leon Galhaud chardonnay. For me, accustomed to bread-and-cheese bike fare, it was a feast. Later, Harald slept like a baby—through the wall I could hear him melodiously sawing logs—but I got so hot under the comforter that I had to open all the windows and pace around naked to cool down.


The next morning was wet and blustery, and we had another big pass to climb. Without the load of camping gear, my bike danced uphill. It was glorious. I shot straight to the top of the pass, thought, Why the hell not? and then spun around and rode back down to where Harald was grinding away.


"Please, Mark, noble as it may seem to you, do not come back for me."


I tried pedaling at his pace, but Harald clearly found this annoying, so I blasted back up to the pass, pulled out my tiny journal, and scribbled this note: "Perhaps it's worth suffering through sleeping in a capacious down bed in exchange for flying a bike light as a kite."


Over the pass, our little highway turned first into a bicycle path and then, just as we entered a dark, damp coastal woodland, into a muddy two-track. It was the kind of otherworldly place where you might spot a pointy-eared elf: boulders blanketed in teal moss, small, gnarled trees, scarves of mist wafting over emerald ponds.


"I christen this the Troll Wood," announced Harald, adding another phrase to our trip lexicon.


I said nothing, not wanting to break the spell, and we glided on in silence.


"Cycling is such an intimate way to see the country," said Harald miles later, while deftly negotiating a slippery one-log bridge. I agreed. The method of passage is the message.


"You know, traveling by train or car is like watching a movie from some great distance," he mused. "There's detachment. An invisible glass wall between you and the world. But bicycling, you're in the movie."
OUR BIKE PATH passed through the Troll Wood by design.


Since leaving Flekkefjord, we'd been spinning along the North Sea Cycle Route (NSCR), the longest signposted cycleway in the world. Linking 3,729 miles of trafficless trails, paths, and paved bikeways, the route circles the North Sea and passes through eight countries: Scotland, England, Belgium, Holland, Germany, Denmark, Sweden, and Norway. One of the founders of the NSCR, a 53-year-old professional city planner named Vicky Hartland Gramstad, happened to live just north of the Troll Wood. She joined us later that day.


"Piecing it all together took years," explained Vicky, rolling just ahead of us into a fierce headwind. "It required the cooperation of 68 regions and some 700 municipalities."


The North Sea Cycle Route opened in May 2001. Half a million bicycle maps were printed in six languages, and thousands of small bicycle signs were planted at the junctions. Costs for developing the cycleway are split 50/50 between the European Union and local communities. As secretariat for the NSCR, Vicky receives half her salary from the government of Norway and the other half from the EU.


"The goals of the North Sea Cycle Route are multifarious," Vicky continued, still pounding blithely into the wind. "Naturally, to encourage bicycling, the healthiest form of travel. But also to promote economic development in remote villages. And to promote transnational cooperation. And to recognize and strengthen the ancient connections between the countries of the North Sea.


"But I should let you two go," she said, as if she were holding us back rather than pulling us along. "You still have three hours to go to the Sola Strand Hotel." With that she whirled around and waved goodbye like the Good Witch of the North.


Harald and I ground onward. I thought we'd sadly seen the last of Vicky, but she must have gotten home and then realized that the Sola Strand Hotel, on the coast just outside Stavanger, was much farther than we'd calculated.


Three hours later, still far from our hotel, dusk ready to pounce and the wind now blowing so hard we were just barely riding faster than we could walk, we watched as Vicky and her husband, Egil, pulled up beside us in their compact Mercedes. I had no idea what was going on, but Harald did. He dismounted at once and popped off his front wheel.


"What're you doing?!"


"What do you think?" said Harald, accepting what was, for him, a heaven-sent ride. Egil was already hefting the bike up onto the car rack.


I was aghast. "You're kidding, right?!"


Harald gave me his are-you-really-that-stupid look.


"What happened to the intimacy of cycling?"


"The wind ate it whole."


"I'll ride in."


"Remember your promise, Mr. Hardman."


Frankly, getting in that car was one of the hardest things I've done on any bike tour. I would have gladly ridden into the headwind right through the night. But this was part of my bargain.


Humming along in the warm glass-and-metal capsule, spared from the knuckle-freezing cold and howling wind, Harald the Sweatyhair was slumped in the front seat looking like a tattered Winnie the Pooh, a contented, sleepy smile on his face.


"I christen this the Ride of Shame," he said.
HARALD AND I pedaled north along the North Sea Cycle Route for three more days, spinning light and effortless through undulating farmland and along the rocky coastline. It rained most of the time, but it didn't matter, because we weren't camping. Each morning we awoke beneath clean sheets, rode no more than 50 miles, and then dined on something exquisite—salmon, minke whale, giant prawns.


It was decadent. Harald loved every minute of it; problem was, I was starting to secretly enjoy it myself. This could gravely endanger my reputation, not to mention my equanimity on my next spartan, 100-miles-a-day tour.


From Bergen, the North Sea Cycle Route leaps westward via ferry to the Shetland Islands, but Harald and I took a train east to ride a section of the Rallervegen—a 152-mile bicycle path through the 5,000-foot Hardangervidda Mountains. We'd been told that some 15,000 Norwegians pedal it during the brief two- to three-month period each year that it's not buried in snow.


The rain was hammering us again when we lifted our bikes off the train in Finse. There were at least 30 other cyclists already there, all in full-body rain suits, their mountain bikes equipped with fenders and mudflaps, bike lights, and giant saddlebags. A tall brunette appraised our mounts and said, "Your tires look a bit thin for this ride."


The Rallervegen is a narrow, 100-year-old gravel supply road that parallels the Bergen–Oslo railway line. We flatted more than once over the next two days, but the cruise through the austere alpine landscape was so overwhelming we hardly noticed: tarns reflecting a gray-blue sky, glacier-polished granite walls—just like in the postcards.


That afternoon we took a spur trail, caroming down two dozen or so gravel switchbacks on our way to the too-quaint tourist hamlet of Flåm, at the head of the Aurlandsfjord.


In the morning we had to ride right back up the road to all those switchbacks. I reveled in the pain. We are what we are, and pushing myself is a part of my nature. Harald dismounted, plugged in his iPod, cued up a playlist he'd ripped specifically for this trip ("The Wheel," by Jerry Garcia; "America Is Not the World," by Morrissey; and a dozen others), and walked up every last switchback, humming.


At the town of Geilo, we joined the 174-mile Numedalsruta, a three-day downhill run all the way to Oslo. Feeling fit and fast, we spun ourselves eastward out of the mountains into pastoral Norway—verdant meadows with round milk cows and log farmhouses so tightly built they're still standing after more than 500 years, coniferous forests where selective cutting has maintained the resource for centuries.


Riding side by side, Harald and I, like all American rubes who visit Norway, couldn't help but discuss the country's astounding progressiveness. Norway is ranked first in the world by the UN Human Development Index—a matrix that measures poverty, life expectancy, literacy, and education—making it the most livable place on the planet. You honestly feel as if you're viewing the next century. Here was a nation with well-paid bicycle-path designers and citizens who take cycling vacations in the mountains, in the freezing rain, and love it.
IT WAS THE WEEKEND when Harald and I rolled into Oslo, our big smiles catching bugs. One of the greatest gifts of a bicycle tour is a new body. We were both leaner and stronger than when we'd started our ride. But saddle-sore. So in the evening we went downtown by foot, searching for and finding the acclaimed jazz bar Herr Nilsen, in the heart of the city. We drank about $100 worth of booze—which in Norway is only enough to make you pleasingly warm—listened to some of the finest jazz you can hear anywhere in the world, and didn't budge from the bar till the wee hours.


Outside, Saturday-night revelers were walking arm in arm or twirling by on bicycles: the ubiquitous kissing couples, the purple-hair/cheek-pierced/black-leather crowd, the clogs-and-wool-sweater guys.


"Something's strange," said Harald.


It took us a minute to figure it out: There were no cars. Here we were, out late on the weekend in one of the most cosmopolitan cities in the world, and no one was driving. Each and all were afoot or asaddle.


A block before our hotel, we came across a flatbed truck parked beside a long bicycle rack. Painted on the truck in Norwegian was healthy and fast. All the bicycles in the rack were identical: sharp four-speed commuters with fenders and a front rack—part of a citywide bike program. For $10 a year, you can ride one of these impeccably maintained bikes anywhere at any time. The truck driver told us he was returning most of the bikes to the suburbs so residents would have them in the morning.


At that moment, a ridiculously gorgeous woman with flowing blond hair, and very long legs in purple tights, swiped a magnetic card, pulled out a bike, and rode away.


Harald the Fairhair stared at me in wonder and said, "I don't know. All this humane innovation. All this forward thinking. All this relentless nubility. I really don't know if I could live here."


Oh, but I could. At least until the next expedition.