Central America's Most Adventure-Packed Locations
Presenting the best trips in one of the hemisphere's hottest travel regions.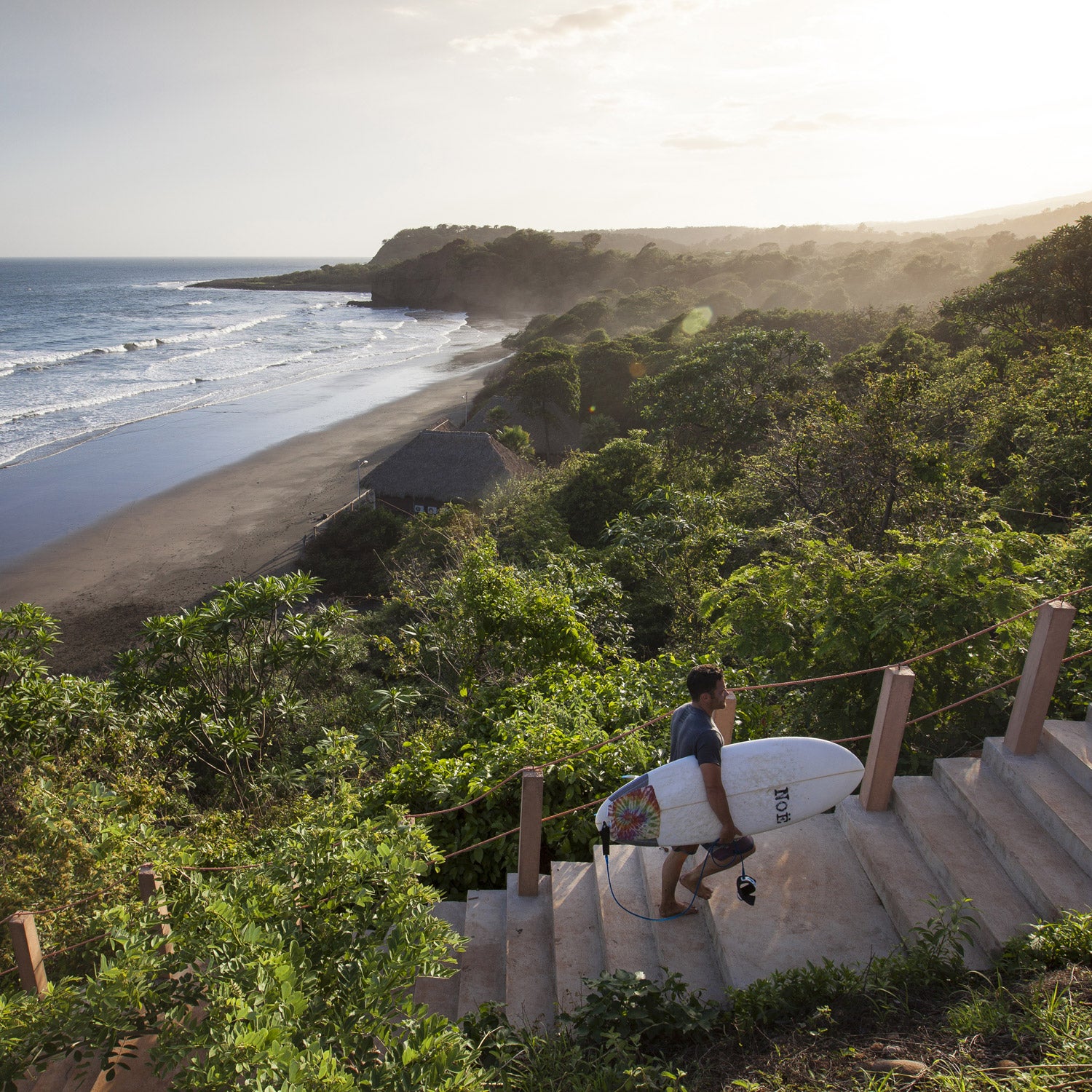 Heading out the door? Read this article on the new Outside+ app available now on iOS devices for members! Download the app.
The seven small countries wedged between Mexico and Colombia boast the world's greatest density of adventure per square mile. Our scouts explored Central America's reefs, jungles, and beaches, and came back with the knowledge you need for your own expedition.
El Salvador
Pupusas and Point Breaks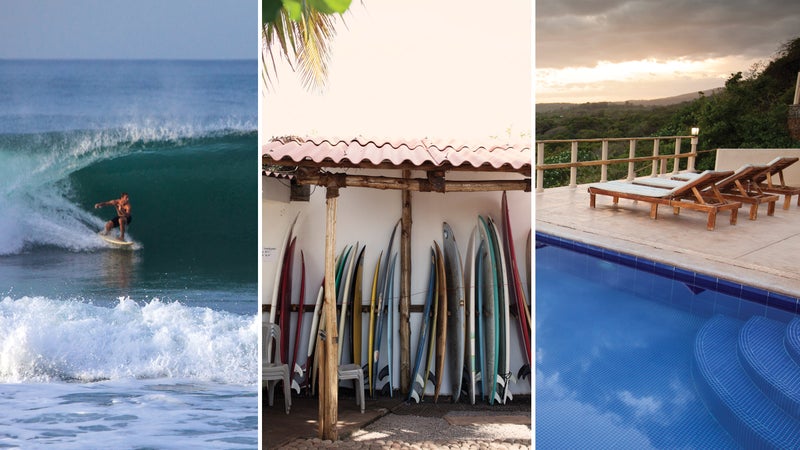 When I'm going on a surf trip to another country, I don't want to feel like I'm in Newport Beach, which is why last June I packed my boards and flew to tiny El Salvador. The country has issues with gang violence, but tourists are almost never affected, and it's the perfect place for a Central American experience without all the gringos. 
So bone up on your Spanish and start with the small coastal town of El Tunco, about 40 minutes south of the airport in San Salvador. On weekends it's packed with day-trippers from the capital, but it empties out during the week. The rocky beaches west of town offer a beginner-friendly surf spot with long, crumbling rights and steeper, shorter lefts. Surfers have known about the point breaks spaced every couple of miles along the country's south-facing coast for years, but somehow it's still easy to find nooks and crannies to yourself. 
For bigger waves, head seven miles west to El Zonte, a two-restaurant town with a fun right point break. Stay at hotel Esencia Nativa (from $22), where Alex Noboa and his wife take turns running the joint and sneaking out to surf. Whoever happens to be out of the water can give you the beta on surf lessons, inland waterfall hikes, and coffee tours. 
Farther down the coast toward Honduras—what El Salvadorans call the east coast—an even more rural experience can be found. The surf spots are less consistent, but when the swell hits it's unbelievably good. Countless surf flicks, like Reef's Cancer to Capricorn, were filmed at the Las Flores break and the half-dozen other world-class waves in the area. 
The crown jewel of the region is Punta Mango, a 200-yard cobblestone point break 20 minutes west of the town of El Cuco. Stay at Hotel Los Mangos (from $125), which overlooks the barreling, Americano-free waves.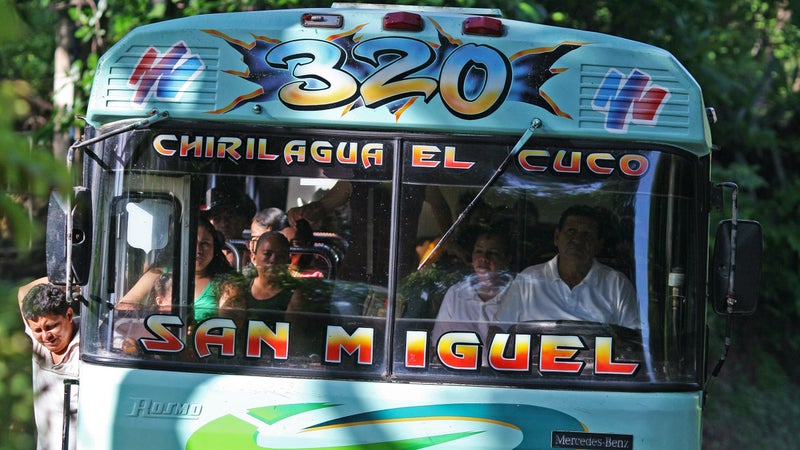 Crucial Beta: You don't need to rent a car in El Salvador. For long trips, arrange a driver through your hotel; the 4.5-hour ride from El Cuco to Tunco ran us $125. For shorter excursions, take the bus. Many are kitted out with skull stick shifts and throbbing Latin beats, and 25 cents will get you and your board anywhere you want to go.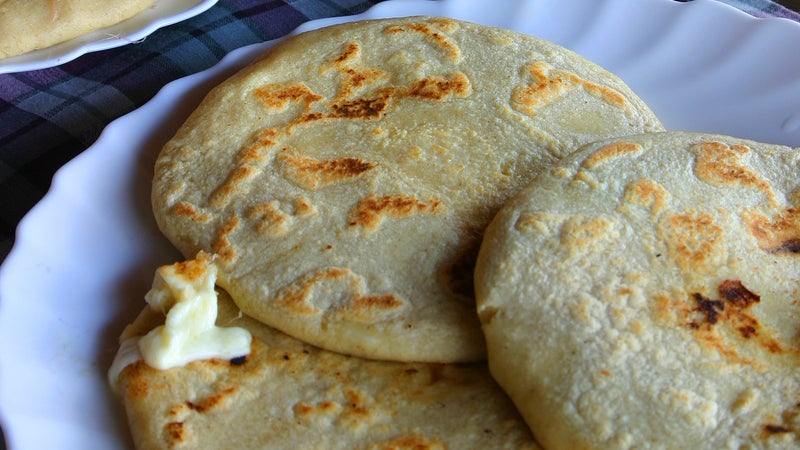 Local Flavor: Wherever you go in El Salvador, you'll see women pounding out dough to load up pupusas with cheese, beans, chicken, chorizo, or carne asada. In El Cuco, you can't get one before 5 p.m.; in the rest of the country, they seem to be available 24/7. No matter where you are, they'll run you 50 cents to two bucks.
---
Costa Rica
Howler Monkeys, Waterfalls, and Empty Beaches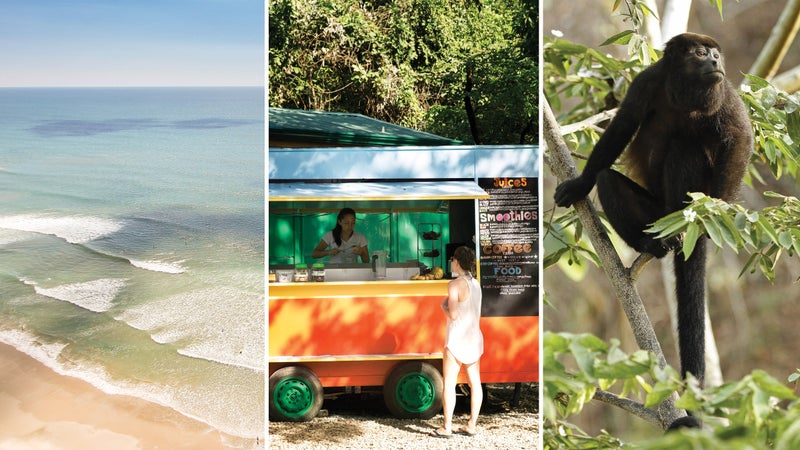 If you had the time, you could easily pass months in Costa Rica, hopping from the Monte Verde cloud forests to the world's most famous beach breaks. But when planning a weeklong trip with a group of friends, we limited ourselves to a single geographic area, since we planned on traveling by buses and wanted to really get to know the place. We settled on the Pacific coast of the Nicoya Peninsula, specifically the pint-size town of Santa Teresa. Nearby Nosara is a famous surfing destination, which means plenty of people know the area is worth a visit. But the region has managed to maintain a laid-back feel—a rare thing in this sometimes touristy country.
After taking the ferry from mainland Puntarenas, the psychological equivalent of leaving Las Vegas for Joshua Tree, we headed straight for the Kina Surf Shop (rentals from $12) and spent the next two days surfing poorly at Playa El Carmen and eating chicken tacos, yucca fries, and ceviche at a little shack called Taco Corner. Our third morning, we traveled by bus nine miles to the even smaller fishing village of Playa Montezuma in search of a series of cascading river pools, about a 20-minute hike from the village center. We whiled away an entire afternoon swimming under a waterfall, listening to the screams of monkeys in the trees, and watching kids splash around on a precarious-looking rope swing.
On the way out, we picked up a few tortillas and a bag of avocados at the market before heading back to the quiet of Santa Teresa. The only souvenir I brought home was a pound of Costa Rican coffee. I can still smell it in my bag.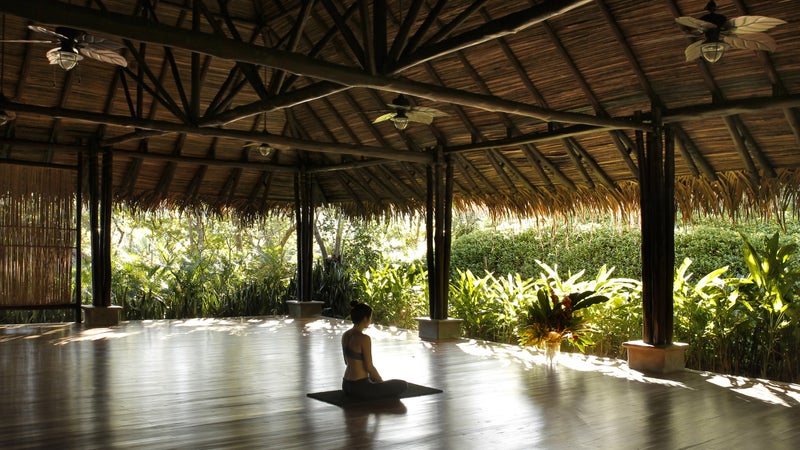 Crucial Beta: The town of Nosara is one of the best places to practice yoga in the Western Hemisphere. Our favorite retreat: Blue Spirit. Started by a founder of the renowned Omega Institute in upstate New York, it's the perfect place to earn a teaching credential. The monthlong Jivamukti training gets you starting certification in a vinyasa-based yoga ($6,350, all-inclusive). Not ready to go pro? Book a one-week retreat (teachers and practices change frequently), then lounge in the resort's infinity pool, try a Reiki treatment at the on-site spa, and roll out your mat twice a day with panoramic views of the Pacific (from $500).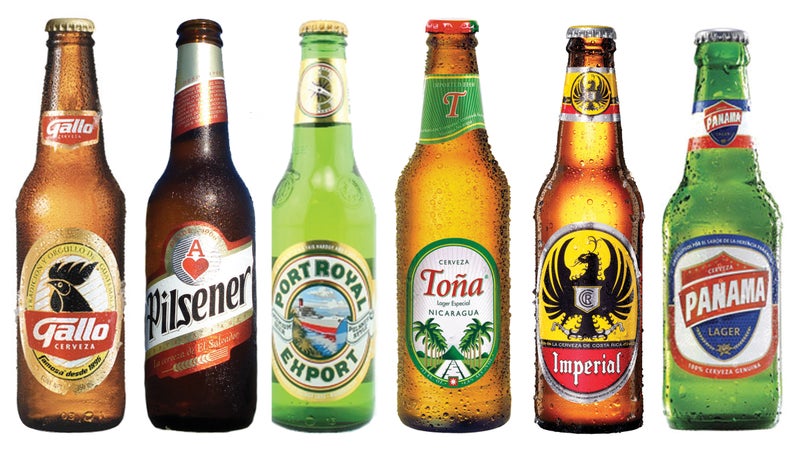 Local Flavor: Don't be tempted by a "tropical" cocktail in a hollowed-out pineapple just because you're in Costa Rica. Central America has mastered the art of the light lager. Each country has a brewery churning out refreshing low-alcohol suds (our favorite: El Salvador's Pilsener), and no matter which country you're in, that's what you should be drinking.
---
Belize
Whale Sharks, Hot Sauce, and Family Harmony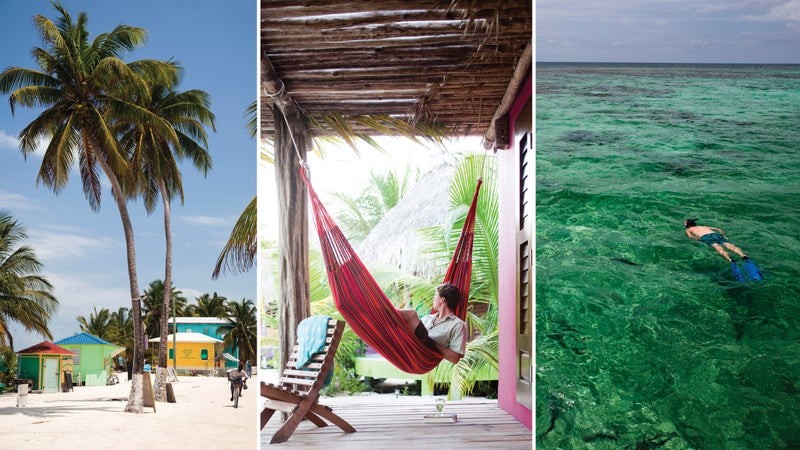 Planning a vacation that keeps an entire family happy is next to impossible. One person wants great food, another wants to sit on the beach, persons three through nine are indifferent, and the tenth hates humidity. Which roughly narrows the possibilities down to Portland, Maine, in August—or Belize just about anytime. That's why last April my in-laws and I headed to Placencia, a small fishing village on the southern end of the country.
Belize is a former British colony, so getting around was as easy as renting a car and being able to read at a fourth-grade level. From there my wife and I chased baby tarpon in inland lagoons (from $450 per day); her sister commuted between the saltwater pool at our rental house and the postcard beach in front of it (two bedrooms from $2,900 for a week); and the in-laws made frequent trips to the shockingly good Maya Beach Hotel Bistro for shrimp-stuffed squid with mango habanero sauce or braised Belizean lamb.
But the real highlight was the family bonding experience—a chance to snorkel with whale sharks as they made a brief mid-migration appearance. We took a boat beyond the Great Meso-American Reef, and there they were, great school-bus-size fish splashing through 12-foot swells. Everyone dove in except the boat's captain and the poor guy—me—clinging to an aluminum pole in the throes of seasickness. But, this being Belize, even the whale was accommodating—it surfaced before me as I emptied the last contents of my stomach into the ocean. "Not many people get to see one that close," the captain said. "That's a once-in-a-lifetime experience." In other words: a perfect family vacation.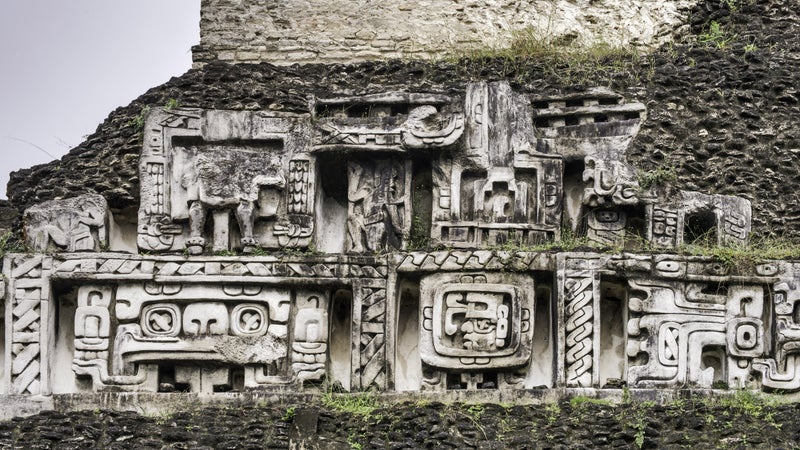 Crucial Beta: The Maya ruins in Belize are smaller than Mexico's, not as well maintained, and not nearly as popular. Which makes them a superb place to visit if you don't want to be herded like cattle through roped-off pathways. Significant portions of Lamanai (two hours northwest of Belize City) and Caracol (two hours south of San Ignacio) remain unexcavated and undeveloped, and they're ideal spots to explore freely. (Seriously, though, please stay off the ruins.)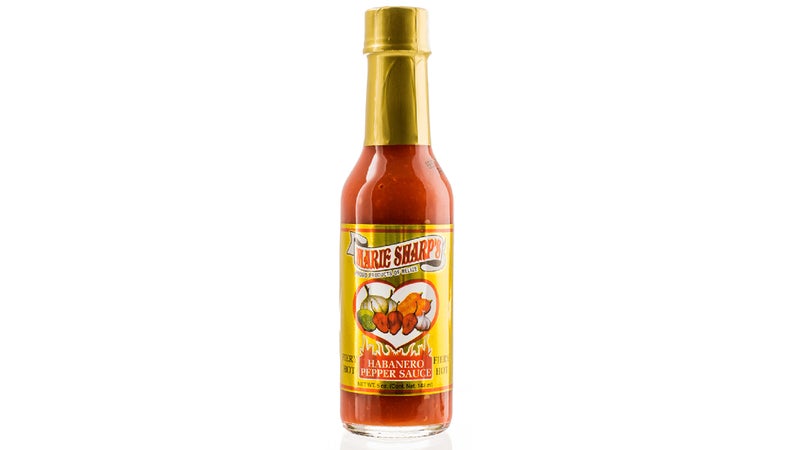 Local Flavor: Ask for hot sauce at virtually any Belizean restaurant and they will bring you one brand: Marie Sharp's. Legend has it that Marie had a bumper habanero crop one year and, not knowing what else to do with it, ground it up, added some spices, and bottled it. The results—now offered in 11 flavors ranging from mild to "beware"—make Mexican hot sauces taste like tomato juice. It's hard to find outside the country, so load up at the airport.