Windows on the Wild
Ten lodges where you can take it all in, and then launch an expedition out the back door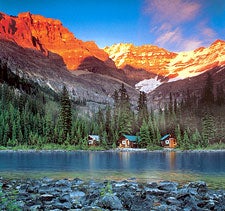 Heading out the door? Read this article on the new Outside+ app available now on iOS devices for members! Download the app.
THE FOLKS WHO RUN THE BEST WILDERNESS LODGES are something like the best masseuses: They know exactly what you want and where you want it, and when they're done…oh, my. Breakfast is too good and too abundant, but it doesn't matter, because you'll just burn it off. The kayaks and canoes are ready. The mountain bikes are tuned. The guides know exactly where to go, but you'll feel like no one's been there before.

Life on the edge: cabins bordering Lake O'Hara, BC, Canada
The lodges that get it really get it. Once, at one in the far north, I stole off alone (and, I thought, unnoticed) after an evening of stories and red wine, grabbed a fly rod from the shed, and cast for grayling till after midnight. When I returned, there was a chocolate cookie on my pillow and a note inviting me to tap on the kitchen door if I had any fish to be cleaned.


The ten places we've featured below, from a Utah desert oasis to a Quebec salmon-fishing outpost, know the formula without being formulaic. Plus, by definition, they're in or on the edge of wilderness. Which leads us to an inspired suggestion that each of our top ten can facilitate: After a tenure in their graces, step right off the porch or push off the dock and launch your own foray into the wilds, by foot, kayak, canoe, or llama. Revel deep in the setting you've been nibbling at. When you return a few or many days later, leave your boots on the stoop and enjoy full-on ambience, where you'll find strong coffee wafting (and stronger beverages chilling) and leather armchairs pulled up close to a crackling fire, inviting unclocked repose. Great day. Great life. What's for dinner?
1. An Adirondack hideaway on 12,000 acres
2. A Wyoming multisport outpost
3. A British Columbia floating lodge
4. A rustic paddle-sport haven in Alaska
5. A pastoral New England mountain inn
6. A red-rock oasis in Utah
7. A Montana ranch
8. A Colorado mountain-biking aerie
9. A Quebec fly-fishing sanctuary
10. A Selkirk Mountains heli-hiking retreat
Elk Lake Lodge
GO
518-532-7616 (summer) >> 518-942-0028 (winter)


Open May 10-25 and June 22-October 27, with a merciful hiatus during part of the blackfly season. Lodge rooms cost $110 per night per person; cottages, $125-$150 (includes all meals and activities). In keeping with its Emersonian character, the lodge has no Web site.

Nightly loon concertos included: the view from Elk Lake Lodge
NOW MORE THAN EVER, New Yorkers, or anyone else needing space and distance from a city, will appreciate Elk Lake Lodge. This 1903 Adirondack hideaway commands a stunning view, indeed the only view from a manmade structure, of a private wilderness comprising a 12,000-acre boreal forest and 600-acre emerald lake. The isolated retreat, 240 miles north of New York City (100 miles south of Montreal), anchors a 40-mile network of half a dozen mountain trails that visitors share with patrolling deer and black bears. With all this pristine privacy, you'll be longing for the claustrophobia of New York City's No. 6 subway line by week's end.
AT THE LODGE Eight wood-framed cottages are scattered along the lake's eastern shore, their knotty-pine interiors filled with comfortably rustic furnishings—sorry, no Jacuzzis or wet bars. If it's available, reserve Windfall, a cabin whose terrace faces the sunrise, or ask for Little Tom, the cottage closest to the lake and thus the best from which to hear a nocturnal loon concerto. Just a couple hundred yards away, in the lodge's timbered dining room, guests warm their hands by the fieldstone fireplace and their bellies by dining on pork chops, shrimp scampi, and other great American comfort foods, while overlooking the ramparts of New York's other dramatic skyline, the Adirondacks.
THE SPORTS In mid-May, the islands on Elk Lake are covered with witch hobble and star flowers, making them picnic-perfect. Thanks to a lakewide ban on speedboats, the noontime stillness can be deafening. Grab a pack lunch and one of the lodge's canoes, and try to catch dinner en route. Fishermen, like the squadrons of native ospreys, don't need much patience to catch lake trout and landlocked salmon. Miles of easy lowland trails, edged by mushrooms, fiddleheads, and carpets of lady slippers, weave along the shore and across little bridges: Try the Sunrise Trail, a six-mile out-and-back hike.
BACKCOUNTRY FORAY Aim for 4,857-foot Dix Summit, a dramatically poised peakaccessible from a lodgeside trail. Backtrack down the five-mile-long driveway, and at the top of the hill on Elk Lake Road follow the Dix Trail 3.5 miles to the Lillian Brook Lean-to, an opportune place to overnight. The next morning, pass Dix Pond and climb 1.9 miles and 2,000 feet toward Hunters Pass. Approaching the windswept ridgeline, the trail crosses a narrow arETe and tackles a series of cirques where stunted trees sprout improbably from nearly vertical faces. At the summit, a kingdom of peaks lies before you and 5,344-foot Mount Marcy frames tiny, sparkling Elk Lake.
Brooks Lake Lodge
GO
307-455-2121 >>
www.brookslake.com
The lodge is open from June 21 until September 21, and a three-night minimum stay is required. Accommodations range from $250 to $300 per night and include three meals daily. Custom overnight pack trips are an additional $100 per person per night.

Over the hills and far away: trail riding on mountain-bred horses
A STAY AT THIS 13,500-square-foot post-and-beam ranch in the northwestern part of the Wind River Range will make it evident why Wyomingites escape to the Winds. Relaxing on the flagstone porch, you're dwarfed by the Pinnacles, a jagged mile-long cliff band towering nearly half a vertical mile above. There's a nearby stable with real horsepower, a stocked lake (just 400 feet away), and a guide waiting to show you a sliver of the 5,000 square miles of surrounding wilderness.
AT THE LODGE Enjoying high tea in their Western-style sitting room, it's not difficult to see why Brooks Lake Lodge is 95 percent full throughout the summer. Wild game, fish, and fruit are trucked in daily from as far away as California to ensure fresh meals. The lodge's six cabins, six rooms, and presidential suite are all themed. Lamps carved to resemble trophy animals flank beds piled high with down comforters. In 2003, the lodge will open a 4,000-square-foot spa with a Jacuzzi, steam room, and exercise room—as if the spectacular terrain weren't enough.

THE SPORTS Unbelievable but true: You can tickle fish. Follow a local to a stream where unthinned throngs of rainbow, brook, and cutthroat trout feast, and grab one…with your bare hands. Or just amble to Lower Brooks Lake, where you can cast from your canoe. For more exercise, pick up a hearty bag lunch and hike or mountain bike the five-mile Kisinger Lakes Trail. Ascend switchbacks to a 10,100-foot-high open ridge before descending to the four Kisinger Lakes, glowing green and blue from sediment and algae.
BACKCOUNTRY FORAY Take a one- or two-night guided horsepacking trip, perhaps to Cub Creek in the Teton Wilderness. Two hundred feet from the water, lodge staff will set up a plush camp, with deluxe cots, washrooms, and down pillows. The lodge discourages overnight backpacking because of the resident grizzlies; about 400 make their homes within a 100-mile radius.
King Pacific Lodge
GO
604-987-5452 >>
www.kingpacificlodge.com
An all-inclusive package—round-trip floatplane from Prince Rupert, guided hiking and kayaking, whale-watching, all meals and drinks, plus a 90-minute massage—begins at $2,100 per person for three nights.

586,000 acres and not a soul in sight: at the footsteps of the Great Bear Rainforest
YOU'RE IN A LUXURY floating lodge moored to uninhabited, 568,000-acre Princess Royal Island in the heart of northern British Columbia's Great Bear Rainforest: a realm of deep fjords, islands thick with old-growth red cedars, and astounding vertical relief. Stand at the edge of the craggy, exposed rock of the ridgelines and you feel like you're on top of the world—at sea level. The channels below teem with salmon, halibut, and killer and humpback whales, and the forest behind you is home to the rare white kermode ("spirit") bear.
AT THE LODGE It doesn't seem possible, but this 17-room, 20,000-square-foot structure, with its soaring atrium, is built on a barge that gets hauled 90 miles back to Prince Rupert in the fall. Despite the lodge's portability, which has kept development off the island, no detail has been spared—from the edge-grain fir tables and forged-iron chandeliers to the slate floors, red cedar walls, massive pine columns, and quarter-sawn fir beams. Rooms are big enough for a king-size bed plus a couple of cushy chairs positioned for gazing out over Barnard Harbor. Alex Rolland, a young chef from Quebec, astounds with his fresh fish and shellfish creations—yet uses a light touch, going easy on the beurre.
THE SPORTS Most guests—typically cost-is-no-object fly-fishing gentry and splurging honeymooners—come for the summerlong parade of salmon or for catch-and-release fly-casting (rainbow, cutthroat, and steelhead) in streams on Princess Royal and neighboring islands. Or you can join Norm or Chris, the resident naturalists, and head off on a different hike or sea-kayak paddle every day, or just motor out to watch the spectacle of 45-foot humpbacks breaching and feeding.
BACKCOUNTRY FORAY The lodge can set you up for, say, a three-day paddle out the door and up through the tide-induced reversing rapids of Princess Royal's Cornwall Inlet and past a Gitga'at longhouse. Set up beach camps and hike up the Cornwall Creek for the off chance of a kermode sighting. Or have a guide motor you to the east side of Campania Island, which you can traverse the easy way (through meadows and stunted forests) or the hard way (up 2,398-foot Mount Pender, along the ridges) and end up camping on the west side of Wolf Track Beach. A lodge boat will meet you there a few days later.
Kachemak Bay Winderness Lodge
GO
907-235-8910 >>
www.alaskawildernesslodge.com
The lodge offers a single package, a full, five-day immersion, Monday morning to Friday evening, for $2,800 per person. Everything is included, even guides, whine, and boat travel from Homer (which is reachable by road or air). The lodge is open May through late September. Reserve a year ahead for July and August.

Children at play: bears frollicking in McNeil River Brown Bear Sanctuary
THE SINUOUS CHANNEL in front of Kachemak Bay Wilderness Lodge, just southwest of Kenai Fjords National Park, evolves with the tide into broad, salmon-rich China Poot Bay, reflecting the southern light and the colors of the forest and unnamed peaks beyond. And it all seems to belong to you. A guide grabs you after breakfast like your best pal on the first morning of a long school vacation. "What do you want to do today?" he asks. "Kayak, hike, fish?" For five days, you've got Eden to explore together.
AT THE LODGE Weathered docks, decks, and fanciful little buildings blend with big Sitka spruces, gray churt, and beach grass, giving it the feel of an old fishing camp. But inside a cabin where you'd expect to find a rusted cot and a coffee can of nails there appears instead fine art, antiques, and a tile-and-cedar bathroom. Each cabin is only a short jaunt down a forest walk paved with rounded beach stones to the sauna or hot tub. The ceilings of the main lodge are low-slung, the dark wood walls worn smooth by years of polishing. Instead of a grand entryway, there's a rubber-boot collection. After sushi on the deck, guests gather inside to feast on seafood, garden produce, and carefully selected wines.

THE SPORTS Paddle sports are supreme; on one day's journey you can kayak up China Poot Bay, hike an hour to China Poot Lake, and then paddle a cached lodge canoe, feeling Lilliputian amid the high peaks surrounding the placid waters. But the lodge's specialty is natural history: You can go tidepooling or birding, take a forest walk, or explore ruins left by predecessors of the Tanaina Indians. The staff recently included two biologists, an archaeologist, and a forest ecologist. Guest-to-guide ratios are four-to-one or lower.
BACKCOUNTRY FORAY Mako's Water Taxi (907-235-9055, www.makoswatertaxi.com) rents and delivers kayaks. The first day, paddle up China Poot Bay to a natural waterway that connects China Poot to Peterson Bay; then go east through the roadless artists' colony of Halibut Cove (stop for a bite at the Saltry Restaurant) to Halibut Cove Lagoon, which you can enter only at slack tide. Camp there, or stay in a Kachemak Bay State Park rental cabin. Next day, climb 2,600-foot Poot Peak. Start early the following morning to miss the day breeze, paddling out of the lagoon and along the shore to the state park campsite at Humpy Creek, a base for hikes to Grewingk Glacier or fishing in the creek. Arrange for Mako to pick you there.
Telemark Inn
GO
207-836-2703 >>
www.telemarkinn.com
The minimum three-night stay in the summer costs $450 per adult (children 14 and under, $300). The cost includes three guided day activities and three meals a day.

Northeast of Eden: a horse-drawn sleigh ride through the Caribou Speckled Wilderness Area
THE AREA AROUND the Telemark Inn, ten miles southwest of Bethel, Maine, is proof that "East Coast wilderness" is not an oxymoron. The pastoral New England lodge is surrounded by 780,000-acre White Mountain National Forest—prime habitat for moose and black bear. Add to that owner Steve Crone's domesticated llamas, sled dogs, and horses, and you'll be surprised at how wild it gets just four hours north of Boston.
AT THE LODGE The cedar-shake inn, built as a hunting lodge in the late 1800s, can sleep up to 17 people in five rustic pine-paneled bedrooms. Just off a living room with creaky hardwood floors, a capacious front porch overlooks the birch forest. The inn is so far off the grid that it runs on battery power, making kerosene lamps the primary light source at the dining-room table, where guests eat family-style meals, such as grilled salmon accompanied by veggies plucked from the garden out back.
THE SPORTS Heat up on a thousand-foot scramble over massive boulders for a mile and a half to the top of Table Rock in Grafton Notch State Park. Then work your way down to several creeks feeding Bear River, where you can cool off exploring the smooth granite channels that link a chain of six-foot-deep emerald pools. Launch one of the lodge's canoes on Umbagog Lake, a 15,000-acre national wildlife refuge surrounded by forest, to spot bald eagles, ospreys, and loons. Or rent a mountain bike and spin seven miles up a dirt road to Crocker Pond or grind out a 20-mile round-trip loop to Round Pond.
BACKCOUNTRY FORAY Crone pioneered the llama-trekking business in Maine, and often loads up the woolly beasts with tents, food, and clothes for three-day trips into White Mountain National Forest. You'll trek four miles on Haystack Notch Trail to the west branch of the Pleasant River, where you'll camp under balsam firs and red spruces. The next day, hike about 3.5 miles to the top of 2,100-foot Red Rock Mountain for views of the Presidential Range to the west. Return to the lodge the next morning via trails along the Pleasant River.
Camelot Adventure Lodge
GO
435-260-1783 >>
www.camelotlodge.com
$95 per person per night, including three meals. A two-hour camel trek costs $70 per person. If you have a four-wheel drive, you can drive between Moab and the lodge. Or Terry can give you a ride ($40, round-trip).

King of the desert: Camelot Adventure Lodge
YOU'RE ONLY SIX MILES from Moab as the crow flies, but traveling to Camelot from town on a 12.5-mile dirt road through a mad jumble of slot canyons, mesas, and buttes is excruciatingly slow and difficult, making you feel like a character out of a Paul Bowles novel. This suits owners Terry and Marcee Moore just fine. Formerly managers of a lodge in Alaska, they wanted a Lower 48 spot that replicated Alaska's feeling of utter remoteness, except with warmer weather. Bare but for sunlight, shadows, and Anazasi petroglyphs, the sculpted stone surrounding the lodge inspires guests with a variety of visions: "It's a vulture pulling a covered wagon." "No, it's three hillbillies in a bathtub."
AT THE LODGE The solar-powered, 3,000-square-foot lodge, which opened in 1999, sits on 49 private acres just 200 yards from the Colorado River. The post-and-beam, pitch-roofed building has five guest rooms, each with a private bathroom, shower, and entrance from the deck. The views are modest, but there's a reason: The small windows are meant to minimize solar exposure in the blistering summer. One big space encompasses the living and dining rooms, with welcoming couches and recliners. Through an archway, Marcee rules the kitchen, serving up salt-crusted prime rib and pasta with homemade pesto. For the morning frittatas, she collects fresh eggs.

THE SPORTS Leave the river's thin ribbon of willows, grass, and tamarisk, and hike formiles in any direction up washes, over sandstone shelves, and down slot canyons. Or survey the desert like a sheik from a camel's back. Terry, a former Hollywood trainer, has tamed five dromedaries for guests to ride. If you'D rather carry your own weight, mountain bike the Amasa Back Loop, 23 miles of road and singletrack starting from the lodge. Bring your own bike or rent one in Moab. The lodge can also arrange single- or multiday raft trips on Class III-IV+ sections of the Colorado.
BACKCOUNTRY FORAY Step off the porch, shoulder a backpack, and head for Dripping Springs Canyon, about four miles from the lodge. Set up a base camp in this parabolic canyon and explore the caves that radiate into Catacomb Rock, hike the myriad unnamed drainages, and taste fresh water from a spring on the canyon's eastern slope. The lodge also arranges three-day camel treks out to Chicken Corners, a skinny, vertigo-inducing ledge nine miles south of the lodge along a trail leading up to the mesa.
Triple Creek Ranch
GO
406-821-4600 >>
www.triplecreekranch.com
Cabins cost $510-$995 per night. All meals, drinks (including the wet bar in your cabin), room service, picnic lunches, and most activities are included.

Two hands deep: off-ranch horseback riding through the Bitterroot Valley
FIRST, THERE'S THE WELCOME basket full of warm oatmeal-raisin cookies. Then, you look out the window of your log cabin at the surrounding millions of acres of national forest in the foothills of Montana's Bitterroot Range, and you realize that you've just passed on to sublime mountain paradise. General managers Wayne and Judy Kilpatrick and their staff of 50 (who serve 46 guests, max) will spare no effort to make your stay worthwhile: They'll arrange a day on the Big Hole River with legendary fly-fisherman John Foust, send a masseuse to your cabin, or take a run into Darby, the nearest town, to satisfy your craving for a pint of B&J's Wavy Gravy.
AT THE LODGE Nineteen pine-log cabins surround a main lodge with three-story-high windows. All boast special accoutrements, some coming with stocked wet bars, others with double-headed steam showers. Sit on your private deck for a morning with your favorite book or spend an afternoon by the lodge pool with a drop-dead-gorgeous view of the Bitterroots. Then slothfully move to the firelit dining room for filet mignon.

THE SPORTS Tease the browns into rising for the spring squala hatch on the Bitterroot River. Later in the summer, get in a little "rowing and throwing" during the salmon-fly hatch on the river's west fork. Both stretches are only a few miles from the lodge. Be sure to set aside at least one afternoon for a horseback ride over brooks and through alpine meadows with Lady, one of the ranch's 40 immaculately trained quarter horses. Or, from the Sam Billings Memorial Campground trailhead, five miles west of the lodge, hike a mellow four miles to a waterfall for a dip in a deep pool.
BACKCOUNTRY FORAY With more than 19 million acres of national forest in the area, almost any trail can become a backpacking adventure. A local favorite: Drive about 23 miles east on the Skalkaho Highway, and park at the Skalkaho Pass turnoff. Hike five miles north on the Easthouse National Recreation Trail and then set up a camp with your tent flap facing 8,656-foot Dome Shaped Mountain. The next day, head four miles up to the 8,463-foot summit of Palisade Mountain, take in the views, and then continue down Trail 86 about 1.5 miles toward Skalkaho Mountain. Camp at an unnamed lake just north of the trail. On your final day, hike the two miles to Skalkaho Peak or take the south loop of Trail 86 to return to your car via the Easthouse Trail. For more details, call the Stevensville Ranger District at 406-777-5461.
Irwin Lodge
GO
888-464-7946 >>
www.goirwin.com
Rooms cost $90-$200 per night, including breakfast. Horseback rides cost $55 for a half-day, $95 for a full day. Wildflower tours and other miscellaneous guided outings cost $25 per hour per person.

Emerson, eat your heart out: the front porch of Irwin Lodge
COMPARED WITH THE QUAINT, Victorian B&Bs in nearby Crested Butte, Irwin Lodge more closely resembles a barn. But you forgive the lack of cutesy wainscoting when sipping a gin and tonic on the 10,700-foot-high veranda, watching meadows brimming with wildflowers, and basking in the glory of the West Elk, Raggeds, and Maroon Bells-Snowmass high-alpine wilderness areas. Guests at this weathered, unpretentious lodge spend most of the day outdoors, exploring 13,058-foot Mount Owen and slightly shorter mates Ruby Peak, Purple Peak, and Afley Peak (shaped like a Hershey's Kiss). At day's end, they return for fine dining and the evening show: sunset and mountains alight with alpenglow.
AT THE LODGE Built in 1977 and refurbished in 1997, Irwin sports a massive fieldstone fireplace surrounded by 8,000 square feet of common area (couches, board games, pool tables, books, and two hot tubs). Kitschy paintings of rams and bears adorn the walls, as do antique skis and snowshoes. Old West memorabilia are scattered throughout, helping distinguish the eminently casual lodge from a high-altitude frat house. (The 22 guest rooms, however, part ways with the Old West, offering up their own themes: Sunflower, Birch, Snowflake, and African, to name a few.) Irwin wisely pours its upscale energies into the kitchen, whose dinner specialties include elk medallions in shiitake-mushroom sauce.

THE SPORTS Mountain biking is spectacular here, for Irwin sits just 12 unpaved miles from Crested Butte and its world-famous trails. But you don't need to go that far: The Dyke Trail starts right out Irwin's front door, with 16 glorious miles of serpentine turns. Anglers fish for trout in Lake Irwin, just a few hundred yards below the lodge. Horseback riders hoof up to clear, glacier-fed Green Lake on lodge-supplied mounts. Hikers either stroll among the columbines and Indian paintbrushes or bag an alpine peak via the dramatic granitic rock of nearby Scarp Ridge.
BACKCOUNTRY FORAY With trails spidering off in every direction, Irwin can launch any number of backpacking trips, including the historic three-day favorite: hiking through the Maroon Bells to Aspen. Less trodden is a multiday trail through the West Elk Wilderness to the Castles of Breccia—startling pinnacles of volcanic fragments about 26 miles from the lodge. Follow the Dyke Trail to Trail 840 over Beckwith Pass, and then take Trail 438 southeast over Swampy Pass to Trail 450. From the Castles, either return the same way to Irwin or do a clockwise loop around the heart of the Elk Mountains, via Storm Pass.
Pavillon du St. Jean
GO
418-368-2324 >>
Take the 7 p.m. Chaleur from Montreal, an overnight luxury train that delivers you to the town of Gaspe the next afternoon (888-842-7245; www.viarail.ca). The Pavillon season runs from June 10 to September 30. All-inclusive packages (meals, guided fishing, and transportation from the airport) cost $346-$490 per night.

It can be easy bein' green: the emerald waters of the St. Jean River
QUEBEC'S GASPE Peninsula is known primarily for its coastline, where the Appalachian Mountains drop dramatically into the sea. But a 45-minute drive from the coastal town of Gaspe reveals the peninsula's hidden heart—its mountainous interior of old-growth spruce, cedar, and poplar that's the Pavillon du St. Jean's backyard. The handsome, no-frills lodge is located on perhaps the best dry-fly salmon river in the world, the St. Jean, whose pools are so brilliantly emerald you'd think the water should taste like mint. Fifteen-pound Atlantic salmon make heart-stopping rises to your fly on the 25 miles of river, on which only eight rods are allowed daily. Head guide Austin Clark, a 54-year-old with a disobedient wisp of white hair, will dance a jig when you catch your first one.
AT THE LODGE Founded in 1958, the Pavillon comprises a main lodge and four cabins; each cabin has two bedrooms, a living room with a wood stove, a private bathroom, and a porch perfect for listening to the gurgle of the river while sipping the local (9 percent) beer, Le Fin du Monde. There's a convivial main room in the lodge, with reading chairs, a grand stone fireplace, a pool table, and a dining table for 14. Dinner is a four-course affair that might include Gaspesie favorites like ginger-and-carrot consomme, lamb, and lobster, all specialties of the lodge's renowned Quebecois chefs.
THE SPORTS In addition to fishing, there is excellent hiking in the nearby Chic-Choc Mountains. A short drive from the town of Gaspe will take you to Forillon National Park, where you can hike six miles along the Mont Saint-Alban trail, which provides spectacular views of cliffs that drop vertiginously into the Gulf of St. Lawrence. Try sea kayaking along the park's jagged coastline in Gaspe Bay (for park information, call 800-463-6769; for kayak rentals, call Cap-Aventure at 418-892-5055), or take a whale-watching cruise to see blues, humpbacks, and minkes (Croisieres Baie de Gaspe, 418-892-5500).
BACKCOUNTRY FOREY Drive 140 miles to Le Pluvier L'Hirondelle, in the center of the Chic-Choc Mountains. There you can access the newly christened International Appalachian Trail and hike south for five days and 60 miles. Along the way, you'll ascend 3,770-foot Mount Logan, home to the last caribou herd south of the St. Lawrence River. Then descend to the Cap-Chat River and take a prearranged shuttle back to civilization. (For shelter reservations in Parc de la GaspEsie, call 866-727-2427; for shuttle information, call IAT Quebec at 418-562-1240, ext. 2299.)
Sentry Mountain Lodge
GO
250-344-7227 >>
www.sentrymountainlodge.com
An all-inclusive package—round-trip heli access (from Heather Mountain Lodge, 30 miles west of Golden), daily guided excursions, all meals and nonalcoholic drinks—begins at $990 per person for a weeklong stay; three-day trips are also available. Additional heli service costs extra.

In the back of the backcountry: ski touring near Glacier National Park
YOUR JOURNAL MIGHT READ LIKE THIS: "We flew in by helicopter, dazzled by Kinbasket Lake, Mount Bryce, the Columbia Icefields, and high points of the Canadian Rockies. The bird dropped us at a cedar hut, on a 7,128-foot col cradled by the Selkirk Mountains. Before settling in, we explored some of the lodge's 13 square miles of alpine meadows, heather-swathed valleys, and interlaced ridges. A herd of caribou crossed our path, but otherwise we didn't see a soul. Afterward, we sipped Big Rock Ales, basked in the alpenglow rosying up the surrounding granite peaks, and waited for Venus to pop out, which would later guide us on a midnight hike." Of course, that would be just the first entry.
AT THE LODGE This just-built hideaway feels like a European-style mountain home, one that you share with only seven other guests: a red tin pitched roof, soaring vaulted ceilings, mural-size windows, a gray-pebble hearth, and handcrafted bookshelves overflowing with maps, fraying paperbacks, and the best local reads, like Chic Scott's The Story of Canadian Mountaineering. The kitchen, festooned with garlic braids and lined on one side by a pine bar, is where your hosts rustle up items like cheese fondue and coq au vin from the French-inspired menu. Each of the four airy bedrooms is outfitted with a custom-made mattress, downy duvets, and fluffy bathrobes for trekking to the sauna hut.

THE SPORTS There are countless hiking and mountaineering options, and best of all, the terrain connects effortlessly, with gentle meandering accesses to most ridge tops. One morning you might walk down a half-mile to spring-fed Tetras Lake, with its east-end waterfall, and then wrap back up through stands of subalpine fir into Secret Valley, where pine marten pop up like animatronic jack-in-the-boxes. Or follow mountain-goat tracks up a 1,200-foot climb to the crest of 8,344-foot Sentry Mountain. Come winter, the snowshoe, heli-ski, telemark, and ski-touring options are bountiful.
BACKCOUNTRY FORAY SML's guides can help fashion multiday backpacking excursions, set up heli-hiking jaunts to the celebrated glaciers of the Selkirks, or arrange a hut-to-hut itinerary. The "Esplanade Haute Route," an eight-mile south-to-north traverse over the Esplanade Range, leads to Vista Lodge, the first in Golden Alpine Holiday's chain of three rustic huts. From here carry on to Meadow and Sunrise, each an alpine scramble and a day's hike away.