These 7 Cities Embrace Winter Like Nowhere Else
From Reykjavík to Minneapolis, winter isn't just tolerated here, it's celebrated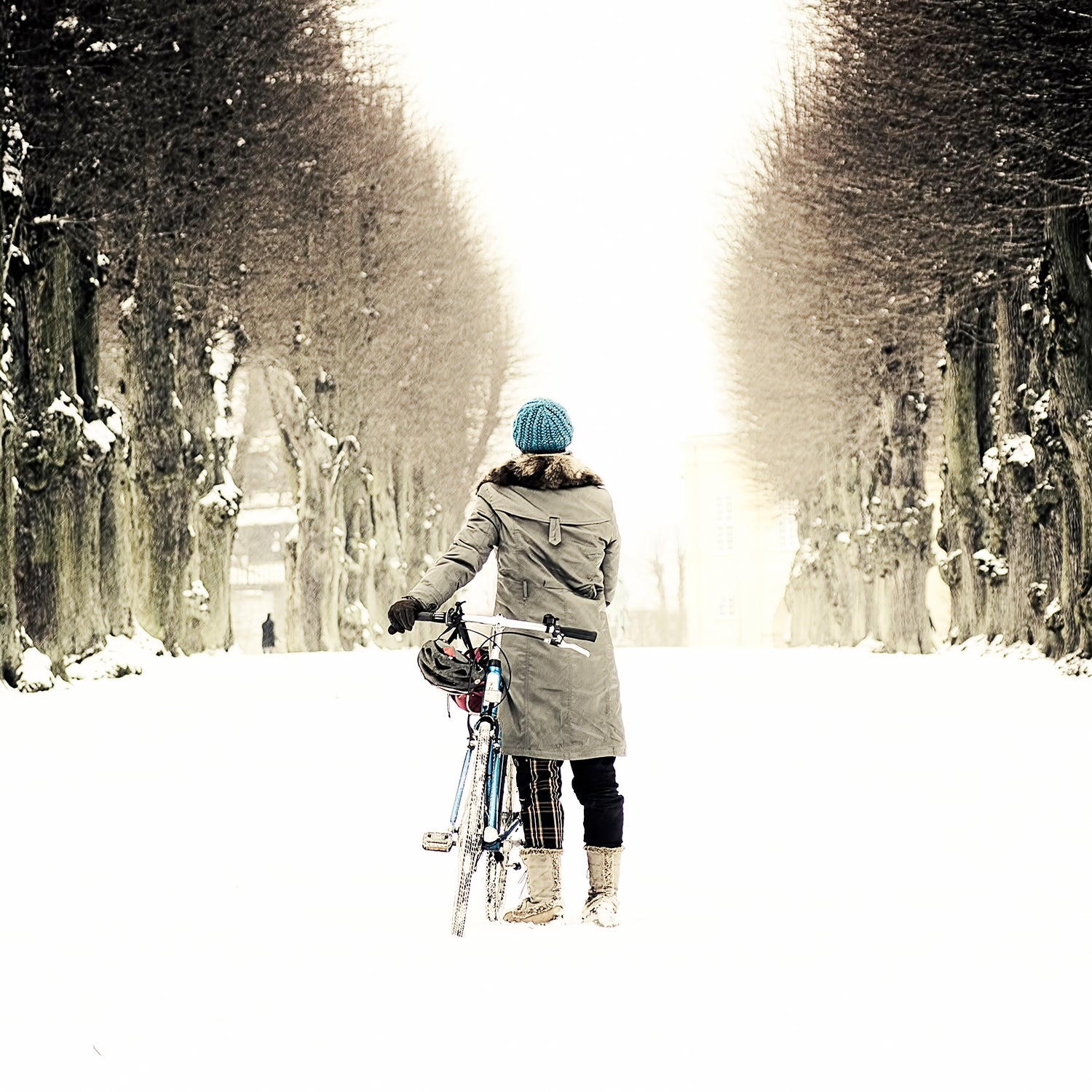 Heading out the door? Read this article on the new Outside+ app available now on iOS devices for members! Download the app.
Imagine a freezing city in the dead of winter. But instead of people tucked away inside and events and gatherings canceled until the snow melts, the city brings life to the coldest season of the year by throwing parties around fire pits, holding outdoor concerts under twinkle lights, and encouraging its residents and visitors to get outside on ice skates, bikes, and cross-country skis. These cities around the world celebrate the chillier months in a big way, proving that frigid weather doesn't have to mean being shut in.
Denver, Colorado
From downtown Denver, you can see the snowcapped Rocky Mountains towering on the horizon to the west. A love of winter runs deep here. From ski-conditioning classes held outdoors at Red Rocks Amphitheater to a Midwinter Bluegrass Festival in February, there's no shortage of things to be excited about during the colder months. To get people exploring downtown during the season, the city sets up a two-mile parade of lit-up floats, plus outdoor scavenger hunts, with prizes for those who successfully make their way around Denver's art, landmarks, and history.
Dairy Block, a hip zone that opened in Denver's LoDo neighborhood in 2017, was designed to be utilized year-round, with heaters, lights, and patio dining. This year the block is hosting an Après Ski Holiday Market every weekend between Thanksgiving and Christmas, and a February Mardi Gras celebration. The block's boutique 172-room Maven Hotel (from $154) has a Snowed In package that includes cookies and hot cocoa with your stay. Or head to the renovated Union Station, the historic train depot that's now full of cafés and shops, where you can ride a train from downtown straight to the slopes of the Winter Park ski area—slated to launch on weekends in early January and run through late March.
Reykjavík, Iceland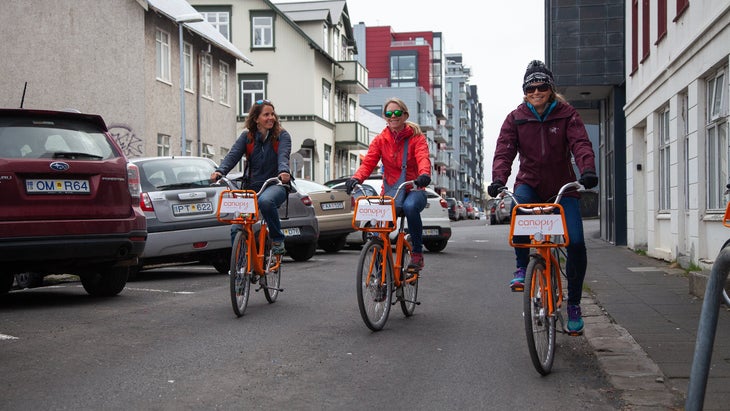 This close to the Arctic Circle, there's very little daylight at the height of winter (less than four hours of sun on the shortest day of the year), but Iceland's capital city makes up for the darkness with ample festivities. A free-to-access ice-skating rink pops up each winter in a downtown square, the Dark Music Days festival celebrates contemporary music in January, and a Winter Lights Festival brightens up the streets in February. To honor the Norse god Thor, some Reykjavík restaurants host Thorrablot, a midwinter feast with traditional foods to celebrate the season.
Indoor food halls are a fun way to dine on street fare in a warmer setting than the street itself: what used to be the city's bus terminal is now the indoor Hlemmur Food Hall, and a former fish factory in the old harbor district is now the nine-vendor Grandi Mathöll. Want to be outside? Go soak in one of the city's many year-round geothermally heated pools—there's even a free-to-access sandy geothermal beach at Nauthólsvík. The Canopy Hotel (from $183) rents cruiser bikes for exploring downtown all winter long.
Cambridge, Massachusetts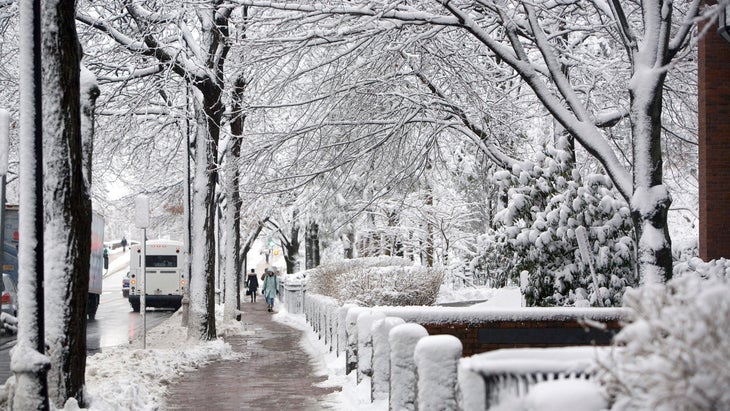 The college town of Cambridge gets plenty of winter storms—the Boston area averages around 50 inches of snow annually—but that doesn't mean residents stay inside when the weather turns cold. This is the city that refuses to close its farmers' market just because it's icy. The popular winter market, held on Saturdays from January to April, will return to the gym at the Cambridge Community Center this year, with vendors selling local produce, seafood, and baked goods.
In Cambridge's Starlight Square, what was once a parking lot has been transformed into a year-round pop-up market, with over a dozen mini storefronts selling their wares, and outdoor murals, string lights, and warming stations enhancing the atmosphere. The city is working to design protected bike lanes for snowy conditions and currently offers city-run workshops on winter bicycling basics, where you'll get tips on route planning and layering while bike commuting during inclement weather.
Copenhagen, Denmark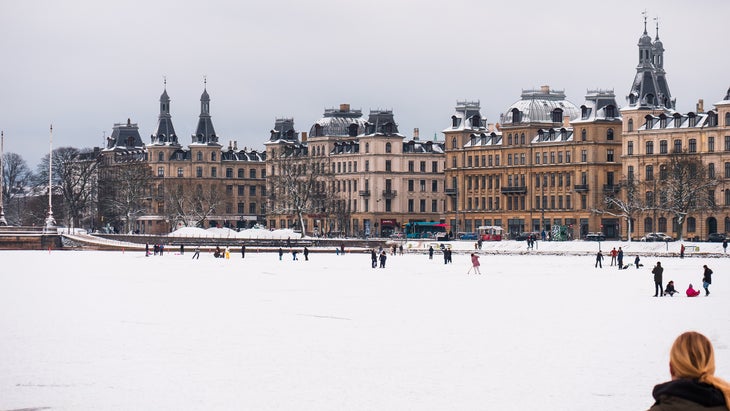 The Danes invented the concept of hygge, that now global trend of creating a warm, cozy atmosphere, so it's no wonder the capital city of Copenhagen maintains a good vibe come wintertime. Cycling is a main mode of transportation here, and that doesn't stop in the colder months. With shorter days at this time of year, the city even swapped out its streetlights for smarter, more energy-efficient bulbs that shine brighter when a cyclist approaches.
Things to do come winter: Take in a jazz concert at Vinterjazz, a nationwide festival held in February. Enjoy the Copenhagen Light Festival, also in February, with light installations throughout the city. Or ski down a former power plant at CopenHill. Additionally, you can ice-skate for free at public squares, like Frederiksberg Runddel, or skate and grab food from Bridge Street Kitchen, a street-food market with an ice rink. To warm up, go soak in a hot tub or sweat in a sauna with views of the city at CopenHot, a collection of floating and stationary tubs in the harbor of northern Copenhagen. Winter swimming is surprisingly popular here—last year two new dipping zones were added to the harbor.
Edmonton, Canada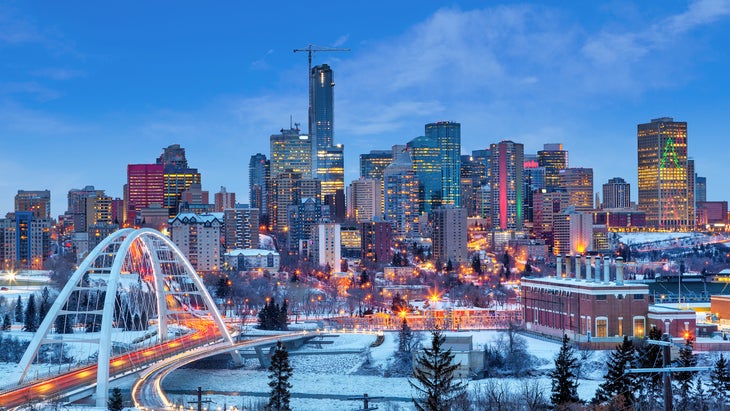 A decade ago, city planners in Edmonton got together to change the city's approach to winter. Instead of building indoor malls and sending people inside, how could the city help people love the frosty season? Their solution was WinterCity Strategy, which united a team of urban-planning experts tasked with making it easier for Edmontonians to get outside in the cold.
Local ski clubs offered free ski lessons to newbies, bike lanes were cleared of snow to promote winter cycling, and winter outdoor markets popped up around the city. Public spaces and outdoor patios were redesigned with fire pits, string lights, and heated seats. All those winter improvements now reappear every year starting around November. This February, the ten-day Silver Skate Festival will feature ice skating, snow sculptures, and music, or you can compete in ax throwing and canoe races down a ski hill at Flying Canoe Volant that same month.
Minneapolis, Minnesota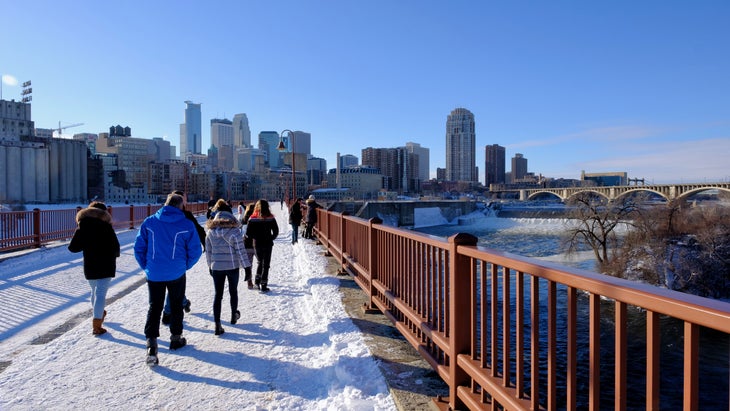 Minneapolis is the city where ice fishing and pond hockey get folks outside in subzero temperatures, where bike paths are plowed for winter cyclists, and where the taproom and outdoor beer garden at Utepils Brewery are popular no matter what the weather is doing. The U.S. Pond Hockey Championships take place here each January, and at the ten-day Great Northern Festival, held in the Twin Cities of Minneapolis and Saint Paul in late January, chefs cook over outdoor grills, artists and filmmakers debut their work, and experts host workshops on everything from winter bird-watching to walking meditation. This winter you'll be able to walk through LED-lit ice sculptures and tunnels as part of the new Ice Castles installment.
At Theodore Wirth Regional Park, winter recreation is king: the city-owned park hosts an urban ski festival in February and has 20 miles of cross-country trails, affordable ski rentals and lessons, sledding hills, singletrack for fat-tire biking, and lakes for ice fishing. There are many other places to cross-country ski and snowshoe, too. The state's cross-country ski pass gets you access to any trails within state parks or state forests; it costs $10 a day or $25 for the year. In addition, Adventure Hubs offers free snowshoe rentals in many city-owned parks.
Sapporo, Japan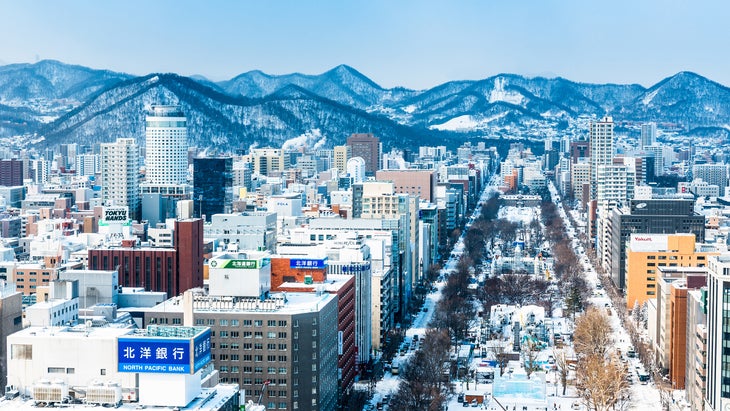 Host of the 1972 Winter Olympic Games, Sapporo is known as one of the snowiest cities in the world, with an average snowfall of about 16 feet. But instead of getting buried by all that powder, citizens carve it into giant castles and snow slides. The city's now famous Sapporo Snow Festival, held at Odori Park in February, attracts millions of people and has been running since 1950. It features elaborate snow and ice sculptures as tall as buildings.
The festival isn't the only thing to do in Sapporo in winter. Bankei Ski Area, located within the city and accessible via city bus, is open until 10 P.M. and has lessons and gear rentals for beginners, as well as the biggest halfpipe in Japan for everyone else. Afterward, slurp a bowl of steaming ramen at Ramen Yokocho, an alleyway lit up by paper lanterns, with a collection of over a dozen ramen shops, or soak in an onsen at Jozankei Onsen, a hot-springs resort just outside the city.