Home and Away
The author packed up his house and family and moved to northeastern Brazil for a year. Fantasy or struggle? It's complicated.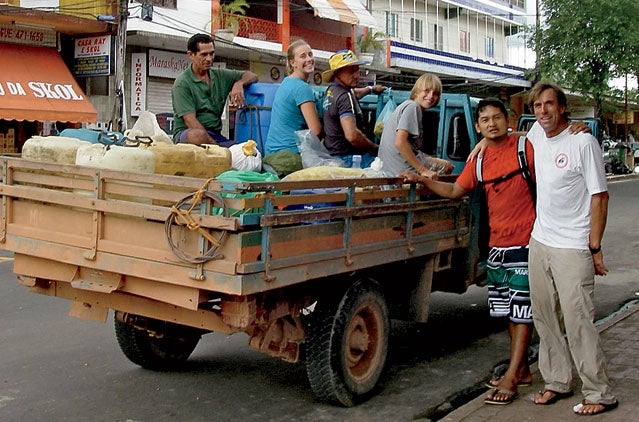 Heading out the door? Read this article on the new Outside+ app available now on iOS devices for members! Download the app.
I WAS OUT FOR A Sunday-afternoon run along the big river, lost in tropical reveries. My family and I had just begun a year abroad in the old Portuguese-era town of Penedo, in northeastern Brazil, with hopes of shedding the overscheduled regimen of contemporary American life and sinking into the region's slow pace. The graceful, sweeping Rio São Francisco was part of what had drawn us here, and two weeks in, Penedo, population 30,000 or so, had held true to its laid-back promise. 
Brazil's Rio Sao Francsico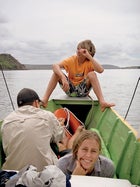 Molly and Skyler on Brazil's Rio Sao Francsico
New Guinea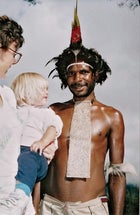 Molly, age two, in New Guinea, 1996
Brazil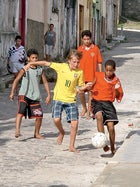 Scenes from a year in Brazil
Brazil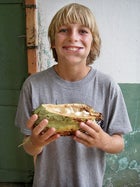 Scenes from a year in Brazil
That, however, was all about to change.
"Pi-tah!" a man shouted as I jogged back into town across the riverfront plaza.
He ran toward me with arms raised. It was Darlan, a young guy who cleared tables and macheted coconuts at a riverfront café called Churrascaria do Gordo—the Fat Man's Barbecue Joint—where I'd been watching World Cup soccer games.
 "É seu filho," Darlan said hurriedly when he caught up. I knew just enough Portuguese to understand him.
"It's your son. He fell and hit his head. You should go to the hotel immediately."
My wife, Amy, 16-year-old daughter, Molly, 12-year-old son, Skyler, and I were staying in the third-floor rooms of the Pousada Colonial, a local guesthouse, while we looked for a home to rent. I started to walk toward the guesthouse at the plaza's far end, thinking Darlan had exaggerated the drama to highlight his helpfulness.
"Corra!" Darlan shouted after me. Run!
I ran, now worried. When I reached the guesthouse—a beautiful restored colonial estate joined to a jewel-like baroque chapel—a taxi was waiting out front. I flew up the broad hardwood staircase to our rooms. Amy was in a frenzy.
"Get the passports! Get the credit cards! Get whatever you need to spend the night! Skyler was showing his new friends how to do a flip off a stone wall and he hit his head. He's still conscious, but the gash is huge. He's in the emergency room, and they're about to send him by ambulance to a trauma center 50 miles away. The doctors said it was profundo!"
Now, as the palms gently waved, the calm we'd come here to find had vanished. I began shoving things into bags.
"I THINK WE SHOULD try to live abroad every few years," Amy had announced early in our marriage. "I want my children to have the same experience I did."
Growing up with a foreign-correspondent father and a mother pursuing Asian studies, Amy had spent two-year stints in Bangkok, Manila, and Cairo. Her father, Rags, eventually taught journalism at the University of Wisconsin. During my time in graduate school, as it happened, I ended up in his journalism program. Knowing our mutual passion for travel, he introduced Amy and me. Within a few years, we were taking a honeymoon trek on the Tibetan Plateau.
After we were married, Amy's schedule as a university professor of modern dance and mine as an adventure writer gave us a certain amount of flexibility. People warned us that we'd lose this freedom when we had children. Amy thought otherwise.
"Let's start them traveling young," she said. "Then they'll be used to it."
When Molly was two, we spent a summer in Bali and hiking in the highlands of New Guinea, accompanied by 85-year-old Rags. It was a wonderful interlude, with Molly riding on our shoulders scouting for new "friends" as we walked among sculpted rice terraces, chiming temples, and golden beaches. We discovered that a small child opened doors normally closed to us, especially in a culture as in love with children as Bali's. The Balinese constantly swept Molly from our arms to entertain her and introduced her to their children. Amy concluded that the world would be a better place—or more empathetic, at least—if it counted among its six billion residents fewer xenophobes and more "global children." This became her mission.
A year later, Amy won a sabbatical. We spent part of it in Cádiz, an ancient port in Spain's Andalusia region, where we lived for five months. Amy taught modern dance and took flamenco classes while three-year-old Molly attended a Spanish preschool, and we trotted her infant brother, Skyler, through the historic streets in a baby sling. We discovered that five months in Cádiz wasn't enough. Molly had absorbed a beautiful lispy Andalusian accent, had made Spanish friends, and was adding vocabulary daily when suddenly it was time to leave. We pledged that the next time we went abroad, we'd stay longer.
Six years later, Amy won another sabbatical—a full year. We sat at a restaurant on our regular Thursday night date with our London Times Atlas of the World open in front of us, and we flipped through the pages eliminating whole continents. We kept coming back to the rainbow-hued map of Africa.
"Mozambique's a cool country," I remarked, having been there on a kayak expedition. "Besides, it has a shattered Third World economy. At least it ought to be cheap."
The joke was on me. You could survive on almost nothing in Mozambique, if you lived in a mud hut and carried firewood on your head. But after centuries of Portuguese colonialism and years of civil war, the country had virtually zero middle-class infrastructure, which meant that, if you wanted to live in Western style, you paid international-diplomat prices. We had considered a small, remote town—which would have been more "local," culturally, and certainly cheaper—but in the end we decided that it would be too daunting for the children at their age, with Molly entering fifth grade and Skyler first, to attend grade school solely in Portuguese.
"I want them to like it," said Amy. "I want them to be hooked."
And they were. We lived in Maputo, the charming, beat-up capital on the Indian Ocean, in a seven-bedroom house with a staff of four, including two full-time guards. (We refinanced our American house by fax to pay the rent in this diplomatic neighborhood.) The children attended an English-speaking international school with pink buildings, a bougainvillea-ringed swimming pool, and a welcoming group of kids and parents. Molly and Skyler's dazzling array of classmates, a great number of them children of NGO development officers and foreign-embassy staff, hailed from around the world. Many of the kids already spoke more languages than I hoped to learn in a lifetime. Skyler's little friend Mikas was fluent in Danish, Lithuanian, and English, and he was learning Portuguese until his first-grade teacher told him he had enough languages for now.
"Mom!" Skyler said one day after school, alarmed. "Why do I speak only one language?"
Living in Mozambique gave our children—and us—a profound sense of privilege. Our portal to the Mozambican world of sandy lanes, thatched roofs, and hauled water came via our staff. Before leaving, we bought a plot of land and built a solid house for our cook, 56-year-old Sarah, and distributed to our staff's families the household goods we'd purchased, from beds and chairs to pots and pans. Molly and Skyler gave away their toys. At the airport, all of us crying and waving goodbye to Sarah and her family, we pledged that in five years we'd go abroad again. 
"DOES THIS LOOK like home?" I asked Amy.
We were standing on the deck of a small car ferry as it putt-putted across the ruffled blue river. It was stretching toward six years since we'd left Mozambique, and Amy and I were on a scouting trip for our next year abroad. She squinted toward the far bank at what looked like a medieval hill town, with cathedral towers, palm trees, and cobbled plazas.
"It could be the place," she replied.
Amy had recently retired from the university to run her own dance company, and Rags had died, at 97. Amy decided to use her small inheritance to fund a year abroad, and we focused on South America, where we'd never traveled. Brazil won unanimously—for its diversity, its music and dance, its dominance in futebol.
"Brazil," voted 11-year-old Skyler, "because I want to be a really good soccer player."
Then I laid out the choices of (a) a big city and an international school; (b) a small town and a local school in Portuguese; or (c) a remote village up the Amazon and homeschooling. To our surprise, Molly and Skyler both voted for the small town and local school.
"We want to learn Portuguese," they said, remembering their multilingual classmates in Mozambique. They were completely on board, even though we warned them it could be hard.
Brazil-savvy acquaintances recommended that we look at the culturally rich but economically poor northeast region. As we drove around in a rental car on our ten-day scouting trip, Amy was intrigued by the northeast's music, dance, and capoeira, I by its geography. The map showed the 1,800-mile Rio São Francisco reaching into an arid interior of mountains, canyons, and plains, while downstream, 25 miles from Penedo, the big river spilled into the South Atlantic amid hundreds of miles of empty tropical beaches. The town, we figured, was a good size for the kids—not so large to be potentially dangerous and not so small to be impossibly claustrophobic. Penedo it would be.
We unplugged from the United States, canceling automatic payments for utilities, revising insurance policies, puzzling over where to forward our mail and park our cars for a year. We informed credit card companies that charges would be coming from Brazil. (Traveler Advisory #1: They still blocked the first charge, and then reblocked the card six months later.) We beat a trail to the county health department for a witches' brew of vaccinations and trolled for renters willing to take our pets.
We cleaned out drawers, shoved clothes in garbage bags, marked them with masking tape, and tossed them down the basement stairs. We hid the family silver and the master check ledger. We researched the ever problematic visa issue; in these family years abroad, we're not sponsored by any institution, and we extend our stay way beyond a usual tourist visa, leaving us in visa limbo. (Traveler Advisory #2: We eventually got to know the friendly visa guy at the regional office of the Polícia Federal and learned that, by paying a small daily fine up to a total of about $500, we could overstay our six-month tourist visas. This was cheaper than leaving the country to renew them.)
Finally, we imposed strict year-abroad luggage rules: one large duffel bag per person, plus a carry-on. The advantage of living at ten degrees south of the equator is that you don't need to bring much clothing. (Traveler Advisory #3: In the tropics, that pair of jeans in your suitcase will look about as inviting as a snowsuit in July.)
WE WERE THE only gringos in Penedo and hard to miss—especially after Skyler's spectacular arrival. An ambulance raced him on a gurney, with Amy and a nurse at his side trying to keep him awake, from Penedo's small emergency room along a potholed two-lane highway between sugarcane fields. Molly and I followed a half-hour back in a speeding taxi. It happened to be the Sunday evening of the World Cup soccer final, in South Africa, and televisions around the trauma center showed the game. As the evening wore on, a stream of barely alive victims—apparently of knife and gun fights and car accidents—were wheeled through, their blood-soaked gurneys parked next to Skyler's. He lay there quietly, scalp sewn together with 19 stitches, having explained that he'd completed two successful backflips off the wall and cut his head while attempting a more difficult side flip. Amy was at his side, anxiously awaiting the CAT-scan results. The answer came back.
"Negativo. Tudo é normal."
Amy's eyes welled with tears of relief. The head nurse reached out and hugged her.
That moment became emblematic of our year in Brazil: difficult yet welcoming. Unfamiliar yet warm. Emotionally exhausting yet richly rewarding. We found a cramped three-room ridgetop house, its front door opening onto a small plaza and, out the back window, a world-class view high over the river. Each of us met the experience in our own way—some more easily than others. Skyler's year started downhill, with that ambulance ride, and kept going south, with his first day in Brazilian seventh grade as an acutely self-conscious, blond-haired, blue-eyed 12-year-old sporting a Frankenstein set of stitches under a baseball cap. At first, without any Portuguese, he had no idea if the other kids were laughing at him or befriending him. Most likely, in Brazil, it was some of both. He came to dread sitting four hours each day in the noisy, tiled classroom, although his Catholic school, Colégio Imaculada Conceição, was only 100 yards from our door.
"I hate all this traveling around," he angrily announced about three months in. "I'm never going to leave our country again."
I struggled, too. A writing project I'd planned for Brazil had fallen through, and I found myself literally stuck up the river with nothing to work on. Some days it was all I could do to drag myself out of bed to help Amy drag Skyler out of bed for the 7 a.m. start of class. But I appreciated that it was a pretty backwater we'd landed in, and a historic one. 
I finally found my niche in Penedo on the soccer field. Young guys in their teens and twenties—most of them unemployed in this depressed region—played barefoot every afternoon in the cow pasture along the river, and they welcomed me into their games (which is not the same as choosing me for their side). I eventually joined a formal team as a kind of slow, aging mascot who played the second half of second-string games, bought beer, rebuilt broken goals, and helped bail players out of jail.
"I have the only international team in Penedo," boasted our owner-coach, Lu, he of the roaring shouts and missing teeth, whose day job was washing cars at the ferry landing with a bucket and sponge.
Amy discovered her circle in a local roda, or sparring group of capoeiristas—practitioners of the spinning, flipping, kicking Brazilian martial art developed centuries ago by escaped slaves. Skyler and Molly soon joined the roda, too. After years as a frenzied working mother, Amy embraced Penedo's slow pace and the chance simply to hang out, sit on the bench at the back window, buy fruits and vegetables from her favorite lady vendors in the market, or ride a motorized passenger canoe to the pottery-making village across the river.
Gregarious Molly, who turned 16 as we arrived in Penedo, dived right in despite the new language and alien teenage customs.
"For the first ten minutes, I thought we were studying history," she laughingly reported after day one at the colégio, "until somebody pulled out my physics book."
She made dozens of school friends and was soon yakking to them easily, doing her physics homework in Portuguese, teaching modern-dance classes to teenage girls at Penedo's orphan-age, and interviewing up-from-hardship capoeiristas for a high school project back home. I envied Molly her local reputation in futsal—small-court soccer—earned in the girls' final of Penedo's spring games and watched by half the town, when she unleashed for Colégio Imaculada a blistering left-foot shot from midcourt that made the goal ring like a giant gong in the soft tropical night.
For days after, Penedo guys came up to me.
"Que bomba!" What a shot!
It was this language of physicality—soccer, dance, capoeira—that helped endear us to the playful, physical Brazilians.
BY THE TIME we'd reached Christmas break, halfway through our year, the four of us had adjusted to life in small-town northeastern Brazil. Even recalcitrant Skyler had had a language breakthrough. I noticed it one day when a woman shouted at him in Portuguese, after he'd stumbled while jumping over a palm planter on a crowded sidewalk in the city of Salvador.
He had to translate her rebuke for me because I couldn't understand it myself. "Dude!" I said, proudly giving him a high five. "I can't believe you understood that lady yelling at you! That was complicated grammar!"
It's precisely this—overcoming the challenges of living abroad—that opens the way to some of its deepest rewards. To connect at the most human level, in any relationship, one must dispense with emotional armor plating and cultural cocksureness and not be afraid to be vulnerable. In small-town northeastern Brazil, we had no idea what we were doing, and everyone knew it. This made us vulnerable not only to being taken advantage of, but also, and much more frequently, to acts of incredible kindness and warmth from Brazilians who barely knew us and were often less well-off than we were. Transcending culture and language, these human connections will always stay with us. This is how our children have learned empathy.
When we left Penedo at the end of the year, dozens of people turned out in the plaza to see us off. Most of them were crying, as we were—even my coach, Lu.
"Vai voltar quando?" everyone asked. When will you return?
"Dois mil catorze," I responded. In 2014.
That's when Brazil plays host to the once-every-four-years futebol World Cup. It's going to be a huge party.
We plan to attend.
Peter Stark's book Astoria: John Jacob Astor and Thomas Jefferson's Lost Pacific Empire: A Story of Wealth, Ambition, and Survival will be published in March 2014 by Ecco.