This Is the Most Beautiful Town in Colorado
I've lived in the state for 35 years. It pains me to be disloyal to my own hamlet, but I am compelled to say it: another small town in the Rockies takes the cake.
Jonathan Ross/Getty
Heading out the door? Read this article on the new Outside+ app available now on iOS devices for members! Download the app.
Each time.
Whenever I come home from visiting a certain town in my state of Colorado, I look around at the wide basin where I live, punctuated by the one looming peak that is the symbol of this old mining community, and wonder, Where are all the goddamn mountains?
I live in Carbondale, under the gaze of the 12,965-foot, twin-summited Mount Sopris, jutting high above the river valley and ranchlands. From its peak, which stands alone in our sky (a 14-mile round-trip hike I try to do each year), you can see everything: up the Roaring Fork River Valley to Aspen, 30 miles away; downvalley to Glenwood Springs; and across to the Elk Range. From the Flattops above Dotsero, an hour away on the Colorado River, I've looked across and been startled by the isolated, shoulder-y hulk of Sopris.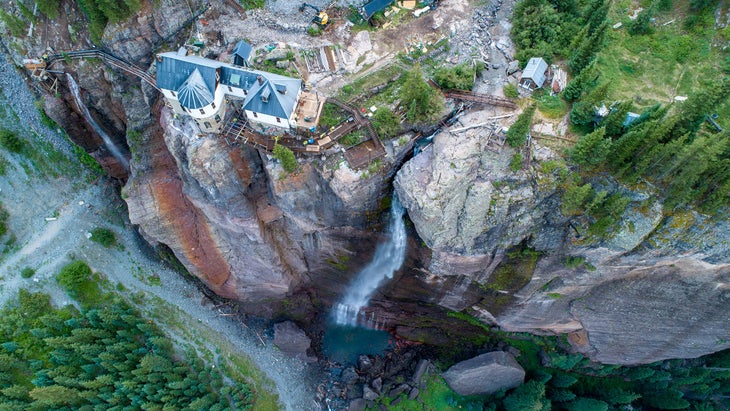 Though it pains me to be disloyal to the place where I live, I must take off my hat to this other Colorado town: Telluride, which I recently visited for the 15th time. The visuals and anticipation always zing me as I drive down from Delta and Montrose toward the gateway town of Ridgway and first see the jagged skyline crowned by the pyramid of Mount Sneffels, at 14,155 feet the highest peak in the Sneffels Range, part of the San Juan Mountains. I roll down that long hill, turn right at the only stoplight in Ouray County, and start the steady rise up Dallas Divide. That last part of the drive always feels shorter than expected.
Then I'm there: entering the deep valley, enclosed and folded in by the soaring box canyon, a waterfall ripping down its walls. Mountains shoot up in every direction. The road before me curves into the jewel that is Telluride.
An old Victorian mining town, Telluride sits at 8,750 feet, with a gondola arcing up over the ski slopes to Mountain Village, situated even higher at 9,547. The architecture in its National Historic District is quaint and congruent, the Victorian homes recalling the latticed Gold Rush cabins of yore. The red-brick Sheridan Opera House (built in 1913) and the old Nugget Building with its arched windows and striped canopies (1892) are familiar, welcoming forms.
In a dream of mountain grandeur, Ajax Peak dominates the view as you approach town, and faces of granite, conglomerate, and sunny sandstone—red rock, gray rock, in horizontal striations—encircle the canyon. Deep green forests run up the slopes, and bright snowy couloirs interlace the whole network.
With friends, I've climbed on the rock walls and boulders (last time hiking up to the Falls Wall, level with the 365-foot Bridal Veil Falls), and hiked the classic three-mile Jud Wiebe trail, looping up through aspen, ponderosa, and spruce, and opening to wildflower meadows, with widening views of downtown Telluride, the ski area, Bear Creek, Ballard Mountain, La Junta Peak, and Wasatch Mountain.
On both sides of the Telluride Ski Resort are the slopes where my husband and friends and I have skied and our kids used to ski race, and where the boys also raced mountain bikes each summer. One winter, from the meadows above a high pass outside of town, I snowshoed up to the towering spire of Lizard Head.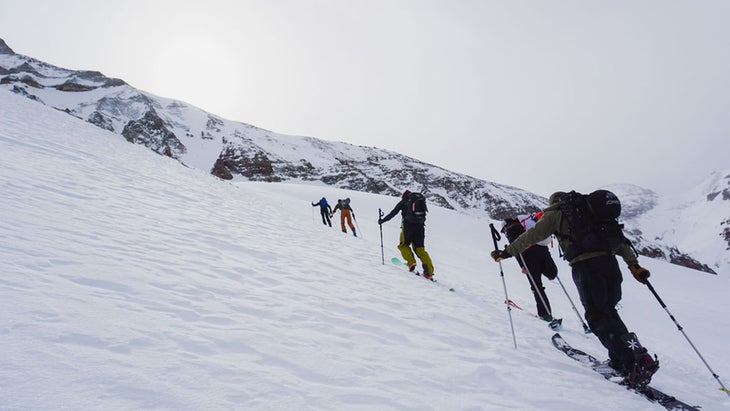 Back near Ridgway, my husband, Mike, and I have camped in the Ouray Town Park, where he was up at 3:00 a.m. to pace his friend Garett Graubins 25 miles over to Telluride as part of the Hardrock 100 endurance race in the San Juans. Garett, who in the past had placed in the top 10 in ultras, was now living in Minnesota and no longer acclimated, but he had gotten a prized entry and wanted to come.
He arrived in Ouray, mile 50, ashen and vomiting, lay on a cot doing his best to ingest some mashed potatoes, and asked me to warn his wife and son, who would be at the aid station in Telluride, that he might drop there. A few hours later, when I found Holly and Sawyer in the Telluride Town Park and delivered the message, their faces dropped. "Really?"
We three waited and worried. Garett and Mike were to tackle the steep scree slopes up and down from Kroger's Canteen, an aid station named for a beloved local, Chuck Kroger, who personified this race and was lost to cancer in 2007. Chuck, a Stanford geophysics grad, also meticulously and not entirely legally created Telluride's now celebrated two-mile via ferrata. Kroger's Canteen, at 13,000-plus feet,  is the race's highest aid station, and workers pack the supplies up the col every year.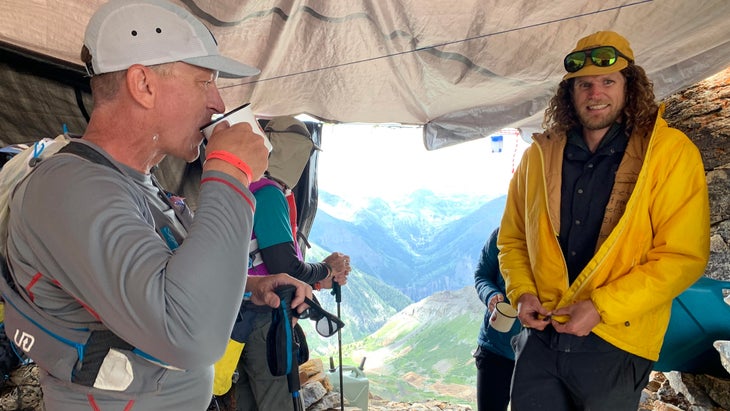 As Garett and Mike neared Telluride, we spotted their shirt colors, strained in silence to see their faces. They arrived smiling. Chatting.
Garett leaned back on a picnic bench and beamed—and then looked at his watch and leapt up. "I've gotta get going!" His new pacer hopped in, while Mike turned to fretting, getting up all night at our friend's house to check times, hoping Garett would make the two-day cutoff. Garett finished in 46:07:52.
One of my favorite bike events used to be the Full Tilt in Telluride each July. Our sons, Ted and Roy, raced mountain bikes in their age divisions, Mike would sometimes enter an adult rec division, and I'd hike or climb. We and other families and friends stayed in the campground by the Town Park. The kids could ride around independently and take the free gondola to Mountain Village, where race activity centered.
Telluride is an expensive destination, and Mountain Village is studded with five-star hotels, but the area has always had great camping options. It has also always had a local community of hard-core athletes and solid all-arounders: runners, rock and ice climbers, kayakers, and skiers, the latter including various lifelong devotees, emergent high school and college racers, and ski mountaineers pulling multiple-hour approaches to no-fall couloirs.
I have heard some locals say they avoid restaurants on weekends due to crowds, but they still go to their coffee shops, like the Phoenix Bean, which closed last fall after 30 busy years. Now Bruno, which doubles as a bookstore, and the Coffee Cowboy, by the gondola, are local faves. Bakeries, such as Baked in Telluride, founded by the laid-back skier Jerry Greene in 1977, are community hubs as well.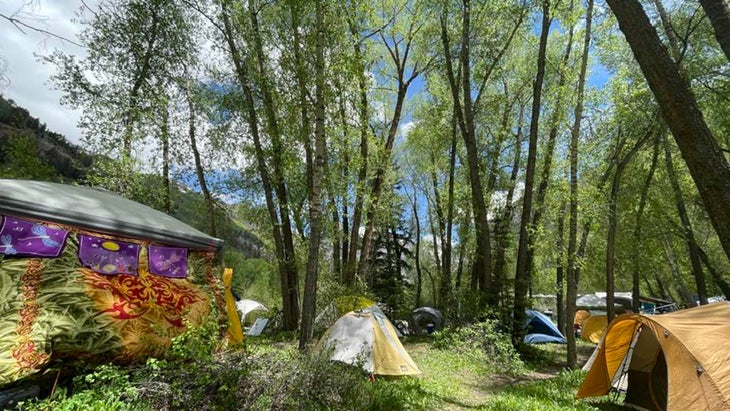 My memories of the area are not all good. Mountain life and sports carry risks and can dole out very bad luck. The first year I went to the Mountainfilm festival—an annual late-May gathering that brings in great outdoor films and filmmakers—in 1989, my friend and housemate Katie Kemble was hit by rockfall at the base of the 1,000-foot Ophir Wall as she belayed another climber. The news trickled in as baffling drabs. She had "broken her leg," been taken away in a truck, been helicoptered to Grand Junction. She had, I found out in a phone call from her climbing partner Ric Hatch—who'd carried her out from the cliff as she held her near-severed leg on with both hands—been "taken into surgery to have her leg amputated."
I left Telluride after one day there to go to Junction, an excruciating drive. Julie Kennedy, also from Carbondale and visiting with our crew, jumped in my car, saying, "You're not going alone." We arrived to find Katie just being wheeled out of surgery, and Julie, Ric, and I danced with joy to hear that due to the two-finger-wide remaining section, the surgeon had reattached her leg. Yet this was no simple blessing. Katie spent months in the hospital, underwent dozens of surgeries, and is still affected, but has gone on to have a family and a great life as a nurse practitioner who also started a nonprofit for cancer survivorship.
Another time at Mountainfilm, in 2018, I was planning to stay with my friend Charlotte Fox, with whom I used to climb when she lived in Aspen. I had stayed at her Telluride place (built by Chuck Kroger) a couple of times, once with my son Roy, then 11, for a ski race. Roy rode up and down the elevator—"Oh, all the kids do," Charlotte said tolerantly—in her narrow, five-story house, and he lay on the floor petting her avalanche dog Max. She and I had coffee out on her deck overlooking the whole town, across to the ski slopes.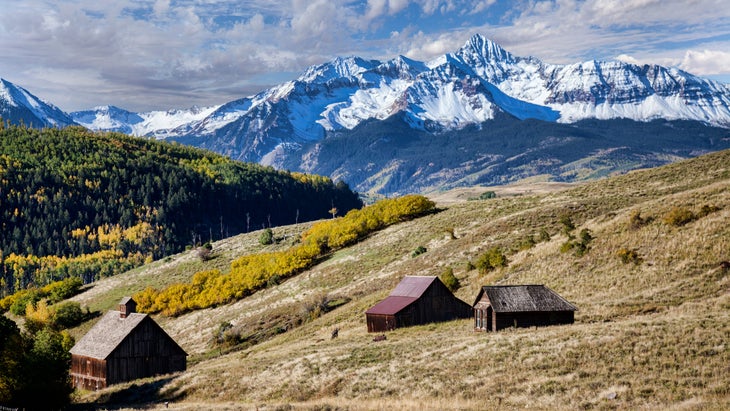 The night before my intended recent visit, Charlotte, who'd survived the Everest disaster of 1996 and climbed Dhaulagiri and Cho Oyu, died in a fall on her steep stairs. Even still, though it's been five years, I keep hearing of more of her kindnesses. My friend Randy Levensaler just told me that when he lived in Carbondale and was dating a Telluride local, and as an outsider would shyly enter dinner gatherings, Charlotte would call out his name and pat the chair beside her. "Randy! I've got a seat for you right here!"
Thankfully, there have been many good, uneventful Telluride trips. It's a town with joyous festivals and gatherings, including the summer Bluegrass Festival (which turned 50 this year) and the Telluride Film Festival as well as Mountainfilm. The latter I have been to (at least) five times, once with friends when all our kids were tiny, many years seeing exceptional films, and a couple of times climbing on the Pipeline Wall, which offers some of the biggest views in the valley.
This past May I arrived in Telluride in a new job at Outside and with a new team of coworkers. But some things were the same, like looking up from the streets in town and seeing the waterfall moving from two miles away. Among my crew, I was not the first to arrive, but I was the last to leave. I walked down to the final awards ceremony in the Town Park, and watched my friend and long-ago intern (at Rock and Ice magazine) Andrew Bisharat take the stage with four Palestinian climber friends, in the U.S. on miraculous visas, as their resonant film Resistance Climbing won the Charlie Fowler Best Adventure Film memorial award. Through a Mountainfilm-Telluride Academy partnership, youth from Navajo Preparatory School, Telluride High School, and Nucla High School named the powerful Full Circle as their Student Choice Award, announced by Makayla Yazzie from Navajo Prep and Akymia Ralstin of Nucla.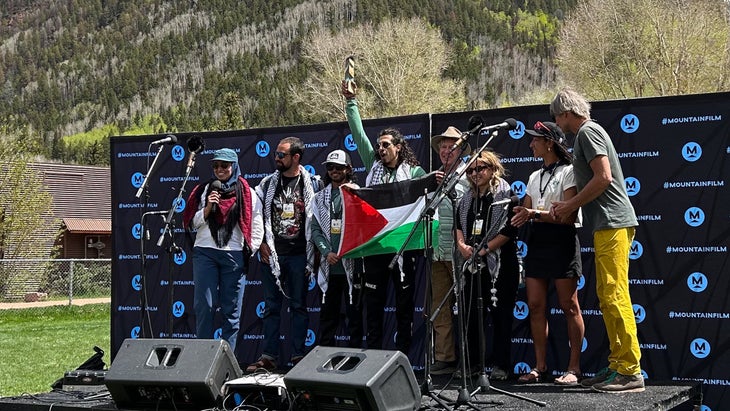 Leaving town, I caught a visiting bonsai exhibit at the Slate Gray Gallery on Main Street, just in time before the trees were loaded up in a truck for home. Telluride, like Aspen, has a longstanding creative arts and culture scene. The ski area is primo and vast, though I still claim our Aspen Highlands, with its hike-to Highland Bowl, as the state's best resort skiing. But the sheer sight of Telluride—the tableau—always gets me.
Each time, I leave with regret. But I usually stop in Ridgway to say hi to Jim McCarthy, 90, who climbed historic first ascents in the Shawangunks, New York; was on the 1963 first ascent of Mount Proboscis in the Yukon; and was instrumental in opening the once-selective American Alpine Club up to anyone who wanted to join. We sit on his back deck and look out together at the Sneffels skyline.
Alison Osius is a senior editor at Outside.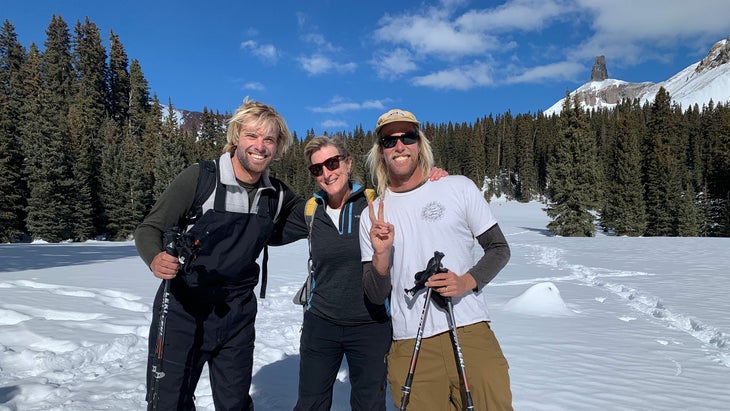 Other articles by the same author:
Lead Photo: Jonathan Ross/Getty
Trending on Outside Online