Ian Frazier on the Freedom of His First #Vanlife Summer
There are many noble qualities about living simple. But if you want to impress someone, for God's sake, don't tell them you live in your van.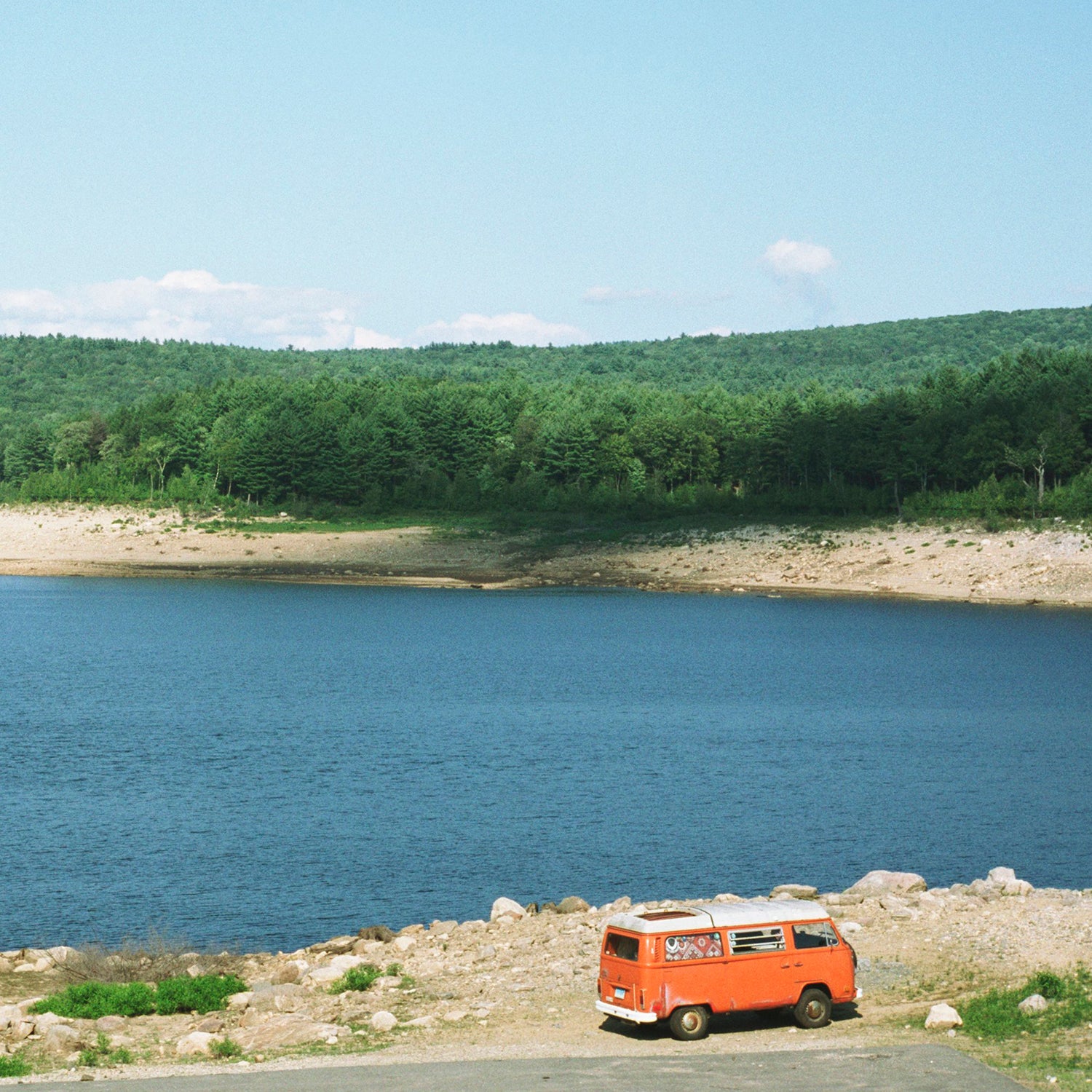 Aaron Cameron Muntz/Gallery Stoc(Photo)
Heading out the door? Read this article on the new Outside+ app available now on iOS devices for members! Download the app.
I had not expected that it would tick. As soon as the sun hit it in the morning—at 6 a.m. or so, in June, in northern Michigan—the metal would start to expand in the heat: tick…tick…tick. My first summer living in my van, in the Pigeon River campground near the town of Vanderbilt, I almost never succeeded in sleeping past dawn. And I was not prepared for how stuffy it got with the windows rolled up against the mosquitoes. I thought the overhead light, which had come loose and dangled by its wires above the rudimentary plywood bed and foam-rubber mattress that I slept on, would be enough light to read by. It wasn't.
Nowadays people fix up their vans, and interior-decorate them, and live in them, and it's a thing. When I started living in my van, in my early thirties, almost nobody was doing that. No one could tell me what it would be like. I'd never had a vehicle for my address, and every day the experience seemed to get richer, or worse, depending on your perspective.
For instance, I had not foreseen the problem of keeping possession of my campsite when I had to go into town to buy beer. With the van absent, the campsite appeared unoccupied. Once, other campers took the spot despite my valid registration card on the little post by the campground road. I had to find a new campsite, and to prevent that from happening again, I pitched a small tent to be a placeholder when the van and I were gone. The tent was a sorry affair, so leaky I used it only to store my spare tire, which I had begun to trip over when I got up in the night.
That necessity was more difficult than anticipated, too. A lot of monkeying around was required to get myself from inside the van to the closest restroom (or more likely the bushes) and back. Then, for a while, I would lie awake and look at the moonlight on the curtains that the guy who "customized" the van for me had thoughtfully put over the back windows. The curtains were decorated with a pattern of blue lines that exactly resembled tire tracks.
Nearby ran the Pigeon River, one of Michigan's wonders. Following the example of the late Jack Gartside, fly-fisherman extraordinaire, who slept in his car in the summers while fishing the great rivers of the West, I was spending every day on the river. Its elegant sand and gravel bottom grows mayflies of many kinds, including the giant Michigan mayfly, Hexagenia limbata, which excite the trout to frenzy when they emerge from the gravel to hatch. If I ever wondered why I was lying sleepless at night with my head sometimes pillowed on my van's engine cover, the sight of big brown trout slurping hexes from the surface explained it.
Upstream from the campground, the river ran through property owned by a group that followed a yoga guru. I knew nothing about them except that sometimes I saw them in town in their yellow robes. Nobody fished on the "yoga ranch," as locals called it, but one day, out of curiosity, I worked my way upriver into that area, being careful to stay in the river so as not to trespass. I was fishing a wet fly under beaver lodges, and I hooked a huge fish that gave me hope until I netted it and saw that it wasn't a trout but a whitefish, a bottom-feeder. I looked up from that disappointment and saw a young woman in a bikini sunbathing on the hillside.
She said hello, we started to talk, and I got out of the river. She seemed to have a sense of humor. She told me she worked as the cook at the yoga center, and we laughed about the funny brand names for vegetables—"Look Mom!" brand carrots, for example—that we'd seen in local stores. After an hour or so of conversation, I suggested we could meet again. I said, "I'm right nearby. I'm living in my van."
One of the first important things I learned about living in my van was: Don't tell people you're living in a van. If you want to impress, that is. Our conversation went almost no further. I waded back into the river, and soon afterward a mean-looking guy on a dirt bike trailed me to make sure I didn't get out again.
It was awkward, living that way. But what the hell, I felt free. I spent many more nights in the van, and later I drove it all over the Great Plains. I loved being able to pull off to the side of the road and sleep, then wake up in the morning with the van rocking in the wind and nothing but prairie and sky all around. The van and I both looked pretty sketchy; nobody would cash my check if I went to a bank's drive-through window. I had as free an existence as I'll ever have.
Contributing editor Ian Frazier is the bestselling author of 12 books.
Lead Photo: Aaron Cameron Muntz/Gallery Stoc
Trending on Outside Online