A Modest Proposal
Looking for adventure? It's right outside your door.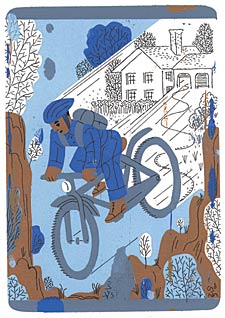 Heading out the door? Read this article on the new Outside+ app available now on iOS devices for members! Download the app.
ONCE WE WERE COWBOYS. The vast prairie began at the end of the block. It was like living next to the ocean—all this boundless adventure waiting just beyond our backyard. That was back when parents would give boys of eight or nine as much freedom as they would take. So we'd take it all. In cutoffs, a sandwich in the pocket of our windbreaker, we'd leap into the saddle and head out into the red-dirt hills for another day of heroic deeds and dangerous riding.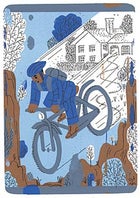 Bikes were our ponies. To us a bicycle was better than a horse. It was patient and wouldn't kick and never needed feeding or brushing. It was boy-size and built like we were—lithe, light, invincible.


We'd ride dirt trails from sunup to sundown, from one make-believe shoot-out or showdown to the next. When the sun sank over the distant horizon, we'd take one last, longing look out into the beckoning prairie, then wheel around and canter back to town. We'd crawl into our bunk beds covered in fine red talcum, exhausted, glowing with the grandness of the day.


And in our dreams? What else: We dreamed of not coming back. We dreamed of just riding off across the plains like a sailboat glides out to sea. Of riding into the sunset. Thirty years later.


Reed's brother Buzz was in town. Reed Zars, a zealous, take-no-prisoners environmental attorney, is my cycling and skate-skiing companion. Like many younger brothers, Buzz turns out to be the antidote to Reed. A Caterpillar mechanic living in Tenino, Washington, Buzz is easygoing and imperturbable.


Reed and Buzz grew up on a remote ranch near Hayden, Colorado. Although they make light of it, it was a difficult, cold, lonely childhood—a hardscrabble upbringing that annealed them into tall, leanly muscled men with wry, resourceful minds. Physically and psychologically, both are built for endurance—like all cowboys. And both are serious cyclists. Buzz had brought his mountain bike to Laramie.


That night, through the potion of beer, we regressed back to boys and hatched a homemade adventure: At sunrise, we'd ride out of town.


That's it.
OVER THE PAST DECADES, the word "adventure" has mistakenly become synonymous with "expedition." Thus it has become common wisdom that any real adventure requires extensive planning and preparation. Plane reservations months in advance, pages of lists, stacks of guidebooks, duffel bags of new gear and cash. We all need to reread Huckleberry Finn and find two friends like Reed and Buzz.


"No tent, no stove, no panniers, no sleeping bag," Reed decreed.
"No itinerary," Buzz averred.


Sticking as much as possible to trails and dirt roads, we would pedal a four-day lariat loop through the mountains and plains of Wyoming and Colorado.


Ten hours later I crammed a rainjacket, a sweater, two 1:100,000 maps, a patch kit, a few micro bike tools, and a wallet into my front bag and met up with the brothers Zars at the end of the block. We took the first gravel road going west, gliding out across the prairie with the sun at our backs.


There are few things in life more joyous than lighting out on an adventure. To do so in good company on a bicycle—the most elegant and elemental of conveyances—with little more than the clothes on your back and a couple of fat, warm brownies in your pocket is heaven.


There were antelope everywhere. Frantic and fleet-footed, they raced beside the barbed wire as if they'd been shot at, which they had. It was hunting season in Wyoming. We chased our own telephone-pole shadows through the undulating plains until the road hooked south. On the spur of the moment we decided our first stop would be Albany, a settlement consisting of little more than a saloon at the base of the Medicine Bow Mountains. We cut west and began following a straight-shot trail that parallels a buried water pipe.


Pretty soon we had to start jumping fences.


"We should get permission," Reed, the lawyer, said nervously.


I shrugged.


"From who?" said Buzz.


We topped a bluff and spotted a tiny ranch house out in the ocean of brown. "Them," said Reed.


"We'll be off their property and onto someone else's before they even know it," said Buzz.


But Reed was already gone.


Buzz and I kept riding along the pipeline, lifting our light bikes over one fence after another. The ranch house was a long way off. When Reed finally reached it, Buzz and I stopped and waited. After a few minutes we saw Reed on his bike tearing across the horizon, hell-bent-for-leather in the wrong direction. Moments later a blue pickup spun away from the ranch and went ripping after him down the same dirt road. It didn't look so good.


"Best if we just keep going, I'd say," said Buzz, raising his eyebrows. We'd meet up with Reed in Albany. Hopefully. Buzz and I hopped back onto our mountain bikes and continued onward across the new frontier.
THE WAITRESS IN ALBANY slid our hamburgers onto the bar. "There's enough grease to keep you going," she said.


Buzz and I ate as if we'd just pedaled 50 miles over terrain as rugged as the Gobi Desert into a teeth-gritting headwind. Which we had. Several times I'd look down at the speedometer to find us moving at a humble seven mph.
"Saddle sore?" I asked Buzz. He was wearing plaid cotton shorts in lieu of padded Lycra, a wool cap instead of a helmet. He shook his head.


We were the only guys in the bar not wearing fluorescent orange, the fall-fashion color of choice for hunters everywhere.


We'd just finished our burgers when Reed strolled in, his face flushed and eyes jumpy. "What in the hell happened?" Buzz asked.


"I about got myself ventilated!" replied Reed, and proceeded to tell, or rather to act out, the story.


The rancher must have seen him coming. After weaving past the usual assortment of clutter—cars sunk in sagebrush, a rusted bailer, tilted outbuildings—Reed dismounted and started walking toward the front door. That's when the rancher stepped out from around a shed, with a shotgun.


Reed tried to ignore the weapon and asked permission to cross his land. The rancher grimaced, lowered one hand to shift his balls, and brought his hand back to the gun. "No," he said.


Reed politely explained that we were simply following the pipeline trail and would be off his property in a matter of minutes.


"No," he repeated. "You'd hurt the grass."


Reed looked out at the rancher's land. A century of overgrazing had transformed this short-grass prairie into tumbleweeds and red dirt.


He tried charming the man with the details of our youthful outing. We were like cowboys, really—riding the range, traveling light, searching for a saloon to wet our whistle. But of course cowboys haven't ridden anywhere for ages. Cowboys drive big American pickups, four-wheelers, snowmobiles.


"You're an environmentalist!" the man sputtered, a label that, for certain ranchers, means someone more evil than murderers and rapists.


"I am not!" Reed emphatically replied—his lie an act of apostasy so outrageous that Buzz and I almost fell off our stools laughing. As a lawsuit-slinging lawyer, Reed has forced utility companies across the nation to spend millions on clean-air equipment.


"You are too!" the rancher insisted astutely. "You're one a them goddamn environmentalists!" He brandished the shotgun. "Git! Git off my property!" So Reed got, as fast as he could.


Buzz and I were snorting so hard we began to risk raising the ire of the men in the bar, all of whom had their own shotguns and rifles in the trucks outside. Time to hit the trail.


WE DOGLEGGED NORTH along Highway 11, riding single file through a valley of hay fields and irrigation ditches, alone with our thoughts. I found myself smiling. We weren't more than an hour's drive from home, and already it felt as if we'd entered another country. We were strangers in a strange land.


A corollary to the adventure-equals-expedition fallacy is that adventure only exists someplace else: Namibia, Nepal, New Zealand, New Hebrides. To experience the exotic, to meet memorable characters seemingly from another epoch, to expect and ultimately find the unexpected, you must fly halfway around the world. Don't buy it.


It was late afternoon and a cold wind was churning dirt in the air when we rode into Centennial, population 100.


There were three extraordinary motels in this one-street town. It could have been Mongolia. The first, a squat cinder-block bunker, had beds so swaybacked and tiny that when we tested them, our butts hit the floor and our feet stuck out in midair. The second had its door wide open, but no one was around. The gas-station attendant told us to check at the bar for Suzy.


Suzy, a vision in Tammy Faye Baker eyelashes and a gaudy Western shirt, offered us a discount because none of the motel's bedsheets had been changed in recent memory.


We ended up spending the night at the last-chance motel in a room with two beds whose log frames could have been used to support a mine shaft. We ate in the attached restaurant, a prohibitionist establishment packed wall-to-wall with country kitsch. Outside, the wind was carrying off sheep and small cows and trying to uproot a sign that said WYOMING: LIKE NO PLACE ON EARTH.
AT DAYBREAK WE RODE into the Medicine Bow Mountains, up along Gold Run Creek, then east along a jeep track next to Jim Creek. Beyond Fourlog Park the track dissolved into mud. Gloriously technical riding followed: deep mudholes with ice still riming the edges, stumps, roots, boulders, branches right at neck height.


On the backside we flew down French Creek to where it debouched into the shallow, rocky North Platte. We stopped for a late lunch in the willows along the bank on the wrong side of a Private Property—No Trespassing sign. Like a lot of signs in Wyoming, it was perforated with bullet holes.
We ate everything we had and drank all the water in our water bottles and thus had no choice but to ride on through the uneven plains.


That evening, we sidled into Riverside, population 85. There were two bars and a huddle of log cabins for rent. We booked ourselves into Muleskinner, a diminutive hut subsiding into a cottonwood meadow. A handwritten note on the wall read: "We do not dispose of animal carcasses."


Riverside is actually a suburb of Encampment. From local postcards we learned that Encampment is the home of the two-story outhouse. (When the snow gets too deep, you use the second floor.) In 1902 Encampment experienced a copper rush. A 16-mile aerial tramway, at the time the longest in the world, was constructed to transport ore to the smelter. Houses, hotels, and brothels were built. Then, in 1907, the copper ran out and the town went bust. The three of us pedaled up and down every empty street. As far as we could tell, about all that was left was a sawmill, a post office, and two bars.


"Not a grocery store in a thousand square miles," commented Reed when we returned to our cabin, "but four bars within stumbling distance."


Lying on my bunk that night, musing on our progress so far, I realized another salient truth about adventure: It doesn't matter where you go. It's not what you see, but how you see. To the jaded eye Paris is dull, Everest a sham, Africa stuffed with animals already seen on Discovery Channel. But if you think of your mind as a microscope and take a close look, there is not a chunk of earth on this planet—maybe even right around the corner—that isn't original, even inexplicable.


That night we rented a TV, a VCR, and a movie, all for $3, from a gas station, and drank a six-pack watching O Brother, Where Art Thou?


THE THIRD MORNING we pedaled south into Colorado over Independence Mountain. We stopped to visit some natural rock baths that Native Americans once used, and wandered around inside the roofless guts of an abandoned homestead, hope and hardship still in the walls papered with newsprint.


We spent the day surmounting a 10,000-foot pass on a mining path and broke out of the aspens just before sunset. Below us lay the sweep of North Park, a well-watered expanse of golden grassland cradled by mountains on all sides—the Mount Zirkel Wilderness Area to the west, the Rawah Wilderness Area to the east, the Rabbit Ears Range to the south, and the Medicine Bow Range to the north.


After one flat tire and two hours of serene, resplendent riding, we glided into Cowdrey, Colorado. Cowdrey is so small it doesn't even have a bar. It does have the Cowdrey Trout Camp, on the bank of the Canadian River: $10 a bed and all the heat you can trick out of a leaky propane heater. You just leave the cash on the table in your bunkroom.


Famished but foodless once again, we hitched a ride in the back of a pickup ten miles south to Walden. There we found a pool hall half-converted to a pizza joint. It was a cavernous space, with the heads of giant elk shot long ago peering down from the walls. Off in the corner was a young mother, a crying two-year-old clinging to her apron and a crying three-month-old fastened to a rocker on the counter. She was making pizzas by herself. There were no other customers. She had the radio tuned to a country station and was humming along. It was a song I didn't recognize in a world I'd forgotten.


IT WAS BELOW FREEZING the next morning, so cold the mud puddles in front of our cabin were frozen solid.


"The joy of going superlight is that one is always unprepared," Reed said cheerily.


Buzz found some plastic bags and we wrapped our feet before stuffing them inside our cycling shoes. We pulled our sleeves over our hands and sank our faces into our windbreakers and set out.


After about an hour we were each wondering how many fingers and toes would eventually have to be amputated. When the sun rose and the road reared up, blood began to burn its way back into our appendages.


We were over our last 10,000-foot pass before we even knew we'd started. After only three days on our bikes, miles were nothing. Distance was merely space. Had we time, we could ride right across the continent.


That afternoon, skimming down through the forest, the trees shuttering by as if we were in a passenger train, we floated into a small clearing suspended in sunlight. In the center of the numinous glade stood three deer: two big four-point bucks and a doe. Their statuesque heads were turned toward us as we slowed to a stop.


They seemed so calm, so poised. I rummaged in my front bag for my camera but kept my eyes on the deer. I couldn't believe they hadn't spooked.


"Wait a minute!" Buzz yelled.


The three of us pedaled over to the deer, and they never twitched an ear or blinked an eye. They were decoys, placed in the meadow by the Colorado Division of Wildlife to catch poachers.


We took a close look. The taxidermist had carefully stitched hide over hollow, lifelike plastic forms.


Each was riddled with bullet holes.