12 National Park Adventures Off the Beaten Path
Summer is prime time in our national parks, and that means crowds—unless you know where to go. From Washington to Maine, here are 12 adventures that will have you exploring the emptiest quarters of our most spectacular landscapes.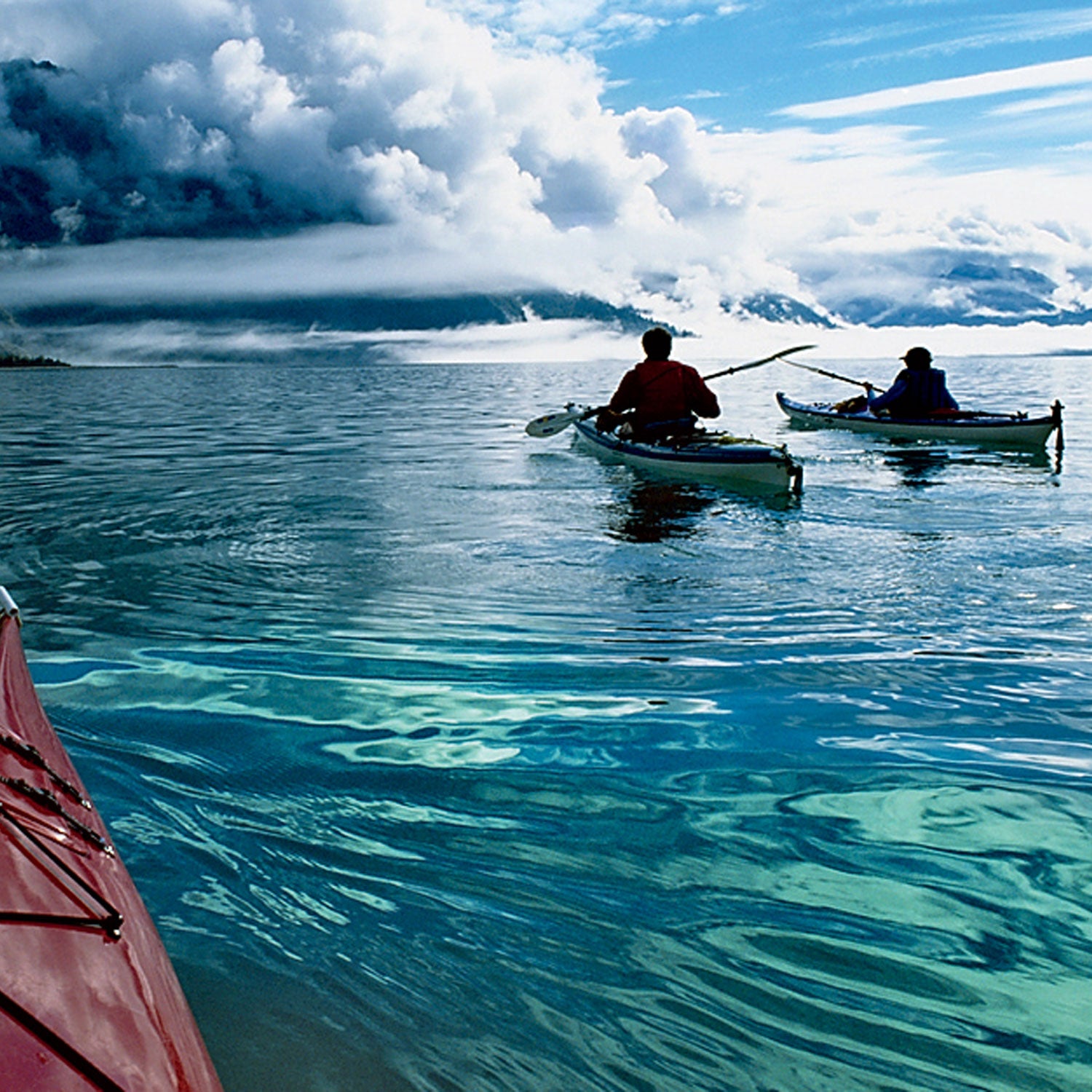 Kim Heacox/Getty
Heading out the door? Read this article on the new Outside+ app available now on iOS devices for members! Download the app.
Is there a way to find fresh adventure in our most iconic (and well-traveled) wildernesses? Actually, there is—turn your next park visit into a quest. From wolf tracking to sand-dune shredding, these nine trips will get you far beyond the ranger station.
Cross the Border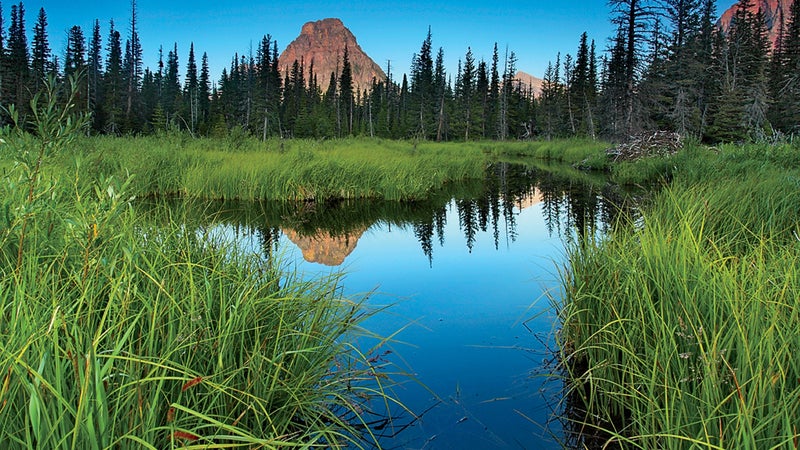 Glacier National Park, Montana, and Waterton Lakes National Park, Alberta
Pack your passport and credit card but keep your panniers light for this six-day mission through the most majestic scenery south of Alaska. Start in Whitefish, Montana, where you can pick up a Jamis bike, panniers, tubes, a pump, and Clif Bars at Glacier Cyclery (rentals, $160 per week), then head east to Glacier and the classic, old-school Lake McDonald Lodge, 11 miles into the park on the famous Going to the Sun Road (doubles, $127). The next day, things get steep and twisty: ride east up Going to the Sun, a 50-mile, switchback-filled monster that climbs on a 6 percent grade before topping out at the Continental Divide, at 6,646-foot Logan Pass. Set out early—you need to reach Logan before 11 a.m., when the road closes to ascending cyclists until 4 p.m. It's all downhill from there to the east side of the park, where you can crash at St. Mary Lodge (doubles, $149) and load up on huckleberry pie at the Park Café. The following day, ride 27 miles to the border crossing at Chief Mountain, then another 19 to the Prince of Wales Hotel, a six-story chalet on the shores of Waterton Lake (doubles, US$234). Take a day to hike around Waterton (try the 7.5-mile Bertha Lake out-and-back), then head south, crossing back into Glacier. Spend your last night at the Many Glacier Hotel on Swiftcurrent Lake to complete your tour of the grand chalets (doubles, $149), and fill up on rib eye—28 ounces of it—at the nearby log-walled Babb Bar Cattle Baron Supper Club. On your final day, catch a complimentary shuttle back over Going to the Sun (climbing it once is enough) from the St. Mary Visitor Center to the town of Apgar, then coast back to Whitefish.
Go Dark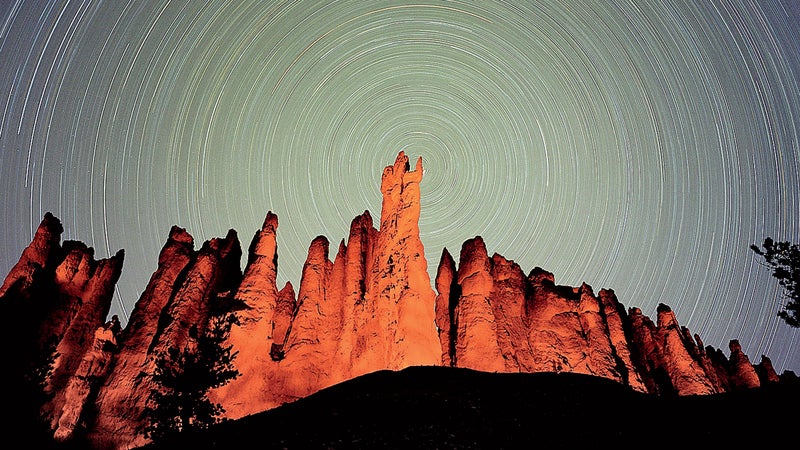 Bryce Canyon National Park, Utah
On May 20, a swath of the American West from Oregon to New Mexico will catch an almost complete solar eclipse. There's no better place to see this spooky phenomenon than Bryce Canyon National Park. Why? In many places, the sun will set before the eclipse is over, but at Bryce it ends just a minute before sunset—meaning that within a two-hour window you'll see the sun set, rise, and set again against the park's surreal hoodoo-studded landscape. Bryce is gearing up with 50 rangers and volunteer astronomy experts, who plan to narrate the event at the parking areas at Bryce Point and Inspiration Point and along the 1.5-mile trail that connects them. We recommend steering clear of all that. Instead, reserve a backcountry site at someplace like Right Fork Yellow Creek, three miles down the Under-the-Rim Trail from Bryce Point ($5), flag down a ranger for a couple of pairs of complimentary solar-viewing glasses (for safely staring directly into the eclipse), and watch the main event among mushroom-like sandstone formations. BYO performance enhancers.
Get Dirty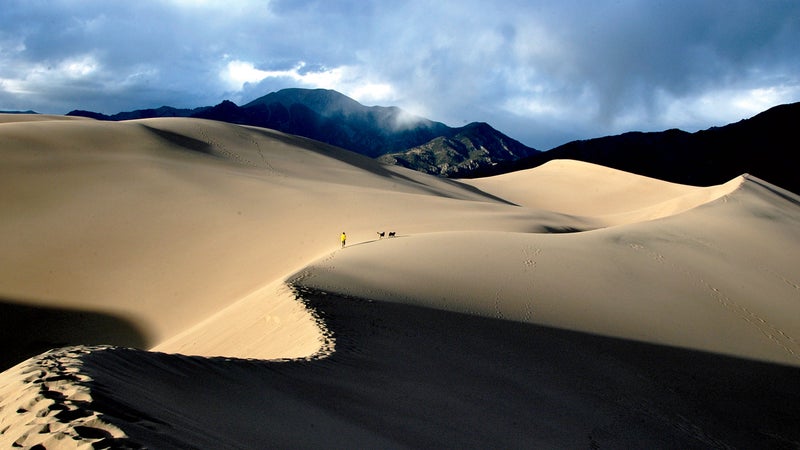 Great Sand Dunes National Park and Preserve, Colorado
Set among southern Colorado's rugged Sangre de Cristo Mountains, Great Sand Dunes National Park is a terrific place to enjoy the splendors of nature. While going really, really fast. Sand sledding and sandboarding are serious business around these parts—the park has 19,000 acres of dunes reaching 750 feet, and they're open year-round. To get the scoop on how to best tear it up, we turned to Lon Beale, a.k.a. Doctor Dune, owner of Sand Master Park in Florence, Oregon. Lon's tips: (1) Leave the plastic saucer at home—sand gouges plastic. You want a sled or (better yet) a board made of high-density thermoplastic. Rent one from Kristi Mountain Sports ($18) in Alamosa, 30 minutes from the park, and they'll throw in a puck of sandboard wax—similar to snowboard wax—which you should rub onto the board every couple of rides. (2) Look for slopes of at least 20 degrees. "If it's 20 degrees, regardless of whether it's good or bad sand, you're gonna slide," says Beale. (3) Most locals head for the dunes close to the Point of No Return parking lot, two miles north of the visitor center. Beware of too-steep dunes, like the 34–degree slopes in the Castle Creek picnic area, which can plummet directly into the bed of Medano Creek. (4) Come early in the summer. Cold sand is fast sand, so skip a July or August visit, when the dunes can be as hot as an Abu Dhabi sidewalk. (5) After you return the rental board, wash the grit out of your throat with a couple of Grande River IPAs at Alamosa's San Luis Valley Brewing Company.
One-Up the Grand
Grand Teton National Park, Wyoming
To climb the 13,770-foot Grand Teton, you need a rack, rope, harness, and the skills to use them safely—or a $1,000 guide. The beauty of the Grand's neighbor, the 12,804-foot Middle Teton, is that it's a lot less likely to kill you, requires no ropes, and offers the same crazy views. (In fact, the view from the Middle Teton is arguably better, since it includes the Grand.) Here's how to do it: Go in August, when all the snow in the southwest couloir—the easiest route—has melted. Pick up a backcountry permit for the Meadows campsites in Garnet Canyon, four miles into the 7.3-mile route ($25). In the morning, head for the saddle between the Middle and South Tetons, then hike 300 feet along the ridge until the southwest couloir comes into view. Get a dawn start so you're off the peak before noon—afternoon storms can rake the summits with lightning. Bonus: from the saddle between the two peaks, tagging the 12,514-foot South Teton adds only 1,000 feet of climbing. After a long descent back to your car at Lupine Meadows, gorge on a calzone and Snake River Lager at Dornans, in the town of Moose, then crash back in town in a cozy cabin at the Alpine House ($195).
Float Free Water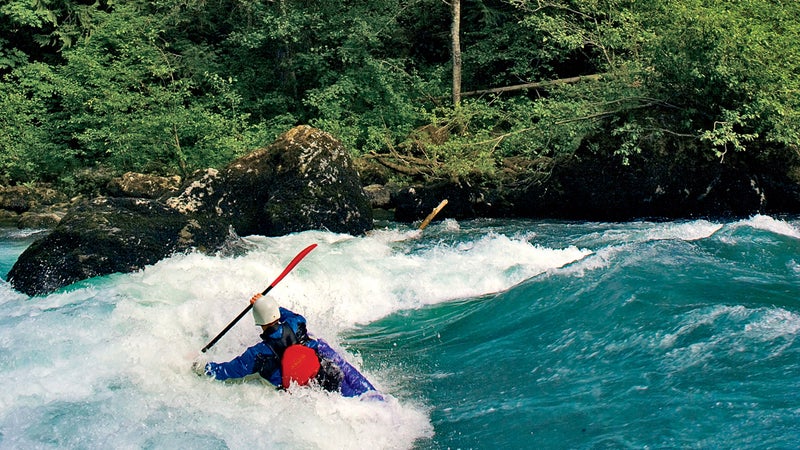 Olympic National Park, Washington
Olympic is in the midst of the largest dam-removal project in U.S. history: the dismantling of the Elwha River's 210-foot Glines and 108-foot Elwha dams, which will free some 70 miles of rollicking whitewater and serious salmon spawning grounds. Celebration is in order. Scope out the demolition derby from the observation spot above Elwha Dam (accessible via the Elwha Dam RV Park off Highway 112), where backhoes are knocking out the century-old plug. Then make for the whitewater. Port Angeles–based Olympic Raft and Kayak runs half-day trips between the two dams, putting in at Altaire Campground and taking out at the Highway 101 bridge, a half-dozen Class III rapids later ($54). Watch for eagles, ospreys, and elk. Your next move: set up shop in a shoreline cottage at historic Lake Crescent Lodge ($262), grab a two-day stand-up paddleboard rental from Olympic Raft and Kayak ($70), and splash around off the dock. Once you're feeling comfortable, make the 1.5-mile paddle across the placid lake to the Devil's Punch Bowl cove for some cliff jumping into the stunningly clear water. Then come back and gorge on pan-seared Muscovy duck breast, washed down with the lodge-brewed Singer's Tavern ale.
Buy Lobster Off the Boat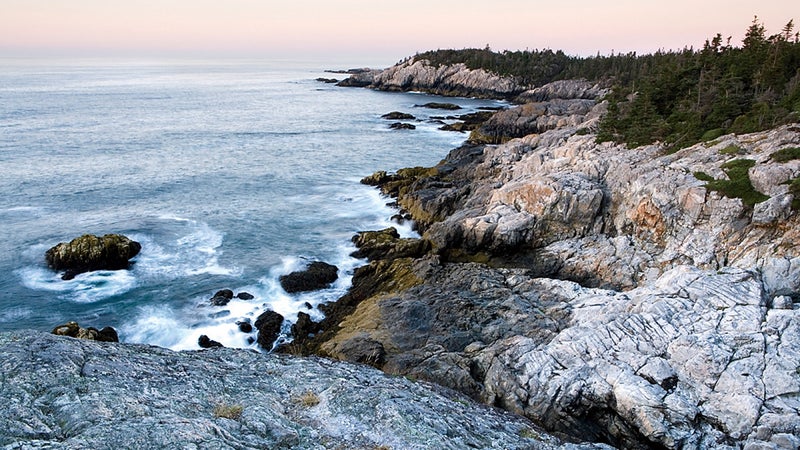 Acadia National Park, Maine
The only thing better than paddling between empty islands for a few days? Doing so on a diet of fresh lobster. Isle Au Haut, a 10.6-square-mile spit of land just off the harbor town of Stonington—and 20 miles southwest of bigger, more exposed (and trafficked) Mount Desert Island—is the perfect base camp for a multi-day island hop among the mostly uninhabited Deer Isle Archipelago. Rent a sea kayak, paddles, a spray skirt, and a chart from Old Quarry Ocean Adventures in Stonington ($58 per day), and stow a big pot in your boat along with your gear bag and stove. Pick up a camping permit online ($25), then paddle six miles to Isle Au Haut, where you can crash in a lean-to at Duck Harbor Campground. Tip: the village (pop. 75) has a great chocolate shop, the Black Dinah. Don't try to circumnavigate Isle Au Haut—the southeast point is exposed, with few safe landings between cliffs. Instead, the next day, head to one of the many nearby sheltered but uninhabited islands, such as Russ, Wheat, or Little Sheep. En route, flag down a lobster boat. There will be plenty: Stonington is the busiest lobster harbor in the country. Expect to pay about $5 per pound; then steam, rather than boil, your haul—it's more fuel efficient and preserves the flavor better. Recipe: bring one inch of seawater to a boil, drop live lobster in, and keep the lid closed for 15 minutes. Serves two, and goes great with a cheap white wine or PBR.
Paddle Among Icebergs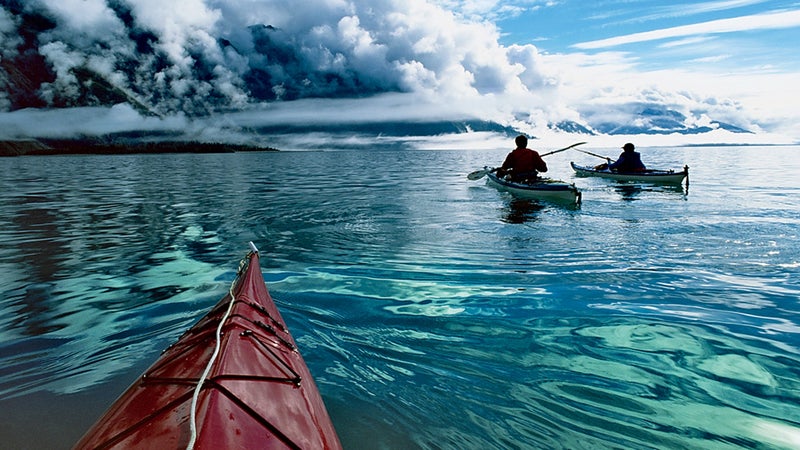 Glacier Bay National Park, Alaska
A 65-mile-long notch carved into 3.2 million acres of protected wilderness, Glacier Bay is like a Whitman's Sampler of Alaskan hallmarks: humpback whales, orcas, seals, eagles, brown bears, and building-size columns of ice plunging into the sea. Since few trails and no roads reach beyond the mouth of the bay, most park visitors arrive on massive cruise ships. But the deck-bound guests aren't allowed into the rugged, narrow fjords of the park's East Arm. From June through August, Alaska Mountain Guides can guide you there on an eight-day sea-kayaking expedition, during which paddlers cover four to eight miles per day, sleeping on empty gravel beaches ($2,200). Guide Nacho Stephens's favorite: the campsite just across from the McBride Glacier, where the inlet is so narrow that the tide rushes in and out at the speed of a flooding river, dragging massive icebergs as it goes.
Climb in Wonderland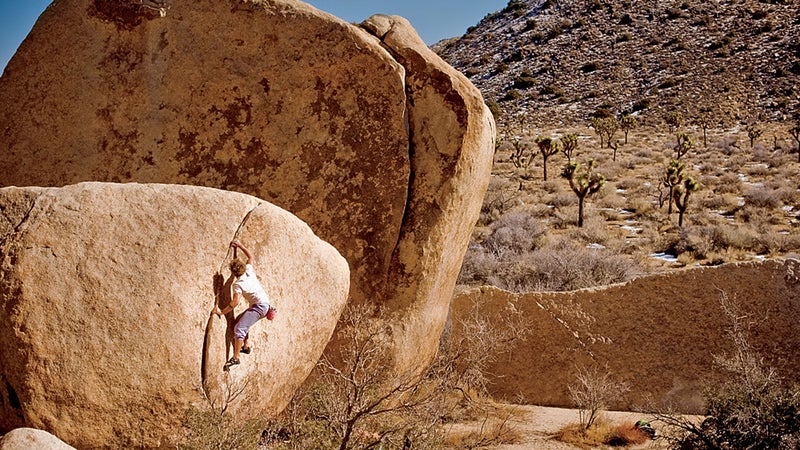 Joshua Tree National Park, California
Most visitors to Joshua Tree are content to traipse around in the desert, gawking at alien plants and strange geologic formations, like aptly named Skull Rock. But if staring up at the rocks leaves you with the jones to stand atop one, pack your harness, rack, and rope. There are more than 7,500 routes here, a mix of bolted and trad, all of them on remarkably clean monzogranite rock. Pitch your tent at the free Hidden Valley Campground (first come, first served), just off Park Boulevard about ten miles from the west-entrance station, and scamper up such classics as the three-pitch, 5.7-rated Walk on the Wild Side. For a little more solitude, park at Keys Corner, along Quail Springs Road, and make the hour hike into the North Wonderland area. The place is lousy with bouldering options. Or get higher on Dos Chi Chis, a fantastic two-pitch, 5.10-rated bolted climb that gets you right to the top of a lumpy crag for killer views of the entire park. New to climbing? REI Adventures hosts three-day beginner camps in spring and fall in the Wonderland backcountry ($660).
See a Wolf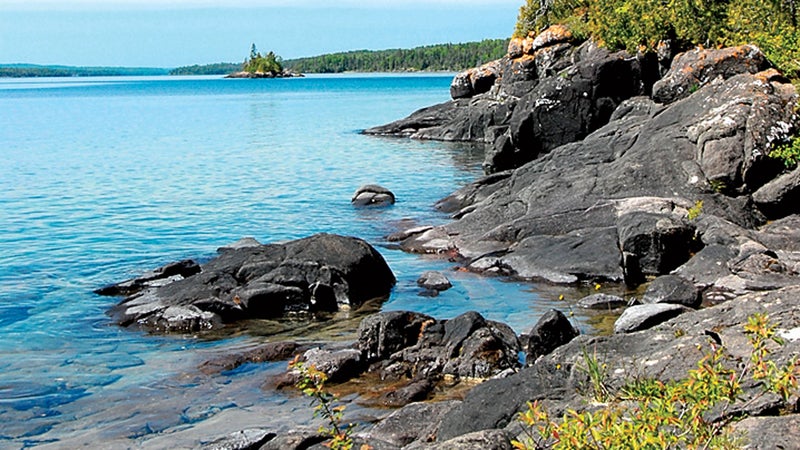 Isle Royale National Park, Michigan
This 45-mile-long, nine-mile-wide wilderness is tough to reach: plopped in the northwest corner of rugged Lake Superior, it's a ninety-minute ferry ride from the nearest harbor. That isolation accounts for the island's most famous residents: a pack of gray wolves whose adventurous ancestors crossed the ice here in 1948 in pursuit of moose. Unfortunately, the pack has dwindled to just 16 members, a result of inbreeding; there are currently only two females, meaning time could be running out for the canines. Take five days to traverse the 40-mile Greenstone Ridge Trail, which spans the island's entire windswept spine, keep quiet, and if you're lucky you'll catch a glimpse of the pack. If not, you're still in the most pristine boreal forest in the lower 48. Ride to Royale from Houghton, Michigan, on the park's ship, the Ranger III, and pick up a free backcountry camping permit onboard (ferry, $100 round-trip; $4 visitor fee per person per day). Then traverse the footpath from the northeast at Lookout Louise to the southwest at Windigo, winding through maple and birch forests and up 1,394-foot Mount Desor, Isle Royale's highest point. There are 36 designated campgrounds—spend a night at Chickenbone Lake, a good swimming spot. Tip: go in late August, when swarming mosquitoes and blackflies are on their way out.
Park and Ride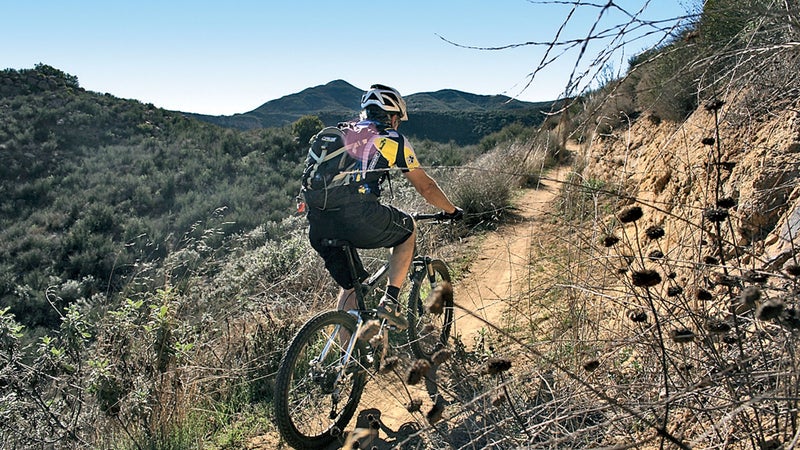 The best bike-friendly trails in the national park system
In 2005, the International Mountain Biking Association (IMBA) announced a partnership with the National Park Service to develop trails in parks. We rejoiced. Since then progress has been limited, due to an annoying regulation that classifies bicycles as motor vehicles. (Ah, bureaucracy.) Nonetheless, the group is hacking through the red tape, recently helping Kentucky's Mammoth Caves National Park to rebuild 12 miles of buff intermediate trail and, this spring, planning to break ground on 13 miles of singletrack in Texas's Big Bend National Park. While IMBA keeps fighting for our right to rip, here's a primer on the best existing bike-friendly trails in the national park system.
Where: Santa Monica Mountains National Recreation Area, California
Terrain: Some 285 miles of rideable dirt—by far the most in the national park system—slicing its way through the rugged highlands overlooking the Pacific Ocean, just 20 miles from downtown Los Angeles. Our pick: the rolling, 21-mile Sullivan Ridge–Backbone Trail loop cruises the divide between L.A. and the San Fernando Valley.
Nearest Rental: Topanga Creek Bicycles; $50 per day
Where: Big South Fork National River and Recreation Area, Tennessee
Terrain: Five trails with 38 miles of singletrack. Link the John Muir and Grand Gap trails for a 19-mile loop that skirts the edge of a sandstone gorge.
Nearest Rental: Tennessee Valley Bikes in Knoxville; $40 per day
Where: New River Gorge National River, West Virginia
Terrain: A new superbuff 13-mile intermediate trail complex winds through hardwood forests. Start on the Arrowhead Trail.
Nearest Rental: Fayetteville's New River Bike; $35 per day
Trending on Outside Online