The 18 Best State Parks in the U.S.
These state parks offer everything you're looking for in a national park, only fewer crowds. See our top choices for wildlife, wilderness, solitude, and more.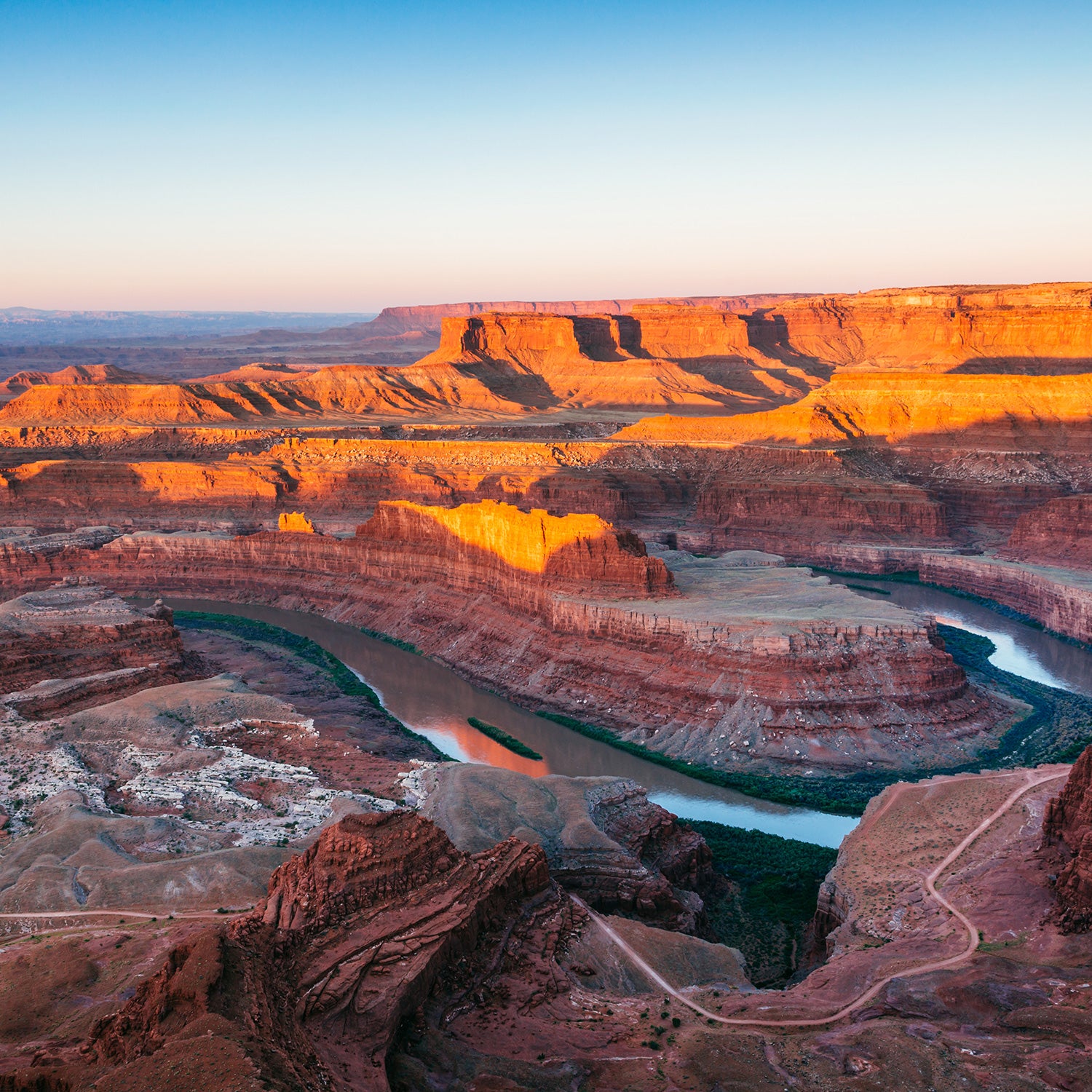 Matteo Colombo/Getty
Heading out the door? Read this article on the new Outside+ app available now on iOS devices for members! Download the app.
State parks get a bad rap. While national parks get dubbed "America's best idea" and the full Ken Burns documentary treatment, the state-park system scattered throughout the U.S. is treated as an afterthought. Yet, the best state parks are every bit as spectacular as their national park counterparts.
At worst, people consider our state parks as sanitized landscapes full of nature trails and RV-laden campgrounds. These parks are treated as possible side trips while someone is visiting a national park.
"It's true, state parks get less attention," says Rachel Norton, executive director of the California State Park Foundation, a non-profit dedicated to enhancing California's extensive state park system. "What you don't realize is that there are all of these wonderful state parks around the country protecting similar landscapes, and you might not even be aware of them."
How Many State Parks Are There?
There are 6,972 different state-park units in this country protecting more than 14 million acres of diverse landscape, from coastal forests to arid deserts. Some of my most memorable adventures have been inside state parks, like searching off-trail for the wreckage of a plane crash in Mount Mitchell State Park in North Carolina (and yes, we found it!) and catching the perfect right break in Torrey Pines State Beach, near San Diego.
Friends and I have surfed sand dunes at Jockey Ridge State Park in North Carolina and found wild ponies in Virginia's Grayson Highlands State Park, and I got caught with my family in a sandstorm at Dead Horse Point State Park in Utah.
State parks play a lot of roles. Some of them are sandwiched inside urban landscapes, offering quick access to nature for urbanites. Some are incredibly wild and hold some of the most exciting terrain in the U.S.
We asked local experts to find the state-park units that offer what we all seek outside, whether that's solitude or mountain peaks or wildlife.
Here are our 18 favorite state parks and adventures in them.
Best State Parks for Wildlife
Custer State Park, South Dakota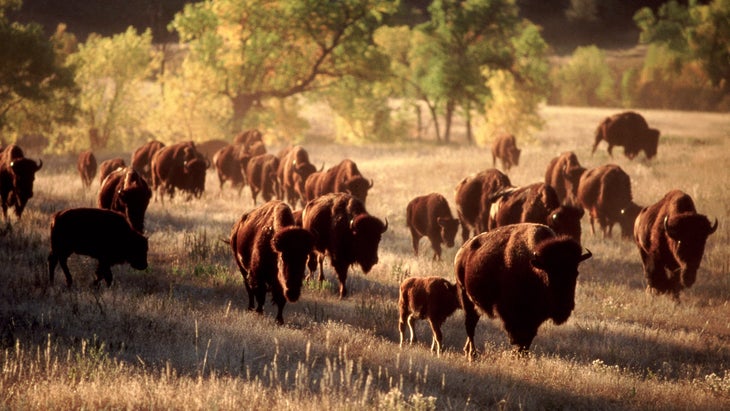 Parts of South Dakota may be a frozen tundra in winter, but come summer the state offers an attainable array of rugged hills, towering peaks, cliffs, and shimmering plains. It's the Wild West the way the Wild West used to be.
Custer State Park protects 71,000 acres between Wind Cave National Park and Mount Rushmore National Monument. The terrain is classic Black Hills, with mountains rising above 7,000 feet, ice-cold remote lakes, and an endless supply of granite cliffs and spires. And oh yeah, there are prairies—vast expanses of grass that support many safaris' worth of wildlife.
Custer State Park's big draw is the bison herd, well over 1,300 strong. The massive mammals, which can grow to be six feet tall and 2,000 pounds, are alone worth the trip, giving the park a frontier vibe.
Bison are just one piece, though, of the menagerie in Custer, where the prairies and pine forests support healthy populations of bighorn sheep, elk, and antelope. There's even a hardy band of wild donkeys, famous for begging food off visitors.
Best time to visit: May to September
Entrance fee: $20 per vehicle for 7-day pass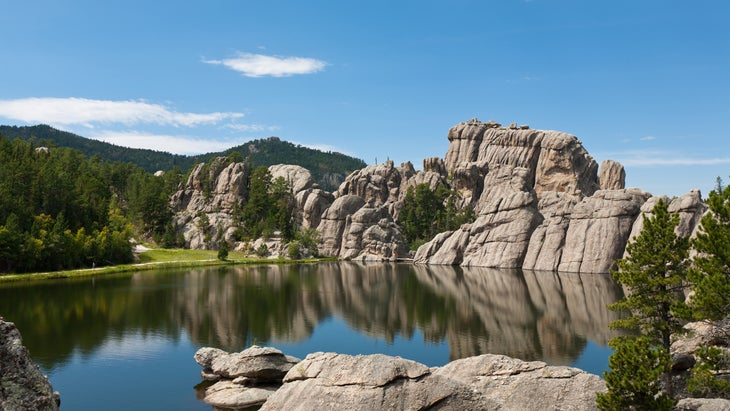 Signature adventure: Many people drive the 18-mile Wildlife Loop Road through the park's open grasslands and pine forests to catch a glimpse of the wild locals (there are even open-air safari tours), but it is best experienced from the seat of a road bike.
"It's a great bike ride," says Kevin Quinn, owner of Black Hills Tours, which leads photography, cycling, and hiking tours throughout the area. The bison often lumber into the road, he adds. "It can be a little intimidating the first time you see a bison from the seat of your bike," he says, "but you'll be fine. The bison are used to cars, but scared of cyclists, so they tend to run away when you pedal through."
More adventure: There's much more than just photographing beasts in Custer. Black Elk Peak (7,244') is the highest east of the Rocky Mountains. A few different trails ascend it, but the classic route is to combine Little Devils Tower Trail, Cathedral Spires Trail, and Norbeck Trail with Trail #9 for a 7.9-mile round trip that begins on the edge of Sylvan Lake and climbs 1,100 feet in elevation to the lookout tower at the top of Black Elk. The trail passes through the Black Elk Wilderness area, where ponderosa pines loom tall, and has you scrambling up rock outcroppings for big views into the Black Hills.
Custer State Park also has a lifetime of granite cliffs and spires to explore. The Needles, a collection of towers and spires, has attracted hardy climbers since the mid-40s who have established almost 700 routes, ranging from 5.3 to 5.13. A lot of the classic climbs are in beginner-friendly grades but require solid traditional climbing skills, so hire a guide if you're not comfortable setting protection and anchors. The three-pitch East Face of Spire 2, one of the original routes established in the park, climbs 250 feet to the true summit of the spire for a dramatic view of the entire park.
Antelope Island State Park, Utah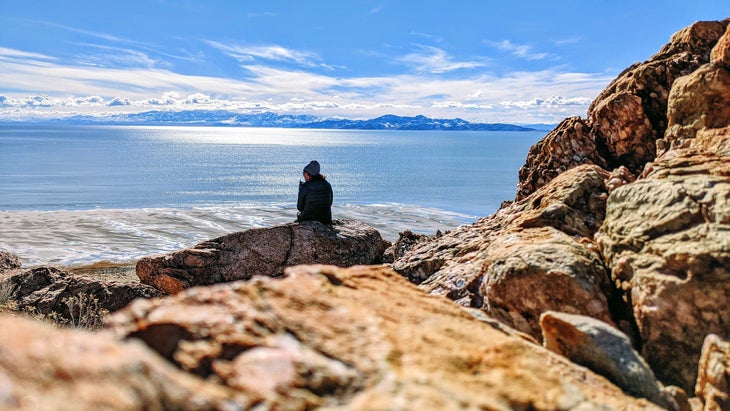 Antelope Island is a 42-square-mile hunk of land on the southern edge of the Great Salt Lake that, at low water level, becomes a long peninsula. Hence the island has become a sort of Noah's Ark, boasting robust populations of bison, bighorn sheep, pronghorn, and coyotes. For a bird's-eye view of Antelope and the Great Salt Lake, hike the Frary Peak Trail, a 7-mile round trip that climbs 2,000 feet to the top of the highest peak on the island.
Edward Ball Wakulla Springs State Park, Florida
Florida boasts a jungle-like ecosystem full of natural springs and wildlife. Edward Ball Wakulla Springs is home to one of the world's largest and deepest freshwater-spring systems, which is surrounded by an old-growth cypress swamp. It's a recipe for habitation by big animals, and visitors can see reptiles galore, from gators to giant manatees. A boat tour into the swamp almost guarantees sightings of both, but spend some time swimming and snorkeling in the always-70-degree water of the spring.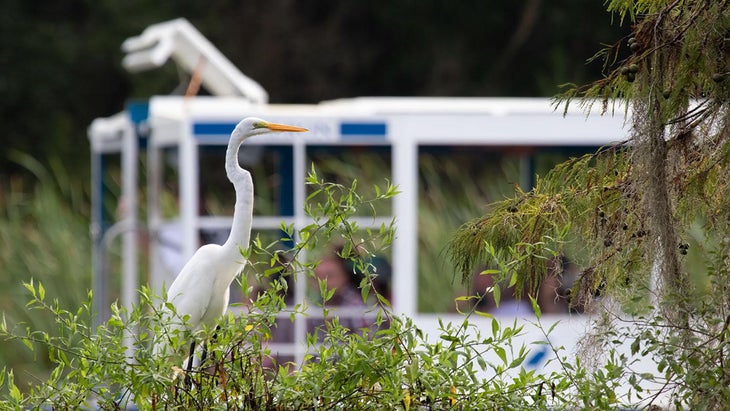 Best State Parks for Wilderness
Baxter State Park, Maine
You could easily argue that Baxter State Park deserves full-fledged national-park status. The 209,644-acre wilderness is a cacophony of remote peaks (more than 40), backcountry lakes, streams, full-day rock-climbing routes, and more than 215 miles of hiking trails including the dramatic northern terminus of the Appalachian Trail. Baxter has the awe-inspiring terrain you'd expect from a national park, but is sleepy, blissfully under-developed, and as primitive now as when it was established in 1931.
"The mission of the park is to protect the landscape over the recreation," says Paul Sannicandro, a registered Maine Master Guide and owner of Moose Woods Guide Service, which leads backpacking and canoeing trips throughout Baxter. "It's preservation first, recreation second, so the terrain is really wild."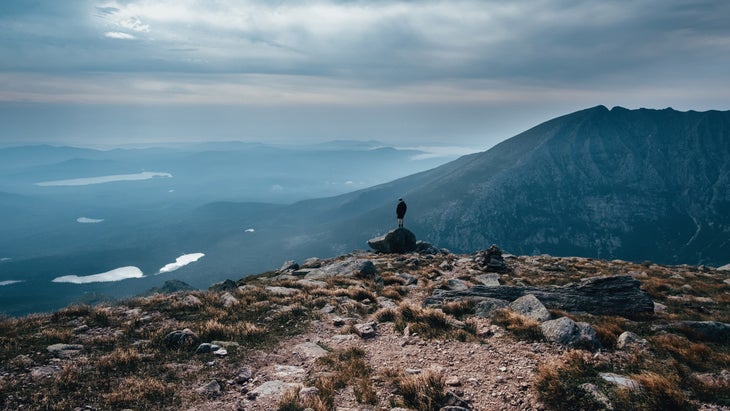 Forget the resort-like amenities that you might find in other state parks: the lodging facilities in Baxter are bare bones, usually without electricity or indoor showers. You'll find an extensive system of trail shelters throughout the park, but no grand lodge or restaurant. You're expected to bring everything you need, and take it back out when you're done. Even the roads are scarce, mostly gravel, and designed to skirt the edges of the park to keep the heart of the wilderness area intact. There are no scenic drives or pull outs with views; if you want to explore this place, you're doing it on foot.
Best time to visit: May to September for the best weather, October if you want fall color
Entrance fee: $16 per vehicle
Signature adventure: Hike Mount Katahdin
There are more than 215 miles of hiking trails in the park, but climbing to the summit of Mount Katahdin, the 5,267-foot-high point in Maine, is a must-do. Start early and leave from the Roaring Brook campground, combining the Helon Taylor Trail, Knife Edge, Saddle, Hamlin Ridge and Chimney Pond Trails for a 10-mile loop, and you'll be able to bag the park's other highest peaks, 4,919-foot Pamola and 4,756-foot Hamlin Peak, along the way.
It's an arduous adventure, gaining more than 4,000 feet, but much of it is above tree line, including the mile-long "Knife Edge," a razor-back ridgeline of granite that approaches Katahdin's summit. Be sure to reserve a parking spot at one of three Katahdin parking lots ahead of time.
Other Adventures: Baxter offers multi-pitch rock climbing in remote locations. Most of the climbing is located near Chimney Pond, which has a small ranger station where you'll need to register your climb. The Armadillo (5.7) offers classic alpine climbing that will test your skills on cracks, steep faces, ridgeline scrambling, and mega exposure. It's a six-pitch affair that is guaranteed to take you the better part of a day, especially considering the two-hour approach bushwhack, which is half the fun and full of boulder hopping and stream wading. Bring a headlamp and a way to filter water.
Sample the park's dazzling array of backcountry lakes at Wassataquoik Lake, a 178-acre pond in the middle of Baxter, offering both backcountry camping and paddling. Moose frequent the area, so keep your camera at the ready, and there's no need to lug a boat with you; you can borrow a canoe from the backcountry ranger outpost for just $8 a day.
Porcupine Mountains Wilderness State Park, Michigan
Locals call the region "the Porkies," but don't let the fun nickname fool you, Porcupine Mountains Wilderness State Park is serious business, encompassing 60,000 acres on Michigan's Upper Peninsula, including 35,000 acres of old-growth forest, one of the largest such tracts in the middle of the country.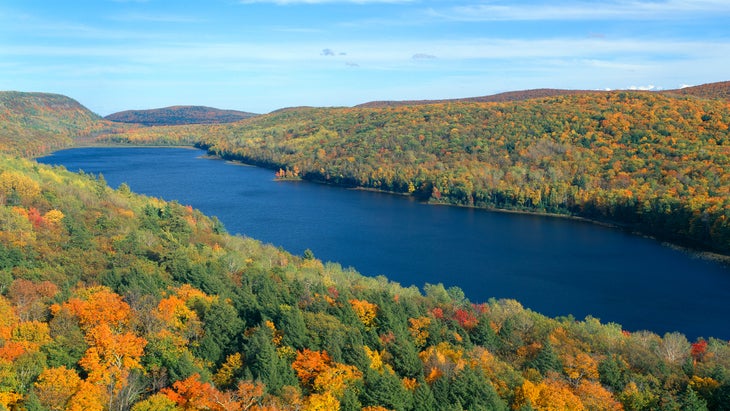 The landscape stretches from the shoreline of Lake Superior to the 1900-foot peaks of the Porkies, with a myriad of backcountry lakes, waterfalls, and hiking trails in between. Backpacking loops abound. Start your trip with the 8.1-mile Big Carp River Trail, which travels from the banks of Lake Superior into the park, ending at Lake of the Clouds, a 133-acre backcountry lake with campsites and options for longer traverses.
Chugach State Park, Alaska
This is Alaska, so you know Chugach State Park is gonna be big. At 450,000 acres, it's one of the largest state parks in the country, encompassing an almost perfect slice of Alaska—from rugged coast to the towering Chugach Mountains—just a few miles from Anchorage.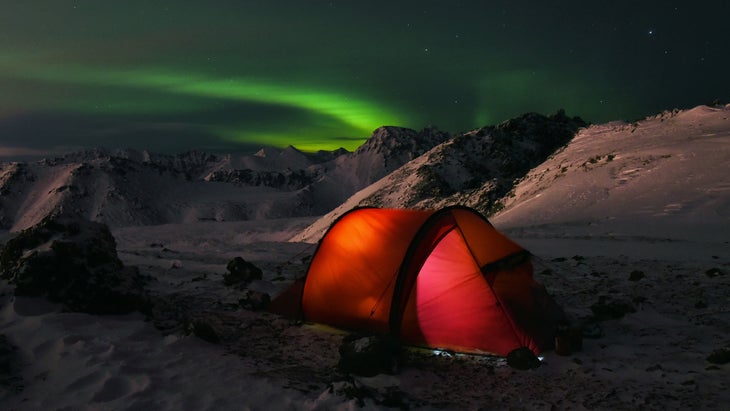 The landscape is surprisingly accessible, with more than 280 miles of designated hiking trails. Consider tackling the Crow Pass Trail, which runs from Girdwood to Eagle River, following the Iditarod National Historic Trail route. It's 25 miles long and hits the highlights, from waterfalls to glaciers.
Best State Parks for Dramatic Landscapes
Ecola State Park, Oregon
Ecola State Park isn't large—only 1,023 acres—but it's prime real estate, encompassing the majority of Tillamook Head, a prominent cliff line that rises 1,000 feet above the Pacific Ocean in northern Oregon. The park protects nine miles of undulating coast and rainforest, offering the moody atmosphere and lush terrain of Washington's Olympic National Park, but in a condensed space that you can easily explore in a couple of days. Adventurers have two main beaches to choose from, each with a small network of hiking trails, including a piece of the Oregon Coastal Trail, and beach breaks that are ideal for beginner surfers.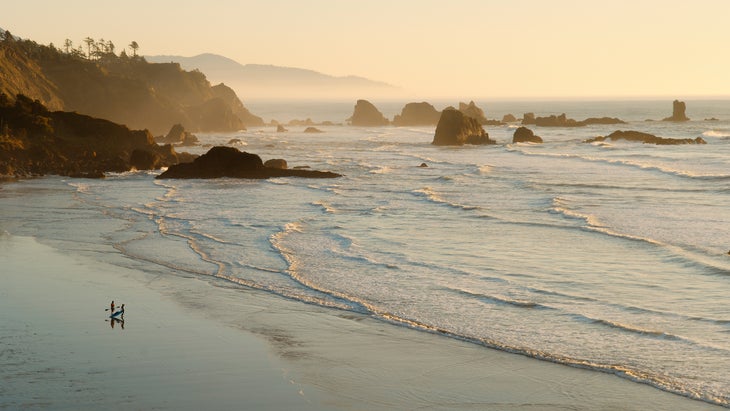 "There aren't many places in the world where you can surf next to a rainforest," says Lauren Ahlgren, a local who grew up exploring Ecola State Park and now owns Oregon Surf Adventures. "You're on your board between sea stacks and the beach, and you look up, and there are century-old cedars towering above."
The forest is comprised of old-growth and second-growth spruce and hemlock trees and an understory dominated by vibrant ferns. Make it to the grassy bluffs overlooking the Pacific and you'll see sea stacks popping out of the surf and sandy, half-moon shaped beaches at the base of the cliffs. The scene is moody and dramatic and drop-dead gorgeous. Tilamook Head was the last stop of the Lewis and Clark expedition. Legend has it that when Clark saw the view, he said, "I behold the grandest and most pleasing prospect which my eyes ever surveyed."
Best time to visit: Summer brings highs in the 70s, but September and October offer good surf, dry trails and fewer crowds.
Entrance fee: $5 parking fee
Signature Adventure: For the full experience, hike the park's eight-mile section of the Oregon Coast Trail. You'll move from thick spruce rain forest to tall cliffs with long-range views of the Pacific Ocean, where you can see the decommissioned Tillamook Rock Lighthouse, perched atop a sea stack. You might even spot a gray whale. The only catch: there's no overnight parking at either trailhead, so this is a big, 16-mile out and back.
More Adventure: Indian Beach has consistent breaks that can get heavy during the winter, but suit beginners in summer. Get board rentals or lessons from Oregon Surf Adventures, in Seaside. Hike the 1.1-mile Crescent Beach Trail, which leads to a secluded beach walled in by two headlands. The hike oscillates between spruce forest and grassy bluffs, with a great view of Sea Lion Rock, a large sea stack with a natural arch. Keep an eye out for elk, which tend to gather in the meadows atop the cliffs. Visit either beach at low tide and you can spend hours exploring the tidepools, which collect vibrant starfish and sand dollars.
Makoshika State Park, Montana
Makoshika is native Lakota for "bad earth," but another translation might be "badass earth." This Montana state park covers 12,000 acres of mudstone and sandstone badlands that form hoodoos, bridges, arches and caprocks in what looks like the landscape from a sci-fi movie. You may also find fossils of dinosaurs, like the tyrannosaurus and triceratops. Hike the 1-mile Kinney Coulee Trail, which forms a lollipop loop as it drops steeply into a coulee (deep ravine) passing some of the park's most distinct rock formations.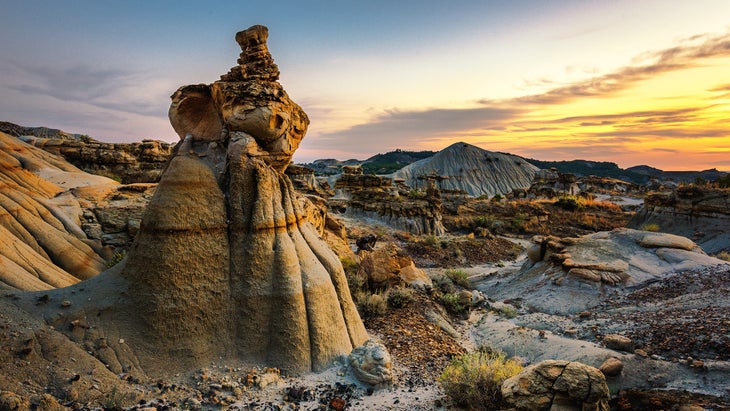 ---
Valley of Fire State Park, Nevada
Nevada's largest state park, the 40,000-acre Valley of Fire, is a showcase of sandstone outcroppings that rise from the crusty soil of the Mojave Desert. Catch those rocks at sunset, and they turn such a bright shade of red the whole valley looks like it's on fire. As if that's not enough, petroglyphs inside the park date back 2,000 years. See some of the highlights on the 1.1-mile White Domes Trail, which forms a loop past giant white domes (duh), caves, and slot canyons. 
Best State Parks That Feel Like National Parks
State Forest State Park, Colorado
Don't be discouraged by the bland name; State Forest State Park is anything but boring. The 71,000-acre park protects a sweet chunk of the Medicine Bow Mountains and Never Summer Range, sharing a border with Rocky Mountain National Park. The terrain is staggeringly diverse, ranging from 12,000-foot granite peaks to groves of aspen to sand dunes. Seriously, sand dunes.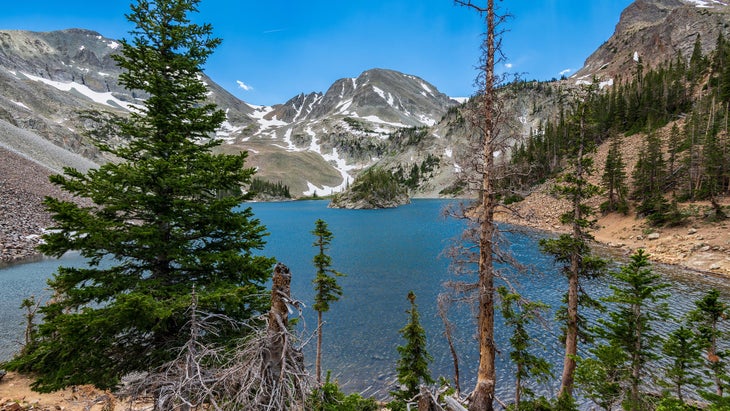 State Forest State Park is like a mini Rocky Mountain National Park, boasting its own collection of 11,000- and 12,000-foot peaks, high-alpine backcountry lakes, and a solid population of moose, but a fraction of the crowds. You can even walk from Rocky Mountain National Park to State Forest State Park and vice versa by hiking over Thunder Pass.
"I see more moose than people out here," says Mike Soucy, a guide with Colorado Mountain School. He leads trips into State Forest State Park throughout the year, from backcountry ski tours in the winter, to mountain biking and mountaineering forays in the summer. "It's a longer drive to get here from the Front Range compared to Rocky Mountain National Park," Soucy says, "but it's worth it."
Entrance fee: $10 per vehicle
Best time to visit: Anytime. Winter and early spring bring cross-country and backcountry skiing, fall means colorful aspens, and summer is prime backpacking and fishing.
Signature Adventure: Exploring Lake Agnes, in the southern corner of the park, is the most popular adventure, partly because the access is so straightforward (it's just a 1.6-mile out-and-back hike), but also because it's stunning. The alpine lake sits at 10,600 feet, surrounded by granite peaks, including the Nokhu Crags, where bald eagles often circle. A rocky island pops out of the middle of the lake, complete with its own evergreen forest. Bring a fly rod, as the lake supports a population of wily cutthroat trout.
Other Adventures: Ruby Jewel, Kelly Lake, and Clear Lake are a trio of remote, high-alpine lakes deep in this park's backcountry. The 16-mile loop to Kelly Lake makes for a beautiful backpacking trip that combines the Ruby Jewel and Hidden Valley Trails, passing through lush meadows and scree fields before reaching the rocky shores of Kelly Lake, which is nestled inside a glacial cirque. The Mendenhall Route climbs 2,000 feet in eight miles on its way to the North Sand Hills Recreation Area, an area of open sand dunes, where OHV trails extend into BLM land.
Dead Horse Point State Park, Utah
Sitting between Arches and Canyonlands National Parks, Dead Horse Point is easy to overlook, but when Arches sees standing-room-only crowds, you'll still be able to cruise on into this 5,632-acre state park. What will you get for the effort? Postcard-worthy views. The park sits on a plateau 2,000 feet above the Colorado River, offering views that rival those of either of its neighbors. Meander along the 2.5-mile West Rim Trail for some rock-hopping with views of the Colorado River's "Horseshoe Bend," or pedal the 17-mile Intrepid Trail System, a tangle of singletrack with the area's signature slickrock terrain and views into Canyonlands National Park.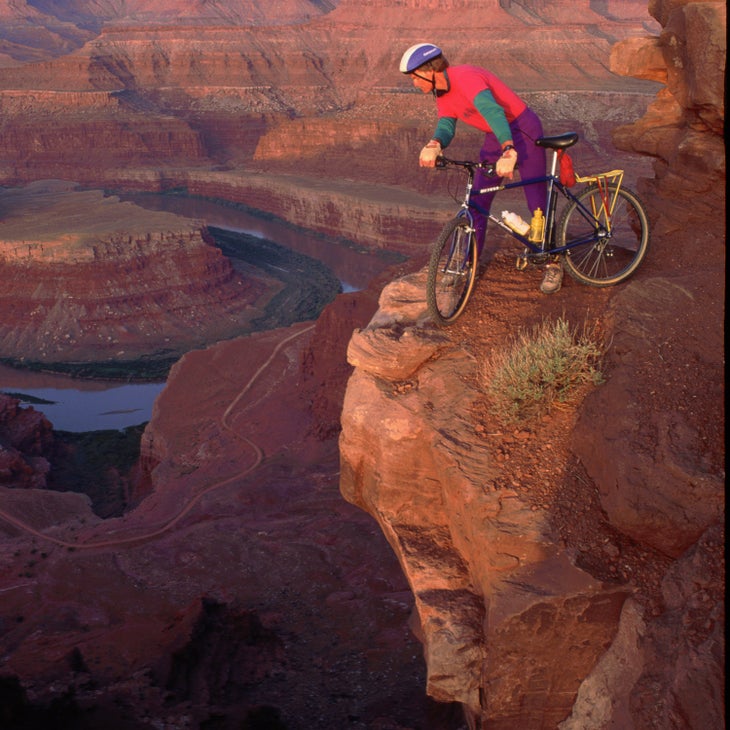 Big Bend Ranch State Park, Texas
Big Bend is the name given to the region of far-west Texas where the Rio Grande forms a massive "U" between the United States and Mexico. Big Bend National Park is a vast expanse of desert, mountains, dry washes, and one solitary hot spring. Big Bend Ranch State Park sits right next door, offering 311,000 acres of canyons, mountains, and rolling desert, not to mention the occasional oasis and 238 miles of trails for hiking, horseback riding, and mountain biking. See a lot of the park on the 54-mile Fresno-Sauceda Loop, an IMBA-designated Epic ride that winds through Chihuahuan Desert terrain, past abandoned mines, and over an entire hill covered with shiny crystals.
Best State Parks for Solitude
Na Pali Coast State Wilderness Park, Hawaii
On the island of Kauai, Na Pali Coast State Wilderness Park protects 16 miles of dramatic coast full of towering cliffs that rise 4,000 feet above the Pacific Ocean. Interspersed between those cliffs are white sandy beaches, lush green valleys, and steep ridgelines highlighted by waterfalls. There are some ruins from early settlements, but otherwise the land is exactly how it has been for centuries. It is scenic, rugged, and completely void of any of the facilities you might expect from a state park.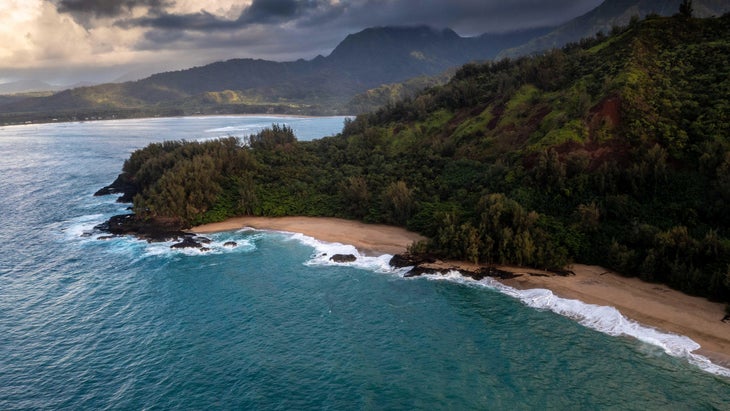 Na Pali is not large, just 6,175 acres, but the landscape sets the standard for what Hawaii's rugged coastline should be. Maybe more important for the hardy few who find themselves inside this park, you have to work really hard to get there. Na Pali Coast State Wilderness Park is only accessible by foot or boat. There's not even a road entering the park; the Kuhio Highway ends at neighboring Ha'ena State Park. From there, you have to hike two miles south on the trail before you even enter Na Pali Coast State Wilderness Park. The isolation is enticing for those seeking solitude.
Entrance Fee: $10 per vehicle for non-residents at Ha'ena State Park. Parking reservations required, or many people take a shuttle.
Best time to visit: The hiking is great from May to October, and summer brings calm seas for kayakers.
Signature Adventure: Hiking the Kalalau Trail. The 11-mile Kalalau is one of the only established trails inside the park, beginning at Ke'e Beach in Ha'ena State Park and ending at Kalalau Beach. Hiking the entire trail as an out and back is at least a two-day endeavor with big, 800-foot climbs as the trail rises out of verdant valleys to the ridgetops. Optional side trips will take you to more waterfalls, but the real destination is Kalalau Beach, where you can camp if you have a permit. See reservations information here and find a camping permit here. Permits are available 90 days in advance.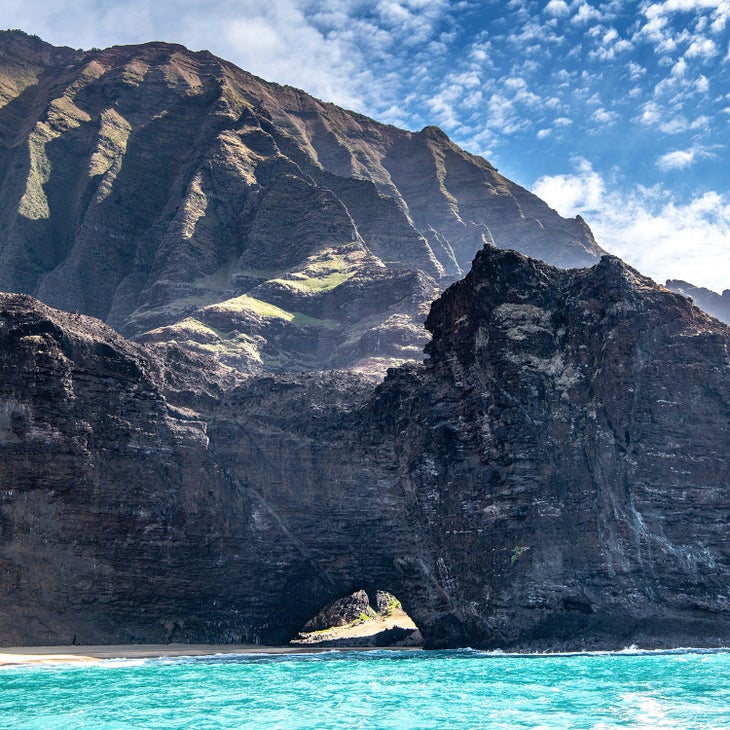 More Adventure: If you're not up for the full Kalalau Trail, while the first two miles won't offer solitude, they are a great day hike. Go the first two miles from Ke'e Beach to Hanakapi'ai Valley and beach, and catch a 2-mile spur trail to the 300-foot Hanakapi'ai Falls. Anything beyond will be quiet but you would need a camping permit to proceed at all. Kayaking the coast is allowed from May 15 to September 7, but you'll need a permit to land your boat at specific points within the state park. Boaters will paddle 17 miles to Ha'ena State Park to Polihale Beach, following the currents. You'll get a waterline view of the towering cliffs, explore sea caves, and stop at the occasional remote beach. We recommend hiring a local guide.
Anza-Borrego Desert State Park, California
The biggest state park in California, and one of the biggest in the country, the 585,930-acre Anza-Borrego is a mix of cactus-laden desert, palm oases, mountain ridges, and slot canyons. The majority of the park is only accessible by 4WD vehicle (or a really, really long walk). An easy but memorable front-country hike begins at the Borrego Palm Canyon Campground, traversing 1.5 miles into a canyon filled with leafy palms and underground springs. For true solitude, bring your overlanding rig and explore the 500 miles of dirt roads crisscrossing the backcountry.
Adirondack Park, New York
Technically, Adirondack Park isn't part of the state park system, but it is a park managed by the state, so we're including it here. Because at 6.1 million acres, it's the largest piece of protected land in the lower 48. Roughly half of that is managed by the state, and the other half is a progressive example of private conservation that allows people to live and work in the thriving communities dispersed throughout the park.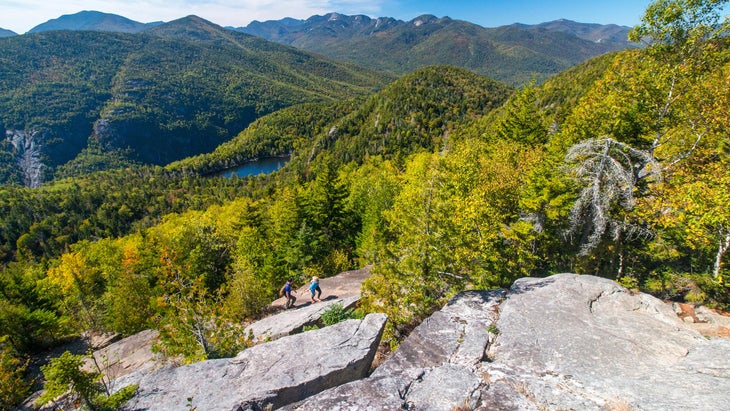 Canoeing and hiking are the traditional recreation options in Adirondack Park, and even just endeavoring to do those two activities can be overwhelming considering the size. Options for solitude abound. We like Avalanche Lake, in the heart of the High Peaks Wilderness Area. The skinny, half-mile-long lake is surrounded by granite cliffs and requires a 12-mile out-and-back hike from Adirondack Mountain Club's Adirondak Loj.
Best State Parks for Spectacular Flora
Humboldt Redwoods State Park, California
At 53,000 acres, Humboldt Redwoods State Park is one of the largest state parks in California, protecting a tract of coastal Sequoia forest (aka redwoods) with more than 100 trees over 300 feet tall. Hikers have more than 100 miles of trail to choose from, two large rivers are full of sandbars and fish, and the park holds some of the most scenic forest roads in California. But it's the trees that people show up for. A number of state and national parks in California protect old-growth redwoods, but Humboldt is the epicenter, guarding 17,000 acres of old-growth redwood forest, the largest expanse of ancient redwoods in the world.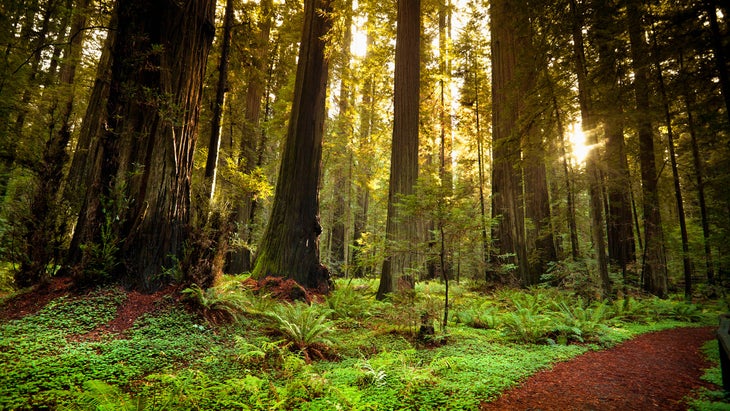 "Usually, state parks are pretty cool and the national park is the grandiose experience, but here in the redwoods, it's the opposite," says Justin Legge, a naturalist who leads tours throughout Humboldt County. "Our state parks were protected earlier and they have the best of the best trees. The redwoods inside the Redwood National Park are scattered. But the forest inside Humboldt Redwoods State Park is the largest interconnected stand of old-growth Sequoias in the world. It stretches for miles." 
Entrance Fee: No entrance fee, but the Williams Grove Day Use Area charges $8 per vehicle for parking.
Best time to visit: Summer for swimming, fall for fishing, winter for solitude. Check the above website, as landslides caused by this year's winter storms have closed portions of the park.
Signature adventure: Driving the 32-mile-long Avenue of the Giants, a scenic road that takes you by 300-foot-tall redwoods, is the main attraction inside the park. The trees are awe-inspiring, and from the road you can take some easy hikes, like the 1.3-mile trail through Founder's Grove, which passes the Dyerville Giant, a 362-foot mammoth that fell in 1991.
More Adventures: Avenue of the Giants actually traces the border of the park. To experience the forest, you need to get off the main thoroughfare. Bring your road bike and pedal Mattole Road, a five-mile, narrow road through Rockefeller Forest, the heart of the old growth inside the park. Stretch your legs at the Big Tree Area, a day-use spot with some of the largest trees in the park.
For a longer adventure, hike the Bull Creek Flats Trail, an 8.6-mile loop that passes through the tallest tree canopy in the country, requiring a couple of river crossings along the way. As impressive as the forest is, the rivers that cruise through Humboldt Redwoods State Park might be even more so.
Salmon and steelhead trout are found in the South Fork and main stem of the Eel River every fall and winter (catch and release only), and the waterways are chock full of sandbars and swimming holes. Check out Leatherwood Bar, across from the Founders Grove, or Eagle Point, a beautiful bend in the river near Hidden Springs Campground.
Caddo Lake State Park, Texas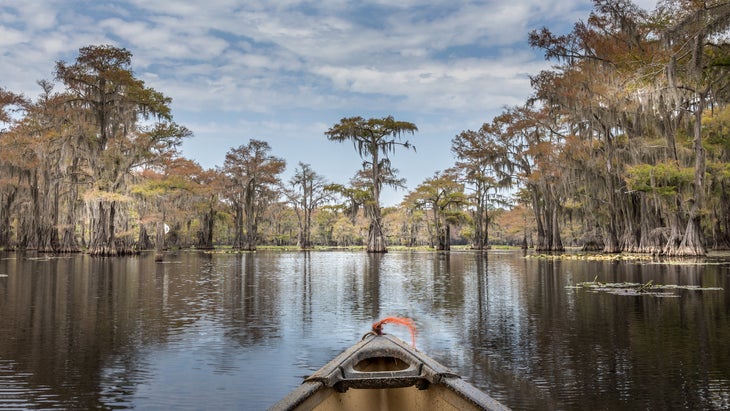 Sitting on the eastern border of Texas, Caddo Lake State Park is more water than land, with a 26,000-acre lake that's downright spooky thanks to the expansive grove of bald cypress rising from the calm black water. It's the largest intact cypress forest in the world and one of the few forests that is best explored by boat. Bring a canoe or kayak and paddle the Big Cypress Bayou, a channel that winds through towering cypress with expansive knees rising from the water.
Catalina State Park, Arizona
The saguaro cactus is a marvel of evolution, carving a long life for itself out of the inhospitable desert. The cactus can live up to 200 years and reach 50 feet in height, weighing more than two tons when it's full of water. Catalina State Park, a 5,500-acre slice of desert, canyons, and hills, claims more than 5,000 of these prickly beauties. You'll see them at every turn. Try hiking the Romero Canyon Trail, a 7.2-mile point-to-point that climbs through a series of seasonal washes up to the 6,000-foot-high Romero Pass.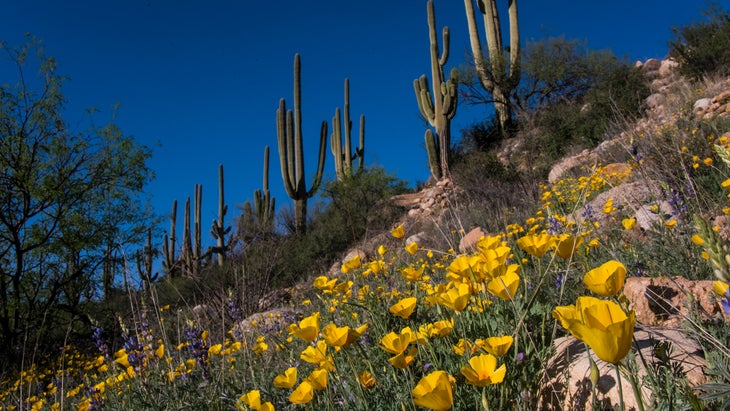 Graham Averill is Outside Magazine's national parks columnist, but some of his favorite adventures have happened inside state parks. He's explored coastal sand dunes and crystalline springs in Florida state parks, navigated miles of singletrack in Utah's state parks, and, in a South Carolina state park, fought off a feisty raccoon that was stealing his cooler. His favorite state park right now is Mount Mitchell State Park, near his home in Asheville, North Carolina.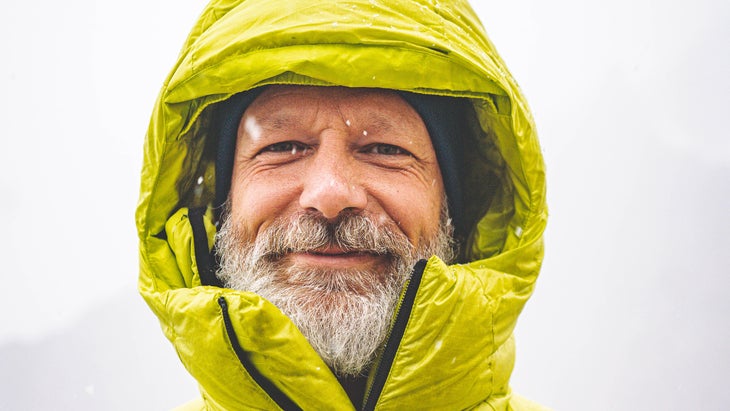 Lead Photo: Matteo Colombo/Getty