The Daily Rally
Mikah Meyer Chooses to Be Visible
While the adventurer was on a record-setting road trip, a message from a fan made him realize the importance of coming out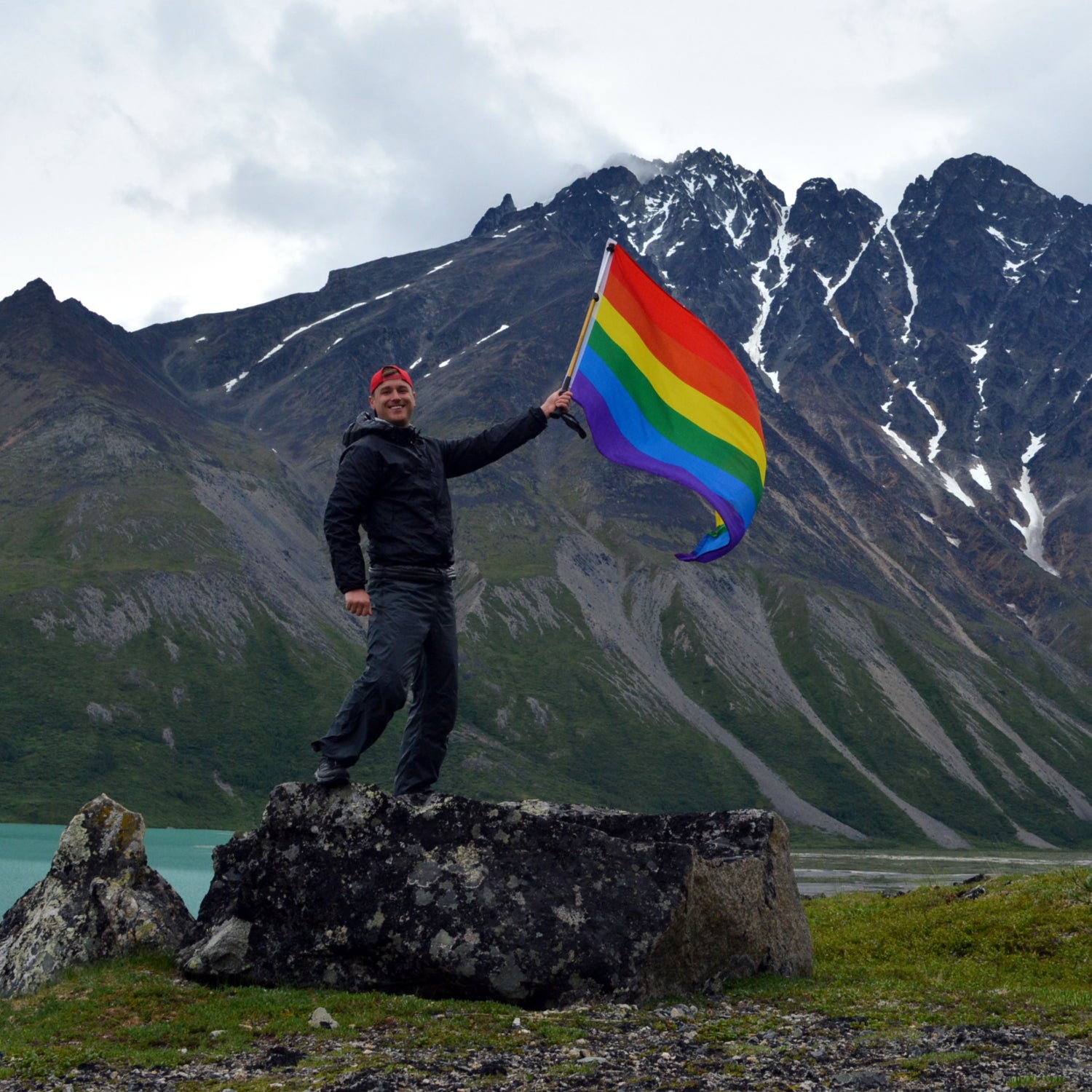 Courtesy Mikah Meyer
Heading out the door? Read this article on the new Outside+ app available now on iOS devices for members! Download the app.
Mikah Meyer told his story to producer Stepfanie Aguilar for an episode of The Daily Rally podcast. It has been edited for length and clarity.
I was like, How do I communicate in a photo that I'm gay? Should I throw glitter in every picture, or do I hike with a unicorn floaty? And ultimately the best option I came up with was to take pictures with a rainbow flag in front of America's most iconic National Park Service sites. If I stood in front of Delicate Arch with a giant rainbow flag, that would very quickly communicate, Here is somebody who loves the outdoors, and who is also gay.
If I had to pick one title for myself, it would be storyteller, because whether it's speaking engagements, or creating social media content, or doing advocacy work, the one uniting thread between everything I do is storytelling.
I've also called myself a full-time adventurer, or I tell people I do everything Rick Steves does, I'm just one thousandth as famous.
My dad was a minister. In fact, he was an award-winning minister at the largest Lutheran campus ministry in America. So for me, coming out was a whole lot of nightly praying to God to fix me, to change me, to let me be anything but what deep in my heart, I knew I was.
When I was 19, he passed away from esophageal cancer. A few days after his funeral, I took my first ever independent road trip, and it was such a healing experience for me that I made it a goal that I would do one road trip every year for the rest of my life around the time of his passing, April 29th, as a way to honor the retirement that he never got because he passed away at 58.
So I'd been doing these annual road trips for over a decade, when I knew that I really wanted to do something epic at age 30. What I ended up deciding to do was to try to set a world record by visiting all of our 400-plus National Park Service sites. There had only been two dozen people in the history of our country that had visited all of our National Park Service sites, so I could both become the youngest person to do so, and the only person to ever do so in one continuous trip, which would set two world records.
So I was 30 years old when I started the journey to visit all of America's National Park Service sites. And I finished three years later when I was 33. It was the toughest thing I've ever done in my life.
About a year into my National Parks journey, I was sitting in the front seat of my Ram ProMaster cargo van that I was living in. I opened up Instagram, and I got a new message and I pulled it open and I started reading and it said: "Hi. I am 15 years old. I go to a private Baptist school in Texas, and I'm not out of the closet to anyone, but I read about your journey and I looked you up. And I just want to thank you because now I know when I grow up I can be ordinary." Then the message continued and he said, "Then I found your Instagram, and I see you're setting world records. And now I know when I grow up I can also be extraordinary."
I just started wiping the tears from my smartphone. I realized that, I had spent the first part of my Parks journey hiding the fact that I was gay, actively working to despite being out of the closet for almost 10 years, doing everything I could to keep the outdoors community, to keep the media, from knowing I was gay because I was sure that if I didn't fit the mold of every other outdoorsy guy, that nobody would support my project. Nobody would help crowdfund, I'd get no sponsorships. And so it was this moment where I sort of broke down because I was not helping this kid at all. I was just adding to the problem by hiding myself and hiding this part of me to try to fit in and make everyone else more comfortable.
So many queer people, we fled the rural towns we came from. We fled these outdoor spaces that we enjoyed because we felt like we weren't safe unless we were in a neighborhood in an urban center, or we couldn't be ourselves in these places because of the culture. I realized that the problem with outdoors culture was not the danger or the toughness of the trails or the adventures, the problem with outdoors culture was straight people making queer people feel like they couldn't be who they were in these spaces.
So at that point, I basically was like, OK, I know that I need to now be out on this Parks journey, and I need to do it for this kid, and I need to do it for ten-year-old Mikah who grew up in Nebraska. My window to the outside world was watching the Travel Channel. And I never saw any openly gay person out living this gnarly life, so I never thought it was possible. And in that moment I realized I now could be that person that all these people needed to see so that they could have an easier time being themselves.
The idea was, How can I use this platform that I've built as a result of this trip? How can I use my profession and how can I use my privilege as a cisgender gay white man one step away from the apex of privilege to help those people?
The concept that I came up with is called the Outside Safe Space Program. Essentially it's a symbol that gives individuals the agency and the ability to make our outdoor and rural spaces more welcoming by wearing the symbol as a pin or a sticker or apparel or anywhere on their body, so that when queer people meet them in outdoor and rural spaces, they can see an ally, and we can start to hopefully change this perception that outdoors and rural people aren't welcoming. And if they are unwelcoming, hopefully we can start to slowly show that there are allies, and pressure the homophobes into becoming allies.
The Outside Safe Space tree was really intentionally designed. In one portion of the tree, it's the rainbow flag. And in other parts it's the bi flag and the trans flag. They were specifically placed to make sure that they were the longest, strongest branches of the tree, to recognize the way that those communities have been left out of inclusion even within our own queer conversation.
Instead of being those rainbow colors, the trunk is made up of all different skin tones to show that all of these different queer identities come in every race around the world. And for everyone who doesn't identify with one of those flags, the entire tree is made up only of triangles, which is a traditional symbol within the queer community.
People wouldn't know I'm gay unless I share that. And in the same way, I don't know if you're an ally unless you share that. So the Outside Safe Space symbol is a way to give people the ability to communicate that they are something that is unseen otherwise and needs to be communicated for others to know.
It's so important that we have visibility, both of queer people and allies, in the outdoors, because we've spent our whole lives hiding who we are, so for many of us, the only way to be proud of who we are and own who we are is to be visible and is to share this part of ourselves.
Mikah Meyer is a storyteller, singer, and record-setting adventurer. You can find more information about him and order your own Outside Safe Space tree pin at mikahmeyer.com. Or, follow his adventures on Instagram @mikahmey.
You can follow The Daily Rally on Spotify, Apple Podcasts, Stitcher, or wherever you like to listen. Subscribe to our newsletter and nominate someone to be featured on the show.
Lead Photo: Courtesy Mikah Meyer