63 Parks Traveler
Hawaii Volcanoes National Park Is America's Hot Spot
One enticement of visiting Hawaii Volcanoes, on the Big Island, is witnessing the eruption of young Kilauea—the world's most active volcano—and basking in the glow of its lava-filled caldera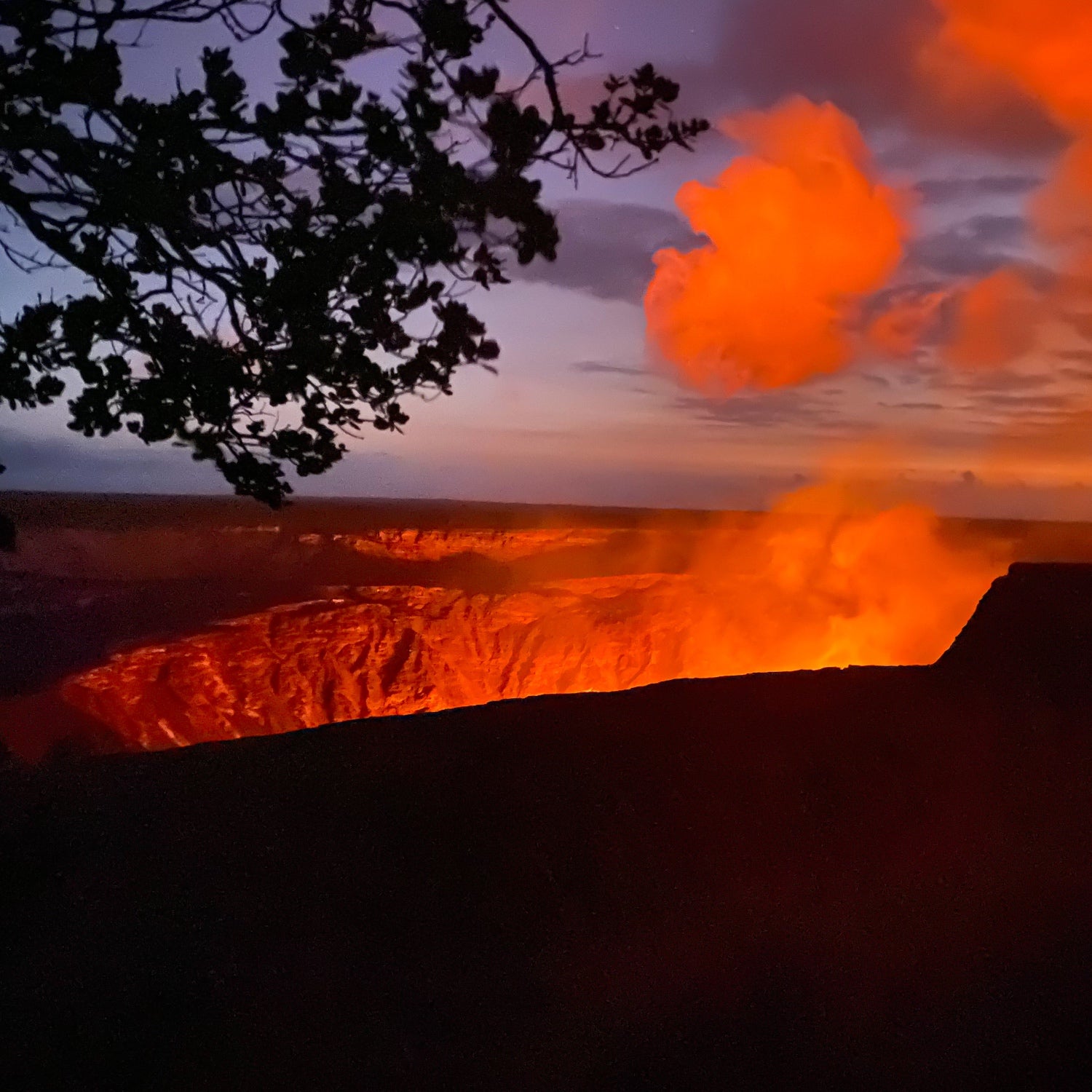 Heading out the door? Read this article on the new Outside+ app available now on iOS devices for members! Download the app.
63 Parks Traveler started with a simple goal: to visit every U.S. national park. Avid backpacker and public-lands nerd Emily Pennington saved up, built out a tiny van to travel and live in, and hit the road, practicing COVID-19 best safety protocols along the way. The parks as we know them are rapidly changing, and she wanted to see them before it's too late. Hawaii Volcanoes is her 61st park visit.
---
Hawaii Volcanoes is brimming with duality. When I first arrived at the park, on the southeastern edge of the Big Island, I was surprised to find that the area's lush, tropical foliage was punctuated by thick stripes of former lava flows that clung to the backside of Kilauea like black veins. Steam vents hissed clouds of noxious gases into the bright blue sky. But I knew that the earth here glowed from within.
Figuring that a ranger would have excellent suggestions for the best hiking trails through the pocky volcanic terrain, my friend Ave and I steered our rented VW Eurovan camper toward the Kilauea Visitor Center and sauntered over to the help desk. It was morning, and our stoke was high when we heard that some of the best options began right where we were standing.
The two of us wandered down the Haakulamanu (Sulphur Banks) Trail, where the stench of rotten eggs and the radioactive-yellow color of sulfur crystals greeted us. Seeking a little more geological action, we turned right onto Crater Rim Trail and began to traverse the edge of the most active volcano on the planet. Pausing at each overlook, we started to notice that wreaths of flowers had been left on many of the railings—offerings to the goddess Pelehonuamea.
Pele, also known as She Who Shapes the Sacred Land, is a deity of both creation and destruction. According to Native Hawaiians, she makes her home in the Halemaumau Crater, atop 4,009-foot Kilauea, and though her volatile, unpredictable forces might wipe out a swath of verdant rainforest with a torrent of molten lava, she is also the mother of nascent earth itself. Since 1983, more than 70 acres of new land have been added to this side of the island.
A few days before my flight for Hawaii left Los Angeles, Kilauea began erupting again for the first time since September 2018. What luck! Having never seen lava before in person, I was determined to witness the birthing of new ground firsthand. Ave and I walked back to the van and set off for our next point in the park.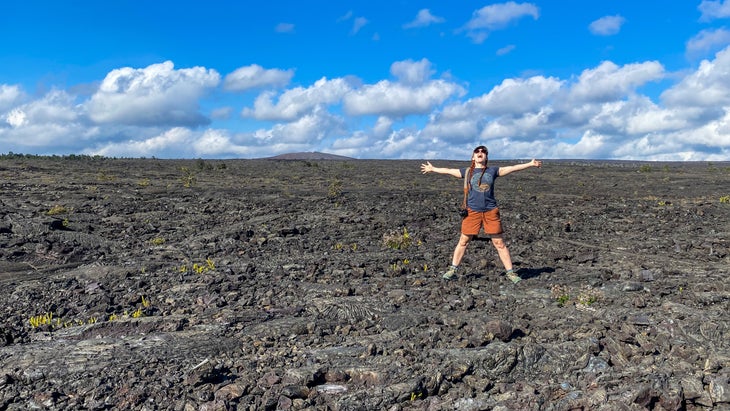 Afternoon saw us trekking along the 5.3-mile Kilauea Iki Trail, which explores the crater of a massive 1959 eruption. I found myself utterly charmed by pioneer plants hardy enough to begin the work of eroding the dark volcanic rock into soil. Flamboyant pops of red and green graced the trail as we passed whimsical ohia lehua trees, standing like sentinels to guard the storied landscape.
At dusk we returned to the Kilauea Caldera, waiting out the last of the sunshine to marvel at the glowing red chasm of active eruption happening within it. The healthy tropical greenery all around us betrayed the apparent devastation and rupture deep below. The park was a paradox, an invitation to hold two truths in equal measure in my mind. After so much pandemic upheaval, it was a skill I'd begun to find necessary.
Birth and death. Creation and destruction. The essential ingredients of life, I mused as the solid ground from my viewpoint descended hundreds of feet into a luminous pink lake of fire. Something about facing the truth head-on made me feel more fearless than I had in a long while. I held my breath in awe.
63 Parks Traveler Hawaii Volcanoes Info
Size: 323,431 acres
Location: The Big Island of Hawaii
Created In: 1916 (Hawaii National Park)
Best For: Volcano viewing, hiking, Native history, geology, scenic drives
When to Go: Thanks to its tropical location, Hawaii Volcanoes National Park maintains a relatively warm, humid climate throughout the year; however, summer (54 to 74 degrees) sees a bit less precipitation. Winter (49 to 68 degrees) is considered high season for the Hawaiian Islands, while spring (50 to 71 degrees) and fall (54 to 73 degrees) are shoulder seasons and see fewer crowds.
Where to Stay: I opted to rent a vintage Eurovan from the lovely folks at Outdoorsy. This, paired with a rural Hipcamp near the national park, made it easy to snack, sleep, and saunter whenever we wanted. In addition, Hawaii Volcanoes hosts two of its own drive-in campgrounds: Namakanipaio, which has restrooms, potable water, BBQ pits, and picnic tables, and Kulanaokuaiki, more rustic first-come, first-served dry camp with vault toilets and picnic tables.
Mini Adventure: Take an easy hike along Crater Rim Trail, then go for a scenic drive. If you've only got one day in the park, you'll be remiss if you don't spend some of it circumnavigating the immense Kilauea Caldera and gazing out at the steam and smoke rising from the volcano's eruption. Afterward, take a winding drive along the 19-mile Chain of Craters Road, which begins near the Kilauea Iki overlook and continues past decades of old lava flows before reaching the park's coastal district and some seriously stunning ocean views.
Mega Adventure: Splurge on a helicopter tour for breathtaking panoramas of the Halemaumau Crater from above and witness the raw power of molten rock turning into new earth. Blue Hawaiian Helicopters offers an epic Circle of Fire trip ($369), which departs from Hilo, on the island's east side, and flies travelers past umber-tinted cinder cones and red lava fountains inside Hawaii Volcanoes.
Editorial note: Check with the Park Service for the most up-to-date viewing conditions of active areas, as closures can happen at any time depending on eruptive activity.
Lead Photo: Emily Pennington