The Ultimate Moab, Utah Travel Guide
Moab has come into its own as one of America's great multisport destinations. Here's how to make the most out of a visit, from pedaling its world-class singletrack to hiking its famed national parks to rafting the Colorado River.
Heading out the door? Read this article on the new Outside+ app available now on iOS devices for members! Download the app.
Moab, sandwiched between Arches and Canyonlands National Parks in Utah's red-rock desert, is a town with two personalities. Its crimson cliffs, alpine peaks, and slickrock valleys are both a massive outdoor romper room for thrill seekers and a landscape that begs quiet contemplation and introspection. As the town's most famous alum, Edward Abbey, put it, "Wilderness is not a luxury but a necessity of the human spirit, and as vital to our lives as water and good bread."
The town has grown up around this duality—using the land for mountain biking, four-wheeling, rafting, climbing, and backcountry hiking and skiing while appreciating and protecting its unique splendor. I made my first trip to the area in 2001 for an all-night party disguised as a 24-hour mountain-bike race. Those were more rustic times in the region, when accommodations typically meant sleeping in the back of a truck and the only thing haute about the cuisine was sharing a beer with friends at the top of Burro Pass. But my fondness for the desert, my appreciation for its nuance and beauty, has only grown since. That's why I wince a little now when I hear people refer to the town as one of the country's greatest "adventure playgrounds." It seems a callous and disrespectful way to describe such a sacred landscape, but of course I get it. It's true.
Today, commercial activity in town has expanded beyond bike shops and 4×4 garages. You can now sip on expertly pulled espresso while browsing the town's bookstore and art galleries, or return from a day of play for Wagyu flank steak and a craft cocktail, a soak in a hot tub, and a stopover in a plush, luxury lodge. Still, 87 percent of the aptly named Grand County, Utah, of which Moab is the county seat, is public land, and you could spend a lifetime goofing off here and not cross your own footsteps.
The guide that follows will point you to toward the best the area has to offer. Some are classics that simply can't be skipped. Others are new entrees soon to be staples on the region's ever expanding adventure itinerary.
Need to Know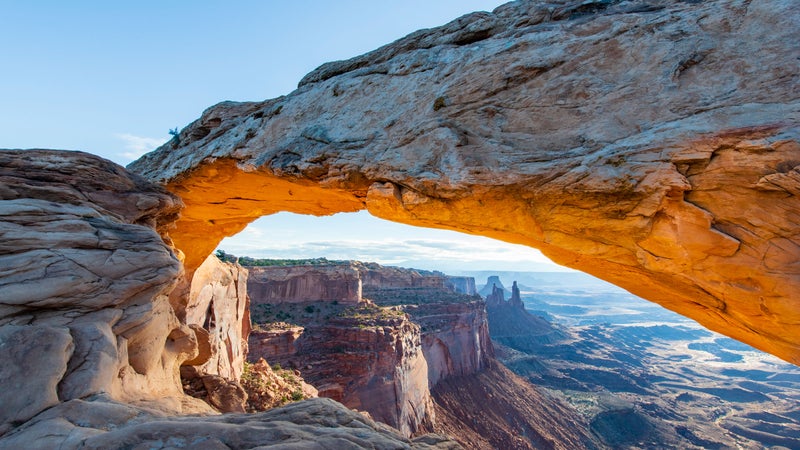 Moab shines in the shoulder season—that is, spring and fall, when the weather is at its best and temperatures are at their most benign—but it can be manageable in the summer and winter, too. A January trip, for example, can entail backcountry skiing in the nearby La Sal Mountains and biking sunbaked slickrock trails in the same day. Summer days are sweltering but great for stand-up paddleboarding, rafting, and swimming in the Colorado River, which skirts northwest of town. But the best month for a Moab adventure is November. The October crowds have disbanded, daytime highs are typically pinned in the high fifties and sixties, and quality campsites are easy to find, even for a spontaneous weekend trip.
There's little mandatory prep, but some advance planning may be required. Backcounty camping in both Arches and Canyonlands National Parks is permit only, as are some activities, like Arches' popular Fiery Furnace hike. Established park campsites can be snagged for a fee, but if you plan on visiting during peak season, they must be reserved well in advance of your trip. Ranger-led Fiery Furnace hikes happen every morning and afternoon. Morning hikes can be booked online or by phone at 877-444-6777 up to six months before your trip, but afternoon hikes can only be reserved in person up to seven days in advance. If you want to go unguided, you must obtain a $6 permit in person at the visitor center and watch an orientation video on how to best protect terrain and its flora and fauna.
During peak season, if you plan to ride the region's most popular routes, the world-famous Whole Enchilada and Magnificent 7 trails, make a shuttle reservation as soon as you can. They sell out quickly, and I've been S.O.L. trying to book a seat the night before. The trips to the trailhead in the stretched VW vans of Coyote Shuttle run between $15 and $30.
Before you go, immerse yourself in a copy of Abbey's Desert Solitaire, a memoir about the famed environmental activist and author's life as an Arches park ranger in the 1950s. And for a little extra homework, check out In Search of the Old Ones, by longtime Outside contributor David Roberts, an engaging exploration of Anasazi ruins around southern Utah and elsewhere.
---
Getting There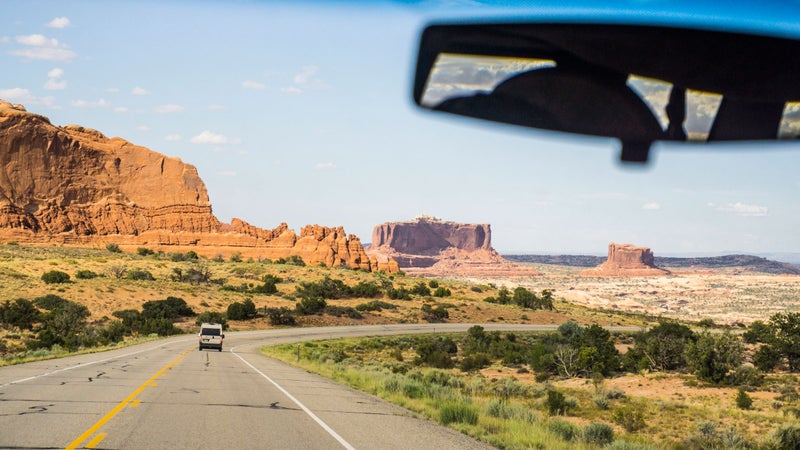 It's easy to get to Moab by car. Interstate 70 is just 31 miles to the north, and Highway 191 runs right through town and passes many of the city's best adventures. For those outside driving range, the closest major airports are Denver, a six-hour drive east, and Salt Lake City, four hours to the north. But the best option is to fly into Grand Junction, Colorado, and rent a sturdy vehicle with four-wheel drive. It's all asphalt to Moab, but you'll want off-road capacity to get to the best campsites, trails, and adventures. Another option is to fly directly into town. Tickets can be expensive, but as of June 2018, visitors can fly directly to Moab's Canyonlands Field from Denver via daily commercial flights from United through its partnership with SkyWest Airlines.
---
Base Camps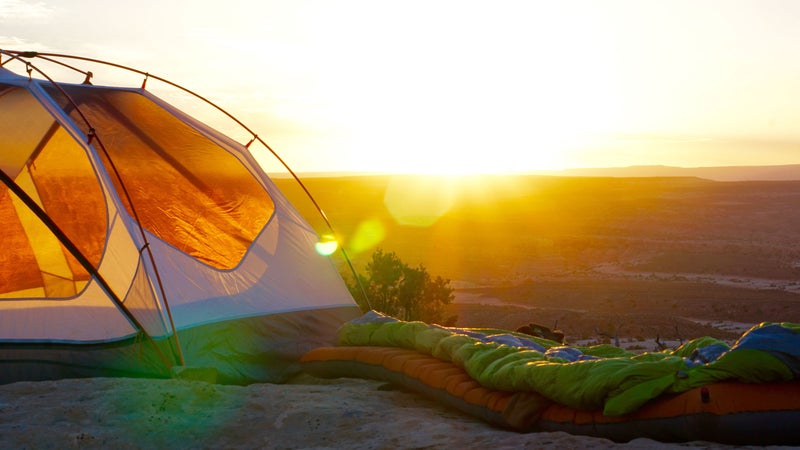 Whether you're a vanlifer, an Airstream nomad, a teardrop traveler, or a traditional tent camper, Moab provides some of the best alfresco accommodations anywhere in the lower 48. You can't go wrong by posting up in an Arches or Canyonlands campsite ($15–$25), but there are plenty of alternatives. Check out sites off Kane Creek Road, just west of town along the Colorado River; Highway 128, which wraps around Arches to the northeast; and the Sand Flats Recreation Area, a high plain three miles east of town, where you can park or pitch your tent beneath ancient, gnarled juniper. It should be noted that there are no facilities, and whatever waste you pack in—including human—must be packed out. But for stellar cosmic views of the night sky and easy access to the five-star Magnificent 7 trail system, head to Horsethief Campground, a first-come, first-served BLM site off Highway 313, about a 25-minute drive west of town ($20). It's just a few miles from Dead Horse Point State Park and the best view of the Colorado River outside the Grand Canyon.
Want a roof over your head? Your best bet is Airbnb, which includes everything from deluxe desert homes to a teardrop trailer with an outdoor kitchen delivered to your campsite. I like the new Moab Cataract Condo, which sleeps eight, comes with a hot tub and storage space for your gear, and starts at just $100 a night on the weekends. A few local hotels are also recommendable, including stalwarts like the Gonzo Inn and the basic-but-budget-friendly Adventure Inn. But the best hidden gem may be 57 Robber's Roost, a five-unit condo complex of two- and three-bedroom suites, a half-block from the center of town (from $199). There's one potential drawback, though: no pets.
---
Adventure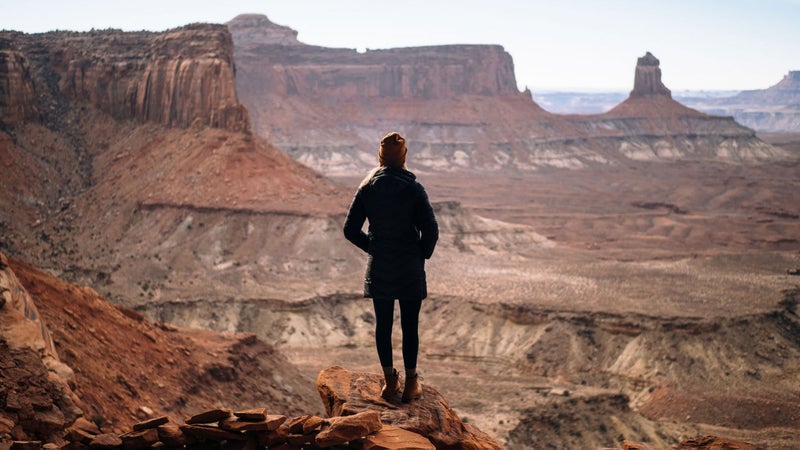 Framed by two national parks, etched with more than a thousand miles of mountain-bike trails, home to hundreds of canyons, ravines, rock walls, and a major river, recreational omnivores arriving in Moab might not even know where to begin. We'll take it sport by sport, starting with mountain biking since the area may be the best place to ride in the country.
Cycling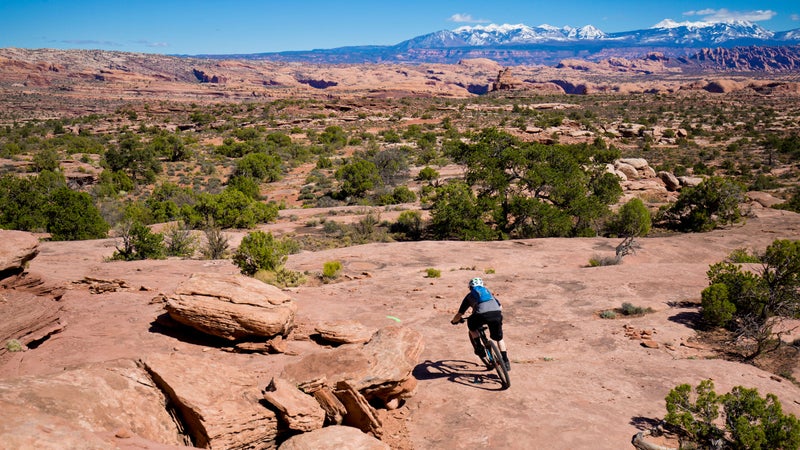 First-timers should tick off Moab's bucket-list rides: the Whole Enchilada and Slickrock trails. They get crowded, but they're world-famous for a reason. A shuttle of the Whole Enchilada will see you descend 7,000 feet from the high-alpine forests atop La Sal Mountain to the emerald Colorado River in 27 miles. However, it's easy to dodge the crowds without sacrificing any fun. You can't go wrong with the Amasa Back/Captain Ahab, Sovereign, or Navajo Rocks trail systems, but to capitalize on bang for buck, link up the seven trails that make up the Magnificent 7 route. The 26-plus-mile ride showcases just about everything that makes riding in Moab so special, including ledge drops, slickrock, fast and flowing dirt, and endless scenic vistas. We recommend letting the expert guides at Western Spirit Cycling lead the way, especially during short November days. But you can easily DIY by hiring a shuttle.
For an endurance challenge, head to White Rim Trail, which circumnavigates the Island in the Sky mesa, a broad plateau above the Green and Colorado Rivers. Ride the 100-mile route, clockwise, in a day if you're feeling tough and fit. Or break it up into a two- or three-day bikepacking adventure. Stellar views, sweet slickrock campsites, and remote backcountry await. Just be smart when planning water, food, mechanicals, and shelter. You'll need a camping or day-use permit from Canyonlands National Park.
Road cyclists should queue up the La Sal Mountain Loop, a paved 60-plus-mile scenic spin that wraps around the nearby La Sal Range. You can tackle the ride any time, or join the party on May 4 for Gran Fondo Moab, a festive supported ride with aid stations along the route.
Hiking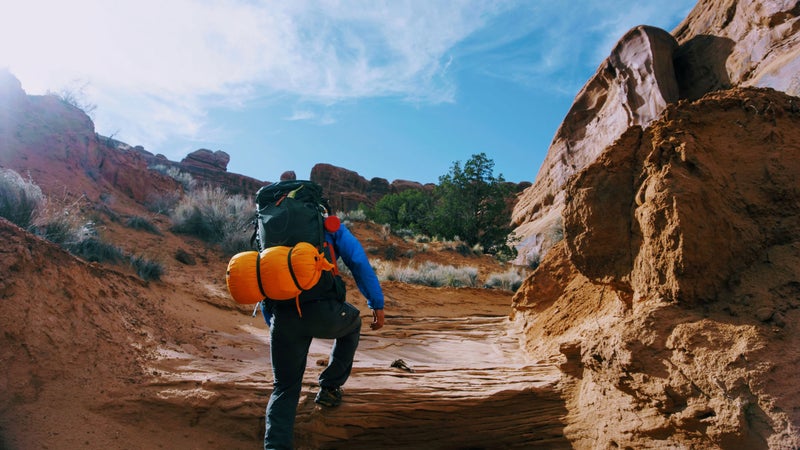 Prefer adventuring on foot? By all means, go explore the two national parks. Arches' moderate three-mile walk to Delicate Arch, and Canyonlands' scenic Lathrop Canyon Trail, a 22-mile round-trip, are worthy classics. But the best hike in the area isn't in a park. About 40 miles north of town you'll find Fisher Towers. The moderate 4.4-mile round-trip provides easy access to mind-blowing views of the Colorado River and Castle Valley. It's not overrun like much of the national parks, and, unlike the parks, it's dog friendly, so you don't have to leave your pup behind.
For a more sporting outing, consider booking a canyoneering trip. There are many amazing slots to explore, and while you may be able to plot one on your own, it's highly advisable to go guided. Flooding, rockfall, and navigation are all serious issues, and experienced outfitters can advise and instruct accordingly. If you only have time to do one, ring up Windgate Adventures and have one of its guides take you to Land Before Time. The all-day, six-mile trip involves multiple long rappels, including two of more than 100 feet, knee- to neck-deep water holes, boulder hopping, and scrambling around dramatic slot canyons.
Climbing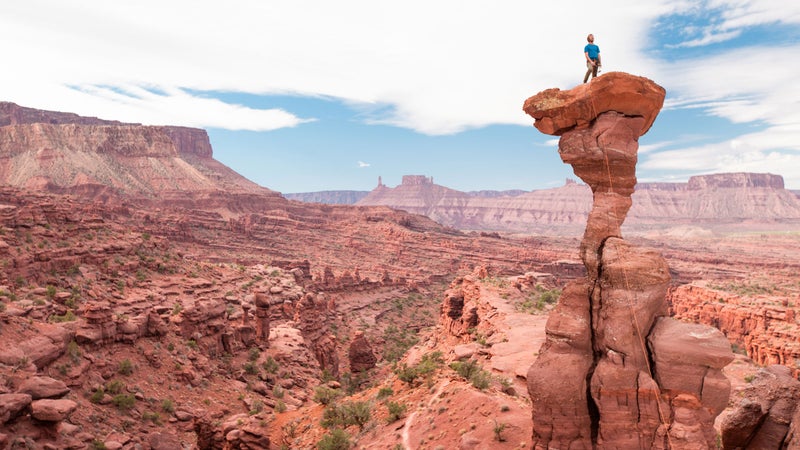 Start your Moab climbing trip at Ice Cream Parlor, a sport and trad crag along Kane Creek Road about eight miles outside town with many moderate, bolted routes, before stepping it up to one of the area's dramatic sandstone towers or making the hour drive south to the cracks of Indian Creek. The four-pitch, Grade III Kor-Ingells route on Castle Valley's Castleton Tower, sandbagged at 5.9+, is a right of passage for intermediate climbers who want a long, challenging route. The summit is a football-field-size aerie, and at 300 feet straight down, the rappel off the top is one of the most exhilarating you'll encounter in the region. The American Alpine Institute has named it one of the 50 classic climbs in North America, so you'll earn some bragging rights, too.
Rafting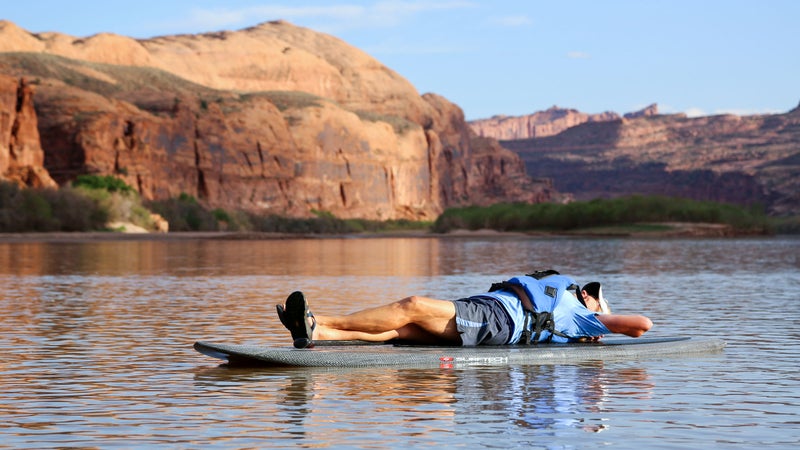 While most of Moab's adventures take place on dirt and red rock, don't overlook the water. Some of the finest river trips in the country start in town. The reigning classic is the four-day Colorado River trip through Cataract Canyon. You'll wind 96 miles through Canyonlands National Park, navigating Class II–IV rapids, before returning to Moab by scenic charter flight. The Moab Adventure Center runs deluxe guided trips May through August.
Short on time? MAC also offers a two-day option that utilizes sleek, speedy rafts to double your daily mileage. For a more leisurely experience, rent a stand-up paddleboard from Paddle Moab to explore on your own, or book one of its guided trips, like the Splish and Splash tour, a six-mile introduction to SUP river running through four sets of waves on the Colorado.
---
Eat and Drink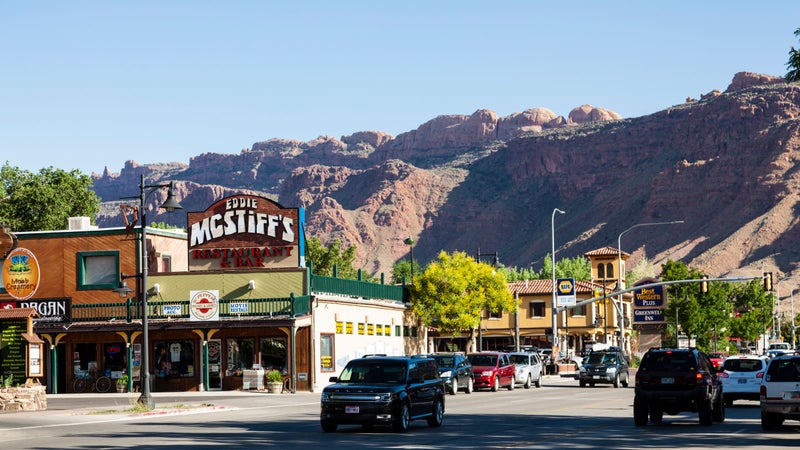 Complaining about the food in Moab has historically been a sport unto itself. That's not to say there haven't been some beloved classics. Milt's Stop and Eat dates back to 1954 and still serves some of the best grass-fed, all-natural burgers and shakes in the region, if not the country. But the rest of the culinary scene has slowly been catching up. It's now possible to enjoy high-quality sushi at Sabaku, banh mi and pho at 98 Center, and wood-fired pizza at Antica Forma.
The current culinary star, however, is the La Sal House, an upscale neighborhood tavern that opened in May 2018 in an adobe building on Main Street that once housed the storied Poplar Place Pub. Bourbon is the featured spirit at La Sal House, and it turns up in a number of recipes, as well as in its top-notch cocktails. Settle in early for a classic Boulevardier, with bourbon, Campari, and vermouth, or my personal favorite, the Cholla, a seasonal drink made with tequila, beet juice, lime, and house grenadine. The miso-bourbon-gravy poutine is arguably the best you'll find this side of the Canadian border, and, for carnivores, the Wagyu flank steak is divine.
Proprietors Pennellope and Wes Shannon also run Love Muffin Café, an excellent coffee shop and breakfast café known for its espresso and breakfast paninis. On hot summer days, get your ice cream—or, rather, your cryocream—fix at Moab Garage Company, which blends its ingredients with liquid nitrogen to create custom flavors like blueberry basil without relying on preservatives. 
---
Detours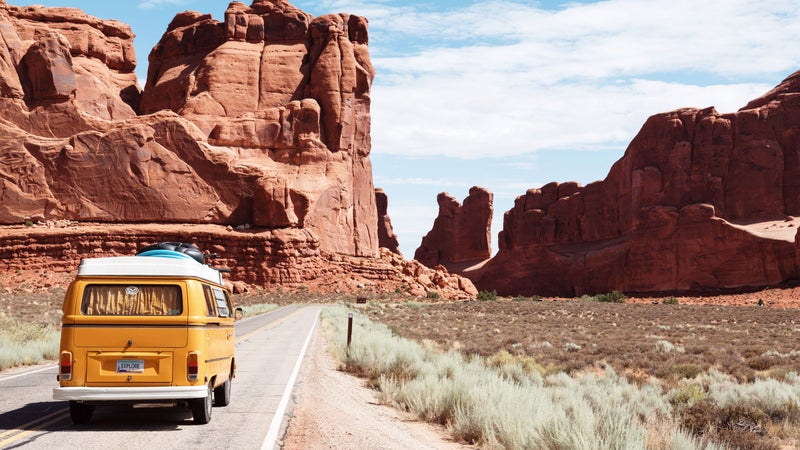 Take a day off from bikes and hikes, and immerse yourself in the region's natural history, starting at Moab Giants, a museum dedicated to the area's prehistoric heritage. While it may seem like a tourist trap from the road, the attraction actually has some serious science and great displays, including life-size dinos. Then see the real thing—or at least real dinosaur footprints—for yourself at Mill Canyon Dinosaur Trails, an interpretive loop run by the Bureau of Land Management 16 miles outside town along Highway 191.
North of Moab along the Colorado River, you'll find Red Cliffs Lodge, home to the Museum of Film and Western Heritage. The venue offers a comprehensive overview of Hollywood's infatuation with the area and all the films that have been made there, from early westerns like Wagon Master and Rio Grande to more modern classics such as City Slickers and Thelma and Louise.
Round out your Moab education with a stop at Back of Beyond Books, one of the best bookstores in the West, and browse its extraordinary collection of natural history, environmental literature, guidebooks, current bestsellers, and rare titles. The store's name is taken from Abbey's classic conservation novel The Monkey Wrench Gang. There couldn't be a better way to carry on his legacy.
Other worthy side trips include the Bears Ears and Grand Staircase–Escalante National Monuments to the southwest, the centerpieces of the most recent fight over the protection of our public lands. They are some of the country's most dazzling and precious landscapes, and there's no better way to appreciate what is at stake than seeing them firsthand. For a full immersion, head to Kane Gulch Trailhead at Bears Ears, and hike the 52-mile-long Grand Gulch, home to petroglyphs, pottery shards, cliff dwellings and ancient kivas.
Lead Photo: Daniel Holz/Tandem