Indefinitely Wild
"If You Want to See Yellowstone Without the Crowds, This Is the Best Summer Ever to Visit"
Unique recreation opportunities and uncrowded wilderness abound in areas impacted by Yellowstone flood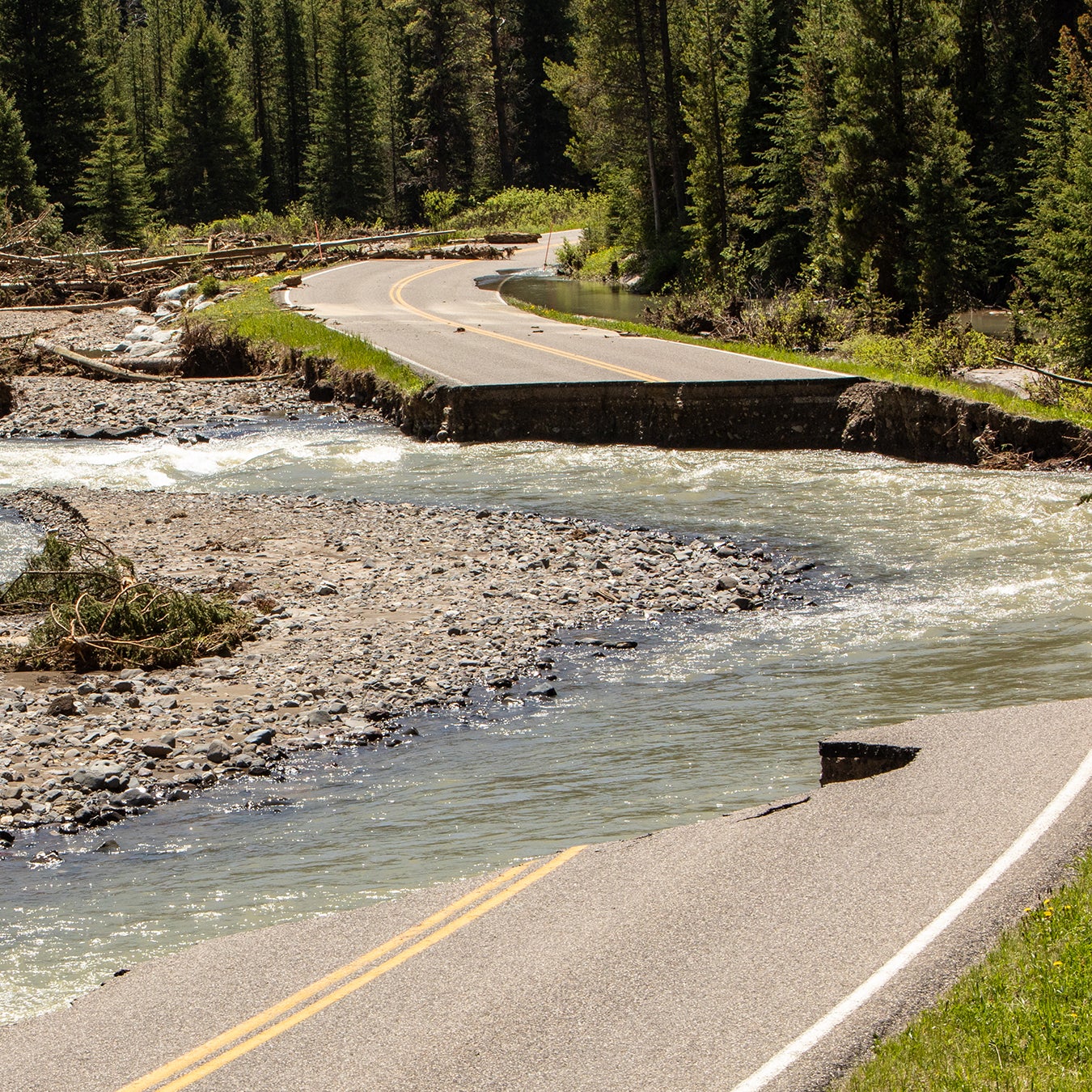 Heading out the door? Read this article on the new Outside+ app available now on iOS devices for members! Download the app.
On Sunday, I rafted the Yellowstone River, just north of Gardiner, Montana. Gardiner is one of two gateway towns currently cut off from Yellowstone National Park, after record floods destroyed roads, houses, and critical infrastructure throughout the region last month. The river was one of the hardest hit by the floods, and I was worried its banks would be covered in a tangle of destroyed trees, its islands turned into featureless mudflats, and its channels twisted into impassable rock gardens. But it wasn't. Just one month after the flood, the Yellowstone was just as gorgeous as ever, especially since we were the only raft on the river. 
It's a timely reminder that often, sometimes the best way to enjoy our national parks is to visit the areas just outside of them. And those areas are often best enjoyed when they're free from crowds. 
The problem is that gateway communities and surrounding regions rely on money from park visitors. Tourism to Yellowstone provides $630 million in annual spending and 8,700 jobs in nearby towns. Following the flood, local hospitality services, guides, restaurants, and rental companies are pivoting to provide recreational opportunities that could be unique to this summer only. This may be the best summer ever to visit parts of Montana and Wyoming impacted by the flooding.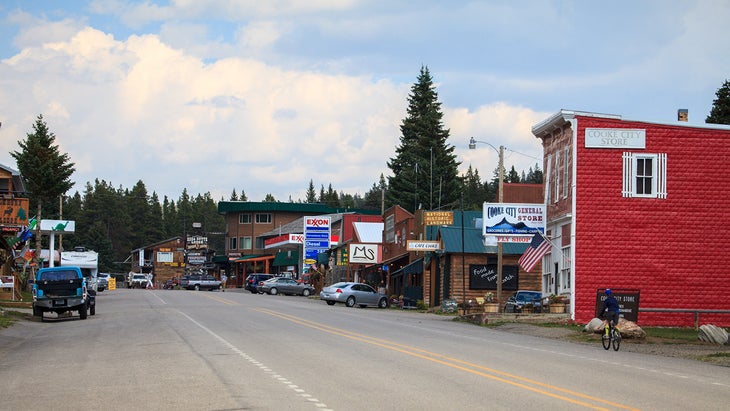 Cooke City and Silver Gate, Montana
Located at the park's northeastern corner, the tiny communities of Cooke City and Silver Gate aren't close to much, aside from Lamar Valley. The section of Yellowstone is often referred to as the "American Serengeti," for its dense populations of wildlife and wide, open views. But even though Yellowstone's northeastern entrance may be closed to cars, it remains open to both pedestrians and cyclists. 
The park service says visitors pedaling through the northeastern entrance can travel six miles to Barronette Meadows. And people walking into the park through that entrance are free to access any areas not expressly identified as closed to fish or hike. 
Why would you want to walk or cycle down a closed roadway? According to area residents, the lack of traffic is creating a boom in animal sightings. "We have wolves, bears, and moose coming right into town," local Henry Finkbeiner tells Outside. 
Finkbeiner runs Silver Gate Lodging, which operates ten rental cabins in the area. He's implemented pay-what-you-can rates for the rest of the summer to attract visitors and support other local businesses. Finkbeiner says some restaurants in Silver Gate and Cooke City have started doing the same. 
"And, as of three days ago, we're also in the e-bike business," Finkbeiner says. Silver Gate Lodging is also now renting e-bikes, which will make taking advantage of the closed entrance road as easy as possible. 
How many people are currently hiking or biking through that entrance? Finkbeiner estimates it's only about 20 per day. 
But you don't need to work up a sweat to create a unique Cooke City and Silver Gate visit. While the flooding has closed the northern section of the Beartooth Highway, the southern portion that begins just southeast of Cooke City, is open all the way to the Beartooth Basin Ski Area (which is closed). With a high point of 10,947 feet, the Beartooth is known for its dramatic views. Charles Kuralt famously called it, "the most beautiful drive in America."
"That area is playground for locals," says Finkbeiner. Located just east of the park, it's where he normally goes to hike and fish, and is where he's encouraging visitors to spend time this summer. "We need people who appreciate the quiet side of nature," he says. "Because it is quiet up here."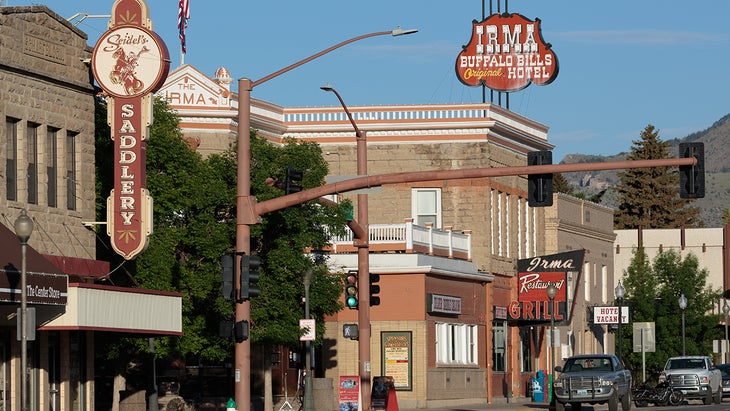 Cody, Wyoming
While the floods didn't directly impact Cody, it is experiencing reduced visitation this summer as a result of them. Not only does that make it easier to visit, but this summer you'll need to travel through Cody if you want to get to Cooke City and Silver Gate. Both United and Delta fly into Cody, and there you'll find the last amenities available before you enter the park. 
"If you want to see Yellowstone without the crowds, this is the best summer ever to visit," says Ryan Hauck from the Park County, Wyoming Travel Council. "There's more wildlife being spotted than ever, and all the rain means everything is green and beautiful. All of Cody's restaurants and hotels are open, and we're ready for visitors."
If you plan to drive into Yellowstone from Cody, you can find up-to-date information on closures in Yellowstone on the park's website. As of the time of writing, 93 percent of park roads have been reopened, and 88 percent of its backcountry is now accessible. 
Cody is located about an hour-and-a-half southeast of Cooke City and Silver Gate, and may be the easiest-to-access entrance to Yellowstone, since it's only a day's drive north of the Denver, Colorado metropolitan area.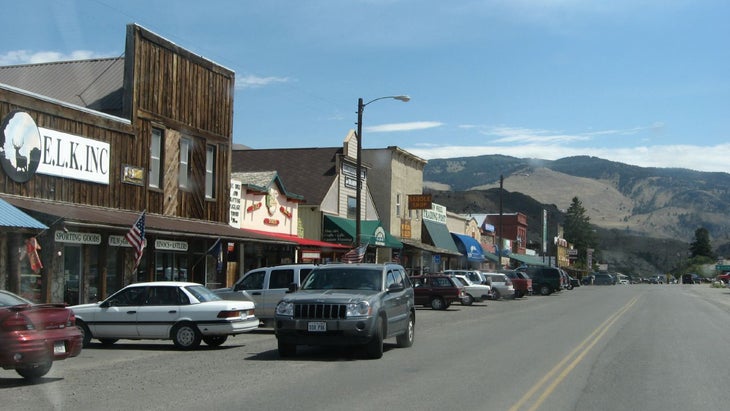 Gardiner, Montana
Located at the Park's northern entrance, Gardiner is home to the famous Roosevelt Arch, which commemorates the founding of the world's first national park—Yellowstone—and marked the the primary entrance for visitors back in 1903, when Teddy dedicated the Arch. 
While the floods temporarily cut off Gardiner from both the park to the south and the rest of Montana to the north, the public is again able to drive into Gardiner on Highway 89. The closest airport is located in Bozeman, Montana, about 90 minutes away. 
Aside from all the fishing, wildlife viewing, hiking, backpacking, boating, hot springing, and camping in the area, what makes this summer unique for Gardiner is that the park service has reestablished limited road access between the town and Mammoth Hot Springs, inside the park. Available to Commercial Use Authorization (CUA) permit holders only, the temporary road opens up the opportunity for new guided experiences. 
"CUA holders, including all guide companies, vendors, transport, other purveyors, are now allowed to use the [temporary] road to Mammoth on the following convoy basis: 5 to 6:15 A.M. entry, 12 to 1 P.M. entry, and 5 to 6 P.M. exit," says Forrest Rowland, a local wildlife guide. "Though certainly limiting, this allows plenty of time for providers and vendors to get their wares into the stores, and experience suppliers (such as guide companies) to provide half-day and full-day experiences."
Despite the temporary road, Rowland says business is incredibly slow in Gardiner. "Seventy percent of the hotels are still closed without notice of reopening dates, so logistics remain difficult. Restaurants, however, with the exception of a few, have retained staff and are operating at full capacity," he says. "The news in Paradise Valley [north of Gardiner] is much better, as all but a handful of VRBO and Airbnb accommodations are back in business, and restaurants and other providers are all very much open."
Lead Photo: NPS