Your Guide to Visiting National Parks in Winter
These 11 beloved destinations make for ideal cold-weather trips, from soaking in hot springs at Big Bend to cross-country skiing at Rocky Mountain
Heading out the door? Read this article on the new Outside+ app available now on iOS devices for members! Download the app.
National parks were some of the hottest U.S. destinations of spring, summer, and fall, with a number of sites noting record attendance. As temperatures dipped, their popularity showed no signs of slowing down. There are many benefits to visiting these parks in the winter—fewer crowds, more wildlife, and a chance to experience their iconic landscapes in a new light. With the proper cold-weather car-camping upgrades, you can take advantage of easier-to-book campgrounds or check into an Airbnb nearby. To help you get out there, we've compiled some tips for nearly a dozen national parks that are ideal to visit this time of year, from soaking in hot springs at Big Bend to cross-country skiing at Rocky Mountain, in addition to a link where you can read our comprehensive guide of each.
Yellowstone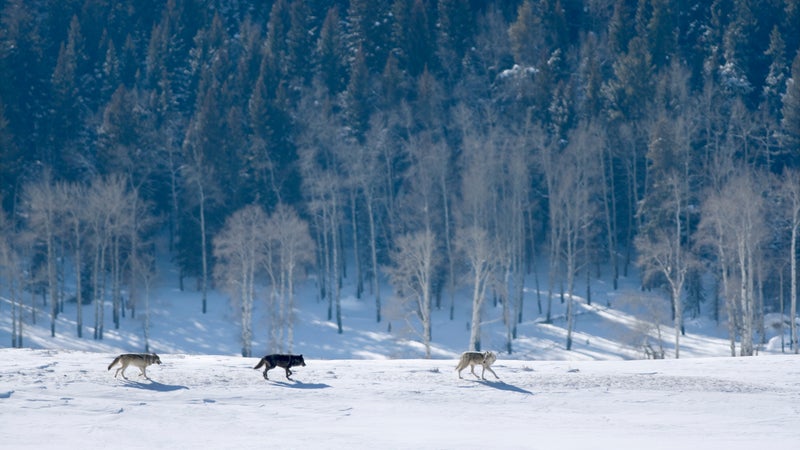 While most of the park's roads are closed from late fall to late spring due to snow and subzero temperatures, Yellowstone's headquarters at Mammoth Hot Springs (near the north entrance, in Montana) and Highway 212 from Mammoth to Cooke City (at the east entrance, in Wyoming) are open year-round. Highway 212 traverses the Lamar Valley, where you'll find some of the park's finest wildlife watching. The remainder of Yellowstone opens in mid-December for oversnow travel by skis, snowshoes, snowmobile, or snowcoach—vehicles with tanklike tracks in lieu of wheels. For lodging, only two hotels, Old Faithful Snow Lodge and Mammoth Hot Springs Hotel and Cabins, are open, though visitors are welcome to camp with a backcountry permit, which are free in winter. (One advantage to sleeping outdoors this time of year: the grizzlies are hibernating.) Wolf watchers prefer winter, when deep snow makes for good tracking and easy visibility. —Frederick Reimers 
Find our full guide here.
Zion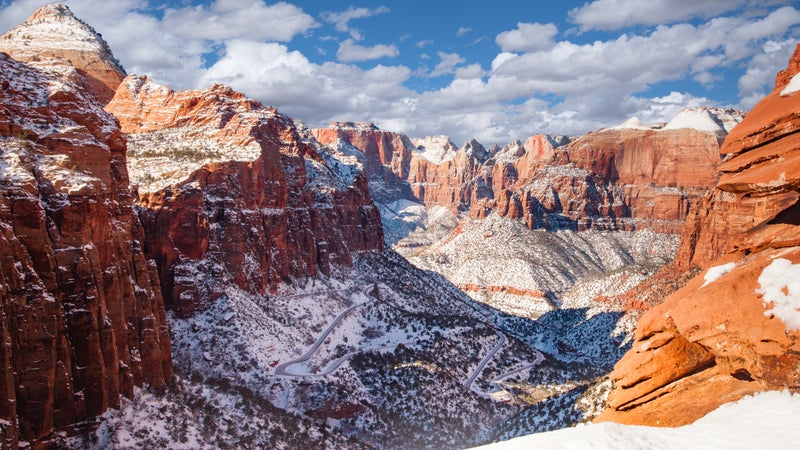 With 4.5 million people filing into this Utah park every year, most of whom come during the spring and fall months and avoid summer, when the canyon will sometimes see triple digits, winter offers a reprieve from both the crowds and the heat. December through February marks the park's low season, when temperatures range from 50 to 30 degrees (including subfreezing nights) and there's frequent precipitation. But the brave souls who persevere are rewarded with the high-contrast splendor of stark white snow decorating bright red cliffs. While some of Zion's high-elevation roads (including Kolob Canyons Road and part of Kolob Terrace Road) close once snowfall accumulates, Zion Canyon stays open for business. —Shawnté Salabert
Find our full guide here.
Joshua Tree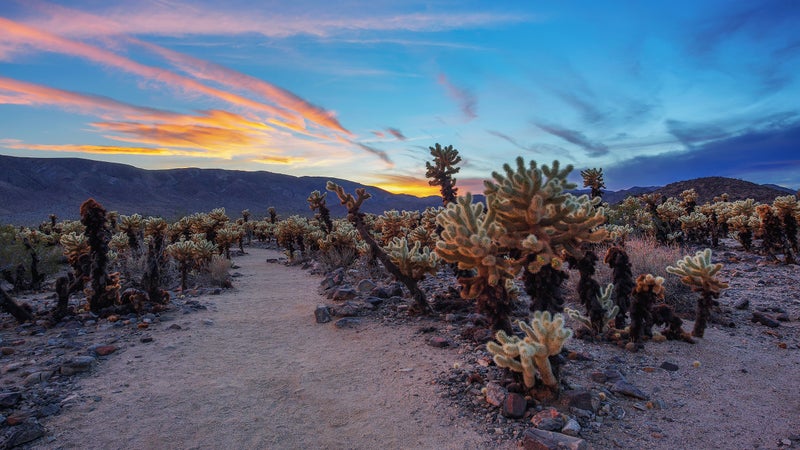 Hearty locals and curious visitors cruise this park in Southern California year-round (even during its sultry summer season, when temperatures often hit 100 degrees), but crowds swell in the more temperate fall and spring months, which maintain a range of 50 to 85 degrees, dipping only during the harshest winter conditions, when it can get as low as 35 degrees. The months of December and January are mercurial: one day you're playing lizard on a sunny rock, and the next you're swaddled in a pile of down. Layers are key. Biting winds, rainstorms, and snow showers aren't uncommon, but the upside for those prepared for the finicky elements is that cold temperatures and precipitation keep the shoulder season's larger throngs at bay (though you won't be completely alone on trails or at camp). —S.S.
Find our full guide here.
Big Bend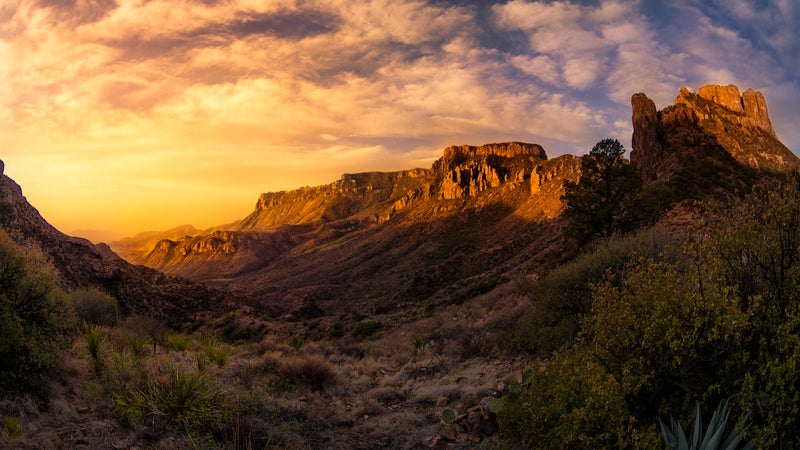 While temperatures in this tip of Texas are mild and days are often sunny from November to February, conditions can fluctuate from below freezing at night to 80 degrees during the day, so bring layers and sunscreen. There's a bizarre temperature inversion here during the winter, in that the cold air settles in the valley surrounding the Rio Grande, and warmer air occupies the higher-elevation Chisos Basin. It goes without saying that a visit to the hot springs is a must during these cooler months. —Graham Averill 
Find our full guide here.
Rocky Mountain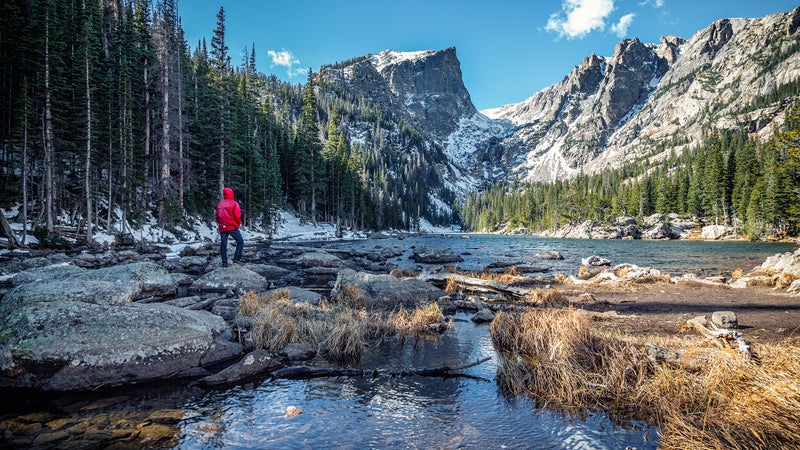 If you really want to escape the crowds and don't mind temperatures in the teens, winter at Colorado's Rocky Mountain National Park is your jam. Trail Ridge Road, the only road that crosses the park, is typically closed from the end of October to May due to snow, while avalanches are a concern and snow depth affects trail access. But many of the park's byways, like Old Fall River Road and even portions of Trail Ridge Road, become cross-country skiing and snowshoeing playgrounds during the winter. There's even an abandoned ski resort, Hidden Valley, located on the east side of the park, that attracts sledders and backcountry skiers. Grand Lake, the town on the western side of the park, has a bona fide nordic center with 22 miles of groomed trails. —G.A. 
Find our full guide here.
Death Valley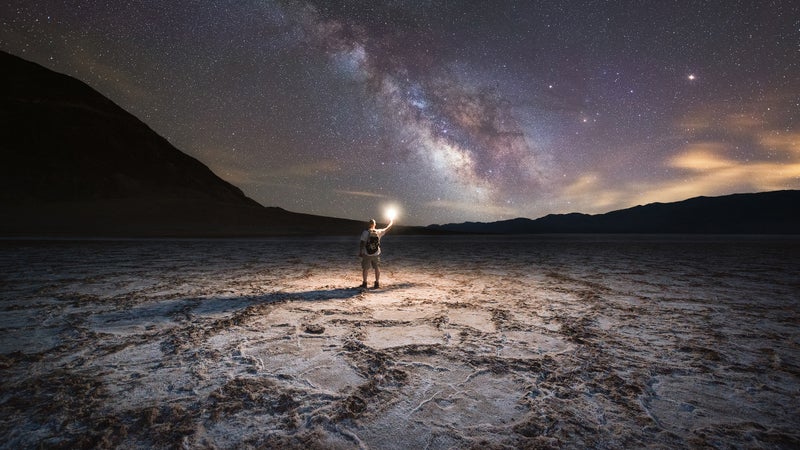 Unlike most national parks, winter is high season for Death Valley, which straddles the California-Nevada border; but at 3.4 million acres, most of them designated wilderness, there's plenty of room to roam. The months of November to February bring cooler temperatures, ranging between 40 and 77 degrees, along with potential snowfall at high elevations. Despite Death Valley's general dryness, precipitation is most likely in winter. And because of the area's topography, heavy rainfall can prove dangerous, so be sure to check weather conditions before you go. —S.S.
Find our full guide here.
Everglades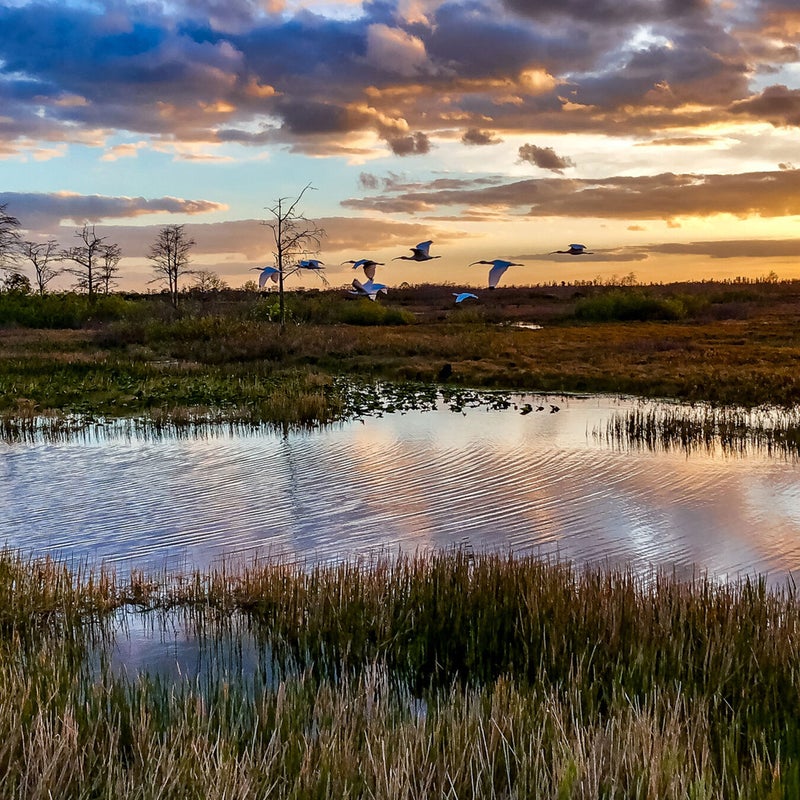 There are two main seasons in the Florida Everglades: the wet and the dry. From April to October, it is so hot and humid that even short excursions can be draining, and some park facilities, such as the remote Flamingo Visitor Center, are staffed only intermittently. The dry season, which runs November through March, can be idyllic and mild, with lows in the fifties and highs in the seventies. You'll also see fewer mosquitos and plenty of wildlife during these months. —Tony D'Souza
Find our full guide here.
Grand Canyon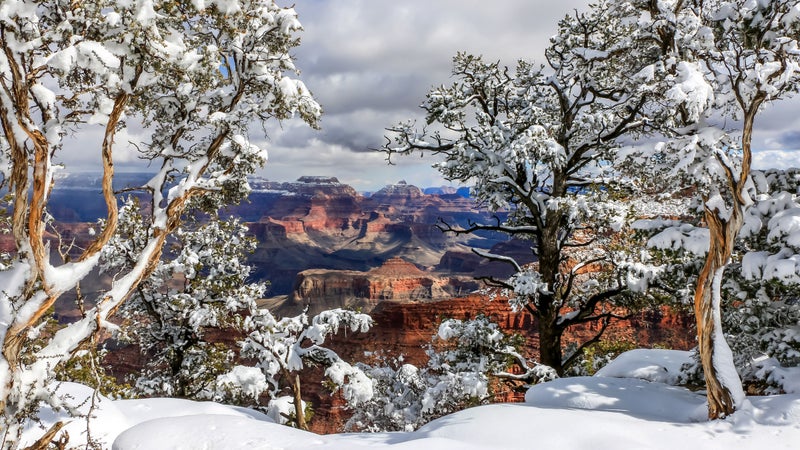 A bucket-list item for many, the vintage cabins and restaurant at Phantom Ranch, a cottage-style 1920s lodge located at the bottom of Arizona's Grand Canyon, typically require a lottery just to snag a stay. In the winter season, however, cancellations are more frequent. Avid backpackers can often nab last-minute permits to camp at the storied Bright Angel Campground as well, enjoying the sunny weather close to the Colorado River (it's a shocking 20 degrees warmer than the rim). If you're not looking to hike nearly 5,000 vertical feet to the canyon's floor, just take in the panoramic views from the park's South Rim, open year-round, on the family-friendly Rim Trail, which spans from stunning South Kaibab to the stone ruins at Hermits Rest. —F.R. 
Find our full guide here.
Volcanoes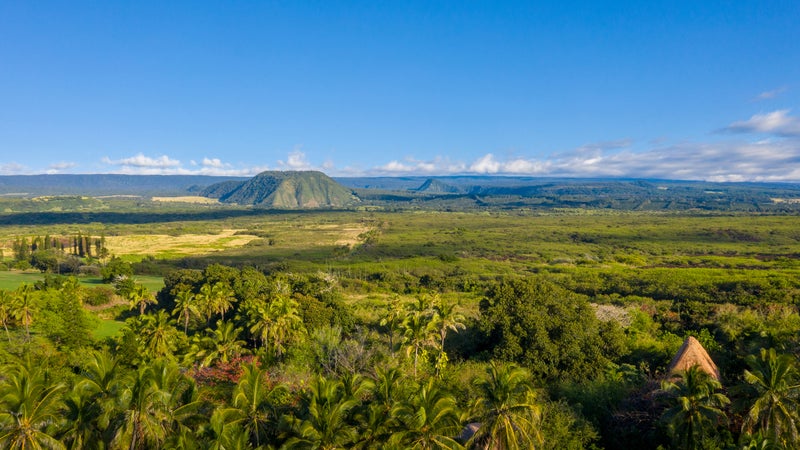 This is Hawaii, so the weather doesn't vary much month to month, with temperatures averaging between 66 to 85 degrees throughout the year. It does snow on Hawaii Island in the winter months—at the summits of Mauna Loa and Mauna Kea—but that likely won't affect your visit. Unlike other U.S. national parks that see an influx of visitors during certain seasons, Hawaii Volcanoes National Park is busy year-round, thanks to the island's sublime weather and moderate climate. —Catherine Toth Fox 
Find our full guide here.
If You're Visiting Arches or Canyonlands: Moab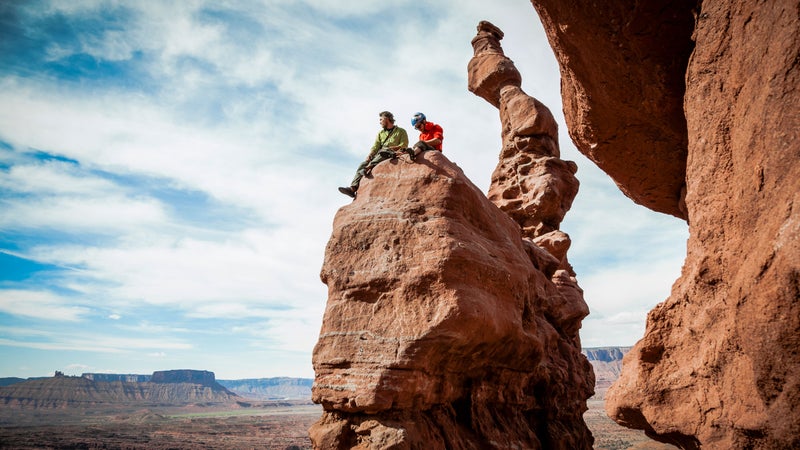 While this Utah outpost shines in the shoulder seasons—that is, spring and fall, when the weather is at its best and temperatures are at their most benign—it has its winter draws, too. A January trip, for example, can entail backcountry skiing in the nearby La Sal Mountains and biking sunbaked slickrock trails in the same day. —Nick Heil 
Find our full guide to this jumping-off point here.
Lead Photo: suesmith2/iStock