To Permit or Not to Permit?
Anticipating even bigger crowds this summer than last, public-lands officials have been grappling with how to manage the masses. For many, that's meant introducing permit systems. But is limiting access the only solution?
Sloot/iStock(Photo)
Heading out the door? Read this article on the new Outside+ app available now on iOS devices for members! Download the app.
It was mid-March 2020, and I was on edge while driving toward the entrance of Eaton Canyon Natural Area, a small slice of creek-fed greenspace that spills from the foot of Southern California's San Gabriel Mountains into the suburban sprawl located just below.
A morning hike is not my typical cause for anxiety, of course. But there was this burgeoning pandemic, you see, and I was about to join a friend for a stroll along what is arguably one of the most popular trails in all of Los Angeles County. The 3.5-mile round-trip Eaton Canyon Trail ends at a slim waterfall that pours into a placid swimming hole. It's the stuff of every dog's, child's, and Instagrammer's delight.
Turns out they were all there that morning, shuffling along in a slo-mo conga line that began in the parking lot and swelled to fill the trail, save for the folks who sought distance by carving their own routes through the beleaguered chaparral. We timidly marched forth into the throng, lasting only a few moments before abandoning the cause.
Eaton Canyon closed to visitors a little more than two months later. "Over Memorial Day, we had over 5,000 people on the trail within a three-hour period," says Kim Bosell, an administrator with Los Angeles County's Department of Parks and Recreation. "It was like Disneyland." In addition to a whole new network of user-created trails, the COVID-19–driven rush for fresh air kicked up a perpetual dust cloud, splashed a significant amount of water out of the creek at each crossing, and completely spooked wildlife like coyotes and deer, once abundant in the canyon.
Bosell was tasked with devising a temporary fix that would allow people back into the area for some much needed nature connection, but in a way that better managed impact on the fragile riparian environment. Within a week, she created a free online reservation system that allows users to sign up for one of three daily time blocks, offered five days a week. When I decided to test it out—after fumbling through an awkward registration process that took a solid 20 minutes to complete—I struck out again and again and again.
As an avid backpacker, I'm used to jockeying for permits. I get it: not only does a paper trail help land managers allocate resources to high-use areas, but fewer people moving around the same place also means less of an impact on the environment and the critters who live there, not to mention more elbow room for the humans passing through. But it hits differently when these types of restrictions happen closer to home, in an urban area that already struggles with limited greenspace—and unequal access to the greenspace that does exist. It got me thinking: Is limiting our access to parks and trails truly the only way forward?
So how do you spread out usage while recognizing that everyone—even people who don't yet know "the rules"—benefits from and deserves time outside?
Eaton Canyon was, of course, not the only destination to experience a surge in visitation over the past year; people around the country flocked outdoors to escape the confines of their homes and the limited options of shuttered cities. Even Yosemite National Park launched a temporary reservation system to manage crowds, one that will return this summer. But it's not fair to pin full blame on the pandemic. As experts continue to extol the health benefits of time in nature, as conversations about outdoor equity begin to bear fruit, and as our population continues its exponential growth, more folks will seek out places that offer us equal parts solace and happiness, connection and disconnection.
The Deschutes and Willamette National Forests, which cover Oregon's central Cascades, are among the many outdoor destinations that have grappled with how to handle the impact of more feet on the ground. "Use exploded, and we had trailheads that went from an average of about 2,000 visitors a year to 15,000 visitors in a year," says Matt Peterson, Willamette National Forest's recreation program manager, describing how forest visitation there skyrocketed a few years before the pandemic hit. "How do we catch up to that use in a way that protects both the recreation experience itself and the natural world that these experiences exist within?"
The question was an increasingly urgent one. As visitation increased, so too did bad behavior: graffiti, litter, parking in inappropriate areas, campsites created where none had been before, and piles of human excrement left to fester in the sun. After a lengthy process that included extensive public engagement, the forests settled on a permit system for three of their high-use wilderness areas during peak visitation (roughly Memorial Day weekend through late September), which went online April 6.
"The permit system was a tool of last resort," says Peterson. "We recognize that, inherently, a permit system creates barriers to folks' ability to access the lands, and that barrier is not as easily surmounted by everyone." To that end, a pilot program is in the works that allows library-card holders to reserve a pass that substitutes for a permit at certain libraries in gateway towns, an attempt to make the process more welcoming for people with no experience navigating the permitting system and for those without home internet access. And they hope to expand the concept, working with local organizations that can not only lend passes but also help teach visitors how to mitigate their impact. "Enforcement's not the priority, permits aren't the priority," says Peterson. "It's, like, how can we best educate people?"
Peterson isn't the only one chewing on that question. Last May, a collective of outdoor brands, land managers, organizations, and thought leaders attempted to answer it with a series of guidelines, reflecting both COVID-19 safety precautions and the general tenets of Leave No Trace, called #RecreateResponsibly. More direct user-education tactics are being employed in places like Minnesota's popular Boundary Waters Canoe Area Wilderness, where paddlers who want to overnight during its peak season (May through September) will now need to view a trio of short videos covering responsible visitation when requesting a permit. And in Eaton Canyon, Bosell looks forward to the day—hopefully soon—when the park's roughly 150 volunteers can return and sit trailside to offer tips on trail etiquette and information on the natural environment.
But just as solving for overvisitation shouldn't be tied exclusively to permitting and other access restrictions, the solution to increased use of public lands shouldn't fall solely on the shoulders of land managers or industry wonks—it should also rest upon our own.
First, know that when you talk about the crowds, we are the crowds. If you break down the essential issue, it looks like this: too many people in the same place at the same time leads to a lack of solitude and space, displaces wildlife, and creates what amounts to overuse injuries on the landscape, with little time for recovery. Complicating the matter is that a whole bunch of these folks are simply new to the idea of having a reciprocal relationship with natural places and aren't yet well versed in stewardship. So how do you spread out usage while recognizing that everyone—even people who don't yet know "the rules"—benefits from and deserves time outside?
Years ago I learned traditional map and compass navigation so that I could travel cross-country to scope out more solitude. I generally avoid marquee trails and destinations in favor of locales that sit a bit lower on the sexy scale, delighting instead in the whole of the experience instead of fixating solely on my destination. Unfold your favorite map or gaze upon your trusty GPS app and dream big, my friends.
Of course, the confidence to visit places that aren't gushed over in a thousand blog posts or highlighted in a million guidebooks comes with knowledge. Luckily, the fountain of outdoor knowledge doesn't just spring from formal courses and government websites and volunteer docents; each of us can use our own experience to teach others as well. Hunting and fishing are two outdoor pursuits that thrive on a mentorship model; it's time for trail enthusiasts to do a better job of taking newbies under our wings. I volunteer to teach a backcountry-skills class and lead overnight trips through the Sierra Club Angeles Chapter. For you, it might look like volunteering with local outdoor organizations or spending time on the trail helping friends and family learn the ropes.
There's no way around it—we've got to create more opportunities for people to get outside closer to home. This is a tricky nut to crack, especially in cities like Los Angeles, where it can be argued that developing affordable housing is a much more urgent need than expanding parklands, and where increased greenspace can actually end up displacing the very same residents and business owners who should benefit from its existence. But we can still push local legislators to support the increase of green schoolyards, parklets, and rails-to-trails projects.
None of these ideas may explicitly solve the dilemma of having too many people milling about Yosemite Valley, for example, but they can help people begin or deepen their relationship to the natural world, which is a different kind of solution altogether. We were all beginners once, getting our toes wet in a backyard or a city park. Giving more people controlled, low-stakes settings to act as learning grounds will inevitably lead to more confidence and awareness once they move on to the backcountry big leagues.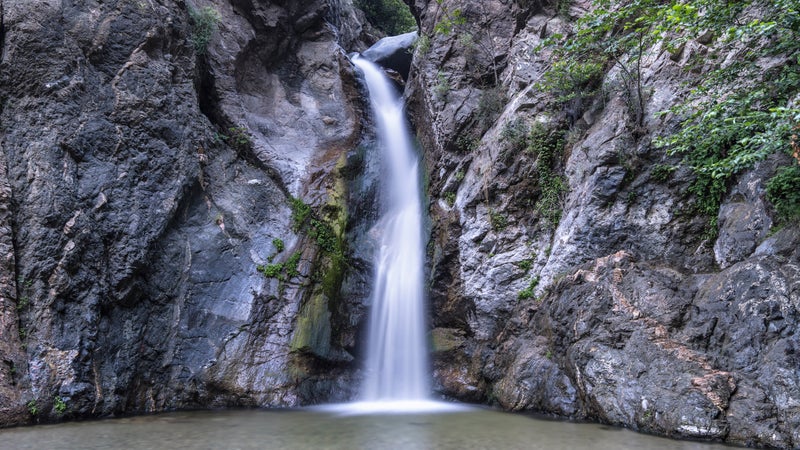 As for Eaton Canyon, the reservation system is still in place almost a year later; a recent community meeting solicited input on whether it should continue indefinitely. While there's still no resolution, Bosell assured me that the canyon experience today is a much different one than it was a year ago. Social trails have disappeared, as has the perpetual conga line, and the wildlife has returned. "I work in parks. I love parks. My office is here in Eaton Canyon. And I wouldn't hike these trails with my family the way it was," she says. "The way it is now, it's just so, so much better."
I finally got to see for myself one early April morning, my hard-won reservation in hand. Driving in with significantly less anxiety this time around, I parked—my vehicle just one of maybe a dozen cars in a lot designed for many more—and set off on the trail, passing two small groups of hikers before I was alone with my thoughts. It was almost eerily quiet, save for a flock of songbirds that seemed to escort me down the trail. Along the way, a cottontail bounced pass, a handful of alligator lizards skittered across the rocks, and a family of mule deer munched at some vegetation along the trail, their large ears barely perking as I passed by. This was some sort of bliss, for them and me. When I reached the waterfall, I was startled to discover that I had the place to myself for a few moments, thanks to the same reservation system that had shut me out for so long. I felt lucky to be there. We all should feel so lucky to visit these places. Just maybe not all at the same time.
Lead Photo: Sloot/iStock
Trending on Outside Online