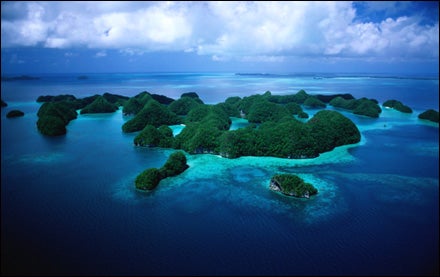 Heading out the door? Read this article on the new Outside+ app available now on iOS devices for members! Download the app.
We've been tracking the adventure travel world for more than three decades. Our latest discovery?

The planet is more wide open for exploration than ever. Whether you want to raft an unknown Himalayan river or link a few Colorado peaks in your own backyard, we have 30 adventures to stoke your wanderlust.
The New, New Places
Go here now—before the secret gets out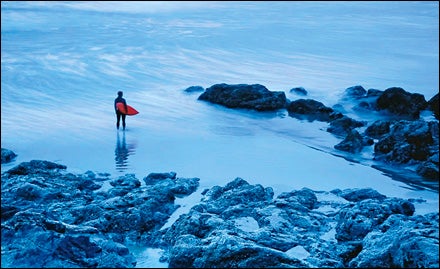 PANAMA
Azuero Peninsula
It seems everything is expanding in Panama. A $5.25 billion upgrade will more than double the Panama Canal's capacity by 2014, tourism nationwide has nearly doubled in the past six years, and in 2005 alone more than one million visitors spent upwards of $1 billion in this tropical destination. The Azuero Peninsula, four hours southwest of Panama City, on the Pacific coast, is a direct beneficiary of the cash infusion. The still-uncrowded peninsula has been getting increasing attention, thanks to its surf-filled beaches and world-class tuna and marlin fishing. Popular digs for foreigners include Villa Camilla, a classy seven-room hotel built mostly from local materials (doubles from $300; meals, $50 per day; 011-507-232-6721, azueros.com).
BRITISH COLUMBIA, CANADA
Tofino
Take a province with more than 16,700 miles of coastline and a few hundred thousand snowboarders itching to embrace the coming summer and you get the British Columbia surf scene. Tofino, a sleepy town of 1,711 on Vancouver Island's Pacific side, explodes into a mini-metropolis every season as a horde of surfers descends in pursuit of consistent beginner and intermediate breaks. For the student who wants to mix surfing with celebrity, there's Bruhwiler Surf School, owned by one of Canada's renowned big-wave riders, Raf Bruhwiler (two-and-a-half-hour group lessons, $75; 250-726-5481, bruhwilersurf.com). At the Wickaninnish Inn, every room has an ocean view (doubles, $208–$398; 800-333-4604, wickinn.com).
CHINA
Yangshuo
Beijing may be the center of the 2008 Olympics universe, but the heart of China's adventure-sport community sits more than 1,000 miles to the south, near Yangshuo (pop. 298,000). Climbers first began setting routes in the myriad karst peaks here in the 1990s; today there are about 300 established climbs. (Last fall, Briton Neil Gresham set the region's first 5.14b.) After climbing, there's caving, hiking, and mountain biking. And anglers can hire a guide—who'll use a trained cormorant—to catch fish at night. Get on belay with China Climb ($40 per half-day with guide; 011-86-773-88-11-033, chinaclimb.com), then crash at the peaceful Yangshuo Mountain Retreat (doubles from $40; 011-86-773-87-77-091, yangshuomountainretreat.com).
BULGARIA
Bansko
Get a piece of the Pirin Mountains while you still can. Bulgaria's January 2007 admission to the European Union will only bolster its booming vacation-home market. Towns like Bansko—where property values have more than doubled in recent years—are where everyone's buying. It's no wonder: One of the most modern ski resorts in Bulgaria is nestled below 9,000-foot peaks with Jackson Hole–style off-piste steeps. Even if you don't have a couple hundred grand to snag a condo, the resort's multi-million-dollarupgrades make it visit-worthy. The new Kempinski Hotel Grand Arena (doubles, $213; bulgariaski.com/bansko/kempinski.shtml) has a mod Swiss-chalet vibe and a primelocation at the base of the gondola.
INDIA
Madhya Pradesh
Last November, Taj Hotels and CC Africa generated big-time adventure travel buzz when they opened Mahua Kothi, the first of five upscale resorts in central India, marrying the African safari with Indian hospitality. Bandhavgarh National Park, abutting the Mahua Kothi, is one of the most famous tiger habitats on earth, with centuries-old man-made caves that now serve as big-cat dens. After a day exploring the sal forests and bamboo jungle, guests chill out in one of 12 suites on the 40-acre property, which offers all the best amenities of a conventional luxury safari—but with hookah pipes in the common area, private butlers in traditional costume, andin-room Ayurvedic massages ($600 per person, all-inclusive; 011-91-11-26-80-77-50, indiasafaris.com).
The Classics
The definitive life list for intrepid travelers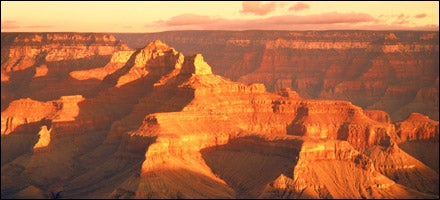 TANZANIA

Kilimanjaro
One of the world's tallest "walkable" mountains, this freestanding 19,340-foot massif draws some 30,000 wide-eyed—and often ill-prepared—hikers annually. Though technical climbing is not required, it's no stroll: A number of those who attempt the five- to nine-day push through rainforest to wind-flayed icefields turn back before reaching the top; about five die en route every year (often from altitude sickness). The payoff for summiters? Views of Africa, in all its brawny magnificence, in every direction. Guides are mandatory; book one in advance through a reputable company, and avoid touts pushing cut-rate outings via the tourist-trampled Marangu Route (the Umbwe Route and others get less traffic). For group treks, seek out experienced companies like Thomson Safaris, which offers hikes on less-traveled trails, with summit-success rates near 95 percent (from $3,990; 800-235-0289, thomsonsafaris.com).
ARIZONA


The Grand Canyon
Few paddling experiences come close to matching the epic 297-mile Colorado River run from Lees Ferry to Lake Mead. There's the monster whitewater (including Lava Falls, called the fastest navigable rapid in North America), the mile-high bisque- and red-hued rock walls, the tent-perfect beaches, and the sheer, walloping Great American West feel of it all. About 22,000 people a year raft a portion of the Colorado's 277 Grand Canyon miles; most travel with one of 16 outfitters licensed by the Park Service, but those with strong river-running skills can arrange a private outing. Good news on that front: As of 2006, noncommercial launch permits are being awarded by lottery (800-959-9164, www.nps.govgrca), replacing the laughable 25-year waiting list. Motorized or oar-powered rafts are the most common way to go, but purists say nothing beats the grace and responsiveness of a wooden dory. Veteran outfitter OARS offers 15- to 19-day full-canyon dory trips (from $4,535;800-346-6277, oars.com).
NEPAL


The Annapurna Circuit

After years of violent unrest, a 2006 peace agreement between the government and Maoist rebels promises to return the tourism spotlight to this Himalayan wonder—one of the original adventure travel meccas. No trekking route is more spectacular, or more accessible to reasonably fit hikers, than the three-week, roughly 200-mile inn-to-inn Annapurna Circuit. With a constant backdrop of 20,000-foot peaks, the trail loops from the semitropical city of Pokhara, over 17,769-foot Thorong La pass, on the edge of the arid Tibetan Plateau, and back to the terraced lowlands. Thanks to the détente, U.S.-based outfitters have noticed a surge in interest in Nepal. Wilderness Travel will return to Annapurna this fall after a four-year absence (from $2,795 per person;800-368-2794, wildernesstravel.com).
FRANCE & SWITZERLAND

The Haute Route
Linking the two most iconic peaks in the western Alps—Mont Blanc, in Chamonix, France, and the Matterhorn, in Zermatt, Switzerland—this famed seven- to ten-day, 70-mile high-country journey is best suited for advanced skiers who feel confident in dicey conditions. (If kick turns on icy steeps aren't in your repertoire, consider waiting for summer and hike the route instead.) Nights are spent in small hotels and dorm-style alpine huts, where you'll find goulash, beer, and the kind of conviviality that generally ends in off-key singing. Even if you're an accomplishedski mountaineer who can parlais français (quick, what does "Danger de mort!" mean?), it's wise to hire a guide (consult chamonix.net) or hook up with an outfitter like Selkirk Mountain Experience ($3,225; 250-837-2381, selkirkexperience.com). Prime ski-touring season is mid-April to mid-May.
ECUADOR

The Galápagos Islands
Straddling the equator 600 miles off the west coast of Ecuador, these far-flung volcanic islands have been the focus of scientists and wildlife lovers since Charles Darwin first scratched his head here in 1835. Now that the Galápagos have become one of the most popular destinations on the planet—120,000 yearly visitors come to spy on the islands' famous giant tortoises, fur seals, and blue-footed boobies—the Galápagos National Park Service keeps tight control on where boat passengers disembark and how long they spend at designated land and underwater visitor sites. The best way to avoid crowds? Charter a private yacht that's stocked with dive gear and sea kayaks. Mountain Travel Sobek can arrange private one- to two-week yacht charters (from $3,795; 888-687-6235, mtsobek.com). Or join Adventure Life's new nine-day hiking trip, with overnights in small inns (from $2,095; 800-344-6118, adventure-life.com).
Epic Journeys
Work off your wanderlust the hard way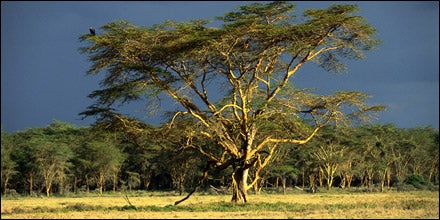 Kenya

On most days, the closest you'd get to sharing the trail with a Kenyan is probably several miles behind. Not so on this new running safari, a 12-day pounding that places you on twice-a-day runs with some of Kenya's most gifted athletes. You'll start in Eldoret, a city about 200 miles northwest of Nairobi and the heart of the country's long-distance scene. Next you'll team up with 1997 and 1998 Los Angeles Marathon winner Lornah Kiplagat in her hometown of Iten for runs through the verdant hills. The group—not the champ—sets the distance and pace. Most nights you'll sleep in basic accommodations in villages and get your carb-to-protein ratio right with meat pastries called samosas. Move on to Mombasa, where, on March 24, the World Cross Country Championships unfold—the first time Kenya will host the prestigious race. March 14–25; $3,900; Micato Safaris, 800-642-2861, micato.com
INDIA

The Tons River

The Tons River roars from 20,000 feet in the Indian Himalayas with such sustained intensity—think 55 miles of nearly continuous rapids—that the river hasn't seen a single paddler since whitewater pioneer Jack Morison first rafted it in the 1980s. Now the whitewater gurus at New Delhi-based Aquaterra Adventures have reopened the river to expedition-style, 11-day rafting trips, using upgraded equipment like self-bailing boats that were unavailable in Morison's day. Start at Camp Lunagad, about 270 miles north of New Delhi, and spend the next seven days floating through chilly glacial runoff that boils into Class IV–V rapids. Come evening, pitch tents in alpine meadows redolent of rhododendron and chir, and mingle with Gujar tribesmen. April 24–May 4; $1,250; info@treknraft.com
COLORADO

The Colorado Trail

Of all the big hikes that run across U.S. wilderness, few pack as much awe per step as the Colorado Trail. But tackling all 482 miles from Denver to Durango, through six wilderness areas and eight mountain ranges, would take you about a month. Instead, concentrate your efforts during a ten-day romp along a remote 95-mile ribbon that runs just east of San Luis Peak to Molas Pass, in the southwestern part of the state. Start at Spring Creek Pass, 33 miles northwest of Creede amid the 13,000-foot-plus San Juan Mountains. Plan on grinding up to 15 miles a day along airy ridges, down steep gorges, and up winding switchbacks. You'll spend four days cruising above tree line, at nearly 12,000 feet, and the closest you'll come to a town (Lake City) is about 17 miles, which means tackling thousands of vertical feet each day with a heavy pack. Take a break and frolic in Snow Mesa, a flat, grassy expanse so huge it takes a few hours to cross. 303-384-3729, coloradotrail.org
COSTA RICA

There may come a time—perhaps after your third endo over the handlebars—when pedaling 160 miles across Costa Rica by mountain bike makes an overcrowded bus tour look appealing. But keep riding—you won't regret it. Head out from San José for about 20 miles a day and 14,000 feet of total climbing to eventually reach the town of Nosara, overlooking the Pacific. For eight days you'll pedal Specialized hardtails (or your own bike) into villages where people still get around by oxcart, spending nights in hotels, research stations, and a private home tucked into a misty cloudforest. Get off the bike to bushwhack through monster ferns to reach the summitof Cerro Chato, a 3,937-foot sleeping volcano. When you slip into a hot spring near the 5,741-foot Arenal Volcano, your sore muscles will melt away. $2,596 per person with your own group of four; Serendipity Adventures, 877-507-1358, serendipityadventures.com
GREENLAND

Arctic Circle

When Fridtjof Nansen became the first to schlep across the Greenland ice cap, in September 1888, he studied Inuit culture, weathered minus-50-degree storms, and spent a cold, dark winter waiting for a ship to take him home. Today, adventurers can follow his tracks along the Arctic Circle using kites to pull them on skis—at about 12 miles per hour—under the guidance of polar explorer Matty McNair. Never skied behind a kite? You'll spend a few days on Frobisher Bay, on the southeast coast of Canada's Baffin Island, learning techniques that advanced skiers can pick up quickly. Then hop a two-hour flight to Greenland for a 345-mile trek, where the kites will help you pull a 150-pound pulk (loaded with tents, stoves, and beef jerky) in 20-below temps. The adrenaline rush will diminish the hardships as you rip in 24-hour sunlight through a landscape of dizzying white. May 1–31; from $5,000; NorthWinds Polar Expeditions and Training, 867-979-0551, northwinds-arctic.com
Big Frontiers
Formerly off-limits, these territories are finally opening their doors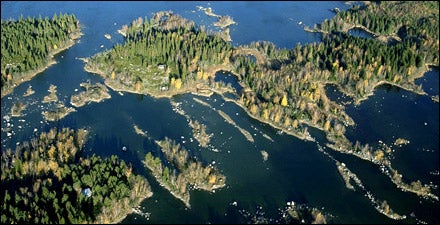 ALASKA

Adak Island

Shrouded in fog and mystery, most of this remote Aleutian isle went public in 2004, after its naval air station was closed and transferred—lock, housing stock, and runway—to the Department of the Interior and the native Aleut Corporation. Most of 280-square-mile Adak is now a federally designated wilderness and wildlife refuge. Bald eagles soar above dormant volcanoes, and 3,000 caribou (introduced during the Cold War as an emergency food supply) roam the moors. Roughly equidistant from Alaska and Russia, the "Birthplace of the Winds" is also a birdwatching hot spot—nearly one-fourth of the 200 species recorded here are migrants found nowhere else in the Americas. High Lonesome Bird Tours leads expeditions ($4,600 per person for eight nights, all-inclusive; 800-743-2668, hilonesome.com), or check out adakisland.com.
Kurdistan

The typical headline out of Iraq is about roadside IEDs, not roadside attractions. Yet last fall this long-suffering autonomous region bordering Syria, Turkey, and Iran launched an irony-free international marketing campaign, "The Other Iraq," to showcase its superb scenery, ancient history, and relative security. Virgin snow blankets the mountains, while the plains hold Sumerian ruins and the hospitable capital, Erbil, one of the world's oldest continuously inhabited cities. In December, Austrian Airlines began twice-weekly flights from Vienna to Erbil. For information, go to tourismkurdistan.com.
PERU

Cordillera Azul National Park

Imagine a forest primeval, with uncontacted jungle tribes and animals with no fear of humans. That Lost World still exists in this national park in the eastern Andes, established in 2001 after biologists from Peru and Chicago's Field Museum recorded 28 new plants and animals—including a bird species confined to the cloudforest atop a single mountain. Only three other scientific groups have since surveyed the 5,225-square-mile Cordillera Azul, which holds endangered jaguars and spectacled bears. In July, the Sierra Club will run a pioneering trip (non-members welcome) that includes an eight-day transect of the preserve by foot, bamboo raft, and dugout canoe ($3,395–$3,795; 415-977-5522, sierraclub.org).
LAOS

Houaphan Province

Sealed off by the daunting Annamite Range and shackled by its past (unexploded wartime ordnance, guerrillas, reeducation camps), Houaphan—in northeast Laos near the Vietnamese border—lies beyond the typical backpacker trail. But a trickle of DIY travelers now seek out this lush outpost for its unaffected hill tribes and vaulting karst mountains. In Vieng Xai district, about 20 miles east of Xam Nau, you can explore the cave-riddled peaks that served as rebel fortresses throughout the Vietnam War. While the U.S. unleashed its bombing campaign, 23,000 Pathet Lao hunkered down in limestone caverns equipped with electricity, dorms, and weapons depots. The Lao Association of Travel Agents (latalaos.org) can provide a list of tour operators.
FINLAND

Kvarken Archipelago

The 5,600 islands in the Kvarken Archipelago are literally in flux; released by the diminished weight of melting Ice Age glaciers, the seabed is rebounding from the Gulf of Bothnia at the rate of a third of an inch annually. The astonishing amount of uplift—more than 900 feet over the last 10,000 years—prompted UNESCO last year to designate some 480,000 acres as Finland's first natural World Heritage site. Paddle the ever-changing labyrinth of emerging islets and expanding peninsulas, washboard moraines and shallowing lakes, then bunk down in a former pilot station on Rönnskar. Björkö Wardshus (bjorkowardshus.fi) runs guided boat trips; Luontoon.fi offers travel info. But get there now: In a few millennia, the uplift will form a land bridge to Sweden.
Top Travel Innovations
Eight indispensable travel innovations
Solio Charger

Solio Universal Hybrid Charger
Singapore's Changi Airport

With some 160 stores, 80 eateries (including a cigar lounge and live jazz bar), a Balinese-style swimming pool, leather "snooze chairs," and massagesoffered 24/7 at the Rainforest Lounge, there's no rush to claim your bags. changiairport.com
The MLC

Short for "maximum legal carry-on," this handy bag holds up to a week's worthof gear—just enough for hitchhiking through Belize. Tuck away the ergonomic shoulder strap for a presto backpack. Two large compartments separate the clean stuff from the sweaty climbing gear; the coated reflective fabric repels rain. $148; patagonia.com

GreenGlobe.org


Want your trip to be socially sound and eco-friendly? The Green Globe program, launched by the World Travel & Tourism Council, certifies hotels and tour companies that meet top standards for everything from water managementto noise control.

FlyerTalk.com


Founded by a frustrated frequent flier, this time-tested site allows users to share info on how to get the most out of their bonus miles, with discussion forums for every major airline, a live chat for last-minute queries, and an option that helps you create a mileage-maximizing itinerary.
Ex Officio Give-N-Go Skivvies

Breathable, lightweight, moisture-wicking, and bacteria-resistant, these boxers and women's bikinis won't let you down. Super comfortable (made of nylon and spandex), they air-dry in a snap. Boxers, $25; bikini briefs, $16; exofficio.com
Solio Universal Hybrid Charger

This groovy solar-power station—the size of a deck of cards, with interchangeable connector tips—offers a one-stop charge for your camera, cell phone, PDA, GPS, and digital audio player. (One hour of sun equals one hour of iPod use.) $100; solio.com

HotelChatter.com


A juicy source of inside information and tips about the good, the bad, and the disgusting. Check out the Hotel Hell stories about not-so-hot spots (like Room 15 at Nevada's Caliente Hot Springs Motel, home to polygamist ceremonies), or skip to the Hotel Heaven tales (which for one woman included sunglasses-cleaning pool boys at the Grand Rotana Resort & Spa in Egypt).
Canon CP730 Selphy Compact Photo Printer

Create personal postcards in 58 seconds with thispaperback-size portable printer. It hooks up to any laptop or Canon camera(and some cell phones), churning out 300-dpi, four-by-six color photos on address-ready cards. $150; estore.usa.canon.com
Notes from the Guru
Take it from adventure travel trailblazer Richard Bangs: Understanding the world requires immersing yourself in it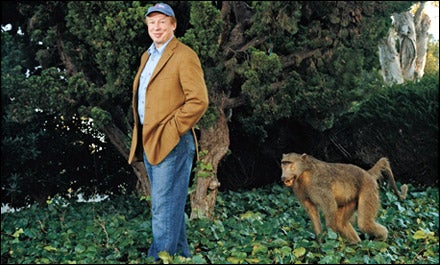 If you could trace the roots of adventure travel to one person, Richard Bangs, 56, might well be the man. In 1973, back when big chunks of the world, like Russia and Eastern Europe, were virtually closed to Americans, he and high school pal John Yost headed to Ethiopia to explore the Omo River (a trip featured on the first cover of this magazine). What began as a last hurrah of youth morphed into the founding of a travel company, which eventually became Mountain Travel Sobek, one of the largest, most respected outfitters in the industry. Although Bangs is still a co-owner, he left MTS in 1991 to bring travel to the Internet, launching Microsoft's now-defunct online adventure 'zine Mungo Park in 1996 and going on to produce travel features for Expedia, Yahoo, MSNBC, and Slate.com. His latest film project, a documentary on the vanishing crocodiles of the Nile, airs on PBS this summer. Senior editor STEPHANIE PEARSON recently caught up with him in San Diego for this as-told-to about the past, present, and future of wild journeying.
I was 22 in 1973 and had this notion to head to Africa to see if I could explore some rivers that hadn't been navigated. It turned out to be such a magnificent experience that I decided to organize a little company to take people on extraordinary adventures. It was patched together in my mother's basement in Bethesda, Maryland. We began to offer trekking, climbing, ballooning, diving—at that time there was no adventure travel landscape. The concept of travel with a purpose, travel with meaning, travel that would bring you back fitter, with a clearer mind, with a better connection to the world, did not exist.
Adventure travel is in a much better place than it was 30 years ago. We owe a lot of our global interconnectedness to adventure travelers. People who started to wander the earth and appreciate its beauty were people who became activists. Now everybody talks about ecotourism and green travel. It's all the rage. There are downsides and abuses, but it's a good attitude, and it comes from people who are willing to step off the beaten track.
Is the world a smaller place? Absolutely. Within 24 hours you can get to almost anywhere on the planet. But all of this is good. Dark political things would happen when doors were closed. It's very easy to be judgmental and raise the fear index when you don't really know who the other person is. Mark Twain said it best: "Travel is fatal toprejudice and bigotry."
What will adventure travel be like 30 years from now? I was in Bosnia a few months ago, and they have all these outfitters in places where the Croats and Bosnians were once lobbing mortars at each other. This is much harder to do when people are roaring with laughter as they roll down a river… Adventure travel is the fastest-growing segment of the travel industry. It's increasingly impossible to find a country that does not have it. Places are opening up and landscapes are shifting all the time. I just received an invitation to Lebanon. We do a trip to the Galápagos almost every week of the year now. Lots of people are doing things that were unimaginable a few years ago.
I'm an advocate of traveling with technology. I have an Iridium sat phone I take with me everywhere. If you need a moment of Zen, it's easy to take off all your clothes and be as natural as you want, but when it comes to survival, sat phones have saved a lot of lives. In Namibia, a doctor broke both ankles on a trek and was in danger of dying. I was able to call an evac and get him out. The less you have to worry about your own survival, the more you can assimilate the actual experience. Technology in the field can give you an assurance of survival so that you can be more in the moment, more in the experience—so you can contribute and extract more.
Adventure is a very elastic concept, but it has to deal with stretching your consciousness and going beyond your comfort zone. The world, or you, will not change if you are static. If you are willing to stick your neck out, try untried things, have that moment of unknown discomfort and sharpness, then you're fully alive. When I did the first descent of the Zambezi, nobody considered it. Now when I go back to the Zambezi, there are thousands of people tumbling down. Everybody who rafts it has an amazing experience, and it makes a difference. It becomes transformative when you go beyond the concrete and the familiar.
Travel rejuvenates. It's new, it's very childlike, it keeps things fresh. Anything is possible. There could be dinosaurs around the corner. If you don't travel, you deaden yourself. I continue to look at maps and get very excited by the places I haven't been. The more you see, the more you recognize what you have yet to see.I have a long list. It's an endless quest.
2007 Trip of the Year Winners
The best of the best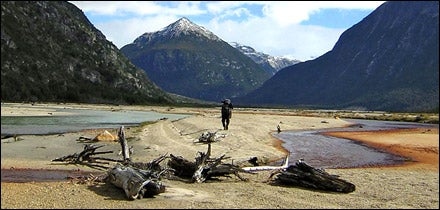 Overall Winner


Trek to the Source of the Tsangpo, Tibet

The last time trekking guide Gary McCue set out to explore far-western Tibet, he happened upon an acre-size hot spring that tumbled from a mountainside near Lake Manasarovar. "I'd never seen a boiling creek just come crashing out of a hole in the ground," he says. But it's just the sort of surprise the Tasmania-based author of Trekking in Tibet: A Traveler's Guide has come to expect from this part of the world. Tourism may be booming—the controversial new Qinghai-Tibet Railway helped bump up visitation to Tibet by 30 percent last year—but much of this mysterious land of Buddhist temples and mist-shrouded peaks remains blissfully unexplored by outsiders. This spring, McCue will return to the Himalayas on a quest to reach the source of the Tsangpo River, the mightiest of four rivers that flow from the sacred 22,028-foot peak of Kailas. The 42-day exploratory trek is the first commercial expedition to a pilgrimage site very few Westerners have seen since a Swedish explorer hiked nearby in the early 1900s. After driving across the plains from Lhasa to Darchen, you'll trek the perimeter of Kailas before camping in the Lha Chu Valley during the annual Saga Dawa full-moon festival. Then you'll start the weeklong journey through a glacial valley to Tamchok Khabab, the river's source. The trip ends with a visit to the temple-strewn Limi Valley, a newly opened region of western Nepal. "It's hard to find wilderness this wild and remote that doesn't require Reinhold Messner-level skills to reach," says McCue. "It's the closest you can come to what the explorers experienced 150 years ago." OUTFITTER: Wilderness Travel, 800-368-2794, wildernesstravel.com; PRICE: $10,560–$13,160; DIFFICULTY: Challenging; WHEN TO GO: May–June

North America


Cross The USA On Two Wheels

This epic, coast-to-coast challenge takes you from Santa Barbara, California, to Charleston, South Carolina—2,949 miles with 167,000 vertical feet of climbing—in 33 grueling days. You'll pedal on two-lane blacktop across the Mojave Desert, over Rocky Mountain passes, and through southern prairies en route to the Atlantic seaboard, staying in roadside hotels along the way. You'll earn a lifetime's worth of bragging rights (you're averaging a century ride per day) and get a two-wheeled take on the classic American landscapes that most travelers experience only as a blur through the car window. Just be sure to remember to dip a toe in both the Pacific and Atlantic or your efforts might be in vain. OUTFITTER: Trek Travel, 866-464-8735, trektravel.com; PRICE: $10,000; DIFFICULTY: Challenging; WHEN TO GO: September–October

Polar Regions


Canoe With The Caribou In Alaska

The 23-million-acre National Petroleum Reserve, on Alaska's north coast, holds the largest swath of unprotected wilderness in the U.S.—and you needn't look beyond its name to guess its primary purpose. But the region harbors much more than black gold: Half a million western arctic caribou march across its sprawling plains each year, along with grizzlies and wolves. On this 11-day trip, you'll follow the herd by foot and in two-person canoes on the untamed Kokolik River, hiking where woolly mammoths and saber-toothed tigers once roamed. OUTFITTER: Equinox Wilderness Expeditions, 604-222-1219, equinoxexpeditions.com;PRICE: $4,495; DIFFICULTY: Moderate; WHEN TO GO: June

South America


Three Jewels Of Aysén, Chile

This isolated piece of Patagonia, where the population density is just 1.2 people per square mile, is framed by vast icefields that feed blue-green rivers and streams so pure you can drink from them. The 27-day, 132-mile expedition combines three seldom-traveled routes: the Cerro Castillo hike, where you'll camp amid the basalt spires and crags that gave Castle Hill its name; the Aysén Glacier Trail, a year-old hut-to-hut circuit through an unspoiled wilderness dotted with glacial lakes; and on to the icefields surrounding 11,073-foot FitzRoy, where iconic Andean peaks rise dramatically from the frozen lowlands. OUTFITTER: Patagonia Adventure Expeditions, 011-56-67-219894, adventurepatagonia.com; PRICE: $4,850; DIFFICULTY: Challenging; WHEN TO GO: January

Eastern Europe & the Middle East


Journey Through Ancient Oman

Just east of Saudi Arabia, on the Arabian Sea, centuries-old shepherd trails crisscross the rocky ridges and deep wadis of the Al Hajar range, which rises 10,000 feet above Oman's placid northern coastline. It's the Middle East that doesn't make the nightly news, and it's virgin territory for most American travelers. On this ten-day trip, you'll trek and camp in lush valleys filled with date palms, in ancient sand-colored villages that blend seamlessly with the surrounding hills, and on a sugary beach where you can snorkel in a sapphire bay. OUTFITTER: KE Adventure Travel, 800-497-9675, keadventure.com; PRICE: $1,995; DIFFICULTY: Moderate; WHEN TO GO: March–April, November–January

Western Europe

Giro Del Gelato, Italy

Finally, a trip that acknowledges the number-one reason we cycle in Italy. Vacations don't get much sweeter than this eight-day ride through southern Piedmont with gelato-making genius Danilo Zecchin, of Ciao Bella Gelato. Pedaling an average of 40 miles per day on paved roads that roll through vineyards and over patchworked hills, you'll work up just enough hunger for the copious Italian dinners, private wine tastings, and all-you-can-eat frozen treats. Recharge at 500-year-old castles and 17th-century farmhouses as the chef spills the secrets behind his sinful concoctions. Then pedal, gorge, repeat. OUTFITTER: Ciclismo Classico, 800-866-7314, ciclismoclassico.com; PRICE: $3,995; DIFFICULTY: Moderate; WHEN TO GO: May

Asia

Discover Rinjani, Indonesia

If trekking near active volcanoes isn't daunting enough, how about climbing a few—including the 12,224-foot Gunung Rinjani, on the island of Lombok, east of Bali, via a scenic new route to its unexplored southern rim. On this ten-day trip, you'll start in the village of Aibuka, scramble to the gorgeous Sengara Anak crater lake, then paddle inflatable rafts to the base of Gunung Baru (7,752 feet), an active young volcano in mid-lake. After topping that "warm-up" peak, you'll soak in surrounding hot springs, then trek to Rinjani base camp. The push to the summit begins under a full moon at 2 a.m. and ends at about sunrise. OUTFITTER: No Roads Expeditions, 011-03-9502-3789, noroads.com.au; PRICE: $1,422; DIFFICULTY: Challenging; WHEN TO GO: May–June

Bahamas, Mexico & Central America

Island-Hop In Nicaragua

If the crater lakes and verdant slopes of Nicaragua's volcanoes have hosted few adventurers, it's not for lack of suitable terrain. The playground potential in the rumpled topography of this fun mecca rivals that of its neighbors. This nine-day trip takes you island-hopping by kayak in Lake Nicaragua, hiking through a rainforest, and wandering among the pre-Columbian artifacts, caves, and rock art of Zapatera National Park. You'll spend most nights in wilderness lodges, where howler monkeys provide the morning wake-up call. OUTFITTER: Mountain Travel Sobek, 888-687-6235, mtsobek.com; PRICE: $2,690–$2,990 (plus $150 internal airfare); DIFFICULTY: Easy; WHEN TO GO: January–February, October–December

Oceania

Dive Into Palau's Shark Week

Reef sharks in the midst of mating season are the headliners at Shark Week, the Micronesian Shark Foundation's annual conservation-oriented celebration of these cartilaginous creatures. Expect cameos from silvertip, tiger, and hammerhead sharks, among others, as you explore the reefs and walls of underwater Palau on this ten-day, resort-based expedition. By day, a 28-foot boat will take you to dive sites, many of which are open only during this event; the nights are enhanced by lectures from experts on sharksand preservation. OUTFITTER: Oceanic Society Natural History Expeditions, 800-326-7491, oceanic-society.org; PRICE: $2,990–$3,490; DIFFICULTY: Moderate; WHEN TO GO: March

Africa

Paddle Madagascar

Long isolated from the flora and fauna of the African mainland, the world's fourth-largest island teems with evolutionary anomalies, such as the 30 lemur species and countless other miscellaneous critters that exist nowhere else on earth. You'll hear a cacophony of grunts and wails as you kayak the aquamarine water of the Indian Ocean through the newly designated Masoala National Park. Inland you'll paddle on calm rivers and lakes through forest reserves on this 18-day adventure. In the tropical home of indiris, sifakas, and octopus trees, you'll sleep in wilderness lodges and camp on palm-shaded beaches where you can snorkel in secluded lagoons few outsiders have seen. OUTFITTER: Explorers Corner, 510-559-8099, explorerscorner.com; PRICE:$4,553; DIFFICULTY: Moderate; WHEN TO GO: October–November
Trending on Outside Online