Welcome to Your New Backyard
Want instant access to the Big Outdoors—trails, rivers, wild shores, just minutes from home—without compromising your livelihood? Then check out these ten towns on the verge of paradise, where you don't have to ditch it all to have it all.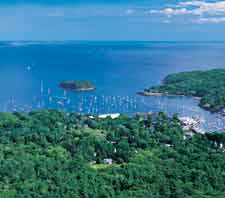 Walter Bibikow
Heading out the door? Read this article on the new Outside+ app available now on iOS devices for members! Download the app.
Early this summer, demographers coined a new word for the kind of town you can now find outside metropolitan areas all across America: a "boomburb." Surely you've been to one. They have 100,000 to 400,000 residents; no downtown; auto-centric development, strip malls, and subdivisions; and double-digit population growth. If you enjoy such surroundings, you're in luck. The nation now has 53 boomburbs, plus hundreds of smaller copycats. When you're in one, you could be virtually anywhere. Undoubtedly some developer has co-opted that name: "Welcome to Virtually Anywhere—Gracious Living Close to Golf—Financing Available."

Camden Harbor, Maine

Thanks, but no thanks. We all know that a town and its people can do much better than that. Take the ten best outdoorsy communities we found, explored, and scrutinized—places where the miles of singletrack far exceed the miles of six-lane beltway, where you can stroll or pedal to the farmers market, where the arts scene doesn't stop at the multiplex, where you don't have to count the number of garages from the corner to tell which house is yours.
Our formula is simple. First, each place offers close access to a mother lode of usable outdoors, so that a paddle, a hike, a few wave sets, or a bump run after work is not just possible but routine. Each one also provides some realistic hope of making a living (enough to support a family), and a healthy supply of sub-millionaire housing. Some of our towns are classic meccas, some relatively uncelebrated burgs, but all are places that haven't bulldozed their character and don't intend to. Places that no one could mistake for Anywhere.



Bellingham, Washington
Upshot: Quintessential Northwest
 • Population: 67,000
 • Median Annual Household Income: $24,714
 • Median Home Price: $89,100
 • Climate: Seattle with a tad less drizzle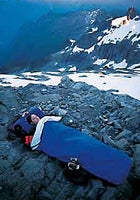 Bivy near Mount Shuksan's Sulphide Glacier
Texans talk about football, Manhattanites about real estate, Coloradans about inches of new powder. In Bellingham, they know their anadromous fishes. One recent night, Lummi tribespeople held their annual First Salmon Ceremony on the reservation just up the coast. Dancers brought in the year's first catch, and after salmon prayers and songs, everyone nibbled a bite of fish and the bones were cast into the bay. The next night, at the terminal where ferries depart for Alaska, hundreds of Anglos crowded the Jammin' for Salmon benefit, with four bands and a mascot in a sequined fish costume. Different melodies, same backbeat. For back-to-the-landers and those who never left it, Whatcom County casts a potent spell.
By the numbers, it offers 143 miles of shoreline, 3,000 miles of river and stream, jagged Cascade peaks topping 10,000 feet, thousand-year-old cedars. In one epic day—well, maybe two—you could wade in a tidepool, paddle from shoreline bluffs to a San Juan Island, snowshoe along a crevasse, plunge down rapids, scale a volcanic cliff, and canoe past organic berry farms on a paper-flat floodplain. One acre of every seven is a park or other green space.
Even so, Bellingham feels like a place in flux. A new waterfront spa sits next to a boiler works. The old homes on South Hill, near Western Washington University, overlook both the San Juans and the smokestacks of the Georgia Pacific paper mill. But townsfolk remain frighteningly pleasant—and why not? They're 90 minutes from Seattle, an hour from Vancouver, and a ferry ride from Alaska. Trivia bonus: You can enter Canada by heading southwest.
PLAYGROUNDS: Few places could host Bellingham's 82.5-mile Ski to Sea relay, held every Memorial Day weekend and open to hardcores and duffers alike. It starts with cross-country skiing at 10,778-foot Mount Baker, followed by downhill skiing, running, road cycling, Nooksack River canoeing, mountain biking, and five miles in a sea kayak across choppy Bellingham Bay. On the other 364 days, add to the mix kayaking and sailing in the San Juans, hiking and mountain biking in the foothills, beachcombing and scanning for harbor seals along the rocky shore, and wandering the 29 miles of trails threading through town. An hour or two away, there's fly-fishing in remote alpine lakes and hiking and climbing on a gargantuan scale in North Cascades National Park.
WORK: Be warned that the local alternative paper calls this the City of Subdued Incomes. Georgia Pacific just let go more than half its workforce, and Alcoa's aluminum smelter has stopped smelting for now, although petroleum refineries still pay well. Many people work at the university, hospitals, and Haggen Food's grocery headquarters; some latch onto TV or film production in Vancouver. Career baristas reach retirement before exhausting the possibilities at Brewed Awakening, Buzzz, Jitters, and their ad-infinitum rivals.
NEST: Check out the huge range: a modest chalet in the county's hinterlands for under $125,000, a needy farmhouse on 20 acres for $175,000, an 80-year-old three-bedroom with unblocked bay views for $327,000, a $4 million minilodge with 800 feet of Lake Whatcom shoreline that screams, "I sold my Microsoft at $110 a share!"
NEIGHBORS: Olympic kayaker whose team has won three straight Ski to Seas; Lummi majoring in environmental policy at Western; fisherman who gave it up to grow bamboo.
HOW TO GO NATIVE: Don wool socks and sandals for a night on the town; plant rhododendrons in your yard; shoot your own indie film.
WATERING HOLES: Popular downtown dance halls, full of cheap beer and collegians, include the Royal, 3B, and the smoke-free Wild Buffalo.
THE PRICE OF PARADISE: Recent projections call for 50,000 more county residents by 2010, so conflicts over the land-trust ethos, north-spreading sprawl, and affordable-housing gap seem likely to boil over in the years to come.
Build Your Own Utopia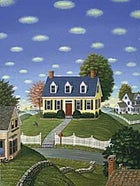 Somewhere between a community's basic necessities (good schools, low crime, reasonable real estate) and its most coveted luxuries (singletrack in the backyard, Class III whitewater on the outskirts of town) are the little perks that can make the difference between a fine outdoor-sports town and a downright dreamy one. Here's our highly subjective recipe for perfection, the ingredients in no particular order:


 • Seasonal farmers market
 • Outdoor lap pool
 • Artsy movie house
 • Bike lanes
 • natural-foods grocery
 • Resident oddballs
 • Water running through it
 • Climbing gym
 • International-magazine newsstand
 • Plans to fight sprawl
 • Clean air
 • Outdoor music venues
 • Dog parks
 • Local parades
 • Alternative weekly
 • Good local public radio
 • Fresh-fish vendor
 • Outdoor-skills clinics
 • Juice bar
 • Summer mountain-bike racing series
 • Minor League baseball
 • Big trees
 • Sunshine



And the Survey Says. . .
When we asked you to plug your most beloved outdoor towns on Outside Online, we knew we'd get some winning suggestions, but we didn't expect such an outpouring of civic pride. The following ten towns are the recurring favorites, straight from the mouths of those who know best: the locals.


Asheville, North Carolina
Population: 66,000
"Artsy, liberal-minded, infested with singletrack, surrounded by whitewater, and affordable." —Cynthia Palmeri

Ashland, Oregon
Population: 19,500
"Cheap living above the valley fog, close to Mount Ashland skiing, Mount Shasta, and the Rogue and Klamath Rivers." —Michael Bate


Boulder, Colorado
Population: 95,000
"Bike to breakfast at Espresso Roma, ski in the morning, kayak in the afternoon, climb the Flatirons by moonlight. Enough said." —Andrew Luter


Bozeman, Montana
Population: 28,000
"Views of five mountain ranges, lots of backcountry wilderness, trophy homes, feng-shui consultants, the rich and aimless, upscale dinner parties, etc. It's Ed Abbey's nightmare vision of a thoroughly New Age, New West town, and I wouldn't dream of living anywhere else!" —Carl D. Esbjornson


Burlington, Vermont
Population: 39,000
"Kayaking Lake Champlain; hiking, mountain biking, or skiing the Green Mountains—and gusto enough to hold an outdoor Mardi Gras party in February." —Dan Jones


Flagstaff, Arizona
Population: 60,000
"Climb the San Francisco Peaks while the rest of Arizona sizzles; come winter, ski the local Snowbowl. And the Grand Canyon is only an hour away in any season." —Dee Sprinkle


Hanover, New Hampshire
Population: 9,500
"Hike the Appalachian Trail along Main Street, ride countless mountain-bike trails and back roads. Plus, great schools, a laid-back New England college-town lifestyle, and no sales tax." —Heath Gosselin


Madison, Wisconsin
Population: 201,000
"A thriving, bike-friendly university town with a four-season climate and cross-country skiing and ice skating right downtown." —Anne Mosser


Park City, Utah
Population: 6,500
"Terrific powder skiing in the Wasatch, and the best early-summer wildflowers I've ever seen." —JoAnne Borchardt


Portland, Maine
Population: 63,000
"Home to the best sea kayaking in the United States. From my front door, I can carry my boat to the Presumpscot River and paddle it to the Atlantic." —Bill Barker
Santa Fe, New Mexico
 • Population: 62,200


 • Median Annual Household Income: $42,093


 • Median Home Price: $203,000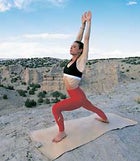 Yoga near Chimayo, NM
This is how Santa Fe usually sets the hook: The unwitting mark passes through town on a college road trip. Nearing the Plaza, she blinks in disbelief at adobes blushing umber in late afternoon, red-chile ristras dangling out front, courtyards shaded by lopsided cottonwoods. The Sangre de Cristo Mountains seem as close as an old movie backdrop. The next morning, she idly thumbs through the classifieds over huevos rancheros, lets up on the gas when she spots a front-yard "For Sale" sign, thinks about massage classes. Back home, friends try to talk her out of it. Too late. Another infatuated victim. Eventually, the country's oldest and highest capital city (a.d. 1610 and 7,000 feet, respectively) shows up on many a must-do list. It's not just the aesthetics—no other place looks like this—and the juxtaposition of American Indian, Hispanic, and Anglo ways that draw them. It's also the backyard perks—ski runs 30 minutes from town, 320,000 acres of adjacent wilderness, Rio Grande whitewater—not to mention a thick schmear of highbrow culture and a size that guarantees you'll run into friends on trails or in grocery aisles. Some stay for love, some because of inertia. Around here, you can't always tell them apart.
PLAYGROUNDS: Southern Rockies meet high desert, with the overall vibe more easygoing than fanatical (and the weather cooperative nearly every day of the year). The Santa Fe National Forest's Winsor Trail, beloved among local mountain bikers and hikers, climbs from desert scrub through zones of spruce, aspen, and pine; the three-and-a-half-mile Atalaya trail is a right-in-town favorite. Santa Fe Ski Basin, atop 12,053-foot Tesuque Peak, has about 1,650 feet of vertical, with adjacent backcountry chutes and 225 inches of powder annually; Taos is about 90 minutes north. On the Rio Grande, the 17-mile Taos Box runs Class III and IV in season, and the Race Course, Class III—both less than an hour afield. Year-round climbing routes await at White Rock and Diablo Canyon.
WORK: Government and tourism services account for two-thirds of employment. Santa Fe is the nation's third-largest art market (with 200-plus galleries) and is a magnet for alternative health practitioners of every subniche. Other small clusters include a dozen or so "informatics" software geekeries and a bit of publishing, including art books and (ahem) this magazine.
NEST: Pricey but wide-ranging, now that the early-nineties gold rush has passed. On the East Side, where old family adobes ooze postcard rusticity, sales of $1.5 million aren't unheard of, but every so often a fixer-upper there lists for $200,000 or so. Many opt for the family-friendly 'hoods of Casa Alegre and Casa Solana, where a one-story charmer that needs updating might go for $130,000.
NEIGHBORS: Retired roofer with a Virgin of Guadalupe tattoo and an old Toyota Land Cruiser; skier/kayaker/climber/ landscaper (in that order); East Coast divorcee who exercises frenetically and paints—badly.
HOW TO GO NATIVE: Bag old Spanish retablos at the weekend flea market; order "Christmas" when asked if you want green chile or red; never, ever use your turn signal.
WATERING HOLES: Lots of comfy hangouts, among them the Dragon Room, El Farol, and the Cowgirl BBQ & Western Grill. For a double shot of only-in-Santa-Fe, go salsa dancing at Club Alegria, serenaded by Franky Pretto, Catholic priest and keyboardist, and his band.
THE PRICE OF PARADISE: At times a high-desert oasis, even a lovely one with museums and artists and world-class restaurants, feels. . . well, like the desert.
Chattanooga, Tennessee
Upshot: Old South Meets New Urbanism
 • Population: 145,000
 • Median Annual Household Income: $33,008
 • Median Home Price: $119,500
 • Climate: Come summer, move slow or head for the hills

Sunset on Chattanooga's century-old Walnut Street Bridge
Chattanooga's darkest hour arrived in 1969, when Walter Cronkite dropped a bombshell on the six o'clock news: The EPA had ranked the nation's worst cities for air pollution, and Chattanooga—an enviably scenic town ringed by mountains and split down the center by the meandering Tennessee River—topped the list. "I about dropped my fork," says Jim Brown, a native who now runs the Tennessee River Gorge Trust, a conservation nonprofit. "That woke everybody up. From that point on, things started to change." Now change is the civic mantra—well, one of them. Enter the city and you risk attack by a swarm of progressive buzzwords: sustainability, greenways, revitalization, strategic revisioning. In practice, those translate into nearly half a billion dollars sunk into lifestyle upgrades. The downtown banks of the Tennessee lure locals with arts and bluegrass festivals, miles of riverfront walkways, and seven-acre Coolidge Park. The next phase calls for a 75-mile web of creekside trails linking parks, neighborhoods, and protected green space. Careful—the boosterism is contagious.
Ironically, Chattanooga would probably still draw outdoor jocks even if the smog had never cleared. In the hills just outside of town, the Cumberland Plateau offers a jackpot of rock- and water-based diversions—dense hardwood forests, trailheads, put-ins, and caves—all close enough for junkets before or after work. If life in a city reinventing itself sounds appealing, you won't get many chances like this.
PLAYGROUNDS: Whitewater is the marquee attraction. The Ocoee River, 50 miles east of Chattanooga, hosted '96 Olympic paddlers, and many creeks, such as North Chickamauga (a mere five miles from town), run up to Class IV when it rains. A 46-mile "blueway" trail was just christened on the Tennessee, where bird-sanctuary islands attract herons, sandhill cranes, and bald eagles. Just outside city limits, Prentice-Cooper State Forest has a vast network of singletrack and hiking trails. Climbers go to Sunset Rock on 2,135-foot Lookout Mountain; cavers have a few limestone caverns right in town and abundant choices north toward Kentucky; and fly-fishers wade the Hiwassee River or drive 90 minutes northeast to the Great Smoky Mountains' countless trout streams.
WORK: The crossroads of interstates, rail lines, and a major river keeps transport and warehousing high on the list of mainstays, along with health care, insurance, and factories that make everything from industrial gases to nanofibers to Moon Pies. Headquarters for the Tennessee Valley Authority and Olan Mills photography are here, too, as well as Litespeed titanium bicycles. The amount of clean, green industry hasn't caught up with the rhetoric so far, but the paint's not yet dry on the renaissance.
NEST: North Chattanooga is a hot ticket, with 1920s Craftsman-style two-bedrooms along winding, magnolia-lined roads, just a stroll from the riverbank, selling fast for around $140,000. Bargain hunters shop precincts on the upswing like St. Elmo and Highland Park, where $60,000 to $100,000 buys a historic cottage badly in need of TLC.
NEIGHBORS: Whitewater junkie who became a firefighter for the generous time off; thirtyish refugees from Atlanta buying and rehabbing sickly old bungalows.
HOW TO GO NATIVE: Employ the verb "to creek," as in "We went creekin' off Highway 27 yesterday." Get jiggy on Bessie Smith Strut Night, a bluesy street fest outside the African American Museum. Curse Atlanta traffic but brave the hour-and-a-half drive (on a good day) for concerts and shopping anyway.
WATERING HOLES: The Big River Grille, a brew house in an old trolley barn, is the nightlife epicenter. The IPA goes down easy.
THE PRICE OF PARADISE: Some ghosts of the downbeat past—Superfund sites, polluted streams, vacant storefronts—still linger.
Eureka/Arcata, California
Upshot: Sweet Isolation on the North Coast
 • Population: 43,300


 • Median Annual Household Income: $26,500


 • Median Home Price: $146,000


 • Climate: Cool, foggy, and damp—the redwoods couldn't be happier

Redwoods riders on the Lost Coast, south of Eureka
A couple of years ago, a USDA economist cooked up a method of quantifying the unquantifiable: how attractive a place is. He created a scale that factored in climate, surface water, and variety of elevation—the hillier, the better—and fed stats into his program from every county in the Lower 48. When his computer burped out the results, the winner had notched a perfect score of 21 for its topography: Humboldt County. Five hours north of San Francisco, this wonderland boasts 110 miles of lonely coastline, thousands of acres of ancient redwoods, several wild rivers, and a 20-to-1 countywide ratio of acres to humans. And no one told the hard drive that Eureka, the county seat, has thousands of redwood-framed Victorians enhancing its Sesame Street grid (A-B-C streets one way, 1-2-3 the other). Or that it has a burgeoning art scene, with gallery-hoppers strolling along F Street through the revived waterfront Old Town and a new art museum in a renovated library. Eureka isn't all spit-shined and polished yet, though. Fishy warehouses and railroad tracks still border Humboldt Bay. Stacks of plywood fill the yards of outlying lumber mills. Jack London would feel right at home.
Then there's Eureka's sidekick five miles up the bay, Arcata. In this aspiring ecotopia, site of Humboldt State University, the wastewater plant is a marshy sanctuary that draws egrets, binocular-toting hikers, and joggers crunching gravel underfoot. The Alliance for a Paving Moratorium calls Arcata home, as do Green Party faithfuls, hippie kids, and zealous recyclers. Order a coffee to go without presenting your travel mug? Unthinkable.
PLAYGROUNDS: A sampler platter: In Redwood National Park, a UN-designated World Heritage Site half an hour north, you can trek among 1,500-year-old trees and ferny canyons. Cyclists choose between foothill climbs and long, rolling rides in the ag-heavy bottomlands near the shore. Of the nearby rivers, the Trinity gets the heaviest traffic, with swimming holes and long, flat drifts punctuated by turbulent stretches up to Class IV and V; head northeast to reach a similar mix on the Klamath and Cal-Salmon. Surfers don wetsuits about ten minutes north of town at Trinidad, and sea kayakers like the sloughs and inlets of Humboldt Bay. An hour or so inland, in the Trinity Alps Wilderness, backpackers find stuff on par with Yosemite, but without the crowds.
WORK: Service jobs predominate—government, health care, teaching at HSU or College of the Redwoods, real estate, tourism—along with a hodgepodge of cottage industries: Yakima racks, cheesemaking, oystering, organic farming. "A lot of people don't make much money here, but they live well," says one Arcatan, "and not always from growing pot."
NEST: A bargain by coastal standards, as plenty of Bay Area refugees will attest. In Eureka, a restored Victorian with woodstove and fish pond, $265,000; modern four-bedroom on an outskirts acre, a bit less; three-bedroom Craftsman, $125,000. In Arcata, add 20 to 30 percent.
NEIGHBORS: Real estate agent/river guide who throws in a raft trip with every home sale; members of the band The Depavers, who recorded the single "Have a Global Warming Day."
HOW TO GO NATIVE: Attend yoga class on the beach; after graduating college, stock produce to avoid leaving town.
WATERING HOLES: The Logger Bar in nearby Blue Lake, close to the Dell'Arte International School of Physical Theatre, holds out the possibility of mimes and lumberjacks bonding over brewskis.
THE PRICE OF PARADISE: Some folks are thrilled to live in a foggy, slow-paced, low-paying town 250 miles from almost anywhere—and some folks aren't.
Win Lottery, Move Here
Towns with the most beautiful scenery and most enviable outdoor recreation are also often the ones with astronomical real-estate prices—or few jobs. If you can ply your trade anywhere or don't need to make a living, go ahead and move to paradise; we're not bitter. Just keep the guest house warm.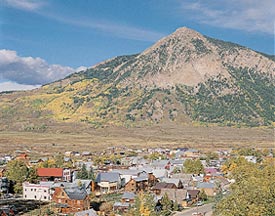 Bishop, California
Population: 4,000
The High Sierra multisport hub: More fly-fishing, backcountry skiing, and climbing, at or above tree line, than almost anywhere—and a fraction of Tahoe's tourists.


Charlevoix, Michigan
Population: 3,400
Everyone's a nature photographer, cross-country skier, beachcomber, or berry picker in the Upper Midwest's version of Valhalla—surrounded by Lake Charlevoix, Lake Michigan, and three wildlife preserves.


Crested Butte, Colorado
Population: 1,500
Steeper lift-served skiing than Telluride, tougher singletrack than Aspen, and a downtown with infinitely more character than Vail. Get there before the megaresorts do.


Cruz Bay, St. John, USVI
Population: 3,500
Sea kayak and sail sapphire waters, mountain bike and hike jungle trails, dive rainbow-colored reefs. Sixty percent of the island is national park.


Haines, Alaska
Population: 1,400
Wedged between the Chilkat Mountain Range and the Coast Range, Haines offers hiking, backcountry skiing, rafting, and Glacier Bay sea kayaking.


Hanalei, Kauai
Population: 5,000
The funkiest town on Hawaii's greenest isle. Backpack along the 4,000-foot cliffs of the Na Pali Coast; snorkel Hanalei Bay; return to a bungalow in the shadow of Bali Hai.


Key Largo, Florida
Population: 9,100
Multifarious fish around the federally protected reef quickly lengthen any diver's aquatic life list. Above water, sea kayak the Everglades, day sail among mangroves, burn your coat and tie.


Sandpoint, Idaho
Population: 6,800
Artists discovered its low-rent beauty. Soon others came to hike the Selkirks, shred Schweitzer ski resort, and land trout and salmon on Lake Pend Oreille. They're all still here—and as mellow as ever.


Waitsfield, Vermont
Population: 1,500
Steepled churches and old-timey barns, along with prime New England outdoors: glade skiing at Mad River Glen, hiking on the 270-mile Long Trail, and quiet, bikeable back roads.


Wilson, Wyoming Population: 1,300
The benefits of Jackson—a 4,000-foot ski area, fly-fishing and rafting on the Snake River, climbing in the Tetons—without Wild West trinket shops.
Camden, Maine
UPSHOT: Coastal Camelot
Population:

5,060


Median Annual Household Income:

$30,607


Median Home Price:

$208,500


Climate:

Glorious summer and fall; a not-too-brutal winter mixes snow with rain

Camden, its harbor, and Penobscot Bay from a high perch on Mount Battie
DON'T BOTHER LOOKING FOR A PRETTIER TOWN; none exists. Schooners bob on Camden's glistening harbor, guarded by a tiny island with its very own lighthouse. Mapled lanes meander among rows of bright Federals, Capes, and Victorians, tricked out with enough bay windows, widow's walks, and shutters with historically correct paint jobs to launch a Ralph Lauren housewares line. The 1928 brick library overlooks a village green designed by Central Park creator Frederick Law Olmsted. Even the seagulls look coiffed. The oh-so-adorable boutiques lining Main Street and the rows of B&Bs suggest pure Vacationland—lights out after Labor Day. But looks deceive. Camden boasts a bubbling economy as well as a rich cultural landscape. The splash of the decade was the 1993 relocation of credit-card behemoth MBNA New England into a once-empty woolen mill here. So far, the company has drawn raves for its role as corporate sugar daddy, hiring thousands for decent-paying desk jobs in Camden and nearby burgs, and pumping millions into causes like the Coastal Mountains Land Trust and a new high school.
Camden draws its share of people who could live anywhere, making for a lively stew. A pod of Polarfleece-clad hardcores marks the seasons by rotating the cargo on their roof racks from bike to canoe to battered skis. Artists and other creatives flock here, following in the wake of FitzHugh Lane and the Wyeths. So do tech-industry honchos such as former Apple head John Scully and Ethernet inventor Bob Metcalfe, who back big-think events like the annual October Technology Conference and a springtime foreign-affairs powwow. (Also here, for reasons uncertain: a subculture of CIA retirees.) Somehow, though, a folksy, Our Town feel survives the highfalutin civic tone. "More people than not," says one transplant, "go home for lunch and walk the dog."
PLAYGROUNDS: More L.L. Bean genteel than highly caffeinated. Waterfolk from far and wide descend on Camden Harbor and the pine-and-birch-forested islands of Penobscot Bay in Forbes-worthy yachts, but also in dories and kayaks. Join the Maine Island Trail Association and, in exchange for helping with cleanups, you can camp on the rocky shores of dozens of privately owned islands. Cyclists fill the rosters of road, trail, and cyclocross clubs—as well as spring and fall races on nearby Ragged Mountain. The well-worn trails of Camden Hills State Park lure hikers and mountain bikers to soaring views of the harbor and Megunticook Lake, blocks from downtown. Locals ski, board, and toboggan at the town-run Snow Bowl (where you can gaze at the ocean from the chairlift), cross-country ski at Tanglewood 4-H Camp about ten miles north, and paddle and fly-cast on nearby lakes or the St. George River's affable whitewater. Taller mountains and/or more boisterous rapids await within three hours in the White Mountains, Acadia National Park, and the West Branch of the Penobscot River.
WORK: More slots than bodies to fill them, mostly thanks to MBNA. Otherwise, half the economy is hitched to tourism, but options exist: Northeast Health employs 800 or so, and nearby Rockland still has manufacturing (FMC BioPolymer extracts chemicals from seaweed; Fisher Engineering makes snowplows). Plenty of people here still get by performing any task that can be done from, on, or to a boat.
NEST: Houses don't languish on the market. Historic District Capes on Sea Street or Bayview near the harbor start at around $250,000 and head for the stars, but you can find something suitable farther from the water for $80,000 to $100,000 less. Just south, in less-manicured but up-and-coming Rockland, homes still list under $100,000.
NEIGHBORS: Native Camdenite newspaperwoman who swims in Nortons Pond every summer morning; fourth-generation boatbuilder who actually knows how to operate a lobster trap; retired Navy captain who runs a bed-and-breakfast.
HOW TO GO NATIVE: Methodically shun the summer-vacation gridlock on Route 1; rabidly follow high-school basketball; run a monthly tab at French & Brawn market.
WATERING HOLE: The Waterfront Restaurant, where locals cluster on the deck to watch the "obscene" summer yachts drift by.
THE PRICE OF PARADISE: "Camden nightlife" is an oxymoron; young singles might find Portland—that seething metropolis of 63,000 a couple hours to the south—less claustrophobic.
Blacksburg, Virginia
UPSHOT: Appalachia gone wired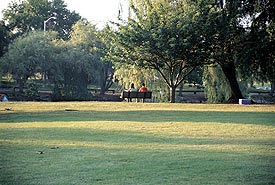 Population:

39,000 plus 25,000 students


Median Annual Household Income:

$48,671


Median Home Price:

$146,065


Climate:

Seasons stop just short of extremes but stay wet enough to keep things lush
"TODAY IS WEIRD," REPORTS BOB SUMMERS, whose office overlooks an emerald landscape of hardwoods and rolling hills veiled in Blue Ridge mist. "I'm wearing shoes. But only because it's raining." At age 28, Summers is CEO and founder of nanoCom, a videophone software firm. In his flannel shirt and jeans he could pass for Science Club treasurer, but by company standards he's a graybeard. The average age of his 17 employees is 22. Like Summers, most residents of this tranquil college town in southwest Virginia take pride in their digital savvy. Nine out of ten go online, and whiz-kid startups thrive like kudzu. (VTLS, for instance, which makes library software, grew out of Virginia Tech's neo-Gothic stone campus seven years ago and now employs 100 locally.)
Despite the high-tech influence, Blacksburg's setting in the New River Valley is as unpretentious as its inhabitants: an uncrowded ground zero for backpackers, boaters, climbers, and cyclists—with a cost of living sharply discounted from that of many towns so topographically blessed. Precious gift shops and nouveau delis have barely infiltrated Blacksburg's small, brick-faced downtown, where commerce sticks to the essentials: cheap eats, cheap drafts, and outdoor toys. But lest you think this is a Blue Ridge backwater, take note: The college pipes in enough non-Appalachian influence (don't be surprised to hear snippets of Chinese or German at the trailheads) to put the Deliverance jokes to rest.
PLAYGROUNDS: Local footpaths in the Jefferson National Forest are sublime—not surprising, given that Blacksburg is a mere 20 minutes from the Appalachian Trail. The two-mile hoof into the Cascades, with its 66-foot falls, is everyone's pet hike; other favorites include Tinker Cliffs and Dragon's Tooth. Mountain bikers head for Brush Mountain and Pandapas Pond, a hub where novice and Hail Mary singletracks intertwine; skinny-tire riders take on miles of empty country lanes a mere five minutes from their doorsteps. Best of all, perhaps, is the New River. On the closest stretches, armadas of students float the flatwater on inner tubes. Ninety minutes north and downstream, in West Virginia, the river has carved world-class Class IVÐV whitewater and climbing routes in the 800-foot-deep sandstone New River Gorge, also a major BASE-jumping site.
WORK: Although a cross-section of manufacturers remains—Volvo trucks, Corning—most prospects can be found in the Corporate Research Center, a campus of brick-and-glass warrens where about 100 tech firms employ 1,800. Or be one of 5,800 on the payroll of Virginia Tech.
NEST: Prices are creeping up. A 70-year-old Cape Cod or Tudor within earshot of roaring football fans at VT's Lane Stadium could easily fetch $250,000 or more. Newer, four-bedroom ranch homes in the Ellett Valley, just minutes from Main Street but with views of the Blue Ridge, often list for under $200,000.
NEIGHBORS: Local-born restaurateur with a degree in wildlife management; genetic-engineering grad student from India learning to kayak and clone sheep.
HOW TO GO NATIVE: Defy fashion smarts by wearing orange and maroon together (Tech's colors); pronounce it "App-a-LATCH-in"; for God's sake patent something. Now.
WATERING HOLES: The Cellar attracts a townie/student mix with Italian grub and beers unnumbered. Unleash your inner Walton at Baylee's—an eatery in a converted 1848 Presbyterian church—by dancing the Virginia reel on Old Time Jam nights.
THE PRICE OF PARADISE: The panoramic views become merely theoretical during the spring, when rain and fog hunker down for days.
Northampton, Massachusetts
UPSHOT: New England's Little Cosmopolis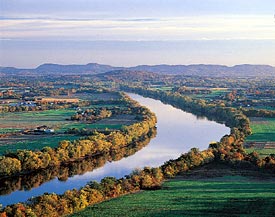 Population:

30,000


Median Annual Household Income: $31,097


Median Home Price:
$140,000


Climate:

Classic four-season Northeast
"IN MANY WAYS," SAYS BILL STAPLETON, president of Northampton Cooperative Bank, "this is a microcosm of a large and fairly sophisticated city." For instance? Consider the subcultures plunked down together here in the woolly Berkshire foothills, on the banks of the slow-flowing Connecticut River. Northampton is one of the republic's artsiest small towns, thick with studios, galleries, arts councils, craftsfolk (a paint-your-own pottery shop occupies a prime slot on Main Street), and chamber-music mavens. It's an undergrad's town, with Smith College's leafy campus downtown and four others—Amherst, UMass, Mount Holyoke, and Hampshire—just across the Connecticut. It's a haven for writers (Tracy Kidder lives up the road), editors, and designers with fiber-optic drip-lines to New York and Boston. You can trace much of Noho's prosperous zeitgeist to the hippies; they tuned in, turned on, dropped out—and then got seed money. In a sense, they've remade the town in their image: a capitalist commune where painters, poets, and plenty of therapists keep recirculating their two-professional salaries among themselves. At times the overlap of disposable income and political correctness gets goofy: This fresh-pasta bistro is a nuke-free zone! But repentant urbanites who want their fresh-air fix, their crème brûée, their Ray Charles concert, and their white picket fence find the overall package tempting.
PLAYGROUNDS: A wide array of day hikes, off-road rides, and trail runs, mostly at gradual Eastern inclines; Mount Tom and Skinner Mountain are classics. At under an hour away, Berkshire East and Jiminy Peak are the closest ski hills, and Vermont's Mount Snow, Okemo, and Stratton resorts are within day-trip range. There are also three cool summer swimming holes nearby (Amherst Pond, Shelburne Falls's glacial potholes, and the hyperbolic "Goshen Ocean," a small lake). Cycling is big, with Saturday-morning platoons of roadies lighting out from the Hotel Northampton's parking lot toward the country roads out-lying. The broad Connecticut draws flatwater enthusiasts, who head north of Coolidge Bridge in canoes, kayaks, and rowing shells. And, a couple of hours away, southern Vermont's Battenkill spawns fly-fishing legends.
WORK: Nicely diversified, even for those for whom "my office" does not mean "my iMac in the guest bedroom." The colleges employ many, on all levels, and a handful of small publishing houses and design studios cater to the bookish set. Don't discount a career in the arts or retail: Lots of galleries and shops that started out as boutiques in Thorne's Market (a funky indoor mall) have grown into glitzy storefronts of their own.
NEST: Sticker shock. Charm-oozing Victorians on one of the leafy avenues that spoke out from Elm Street and the red-brick downtown typically list from $300,000 to $350,000 and sell quickly. Less than $200,000 might lasso a nice brick Colonial across from a pond in slightly grittier Easthampton.
NEIGHBORS: Plumber whose wife makes kaleidoscopes and trains for the Head of the Charles rowing regatta; twentyish vegan with dreadlocks and chin whiskers, jerking wheatgrass juice to pay for his Rolfing lessons; Jungian therapist who likes hut-to-hut hiking and has issues with his daughter's blue hair.
HOW TO GO NATIVE: Drive an ancient, chuttering Volvo plastered with lefty bumper stickers; bring your bandanna-wearing Lab and your baby carrier everywhere.
WATERING HOLES: The best tilt downscale. Packard's is where locals converge for burgers, beers, and billiards. Joe's, an unapologetically dim-lit joint with a crowded bar and homemade-style pizza, features Old Mexico-themed murals. Go figure.
THE PRICE OF PARADISE: Big-city culture draws inevitable big-city traffic; pervasive PC aura may have committed mainstreamers pining for a Hooters full of longshoremen.
Santa Barbara, California
UPSHOT: The quasi-Mediterranean good life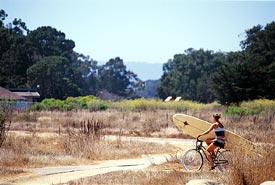 Population:

93,000


Median Annual Household Income:

$33,667


Median Home Price:

$629,000


Climate:

With rare exceptions, perfect
THE SUN IS ANGLING TOWARD THE FOOTHILLS upcoast from East Beach. A cooling breeze riffles the bougainvilleas. As dusk begins to glow, most volleyballers have abandoned their nets to the sand, but the outrigger canoe team is just getting started, surging out beyond the breakwater. Runners and cyclists whiz by along the walkway; there goes actor Christopher Lloyd, wobbling slightly on his Rollerblades. Sailboats crowd the waves between here and the Channel Islands. Shadows lengthen on the steep Santa Ynez ridge, looming over a sea of whitewashed adobes with red-tile roofs.
Santa Barbara's heady ambience starts with a steady stream of wealth and glitz from L.A. and elsewhere funneled into the laid-back Central Coast. That mix produces a lush cityscape of palms, eucalyptus trees, and flowers, and supports legions of great restaurants—from sushi to Thai to trattoria to whole-grain to tacos to catch of the day. It sustains more culture than any town of fewer than 100,000 can rightly expect: museums, light opera, one festival after the next. The catch? Well…how does a half-million-dollar fixer-upper sound? That's what you get when you jump into the pool with the likes of Jeff Bridges, Kenny Loggins, and Oprah. Ordinary mortals resign themselves to perma-renting or sweating an absurd mortgage. "People make sacrifices to be here," says Joe Coito, a 37-year-old who runs Adventours Outdoor Excursions. "We all know that coming in."
PLAYGROUNDS: To ski, run whitewater, or dogsled requires travel, but otherwise it's all right here, year-round. On and in the Pacific, Santa Barbarans sail, sea kayak, dive, snorkel, spearfish, whale-watch, swim, and beachcomb any of several state beaches in either direction, as well as Channel Islands National Park, reachable in less than three hours by launch from the harbor. Surfers head an hour north to Jalama Beach or a few minutes south to the world-renowned break at Rincon. On the Santa Ynez ridge, which rises abruptly to almost 4,000 feet, numerous trailheads draw hikers and cyclists to steep, bony singletrack and spring-fed plunge pools. Climbers and hang gliders head up Gibraltar Road for sandstone routes and reliable thermals. The August triathlon, almost as old as the sport itself, sells out early. Servers and spikers follow in the sandy footprints of local product Karch Kiraly. On weekends, coffee shops overflow with club riders heading out to the roads.
WORK: The University of California at Santa Barbara employs the most, with government and tourism not far behind; the "Silicon Beach" cluster near campus has a healthy portion of tech companies. For retailers, the State Street shopping district could seduce a monk into maxing out his gold card. Then there are the divers, climbers, and triathletes at heart who masquerade as teachers, electricians, waiters, and graphic designers to get by.
NEST: Ready? The scale starts around $175,000 for a tidy mobile home, goes to $350,000 for a two-bedroom condo, and heads upward of $750,000 for, say, a 50-year-old, partially renovated Spanish-style cottage with some ocean views. If you require only a roof and a mattress, you can always rent a room in somebody's condo for $600.
NEIGHBORS: French winemaker/paraglider from the Loire Valley; ag worker gradually moving his family up from Guadalajara; Jonathan Winters.
HOW TO GO NATIVE: Wear shorts and Tevas anywhere; obey an unwritten ordinance by not fussing over local celebrities.
WATERING HOLES: On the harbor, Brophy Bros. draws locals with bottled beer, decent seafood, and a view that's pure Santa Barbara—sea and mountains through a forest of yacht masts.
THE PRICE OF PARADISE: With the lack of affordable housing, some smog and traffic, and the Bush administration agitating to increase offshore oil drilling, even this paradise has a few snakes in the garden.
Duluth, Minnesota
UPSHOT: Upper Midwest, with no apologies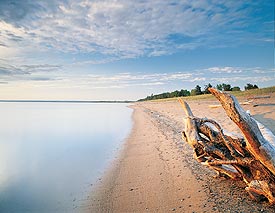 Population:

90,000


Median Annual Household Income:

$23,370


Median Home Price:

$81,400


Climate:
Mild to Minnesotans, Siberia to anyone else
"ONE OF THE FIRST THINGS I DID WHEN I moved to Duluth was get rid of my car," says Dan Proctor, a bearded 49-year-old with graying pigtails who works at the Positively Third Street organic bakery. Before long, he followed suit with his TV, phone, fridge, and ties to the electric company. He walks, pedals, or skis to work, and voluntarily clears brush from a trail near his house, using only hand tools to avoid jangling the forest calm. Proctor's friends have coined a nickname for him: the Unabaker.
Though perhaps not a typical Duluthian, Proctor does embody the town's earthy ethic. Within city limits, some 23 creeks spill over basalt ledges into the west end of Lake Superior. Laced with backyard trails and waterfalls, this gateway to both the Great Lakes and the North Woods spawns die-hard paddlers, Olympic cross-country skiers, ultrarunners, and weather-be-damned mountain bikers. Black bears, moose, and thousands of hawks pass through. "I think a higher percentage of people here are tuned in to the outdoors," says Sam Cook, the Duluth News Tribune's outdoors writer. "There'll be mist rising in columns off the lake, and the sun rising behind it. It's a very moving place to live."
Signs of gentrification have shown up near the Rust Belt waterfront, such as brick streets and overhead Skywalks in the pleasant Mini-apolis downtown, and the four-mile Lakewalk. But they can't quite disguise Duluth's meat-and-potatoes soul, its suspicion of anything trendy. In his book Cold Comfort, local author Barton Sutter recalls when the city gave away bumper stickers that said, "We're Duluth and proud of it." Sutter spotted a hand-altered one: "We're Dull and out of it." You could read either version as a boast.
PLAYGROUNDS: You might begin by imitating Dusty Olson, a 28-year-old carpenter and itinerant ski bum. Olson kayaks such steep North Shore creeks as the Knife, Baptism, Cascade, and Devil Track rivers, which offer Class III and IV froth in the spring. He's run Grandma's Marathon, held each June along Duluth's waterfront, for ten years straight. He grew up skiing Chester Bowl, just uphill from downtown, and nearby Spirit Mountain, which has 900 feet of vertical—not Vail, but not bad. He frequents the town's 20-odd miles of cross-country ski trails and two touring centers, and races in Wisconsin's American Birkebeiner, 90 minutes away, most Februaries. Within 100 miles, there's also canoeing in the Boundary Waters, dogsledding out of Ely and Grand Marais, and paddling through sea caves in the Apostle Islands.
WORK: Local wealth is historically linked to timber, shipping, and mining, all of which have taken hits lately. Technology Village on Superior Street is starting to lure high-tech employers, but for now the most reliable sectors are health care, tourism, and education at the University of Minnesota Duluth and elsewhere.
NEST: You can snag something smallish and humble on the hilly East Side for about $70,000; in the same area, multiply that number by five for a dolled-up Victorian from Duluth's early-1900s heyday. Want a year-round vacation megacabin right on the lake? Start at $600,000 and go up, up, up.
NEIGHBORS: Geologist and wife who bring the dogs along when they ski frozen creeks; railroad worker who hunts, snowmobiles, and sweats buckshot about layoffs; sports-medicine couple who launch his-and-hers kayaks onto Lake Superior from their backyard.
HOW TO GO NATIVE: Any time you're late say, "I got bridged"—that is, trapped on the wrong side when the Aerial Lift Bridge rose to let a freighter pass; attend a poetry reading and a polka festival on the same day.
WATERING HOLES: The NorShor for art-house flicks and live music on weekends; Fitger's Brewhouse for local suds and shockingly tasty wild-rice burgers.
THE PRICE OF PARADISE: The standard rap goes like this: "Duluth? Where the lakes thaw just long enough for the mosquitoes to hatch? Where culture comes in six-packs?" Locals don't mind; it keeps the riffraff out.
Missoula, Montana
UPSHOT: Montana's enlightened cow town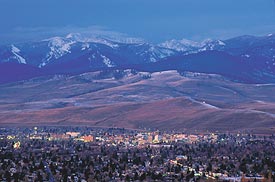 Population:
57,000
Median Annual Household Income:
$22,502
Median Home Price:
$65,500
Climate:
Northern Rockies "banana belt" enjoys cool summer evenings and ducks most Arctic cold fronts
IF MISSOULA WERE A WOMAN, she might show up for a first date in a battered pickup, grease on her overalls and fly rod in hand. She would look ravishing. And if you didn't fall for her, it wouldn't matter—the next guy would. With low wages and rising house prices, atrophied muscle cars and clear-cut blemishes, Missoula doesn't try hard to impress, or need to. The town sits at the junction of five valleys and at least as many currents of American life. Throngs of resident writers orbit around the University of Montana's graduate program, the trout streams, and the storied saloons. Nonprofits abound, many of them tinged with green: the Great Bear Foundation, the Aldo Leopold Wilderness Research Institute, Women's Voices for the Earth, and so on. People from hundreds of miles around pilgrimage here for groceries, ballet tickets, or open-heart surgery. Little of that would exist, though, if not for the trump card, the Huge Outdoors. Encircled by national forest, watered by swift rivers, flanked by rounded hills giving way to snow-capped peaks, Missoula serves up long summer days that cure workaholics; at 10 p.m. on a June night, twilight lingers. In town, you can still picture the prewar Missoula that Norman Maclean called home. People fish the Clark Fork downtown, stately old banks and hotels grace street corners, and pawnshops stock ancient camp lanterns and rusty timber saws. (Try to ignore the day spa and the feng-shui center.) Arguably Missoula is too alluring for its own good: In the 1990s, its population swelled by more than a third. "People move here because it's the last best place," says Tom Maclay, a fifth-generation rancher in the Bitterroot Valley. "But there's always somebody behind them."
PLAYGROUNDS: The surrounding Lolo National Forest alone has 1,800 miles of foot and bike trails; nearby wildernesses—the Rattlesnake just north, the Selway-Bitterroot just south, the Scapegoat, Bob Marshall, and others within a few hours—exceed five million acres. Twenty miles east of town, Rock Creek is the most honored local trout stream. Rafters and kayakers try to do justice to 200-plus miles of floatable river close by: the Blackfoot, the Alberton Gorge of the Clark Fork, and, just 60 miles away in Idaho, the no-holds-barred Class IV-V Lochsa. Climbers and backcountry skiers choose from peaks in any direction, many topping 9,000 feet; and Glacier and Yellowstone National Parks are both close enough for weekend trips.
WORK: Since 1980, the percentage of jobs in retail, medical, and other service fields has tripled, while the wood and paper industries have shrunk by more than half. Major employers include the university and the U.S. Forest Service's northern headquarters, as well as two hospitals that together employ 2,000-plus people. In most cases, expect to pay the "mountain tax"—small wages in exchange for big scenery. Note to aspiring wildlife biologists: Take a number.
NEST: Sixty- to 70-year-old Tudors and bungalows near campus have high curb appeal and prices to match; you could spend $200,000 on a charmer that needs new wiring, pipes, and shingles. For $125,000, you can get a three-bedroom ranch with snowcapped Bitterroot views south of town in Florence, where zip code 59833 is the fastest-growing in Montana.
NEIGHBORS: Left-leaning Democrat with llamas and a loaded gun rack; transplanted Midwesterner who catches author readings at Fact & Fiction and Packers games at the Speakeasy; freelancer by day, sheepherder by night.
HOW TO GO NATIVE: Dress up as a critter for the WildWalk parade during April's International Wildlife Film Festival; smell like either bear oil or patchouli.
WATERING HOLES: The Missoula Club, Charlie B's, and the Union Club are all democratic melting pots and sights to behold. "The guy next to you could be a smoke jumper, a derelict, or a professor," says a frequenter of each, "or maybe all three."
THE PRICE OF PARADISE: In exchange for all those near-Arctic-length summer days, you must endure months of winter gloom.
Trending on Outside Online