Outside Business Journal
Four of the World's Top Outdoor Athletes Explain What the Inflation Reduction Act Means to Them
Jessie Diggins, Conrad Anker, Tommy Caldwell, and Phil Henderson talk legislation and climate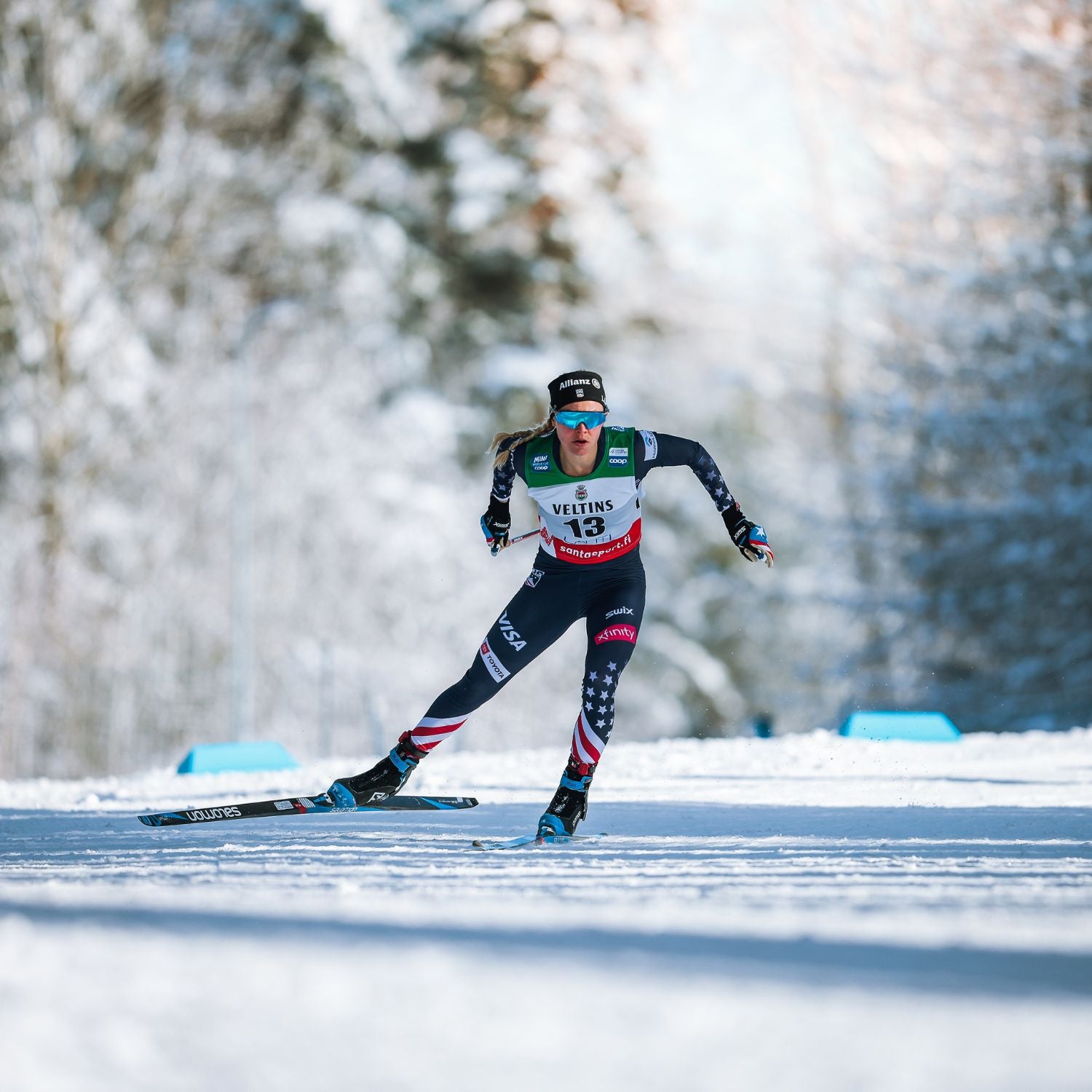 Federico Modica/NordicFocus/Getty
Heading out the door? Read this article on the new Outside+ app available now on iOS devices for members! Download the app.
Jessie Diggins' life revolves around snow. She is, after all, the most decorated Nordic skier in U.S. history. But recently, it's not the snow itself that's top of mind for her; it's the lack of it. Losing winter as we know it—along with the other environmental ravages of climate change and a warming globe—has become one of her biggest sources of worry and motivation.
"I want my grandkids someday to have the opportunity to learn cross-country skiing," Diggins told OBJ. "Maybe they like it, and maybe they don't. But at least I want them to get the chance to experience winter the way we knew it growing up."
Earlier this year, that wish brought the three-time Olympic medal winner to Capitol Hill to lobby for a wonky-sounding bill that could help protect our future: the Inflation Reduction Act (IRA), which finally became law on August 16.
She's not the only pro athlete getting involved in politics. Environmental concerns also brought Tommy Caldwell, one of the planet's best rock climbers, and Colorado senator John Hickenlooper together for a climb last fall, so that Caldwell could bend the senator's ear about his climate concerns. Mountaineer Conrad Anker has paid repeated visits to the offices of Montana senators Jon Tester and Steve Daines for the same reason. And pioneering climber Phil Henderson, the leader of the first all-Black American team to summit Everest, is out pounding the pavement, encouraging his community to vote, when he's not making sports history.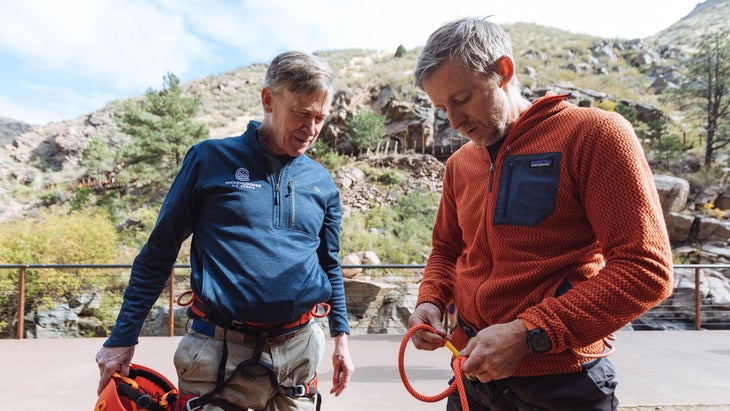 As athlete activism grows, some fans are calling bitterly for folks like Diggins, Caldwell, Anker, and Henderson to stay in their lanes and quiet down. Whatever the haters may say, their efforts are working. The four athletes, working with nonprofit Protect Our Winters, were among the many voices that helped move the IRA over the finish line. The law tackles health care costs, tax codes, and pollution in historically marginalized communities, and also contains the largest climate investment in U.S. history.
"This puts us on a path for energy security in the 21st century," said Mario Molina, POW's executive director. "It will also help us reach our commitment under the Paris Agreement of 40 percent greenhouse-gas emissions reduction from 2005 levels by 2030."
But the fight isn't over.
A little over a week after President Biden signed the bill into law, Outside Business Journal sat down with these four athletes, along with Molina of POW, to ask what the legislation means to them, their careers, and the broader outdoor community—and what still needs to be done to ensure a safe future for our planet. The below conversation has been edited for clarity.
Of all the ways you could spend your time, why advocate for climate-change legislation and the Inflation Reduction Act? 
Jessie Diggins: It doesn't matter if you're a huge fan of fresh powder or you're into fly fishing or trail running, we're all invested in some way in being outdoors, breathing clean air, enjoying the amazing environment, and protecting our crazy-cool outdoor playgrounds.
Tommy Caldwell: I don't like politics, and I don't really like the idea of lobbying. But I do understand that policy is our quickest way to make a change. At the very least, I want to slow down climate change so we can extend the health and wellbeing of our children and our children's children. This is really about future generations.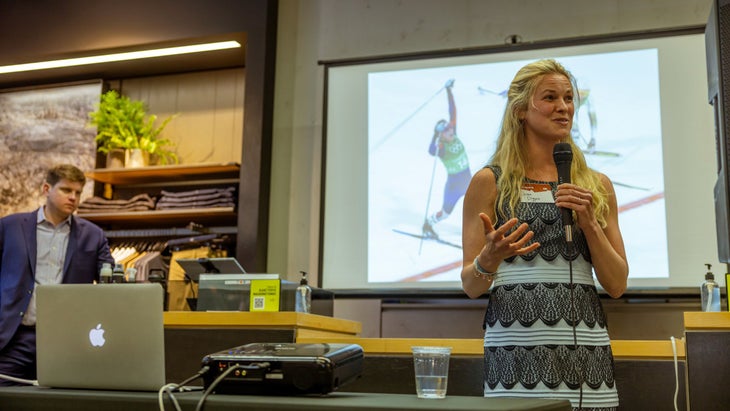 And will this law actually protect our planet, in your view? Or at least help?
Mario Molina: Under a business-as-usual scenario, where we don't do anything at all, we are on a trajectory to reach warming of 3.5 to 4 degrees Celsius by the end of the century. Everything that we're experiencing now—the heatwave that we just had, the increase in hurricanes, floods, reduced snowpack, the unreliability of winter, droughts and fires out West—is the consequence of about 1.2 degrees.
Say you're mountain biking down a 40-degree slope and you see a cement wall in front of you. When is it too late to hit the brakes? Do you want to hit that at 50 miles per hour? Or do you want to hit it at 25 miles per hour? We are going to continue to see the impact [of climate change], but there is a scenario in which those impacts are manageable, and we were able to protect some semblance of seasonality.
What has that 1.2-degree warming, and the resulting climate changes, looked like for you on trails and mountains over the course of your careers?
JD: A couple of years back, we started our World Cup season with the pre-camp in Finland in Rovaniemi, which is right on the edge of the Arctic Circle. Even there, the trails had completely melted out, they were full of rocks and dirt and puddles, and it was down to a very thin layer of man-made snow. We would jog home after skiing these small loops on this dirty snow, and there would be little flowers and green moss and plants blooming on the side of the trail—in November! In the Arctic Circle! For me, that was just really shocking. It brings it home that nowhere is safe.
Phil Henderson: The biggest example I can give is from Mount Kenya in 2000, where I spent a lot of time, and where there are permanent ice fields. The route to one of the higher peaks is easy [Editor's note: easy for you, Phil]. I went back in 2010, and that ice was gone, those permanent ice fields were pretty much gone.
Similar story: I went to Kilimanjaro in 2000, and then back in 2018, and again what you see is shrinking glaciers, ice that's not there anymore. So I've seen it with my eyes in places that most people will never see. But others see it in their cities, in the urban areas: winter coming later, the snowpack being far more shallow, no runoff in the rivers.
Tommy Caldwell: I started noticing the glacier changes in the mountains—that's really obvious. As glaciers melt out, the mountains are thawing and starting to fall down in certain places. Beyond that, the two places where I spend most of my time, Colorado and Yosemite, are drastically changed because of forest fires. Once, the summertime was an incredible climbing season; now a lot of the time we're stuck inside because of the air quality.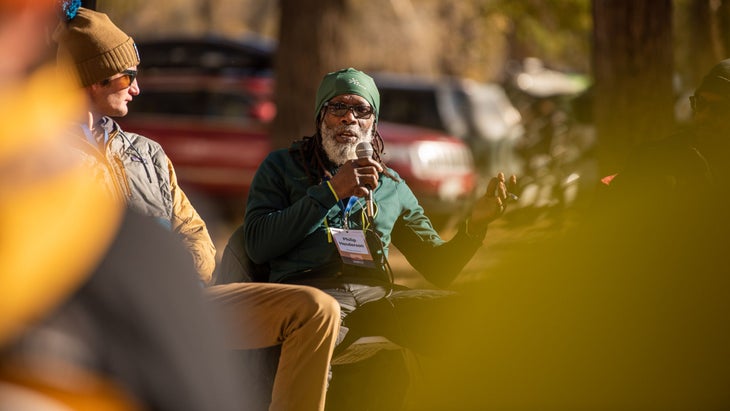 What do you mean by that? Mountains are actually falling down?
TC: Ice is melting out of the cracks. I first started to notice it in Patagonia. Mountains melted and moved, and that created deaths and a lot of bad accidents, but also just completely sporadic rockfall, whole sides of the mountain.
Conrad Anker: The original ascent route of The Ogre [in Pakistan's Karakoram Range] is completely melted out. It's not climbable from a safety parameter. Think of it like this. If you've ever scraped ice off in your driveway on a cold day, it's completely stuck there. You chip so hard, you end up breaking the concrete. If you're an ice climber, you want those conditions. But then on a warm day, when there's a bed of water underneath it—which is what happened this year in the Marmolada Glacier Collapse [in the Dolomites]—that's when things move.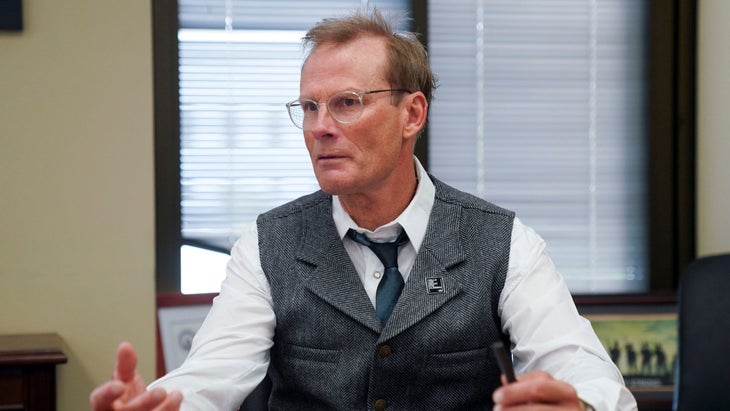 So while this bill likely won't stop some of those changes, it sounds like it could help them from getting worse. Where does it fall short? 
MM: We would have loved not to see oil leases included in the bill. The International Energy Agency has said pretty emphatically that in order to reach the 1.5-degree Paris target, there can't be any new fossil fuel development.
Now, having said that, rarely in politics do you get something done that doesn't get criticism from both sides. If you're getting criticism from both sides, you've probably struck somewhere in the middle of the best you could get.
What are some of the tangible, immediate benefits of the climate portions of the bill?
CA: Near-term, if we have more solar panels and wind towers, those two industries hire from the climbing community. They put advertisements in the magazines that talk to those people; they actively recruit within them. So there's going to be more climbers working on towers and using their skills. We're going to create jobs. Here in Montana, we're a coal state but have a tremendous amount of wind and solar potential. The law will put people to work.
TC: I moved into a new house a few years ago and I've been debating putting solar on—I'll admit, it does seem a little bit expensive. This [the bill's Residential Clean Energy Credit, which allows homeowners to subtract 30 percent of solar costs from their federal taxes through 2032] just moves the needle to a place that makes it a no-brainer. If that can happen for me, on my house, it can happen for other people.
What's next then? Where do we go from here?
MM: The work that's left won't be done in our lifetime. That's something we have to recognize. But this is a massive quantum leap. Number one is clean-energy permitting and number two is interconnection and transmission [of that energy]. We have to make permitting far more effective, far more efficient. After that, the focus is grid upgrades.
What can we do as people who love the outdoors?
JD: Go vote. And not just every four years. Vote this fall [in the midterms]. We've seen history made in the margins of elections, in the smallest numbers you can imagine. That can actually make a big swing and change the course of what will happen and what laws are able to be passed.
PH: Look at your daily life, and minimize as much energy use as you possibly can. If you can use solar, switch to solar. If you can drive an electric car, drive an electric car. If you can ride a bike, ride a bike. If you can walk, walk. We just have to really change our way of thinking and living on a day-to-day basis.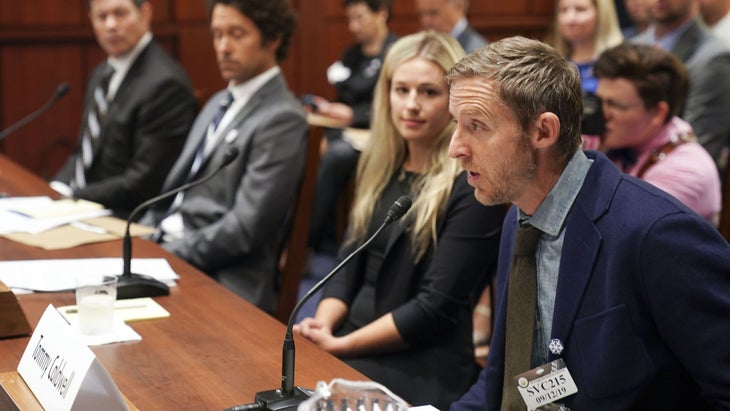 Even with everything you've seen—ski trails melting, mountains crumbling—do you feel hopeful?
TC: It's amazing how my mood can go from feeling pretty discouraged to feeling very hopeful just based on this one bill. Once this version of the bill finally passed, I did find myself filled with hope.
JD: We need to remember that we're not at the end of the race yet—and this is a very, very long race. But I think it's important to celebrate where we are right now, and then to keep looking forward, using our voices, and not taking for granted how amazing the outdoors are. Every time I get out to ski, I have to remind myself how incredible that opportunity is, and that we have to fight to protect it. It's when we start taking things for granted that we're most at risk of losing them.
---
Editor's note: Protect Our Winters is an Outside Interactive, Inc. nonprofit partner. POW is focused on sparking the civic engagement that fuels big climate policy wins like the Inflation Reduction Act.

Lead Photo: Federico Modica/NordicFocus/Getty
Trending on Outside Online