Outside Business Journal
Pilot Project Quantifies the Outdoor Industry's Massive Polybag Problem
The project collected, counted, and recycled almost 75,000 polybags in just three months from 11 outdoor storefronts. Extrapolated across the outdoor industry, the numbers are staggering. Will your company take action?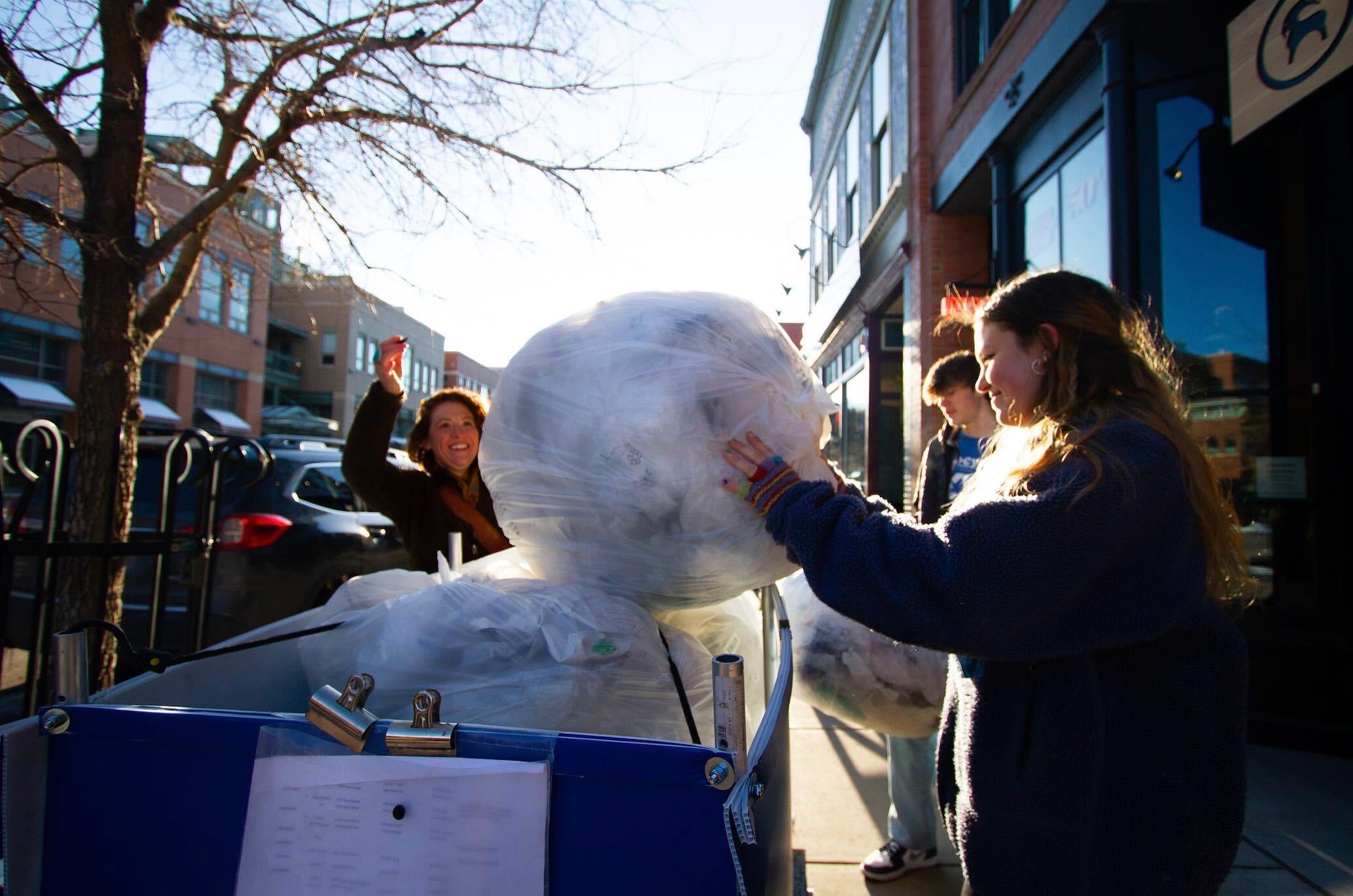 Heading out the door? Read this article on the new Outside+ app available now on iOS devices for members! Download the app.
The data is in from the Retail Polybag Recycling Pilot Project, a partnership between Eco-Cycle and the Plastic Impact Alliance. In just three months, the pilot collected almost 75,000 plastic polybags from 11 outdoor businesses on the Pearl Street Mall in Boulder, Colorado. 
Working within a hyperlocal space, using a bicycle powered collection cart that replaced the typical fossil fuel powered trucking model, Eco-Cycle staff and students from Boulder High School went door-to-door each Thursday from October through December collecting polybags that employees at each store collected from their shipments. Participating brands were Artilect, Backcountry, Black Diamond, Fjällräven, Helly Hansen, Himali, Norrona, Outside Inc., Patagonia, Sherpani, and Stio.
"The data we collected in the polybag pilot program is immensely useful," said Kate Christian, corporate sustainability manager at Eco-Cycle, a nonprofit in Boulder Colorado that specializes in capturing and recycling hard-to-recycle materials. "By extrapolating this data, we can begin to get a sense of how massive this problem is. Our pilot looked at 11 storefronts on a single street in Boulder. But globally, those 11 brands represent roughly 95 of storefronts nationwide. If we were to capture and recycle the polybags from all those locations, we'd be looking at more than 55,000 pounds and over and more than 4.5 million polybags." 
"It's important to note that even that number is only the tip of the iceberg because that's only from 11 brands and doesn't include all the other outdoor brand stores and the 1,000+ independent specialty retailers in the outdoor industry," said Kristin Hostetter, co-founder of the Plastic Impact Alliance. "When we extrapolate that number even further to look at the entire industry, we're talking about billions of polybags that have nowhere to go. This should serve as a wake up call for the outdoor industry."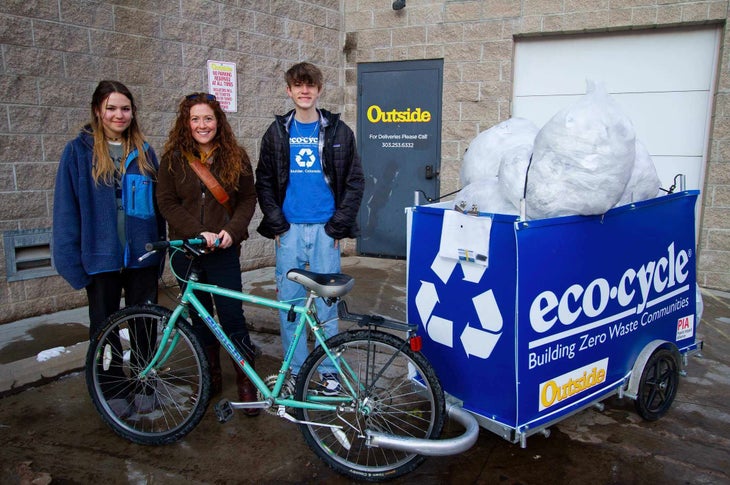 Each company involved in the pilot program was provided with a detailed report of their polybag usage, broken down by weight and number of bags. Brands were also given details on how their store's polybag numbers compared with the others in the pilot. (Numbers ranged from about one pound per week to about 17 pounds.)
Additionally, each brand in the pilot was invited to continue recycling through the program at a cost of less than $20 per pickup. As a nonprofit, Eco-Cycle aims to make this a sustainable program that covers its own costs which include paying the student volunteer collectors. To date, eight of the original partners have committed to continuing the recycling efforts: Fjällräven, Patagonia, Stio, Norrona, Helly Hansen, Artilect, Backcountry, Black Diamond, and Outside, Inc. (OBJ's parent company). "We are still actively talking with our original partners and many others in the area in hopes of bringing in more stores," said Christian. "It's important for companies to understand that recycling is a service—just like cleaning or garbage pickup. Companies are not entitled to free polybag recycling; they have a responsibility to pay for it."
Fjällräven: A Case Study on What Brands Can Do
Fjällräven, which has a 3,380 square-foot store on Pearl Street, was eager to join the pilot program from the word "go" and has already signed up for continued polybag collection. "There is genuine excitement at Fjällräven from both folks at corporate and retail staff around solving waste," said Christian. "The staff isn't just recycling the bags because somebody told them to. They're doing it because they care. This is evident every Thursday when we pick up their polybags. Not only is the staff diligent about managing their polybag contamination, but they're constantly asking unrelated recycling questions around things like textiles and silica packets." Contamination, by the way, is a real issue when it comes to polybag recycling. Often tissue paper, stickers, and desiccant packets are mixed in with the plastic. These items can cause jams in the balers and contaminate whole batches of plastic. 
Daniel Higbee, the Pearl Street store manager is a big fan of the program. "My staff loved that the polybag pilot program used high school students to pick up on bikes, bringing the next generation in. And we appreciated having an end result that brings more visibility to other downtown retail outlets."
"The Retail Polybag Recycling Project provided a unique opportunity to responsibly upcycle our polybags without transportation emissions," said Kaytlin Moeller, sustainability manager at Fjällräven. "Knowing that our bags are being made into a long-lasting, durable material [Trex decking] was another feature that drew us to the program. Based on our learnings and the success of the pilot, we are looking forward to the possibility of similar programs in other locations." Moeller went on to say that Fjällräven is actively looking to eliminate plastic polybags altogether. "We recognize that product packed in individual polybags is problem and we are working on solutions to address it. We have tested shipping without polybags and are using those learnings to determine how to adapt our operations for polybag-free product."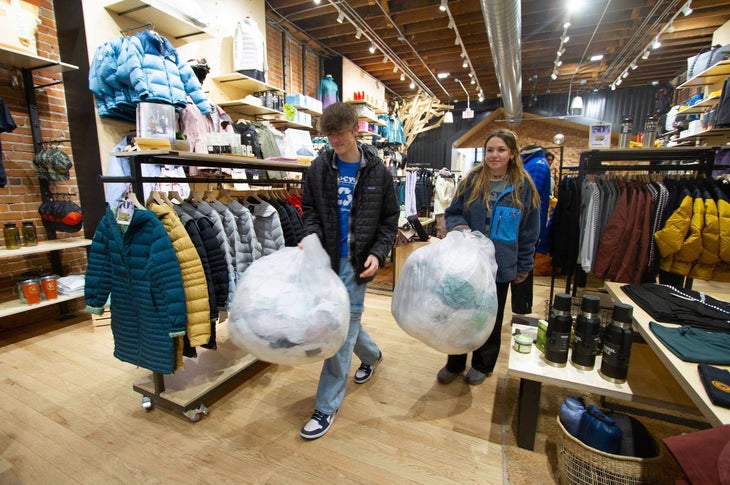 What Can the Outdoor Industry Do About the Polybag Problem?
Polybags are so ubiquitous, so affordable, and so good at what they do, which is protect goods for shipping in a lightweight manner. That's why tackling the problem can feel so daunting. But there are tangible ways your brand can make a difference.
Find Alternative Solutions
PrAna has been a leader in the packaging movement for some time and pioneered a roll-packing technique that is getting noticed. Roll-packing entails tying rolled garments with recyclable twine or raffia and shipping them in master cartons. Employing that technique got the company to 80 percent plastic-free, but there were certain garments in the line that didn't lend themselves to roll-packing, so prAna went in search of a polybag alternative. They found the answer in glassine, a durable paper bag that is curbside recyclable.
Other brands have followed suit, like Livsn Designs, which not only adopted roll-packing, but also revamped their entire hang tag program, replacing plastic-coated tags and plastic fasteners with recyclable paper and twine. 
Jewelry and belt brand Lilo Collections developed its own variation on roll-packing which it calls "burrito packing." Burrito packing involves wrapping the item in paper like a burrito. The company also includes a hand-written note on each burrito like "Please recycle this paper" or "Thank you for being plastic-free with us."  
Keep Polybags Inside the B2B Environment
Matt Gowar, owner of Rab and Lowe Alpine, believes that outdoor brands need to be accountable for their polybag waste. Gowar recently completed an exhaustive 18-month pilot program of his own in partnership with the European Outdoor Group. 
"The outdoor industry needs to keep the plastic polybags we use for shipping inside the B2B environment and not put it out there into the consumer world [or the retail landscape], where the recycling wheels fall off the truck," he recently told Outside Business Journal. "Distribution centers need to remove plastic packaging and sell it to local recyclers. When a big retailer like REI imposes a plastic tax on brands, it's backwards. Polybags are a valuable commodity that need to be respected and repurposed."
Decking company Trex firmly agrees. Trex buys soft film (#2 and #4 clear, color, or print polyethylene films) by the pound and uses it to make decking material. The average 500-square foot composite Trex deck contains 140,000 recycled plastic bags, making Trex one of the largest plastic bag recyclers in the U.S.
"By recycling with Trex, groups like Eco-Cycle can be confident they are making a difference by helping divert thousands of pounds of polyethene plastic waste from landfills so it can be repurposed into eco-friendly composite decking made from 95 percent recycled materials," said Jeremy Bouley, regional recycling account representative for Trex. "One plastic bag or newspaper sleeve at a time, we are teaching communities how to protect and preserve their environment and build a more sustainable future for generations to come."
Switch to Smaller, Lighter, Recycled Polybags
All polybags are not created equal: they range in thickness, size, and recycled content. "Brands should be examining the type of polybags they're using," said Christian. "Best practices entail opting for bags that are made with 100 percent recycled plastic, that are as small in size as they can be to get the job done, and that are as thin as possible."
Retailers Take Action
Independent retailers bear a huge brunt of our industry's polybag problem. With every shipment of new product they receive, they have to unbag each individual item and dispose of the plastic. Most retailers do not have the means to recycle them locally, as soft film plastic is not typically handled by municipal recycling facilities.
Nate Porter, owner of Salida Mountain Sports, couldn't take it any more so he went in search of a solution. "I went to the local Walmart because they collect "shopping bags' and asked if I could add my polybags to their collection bins," said Porter. The manager agreed to let  Porter bring in clean #1 and #2 polybags, which he does each week. The problem is, Porter has no visibility as to what actually happens to those bags. It's a leap of faith, and Porter hopes that the bags do actually get recycled. "It's the best I can do at this time," said Porter. "But it's my fervent hope that our vendors stop sending polybag shipments and capture and recycle the bags at their own distribution centers. They should be responsible for recycling them, not us retailers."
Call to Action
The Plastic Impact Alliance and Eco-Cycle are searching for at least ten independent outdoor specialty retailers who are willing to help us keep collecting data over a period of three months. Retailers are subjected to mountains of polybags, often with no local means of recycling them. The ask is this: tally (either by weight or quantity) the amount of polybags you receive from each brand you work with. The project will provide virtual training to help retailers understand the process and make it as easy as possible. 
The Plastic Impact Alliance will use this data to generate awareness in the outdoor industry and build relationships with recycling partners around the country. To get involved, contact Kate Christian at katec@ecocycle.org.