Outside Business Journal
5 Questions for Jeremy Jones
The pro snowboarder, gear-maker, and climate activist talks about his latest "love story," the power of social media, and how he's gearing up to fight Trump in 2020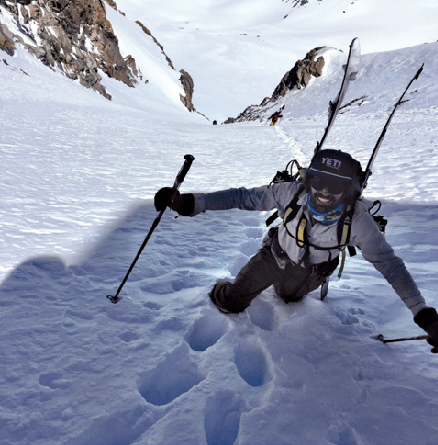 Heading out the door? Read this article on the new Outside+ app available now on iOS devices for members! Download the app.
Jeremy Jones is the triple threat of the snowsports world. He's a Truckee, California-based professional big-mountain snowboarder, sponsored by the likes of O'Neill and Clif Bar. He's also the owner of the Jones Snowboards line of boards, skins, packs, and apparel. And, since 2007, Jones has been the force behind the nonprofit Protect Our Winters (POW), which aims to organize the outdoor community to fight climate change. (Full disclosure: he's also the cousin of OBJ's editor in chief and The Daily editorial director Kristin Hostetter.) Here, he talks about his new short film, incorporating surfboard designs into his snowboards, and how to be a climate activist in the age of Trump.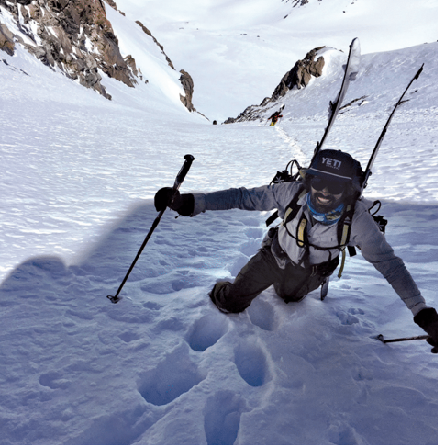 Tell us about your new short film, Teton Gravity Research's Life of Glide.
The last film I did was Higher, which ended with me in the Himalaya. For this one, I wanted to show this other side of the snowboarding I've always done. It's really simple riding, and has a very relatable feel. It's shot within basically ten miles from my house, in my backyard, and my home resort [of Squaw Valley]. Some shots are literally pretty much under the lift. Yet, it has some of the best cinematic work I've been a part of, taking everyday snowboarding and turning it into something much more. The end result is a very happy, beautiful snowboard film. It let me take a break from all this climate stuff and tell a love story.
What's new at Jones Snowboards?
I am always tinkering and tweaking everything. Adding a little flex here or there, little refinements over time that make a difference. And this year we're reissuing our mountain surfer. This has taken us years to figure out how to manufacture because it has full bottom contours that Chris Christenson, a surf shaper, pulled from surfboard designs. It's like nothing that we've done before.
Also, we've been putting a lot of energy into customers. Customer service, deliveries, and helping the customer understand how to pick the right board. The one thing we don't sit around and talk about is how we are going to grow. We want to have an empty warehouse by December 1. And we don't want to see our boards go on sale. From a sales perspective, that's all that I watch. We don't overbuild, and we're totally based off of preorders.
How has social media changed things for all three hats you wear—pro athlete, business owner, and activist?
As a pro athlete, you have to consistently be on social media. The good news is you can still be relevant without needing to drop feature-length films all the time. I love diving deep into longer-form content, but in the meantime I can keep everyone happy by consistently doing a decent job on social media. The downside is, back in the day, we basically would be left alone all winter, and in fall we'd show our season's work. The fact that social media is a daily deal isn't my favorite thing. I look at it as part of my job.
From our company perspective, social media is a big marketing platform. Fifteen years ago, whoever had the most two-page ads in the magazine won. That's a super-expensive game. Out of necessity, we've embraced social media as one of our main marketing platforms.
And as an activist, it's this incredible tool. For my generation and for these kids coming up, social media really is the new newspaper, where people are getting their information.
What's it like being a climate activist in the age of Trump?
When Trump was elected, it hit me really hard. I was devastated and demoralized because I knew that he would do everything in his power to erase years of work on climate change, and that doing so would have dire consequences for future generations. I have had to learn to be OK with the [climate] haters and stay focused on the task at hand.
At POW, we've been really focused on the states that we consider purple, where we can make a difference. There are ten congressional and gubernatorial races we are tooled up for, and our focus right now is moving the needle in these ten areas. Having hope is a key deal. When Trump got elected, we lost hope. But as we started digging into these races, we got fired up and motivated. We can't make a difference at the White House now, but we can regionally, and in 2020 we'll be ready to fight Trump.
Is the outdoor industry doing enough to fight climate change?
We definitely need to be more vocal on the climate front. Nothing will change unless we all stand up. The outdoor industry is bigger than pharma, bigger than the extraction industry, but man, we could learn a lot from the extraction industry because they rule Washington. I really hope that this outdoor industry comes together and just says, enough's enough. This industry is really good at marketing outdoors and the wilderness, and we're really sub-par at protecting it.
We work with less than 1 percent of the companies at OR. It's not a huge bar to be a part of POW. Throw a party and charge $5 a cup and send the proceeds to POW. The money is important, but just being a part of it is even more important. For us to be able to say we represent X number of companies and Y amount of people is the biggest lever we have in Washington.
Trending on Outside Online