Outside Business Journal
After a Turbulent Year, Diana Seung Gets Jack Wolfskin Back on Track
A few months into Seung's tenure as the brand's North America GM, the pandemic hit and plans changed. But she didn't let that hurdle—or myriad others—derail her ambitious goals.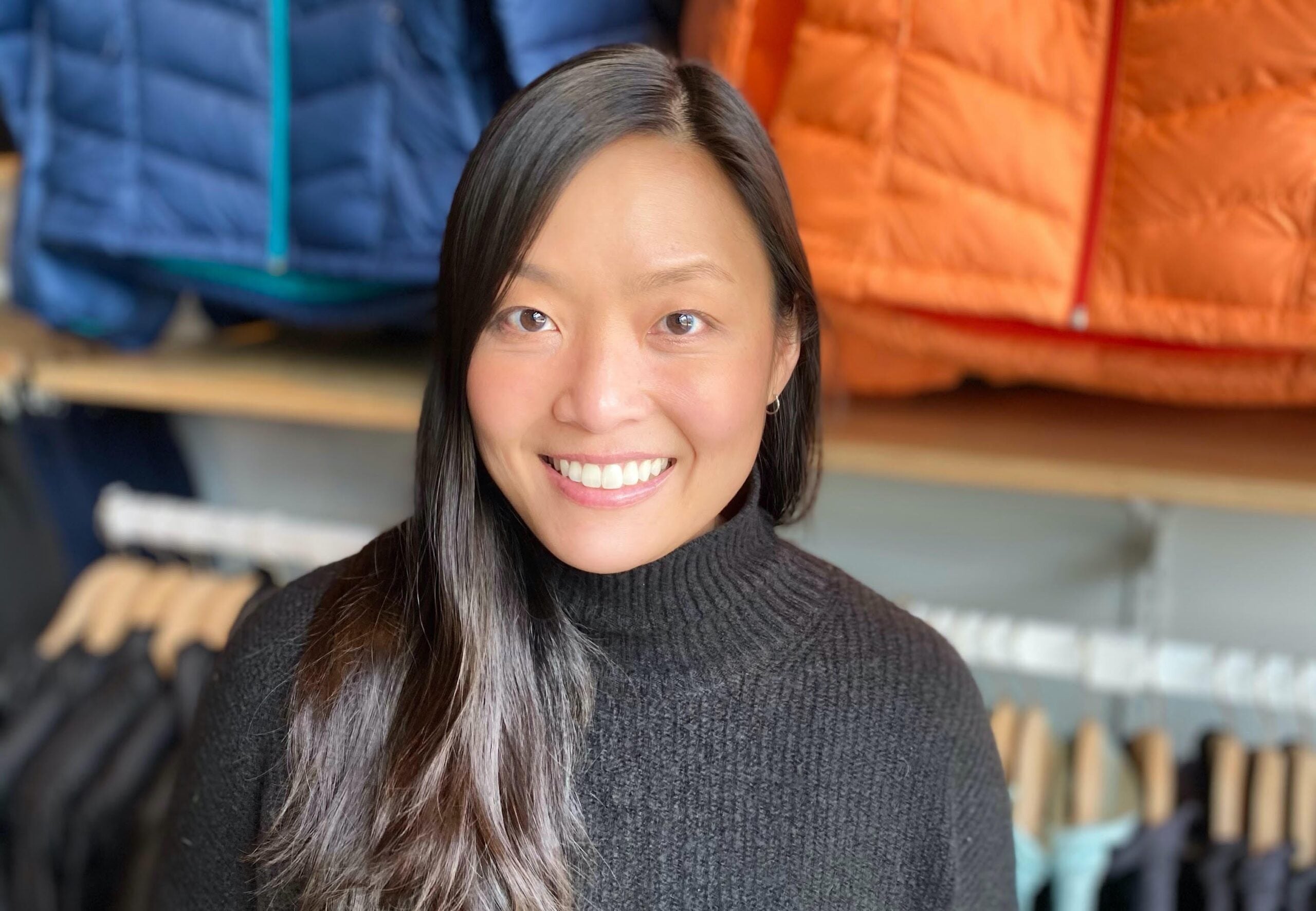 Heading out the door? Read this article on the new Outside+ app available now on iOS devices for members! Download the app.
In September 2019, Diana Seung became general manager for Jack Wolfskin North America and began plotting her mission to relaunch the brand on this continent.
A few months later, Seung and her team exhibited at Outdoor Retailer's winter show in Denver. There, they proudly proclaimed to the outdoor trade community that the German brand, popular globally, was back in the U.S. and Canada after a hiatus and that retailers should make room on their shelves for its collection of clothing and gear.
The brand left the North American market a few years earlier amid financial challenges and convoluted ownership entanglements, the most recent of which involved private equity owner The Blackstone Group Inc. handing control of the company to lenders in 2017. By then, Jack Wolfskin's presence had all but disappeared in North America. But in late 2018, a new corporate owner would resuscitate the brand here.
Callaway Golf Company, the $1.6 billion, publicly traded company known primarily for golf apparel and equipment, made a big play for the outdoor market when it acquired Jack Wolfskin for $476 million. The company would later commit to building the North American division and hire Seung to lead it.
But as soon as Seung and her employees began spreading their message that Jack Wolfskin was going to try its hand once more at this market with a renewed focus and product line, the world changed. And in the craziness of Covid, selling a "new" brand to a reeling outdoor industry no longer made sense.
"Once COVID hit, especially for the wholesale channel, it flipped things upside down," Seung told Outside Business Journal in a recent interview. "All of a sudden, you're trying to land partners who have closed their doors. They don't know when they can reopen their shops, and now we're asking them to take on a new brand? Talk about pushing boulders up the hill."
With the wholesale channel temporarily off the table, Jack Wolfskin shifted its focus to direct, launching a U.S. ecommerce site last spring and opening a showroom at the brand's Park City, Utah, headquarters this January.
"Getting a physical presence in multiple stores is meaningful because customers have the opportunity to touch, feel, and learn about your brand, but wholesale was less of an opportunity for us last year for obvious reasons," Seung said. "The same can be said for brand activation events because people weren't traveling to industry gatherings and trade shows. So we over-indexed on the digital side. We essentially took a lot of the investment that we would have put into wholesale and trade shows and diverted that into digital."
Jack Wolfskin took other steps where it could. The brand promoted ambassadors and influencers. It expanded social media efforts. And the team launched a short film, "Reimagine Adventure," that "captured the story of individuals reimagining adventure in the time of Covid, and how outdoor experiences shaped what they do personally and professionally," Seung said.
Plenty of Hurdles
COVID, however, wasn't the only challenge Seung faced in her first year with Jack Wolfskin. The brand had to adjust its fulfillment structure due to Callaway's new global distribution center in Dallas. It had to adapt to a new enterprise resource planning system. And it had to become acquainted with a new CEO, Richard Collier, who joined in December.
Other changes included a new PR firm and a new sales rep for a key region. But all these moves, however disruptive to start, have paid off. On Callaway's latest earnings call, CEO Chip Brewer says the brand had a "strong" fourth quarter and "delivered year-over-year revenue growth."
And in recent days, Jack Wolfskin North America signed on two new retailers: Sporting Life in Canada and BlueZone Sports in the Tahoe/Reno area. More doors should be announced soon, now that Seung can finally start to tell the brand story she began sharing before shifting gears.
"It's amazing to see that some of these great retailers have an appetite for new brands and that they are getting behind Jack Wolfskin," Seung said. "They love our sustainability story. They love the quality of the product. It's been motivating for me just to see the response because I think there's a lot of value in this brand."
It's not surprising that Seung refused to bow to the difficulties of the past year. After all, the former Backcountry executive jumped into the fray in 2019 when she took over as interim CEO of Camber Outdoors after a misstep from the organization.
In addition to that turmoil preparing her for the myriad disruptions of Covid, it also reinforced her long-held belief in the importance of diversity, equity, and inclusion as critical for any venture's success, she says.
"What Camber teaches you, and what they advocate for, is that having a diverse workforce and creating an inclusive environment yields better performance for a business," Seung said. "As I built my team from scratch, diversity of thought and background was extremely important. Of the ten North America team members, we are 60 percent female, 10 percent Asian [a group that includes Seung herself], 20 percent Latino, and we've got LGBTQ+ representation. That has resulted in better brainstorming, problem solving, and team collaboration."
Growth and Evolution
Now, Seung is squarely focused on the future. That means adding more employees to the North American operation as the team continues to add partners, grow share, and eventually pursue an owned retail strategy—though that last goal likely won't happen until 2022.
"Our showroom in Park City is set up like a retail shop, and as we test that model and get past COVID, there's potential to operate it fully as a retail location," she said. "Then we could expand to more locations, which will require a larger team."
The main goal is increasing Jack Wolfskin's exposure in North America by making consumers aware of a brand that, in many ways, remains a startup in North America, though it is celebrating its 40th anniversary globally in 2021.
"It's less of a challenge and more of an opportunity in my eyes," she said. "There are a lot of folks here who have traveled to Europe where Jack Wolfskin has a strong presence, so they know the brand. That bodes well in terms of building awareness. On social media, someone will see an ad and post, 'This is the brand in Germany that I used to love.' All of a sudden, we have free advertising and brand validation. That's what's fun about being with the brand right now—to see it go through growth and evolution."
Something else that's fun for Seung: seeing obstacles and finding a way over, around, or through them. All with an unwavering belief in herself and her team.
"It's been a busy and challenging year," she said, "but very satisfying."