Outside Business Journal
Sponsor Content: Lifestraw
Opinion: In the Outdoor Industry, Body Positivity Isn't Enough
We need to let go of aspirational content and reflect the reality of our consumers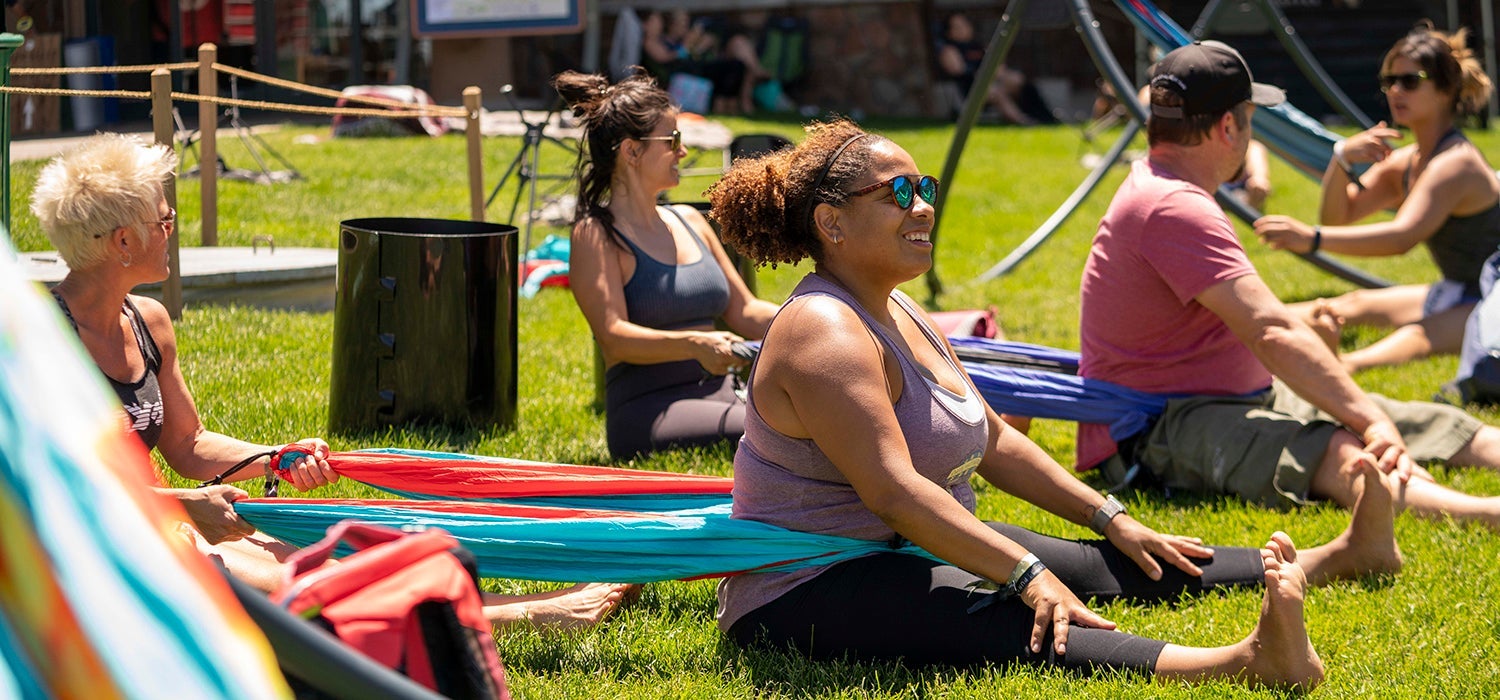 It was a simple case of mistaken identity: Earlier this year I was at The Outbound's Pursuit Series adult summer camp in North Carolina when an ultrarunner walks up and introduces herself:
"Hi, Mirna, I follow you on Instagram."
I put my coffee cup down and shake her hand before politely explaining that I am not Mirna (aka The Mirnavator). Embarrassed at her gaffe, she draws back her hand, mutters an apology and moves away—I wasn't the plus-sized ultrarunner with 75K followers that she was looking for.
I realized this runner didn't really see me at all. She saw someone that she thought "fit the description" because Mirna is a plus-sized African American woman, and I am too.
Mirna and I have totally different body shapes and skin tones. My hair is almost always colored with shades rarely found in nature (think lavender, electric blue, hot purple). I have hundreds of keloided scars that run from my shoulder to my wrist, from my decade long struggle with self-injury. Mirna is often all smiles, willing to command attention, and I am what some folks might term the typical wallflower writer. Half marathons are my mileage of choice. Mirna has the capability to run 100 miles at a time. The only things we have in common is that we are larger-than-expected (not average, because the notion of average is bullshit) outdoor advocates of color. There is such a limited representation of both fat and black bodies in the outdoor industry that, of course, I must be that Insta-famous woman, right? At best, that assumption is lazy. At worst, it's racist. There can only be one black girl socializing in the middle of the woods, right?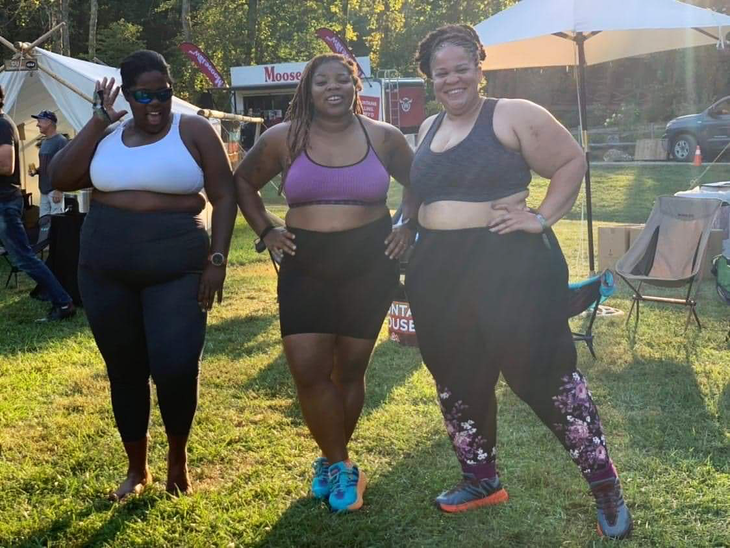 The Body Positivity Movement Has Devolved
Sometimes when I finish a hike or a run, people come up to me and say they've been inspired by my determination to finish, even though I was slower than everybody else. The unstated assumption is that because of my skin and size, I should be capable of less. They even call me brave.
I am not brave. I'm just trying to build a life that I'm proud of. To feel healthy, happy, and safe. I don't want to be a unicorn, and I have no desire to be inspiration porn.
Inspiration porn perpetuates the belief that personal willpower can overcome any injustice, even if the problem is large, systemic, and not easily solved by one person's resilience/problem solving.
It's the same malfeasance that makes adaptive athletes "inspirational" or "brave" for simply pursuing an activity they love. That same insidious toxic positivity makes me bristle when people want to talk about body positivity. At the core of unicorn syndrome is the idea that people who exist outside the norm are there to make conventionally beautiful people thankful for what they have; that we are here to help them appreciate life, and to present the "exceptional fat person" or "exceptional diversity narrative" in a positive way.
Marketing gurus have cloaked inspiration porn by coopting the term body positivity, a term that has been misconstrued to the point that It is no longer recognizable. In its original form, the body positive movement believed in a pretty radical notion—the idea that you should love the skin you're in, regardless of its size, shape, color, age, ability. In its current iteration, it often feels like a marketing gimmick—it's the filtered, fluffed up version of the same socially constructed notion that physical attractiveness is the most important thing about people and we should use it to measure our self-worth. When we compare ourselves to this rubric—"balanced" body proportions, unblemished skin, perfect smile, we never measure up.
Up and down my Facebook and Instagram feeds, conventionally beautiful, proportionate women in an array of sizes pose in bikinis encouraging all of us, no matter our weight, to embrace our curves, shun diets, and love our bodies. The problem? The current aesthetic of body positivity has a weight limit, and outdoor brands aren't showing off Rubenesque women or large stomachs. It still feels like some brands would rather die than put a fat athlete on their Instagram feed, clinging to the notion that their messaging is aspirational instead of realistic, their photographs are all of all sinew and stone, depleted of color.
Sometimes a brand will talk about being body positive asking consumers to embrace their stretch marks and challenge beauty norms, but their clothing stops at a size 14, when the general populace need sizes up to a 28. As it stands, the message is that loving your body has an upper limit and beyond that, you aren't deserving of the same self-love smaller people can cultivate. That doesn't stop companies from using body positivity for likes and social media collateral, without offering anything in return. In 2018, there was even the alarming trend where brands like Madewell and Lululemon used plus-sized models in ads when they did not offer plus sized clothing.
While there is less outright objectification than in magazines of yore, our industry is still struggling with representation and the idea that there is a lot of space between body dissatisfaction and body love. Most of us live somewhere in between, in a space known as body neutrality.
Body neutrality means shifting the mindset of needing to lose weight or worrying about what you see in the mirror to focusing on how you feel. The goal is to focus on what feels good, like meditating, going for a walk, or riding your bike. It means not delaying your happiness until you reach your goal weight or achieve a certain look. It is an ever-evolving process of taking note on how your body feels, and the changes within it.
Part of the implicit goal of body neutrality is to free up all the energy and attention that people often devote to body anxiety so that they can care about other matters instead – like JEDI efforts, reducing plastic use, protecting public lands, or any other issue we need more people working on. Being relentlessly positive about our bodies forces us to regulate our emotions, stuffing the negative ones down deep, until we can no longer contain them.
I honor and respect my body. I like feeling strong. There are certain things about it that I like, but I can't say that I wake up every day and I love it. Writing that makes me feel like a failure, but I take shelter in knowing that my feelings shift daily.
Sometimes my body fails me and I don't complete a hike that frustrates me. That niggling bit of self-doubt emerges. The relentless march of body positive posts—by personalities and brands alike—make me feel bad for having anything but gratitude for the body that I inhabit.
How Brands Can Do Their Part To Be More Inclusive
Good-intentioned people have been asking me lately what their brands can do to shift this dynamic. Here is my advice:
Embrace the original tenets of the body positivity movement, and understand that people don't come in a "one size fits all" package.
Drop the preconceived notions about who you believe your consumer to be.
Voice a commitment to practicing inclusivity, acceptance, and equality in hiring practices and choosing ambassadors.
Ask your consumers how they see and define themselves, how they wish to see themselves, and what they desire from companies like yours in order to bridge that gap.
Ask yourself/your team if your brand is engaging in fitspiration, tokenism, or inspiration porn.
Do a media review. How many images and/or stories do you put out a year that feature people from different communities? How many different modes of diversity do you feature in a six-month span?
Think critically about your brand's ambassadors–do they represent the multifaceted, nuanced outdoor space that new generations are flocking to?
Go deeper with your storytelling, find those places of tension and explore the social, cultural and political dynamics that shape that moment.
About an hour after my encounter with the North Carolina ultrarunner, Mirna arrived at camp. Hoka One One, one of the camp's sponsors, invited one of their ambassadors, Latoya Shauntay Snell (aka Running Fat Chef) to give a talk about her love of ultrarunning and work as a body politics activist. When she arrived the three of us hugged and squealed at the rarity of the moment: three black plus-sized female athletes in one place, smiling and clowning around in the North Carolina sunshine not having to defend our appearance, performance, or existence. The camping crowd at The Outbound's Pursuit Series was comprised of 30 to 40 percent people of color, with women as well as non-binary folks well represented. They are one of the companies working to figure out how to be welcoming to a larger spectrum of people. In this crowd I wasn't forced the carry the weight of representation all on my own.
Before the three of us parted ways, we had a fellow camper takes a photo us, standing in our sports bras, grinning from ear to ear. Three radically different women living our truths in different corners of the country, converging for one afternoon in the middle of the woods. Let's shoot for more pictures like that one.