Outside Business Journal
The Push to Make the Ski Industry More Sustainable
A handful of smaller snowsports brands lead the industry in greener production practices. Can everyone else catch up?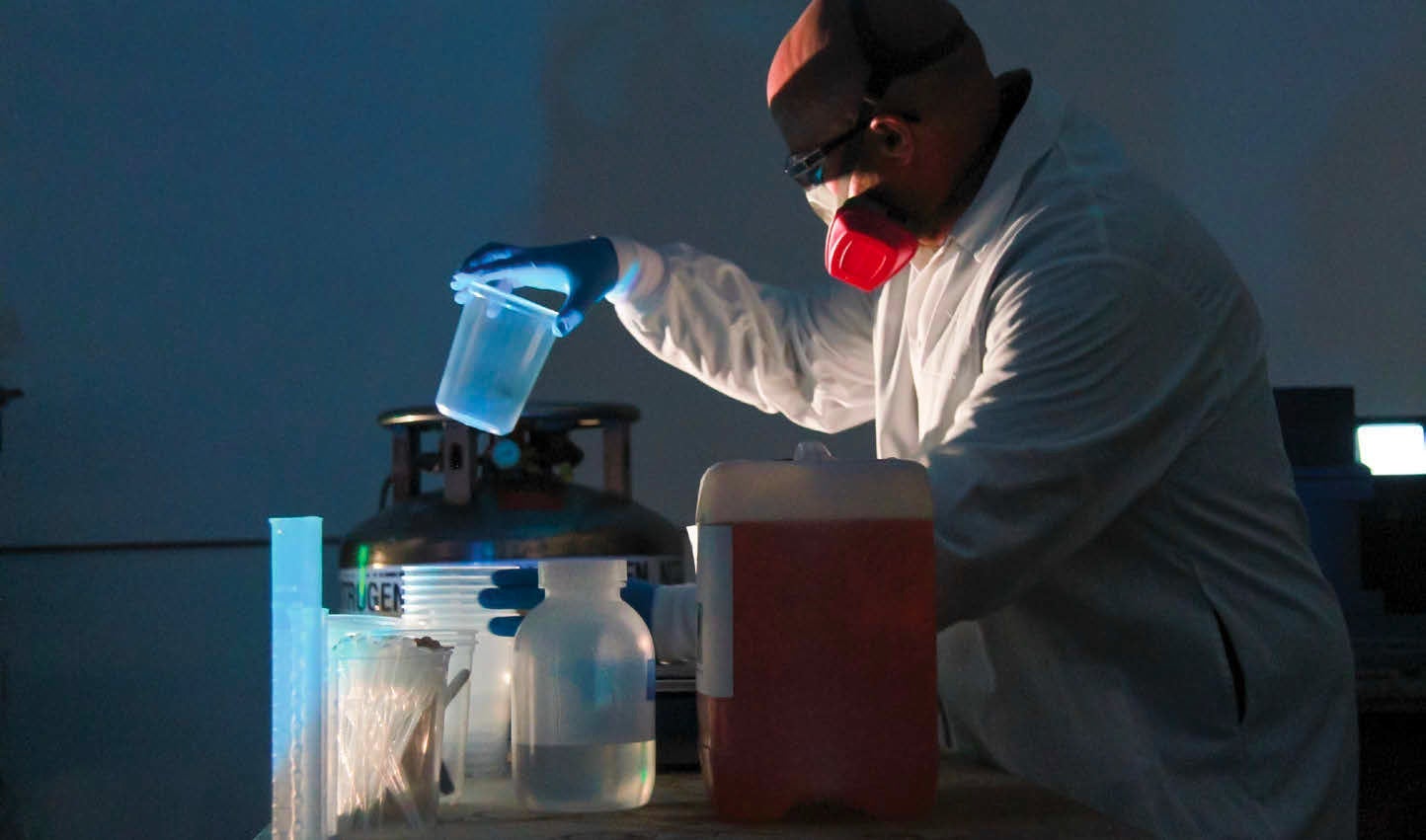 Heading out the door? Read this article on the new Outside+ app available now on iOS devices for members! Download the app.
In 2017, Matt Sterbenz was heading up a company he'd founded, 4FRNT, a successful ski brand known for launching the freeskiing movement. 4FRNT's skis are crisp, light, and torsionally stiff—and, like pretty much all skis, they're also made of materials that are horrendous for the environment. The vast majority of the brands constructing the tools that move us across snow use some of the most polluting materials on the planet, such as petroleum-based resins, plastics, and carbon fiber. Sterbenz had to use these, too, because no alternative had yet been created. But a businessman named Charles Dimmler was about to hand him a solution.
Dimmler is the founder of Checkerspot, a company that uses algae to bio-manufacture oils that can be used in polyurethanes and textile coatings. Polyurethane makes up the plastic components in a typical ski, and it's traditionally made of petroleum-based chemicals, so it has a large environmental footprint: According to one German lifecycle assessment, the production of a single ski emits about 60 pounds of carbon (in comparison, burning one gallon of gasoline emits 20 pounds). Ski manufacturing also typically has a very large water footprint, a long supply chain, and generates huge amounts of waste. The irony is striking: Building skis and other winter hardgoods contributes significantly to the climate change wreaking havoc on our ski seasons.
But Dimmler and Sterbenz were about to make a breakthrough. The company that emerged from their collaboration, WNDR Alpine, uses renewable energy to fashion boards with sustainably harvested aspen wood from Utah and polyurethane made from algae, not petroleum. The brand is also reducing waste in its manufacturing process (in 2020, WNDR diverted 1,200 pounds of trash from the landfill). Its efforts seem to be resonating with consumers: Last year, WNDR sold out of the most popular sizes of its Intention 110 backcountry ski. And in 2021, with backcountry skiing predicted to explode (see p. 33), the company expects the same.
WNDR isn't the first snowsports brand to innovate with the environment in mind. In Europe, Capita Snowboards' factory runs on 100 percent green energy, and Grown Skis uses eco-friendlier basalt instead of carbon fiber, sustainably harvested wood, and glues made from pine tree resin. Among U.S. brands, Mervin and Niche lead the way. Niche, founded in 2010, builds its snowboards from sustainably harvested wood cut near its factory in Utah, uses basalt as well, and digitally prints its top sheets using water-based inks. It also partnered with a company called Entropy Resins to create its patented Snappy Sap Bioresin, made of renewable materials from the industrial waste streams of the paper pulp and biofuels industries.
Mervin (parent company of Lib Tech, Gnu, and Roxy) uses the eco-friendliest materials available, produces zero hazardous waste, and runs its operation primarily on wind and hydroelectric power. It also formed an extensive recycling program, as well as a sawdust-to-soil compost program. Together, such innovations have taken these brands to the next level in eco-friendly manufacturing. What will it take for everyone else to catch up?
Too Big—and Small—to Change
Some big ski brands are taking steps to make the hardgoods industry greener. Atomic's North American Brand Manager Sean Kennedy said, "Atomic uses tons, literally tons, of recycled plastics in our ski boot assortment. We also power all of our ski presses with reclaimed wood [from factory scraps], and the excess heat from this process is then recaptured to heat our entire factory and adjacent facilities."
Völkl has eliminated hazardous substances from many stages of production. Rossignol uses wood cores from certified sustainable sources in its Black Ops skis, 100 percent recycled steel in its edges, and 30-percent recycled plastic in the bases. And La Sportiva switched from carbon to wood in all of its skis, and is using FSC-certified woods for the 2021 line.
Yet the vast majority of brands use plastics and resins made from toxic petrochemicals. Experts estimate it can take 500 to 1,000 years for these materials to decompose in a landfill. So brands still aren't addressing one of the industry's key environmental hazards.
"As an industry with a future dependent on consistent winters, our industry is uniting around climate change and we're working hard to give every brand opportunities to step up to meaningfully address it," said Chris Steinkamp, director of advocacy for Snowsports Industries of America's ClimateUnited initiative.
But "stepping up" isn't that simple, said WNDR co-founder Xan Marshland: "Economically, our industry is a drop in the bucket compared to larger ones, like aerospace or automotive. There's not much incentive to innovate beyond what's already available." According to NPD, the ski and snowboard industry generates $2.3 billion in annual revenue (compared to, say, the apparel industry's $368 billion).
And even if suppliers did make changes, "larger brands will require more time to get adequate infrastructure set up to support a new [production] process," said Marshland. For larger brands, which can produce more than a million pairs of skis every year, obtaining enough green materials also appears to be a challenge. Niche, for example, uses a resin-hardener called Recyclamine that allows skis and snowboards to be fully recycled. "I'm not sure the supply chain is large enough yet for everyone to be able to switch," said founder Ana Van Pelte.
The Upside of Small
In some ways, greening a company is easier for new brands that are starting from the ground up. Mervin founder Pete Saari said, "Working towards sustainability and nontoxic, recyclable boards has been part of Mervin's DNA since we began in the early '80s. We knew we were going to be building every day, so we didn't want to work with toxic resins or materials for personal safety and health reasons."
The brand was broke when it started, Saari says. "[But while] scarcity and 'no money' sounds bad, when it comes to creating motivation to maximize material usage, it's a strength." From the beginning, Mervin was able to "scour the world of materials," looking for ones that met both the company's performance and sustainability standards. Today, it's a profitable business.
And now WNDR has created a line of skis with its AlgalTech technology, using plastics derived from oils secreted by microalgae. These plastics replace conventional materials derived from fossil fuels (carbon fiber, plastic, polyurethane), and create a ski that has a short supply line, high performance, and a lower impact on the environment than traditional skis.
But all of these companies still impact the environment simply by manufacturing something. That's why Cyrus Schenck, founder of Renoun Skis, believes there is no such thing as a truly green ski (or snowboard). In his view, the best thing skiers can do is ride the skis they already own longer. "The average lifespan of a pair of skis is 100 days, yet the average American skis 2.7 days a year," he said. Most buy skis far more often than once every 37 years.
Schenck scoffs at the idea of stopping ski production entirely, "but a company can offset skis and shipping by buying carbon credits," he said. Renoun does what it can to green up its manufacturing, but ultimately, Schenck believes the best way brands can minimize impact is by encouraging skiers to ride their boards longer and participate in takeback programs (which WNDR offers) when they're done.
Getting It Done
Of course, creating products with dramatically lower environmental impacts and encouraging customers to use them longer aren't mutually exclusive. And Mervin, Niche, and WNDR believe that it's possible for other companies—including long-established ones—to make changes to shrink their environmental footprints.
The main excuses from bigger brands? Cost, accessibility, and scalability. Four decades after starting Mervin, Saari said, "Even today we find there is some resistance from the business community on sustainable efforts, with [some] studies by business experts saying that consumer purchasing decisions aren't significantly impacted by environmental efforts or practices."
Niche's Van Pelte added, "I don't want to name any names, but bigger companies than ours have the money and resources to do more and better than we do, and their failure to act on pushing the technology further is really unfortunate. They should be putting their money where their mouths are and stepping up to the plate, if they truly care about the environment as much as they claim to."
WNDR, for one, is willing to share its technologies for the greater good. "Six or seven brands throughout the snowboard and ski space" have reached out about partnerships to incorporate AlgalTech into their product lines, said marketing director Pep Fujas. This bodes well for giving greener skis a bigger share of the market.
And though it may take time, Van Pelte believes the environmental methods Niche and others use "are absolutely stuff that anyone could adopt and put into practice. It might be more expensive, but the more people who adopt it, the easier and more affordable it will become."
Trending on Outside Online