Outside Business Journal
The Rise of Gear-Lending Libraries
Gear-lending libraries are gaining steam as an alternative to short-lived, cut-rate products, which are often the only option for those with limited resources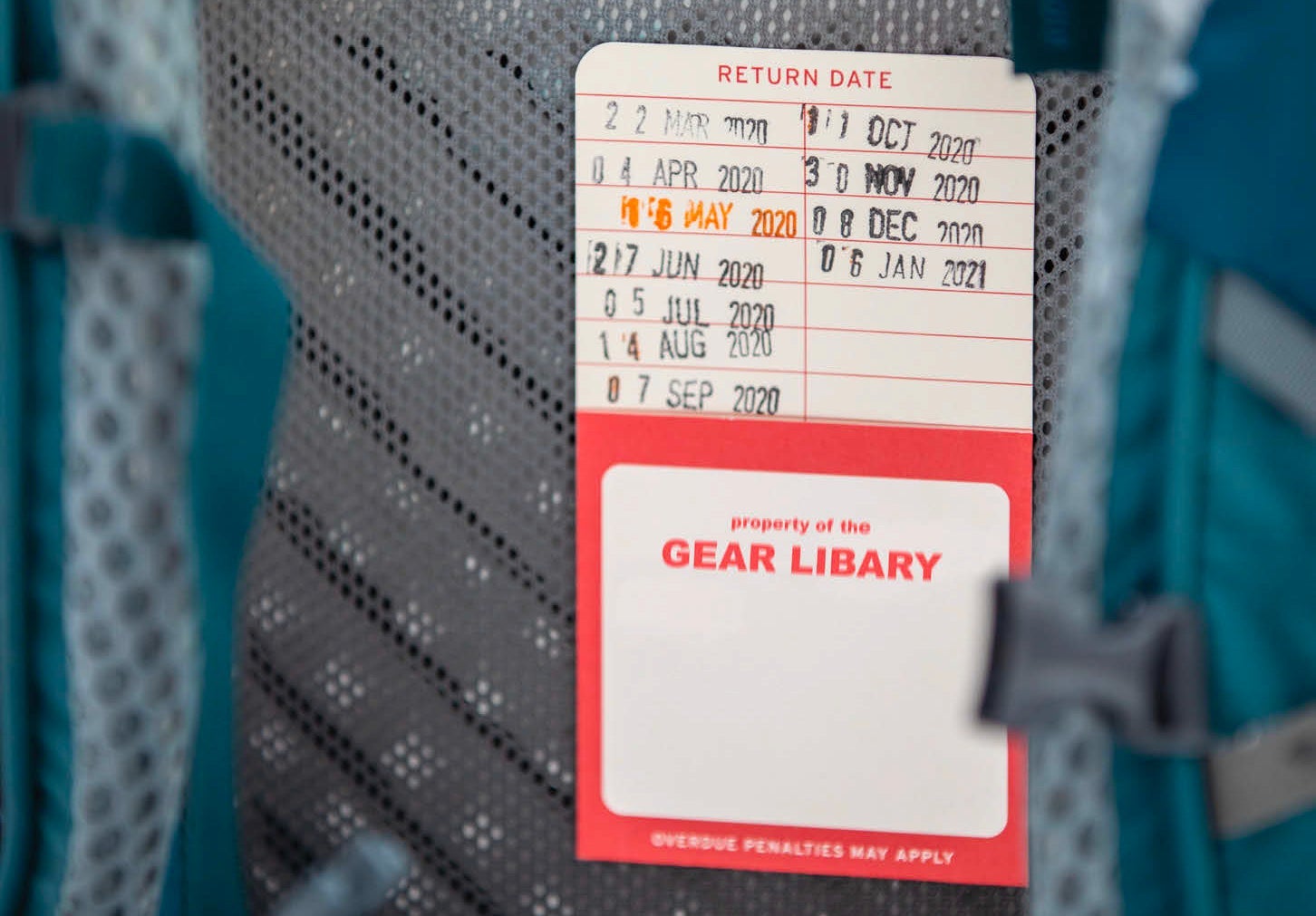 Heading out the door? Read this article on the new Outside+ app available now on iOS devices for members! Download the app.
Maria Donjuan gets giddy reminiscing about her first camping trip a decade ago. "It was just so much fun, I forgot about my fears," she said, referring to her snake phobia. The 41-year-old Mexican-American Texan and mom of three has been camping with her family for years, with gear borrowed from Families in Nature (FIN). The Austin-based organization facilitates outings and provides camping equipment for families who want to experience nature but lack the means.
Donjuan recalls when the founder of FIN, Heather Kuhlken, loaned her a tent from her own garage when the program first launched. The nonprofit has come a long way since. In the past five years, its camping trips saw a record number of 18,000 participants, with some 200,000 hours spent outdoors.
Gear-lending libraries aren't new to the outdoor industry. The oldest—Appalachian Mountain Club's Youth Opportunities Program—was established in 1968. Last year, its gear libraries supported 690 outdoor experiences. In recent years, more libraries have cropped up in cities across the country as more people come to realize their dual benefit: helping people overcome the cost barrier to getting outdoors, and doing it in a way that's more sustainable than peddling less-expensive, less-durable, less-sustainable gear.
"Lending libraries have been key in providing access to high-quality outdoor gear for experiential programming in nature," said Cianna Walker-Flom, a diversity and inclusion consultant based in Wisconsin. "Individuals who don't have financial access to buy gear for backpacking, kayaking, and rock climbing are dependent on these organizations."
Outdoors Empowered Network (OEN) is similarly dedicated to breaking down those barriers. The national nonprofit was founded in 2012 and now consists of 12 outdoor education groups, including FIN. OEN libraries, located in Arizona, California, Colorado, Illinois, Michigan, Washington state, and the Northeast, provide underserved communities with outdoor leadership training and equipment with the capacity to serve approximately 50,000 kids a year.
While some OEN libraries are independent nonprofits, others collaborate with cities or organizations, receiving grants or fundraising help from OEN. Each library has its own training program—offered for a low fee or via scholarship—for educators and leaders willing to take groups on outings. They stock their closets by buying gear at discounted prices or accepting donations from companies like REI, Osprey, Therm-a-Rest, GSI, and Exped. During the pandemic, the libraries are seeing less engagement due to group transportation safety concerns, but staff is diligent in keeping gear safe through improved cleaning methods and sanitizing it after use.
Cheaper Gear Is Not the Solution
Lending libraries are about providing access, to be sure, but they're also about sustainability, gear sharing, and keeping gear in good repair and rotation. We all know that having the right supplies, whether it's a proper rain shell or a sturdy tent, makes being outdoors significantly more enjoyable. Cheap gear often results in disappointing experiences, and it more quickly ends up in the landfill.
"We look for the highest-quality gear to stock our lending library," said Hannan Tennent, youth outreach coordinator at The Mountaineers in Seattle. "Otherwise, it wouldn't stand up to frequent use."
As such, lending libraries provide an opportunity for premium brands to reach people who otherwise wouldn't be able to afford their own gear. Osprey donates many backpacks to lending libraries. "We want to provide new users in underserved communities with quality equipment because they're going to have to make a decision: 'Is nature right for me?'" said Rob BonDurant, VP of marketing, who believes that access to superior gear will create more passionate outdoorspeople.
"When you're dealing with underserved communities, more often than not, being in nature is not a comfortable first experience, so we have to take away as many barriers as possible. This is not a revenue program for us. It's a holistic seeding program," he added.
Osprey's donations consist of a combination of dollars and products that have been returned but can no longer be sold. "They're not landfill-ready by any stretch of imagination, but they're not retailable," said BonDurant.
More outdoor brands should follow suit, says Walker-Flom, because the answer to providing accessibility to more people is not to make less expensive gear that ends up in a dumpster after a few outings. It's making the good stuff accessible to more people. One of the benefits of a lending library is that families don't have to go out and buy inexpensive gear that won't serve them in the long run. "If an underresourced family feels unprepared, they can come to us and know that they will get high-quality gear that we've tested, and their gear is going to look like everyone else's," said Kuhlken.
Serving Different Needs
Each of OEN's dozen libraries serves different community and cultural needs, and are all part of larger programming efforts to facilitate access. FIN helps underresourced families go on camping trips and science outings in central Texas. Washington Trails Association (WTA)'s Outdoor Leadership Training program caters to schools where a majority of students qualify for free or reduced-price lunch. Sierra Club's Detroit Inspiring Connections Outdoors (ICO) organizes student camping trips in the city's only campground, Scout Hollow, in Rouge Park.
Among OEN's newest libraries is Arizona's Indigenous Cultural Concepts, which has its own unique needs working with Diné (Navajo) youth. "Their outdoor work has to do with traditional food practices, gathering medicinal foods, and teaching young people about their heritage," said Seraph White, interim director of OEN.
The students that Indigenous Cultural Concepts serves get a starter-kit kitchen from GSI, Therm-a-Rest sleeping bags and sleeping pads, Mountainsmith tents, and Osprey packs. "This top-quality gear allows them to go on longer treks into the land around where they live," said White.
Small Projects, Big Impact
Though gear libraries have made an impact around most of the country, they have been nonexistent in the South. Ronald Griswell, Founder of HBCUs Outside, is determined to change that. While at North Carolina A&T State University, the largest historically Black university, Griswell became frustrated with the lack of programming and access to good gear, which stymied his ability to develop his passion for the outdoors.
After taking a sabbatical to work an outdoor job in Minneapolis, he returned to North Carolina to start an outdoor program and a gear library stocked with top-notch products. "The life cycle of gear is an important topic for me," said Griswell. "I believe we're tackling this in a sustainable way by working with well-established and quality brands." Griswell's program is supported by Backcountry, Eddie Bauer, Black Diamond, and Nike, among others.
By helping bring people of all backgrounds outdoors, gear libraries foster a sense of connection and responsibility to the natural world. According to White, "This supports them growing up to be the informed citizens we need, whether they're fighting for more parks in our neighborhood or on a more global level."
The outdoor industry is uniquely suited to advance this mission. The solution to more outdoor access doesn't lie in cutting corners on fabrics or materials to make things more affordable. Low cost may be the north star in many industries, but that is not historically the case in outdoor.
And that shouldn't change, says Ted Steudel, president of Exped, which is contributing to WTA's new gear library in Tacoma. "We design, build, and refine gear for functional durability," said Steudel. "The longer a piece of gear can serve a person's purpose in the field, the better it is for everyone—including the environment."
5 Ways Your Brand Can Support Lending Libraries
Connect with Outdoors Empowered Network to find out their libraries' needs.
Donate returned or non-retailable gear.
Send gear libraries new products to test.
Help gear libraries with their infrastructure and operational needs by funding or donating shelves, hangers, labeling equipment, and cleaning supplies.
Repair gear for free when necessary, or train staff on how to do their own repairs.