Outside Business Journal
Gregory Introduces the Industry's First Plus-Size Backpack Line
Next spring, in collaboration with the group Unlikely Hikers, the Salt Lake City brand will release 20 products aimed at plus-size outdoor enthusiasts, with new marketing efforts to match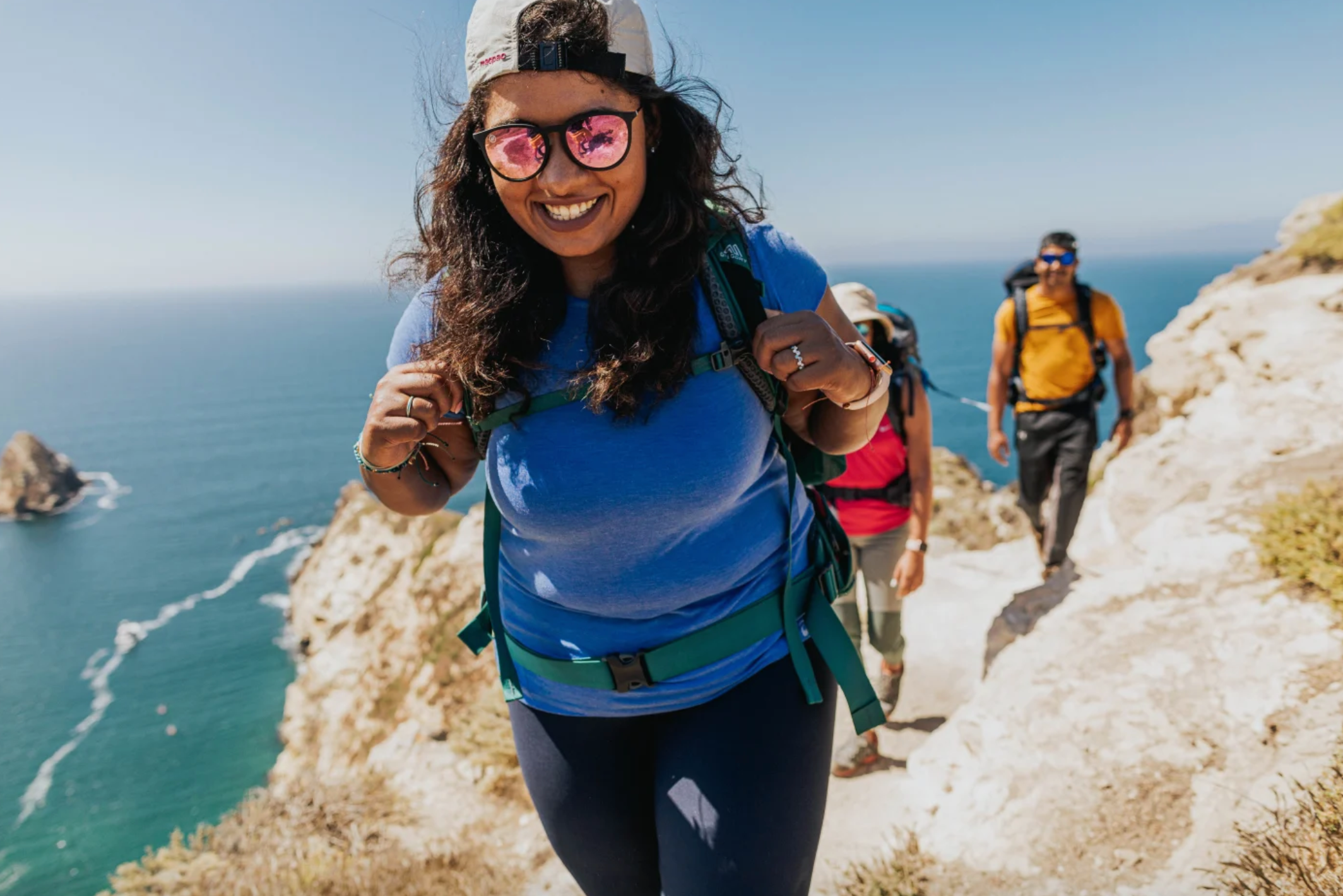 Heading out the door? Read this article on the new Outside+ app available now on iOS devices for members! Download the app.
Here's something to wrap your head around. Despite the fact that the modern hiking backpack was introduced by Kelty in 1952, almost seven decades ago, a dedicated pack line for plus-size hikers has never existed in the outdoor industry. Countless innovations are made each season to improve fit, durability, and functionality for packs aimed at non-plus-size consumers, but the basic needs of an entire segment of the outdoor market have been overlooked for nearly three-quarters of a century.
From a business perspective, the omission is mind boggling.
The Salt Lake City brand Gregory has endeavored to help fix the problem with the development of the industry's first dedicated line of plus-size backpacks, coming next spring. The new gear—which will include 20 items across the day hiking, hydration, multi-day backpacking, and lifestyle categories—was created in collaboration with Unlikely Hikers, a group based in Portland, Ore., that defines itself as "diverse, anti-racist, body-liberating outdoor community."
"People of diverse body sizes and shapes have had to make it work with gear that wasn't made for us for too long now. We're out here. We're climbing these same mountains, we're thru-hiking these same trails and our money spends the same way," said Jenny Bruso, founder of Unlikely Hikers.
The team at Unlikely Hikers, led by Bruso, helped Gregory prototype and fit test products in the new line. Members of the group will also be featured in marketing materials after the line launches. It's an effort similar to Granite Gear's recent announcement of its upcoming Perimeter Series, but with a larger range of pack types and categories covered.
"This feels like the next step in the outdoor world," said Kara Richardson Whitely, the author of Gorge and a public speaker who has been featured in The New York Times and elsewhere for her work on size inclusion in the outdoor space
"As a plus-size hiker, there are so many obstacles to getting out in the woods," Whitely said. "If you don't look like a traditional thru-hiker, you're conscious of that, and that's a giant mental hurdle for many people in larger bodies. Every time I go out, I'm first overcoming the obstacles of my own mind. Whether or not my backpack fits is the last thing I want to be thinking about."
In Whitely's view, the industry has come a long way in its production of extended-size apparel in recent years, which heralded this new focus on gear. When she climbed Kilimanjaro for the first time in 2007, she says that, in terms of suitable gear, "there was nothing, just men's stuff and maybe a few items for women in all the same color: gray." In the years since, the industry has seen an uptick in extended-size apparel with a greater focus on style and consumer choice. Given that change, it makes sense that gear production would follow a similar path.
"Clothing was the first step," Whitely said. "The apparel market has shown that there are people of different sizes and body types who want to be out in the wild, and a natural extension of that is the gear."
Gregory's new line will launch in Spring '21 with two flagship packs, the Katmai 65 (men's) and the Kalmia 60 (women's), each available in two torso lengths for $279.95. The packs will be available at REI and select specialty retailers, as well as online. In Summer '21, the line's 19 remaining products will be available online and in certain retailers, though Gregory has yet not confirmed which stores will carry the entire line.
"It's one of those simple ideas that you look back on and say, 'Why hasn't anyone else done this?'" said Gregory VP John Sears. "We've been experimenting with this for years. Finally, after we started working with Unlikely Hikers and heard stories from them, we said, it's time. This is long overdue."
Trending on Outside Online