Outside Business Journal
Has Grundéns Solved the Polybag Problem? 
The fishing apparel and footwear company is transitioning to a durable bag that can be home-composted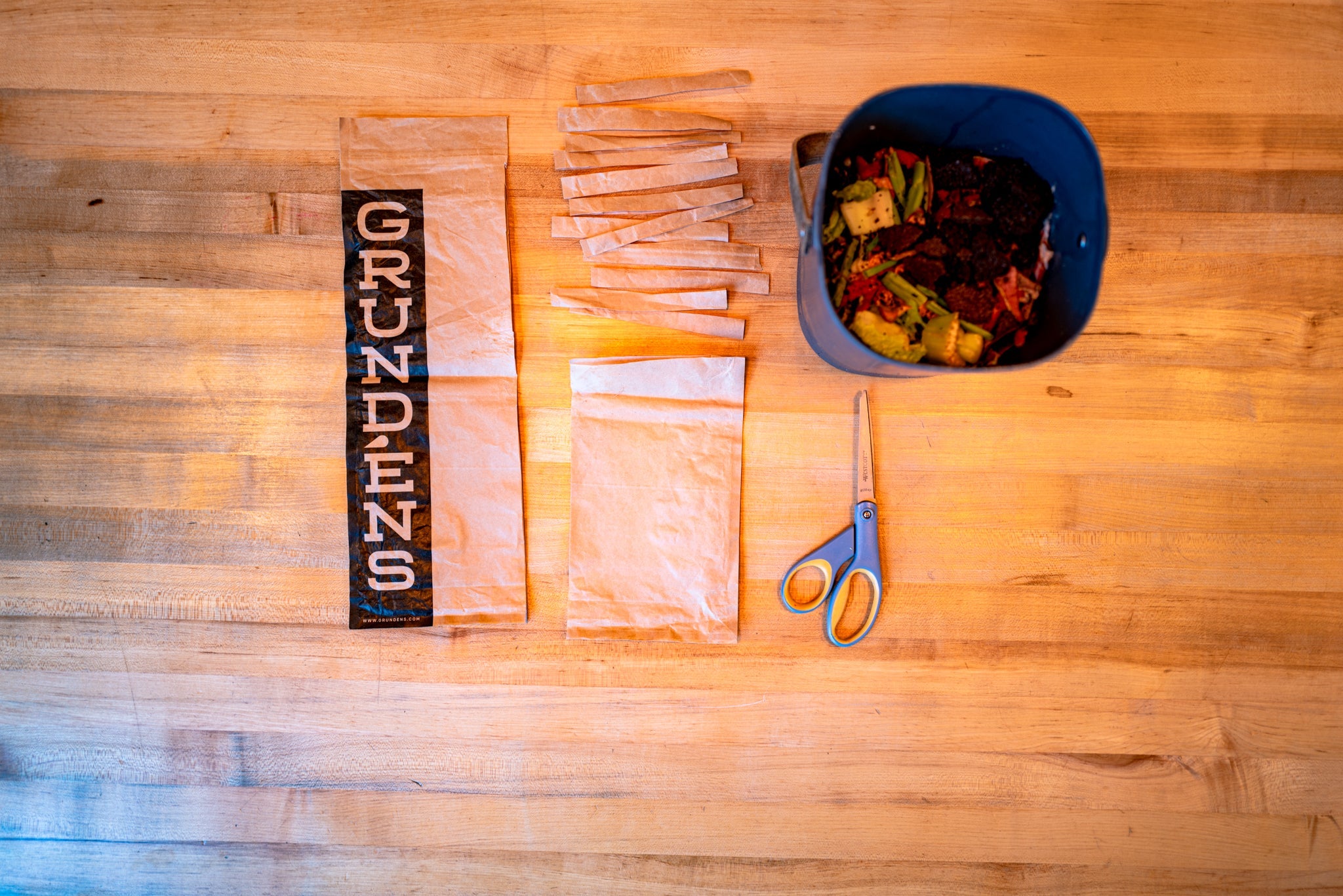 Heading out the door? Read this article on the new Outside+ app available now on iOS devices for members! Download the app.
Aaron Azevedo remembers exactly where he was when the power of Grundéns' latest sustainability initiative really hit him. The fishing apparel company's VP of product was sitting in his home office, watching over Zoom as a coworker removed product samples from Grundéns' new packaging. The samples themselves, though, weren't as exciting to Azevedo as the home-compostable packaging they came in.
"All of a sudden, I was like, 'Look at the bags! Look what we're doing!'" Azevedo said.
What Grundéns is doing is ambitious. Patagonia tried and failed to eliminate polybags—the single-use plastics that present one of the biggest sustainability challenges in the outdoor and fashion industries—in 2014. Prana, despite making great strides in this area and now roll-packing most of its clothing, has yet to completely eliminate polybags from all of its shipping. Very few companies have managed to quit polybags altogether, but this year, Grundéns will become one of them.
"I believe it's scalable [to the larger industry]," Azevedo said. "We talked to a number of [packaging manufacturers], and more and more companies are getting involved with PLA."
Instead of polybags, Grundéns is transitioning to bags made from polylactic acid (PLA), a biodegradable, plant-based polymer. The bags, cut into strips and tossed in a home composting system, will decompose fully within a year. The process takes longer than a traditional compost breakdown of egg shells, coffee grinds, and carrot peels, but once cut up, as Grundéns directs customers to do, the bags won't obstruct normal composting. In around nine months, the bits of bag will break down into the compost soil.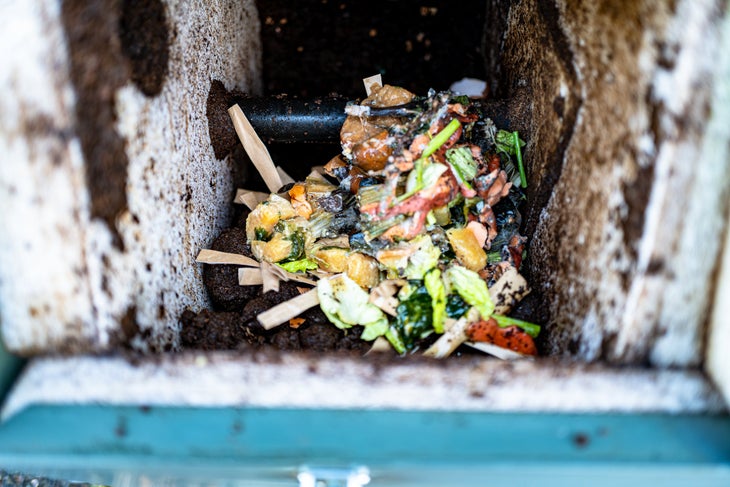 Grundéns, a new member of the Plastic Impact Alliance and maker of apparel for commercial and recreational fishermen, aims to transition all packaging to the new bags, thereby eliminating all single-use plastic packaging from its supply chain, by late summer of 2021. The company is already shipping several new product lines in the bags, and results—in terms of product protection, efficiency, and customer satisfaction—have been promising. 
The initiative just might serve as a model for companies looking to eliminate polybags in a similar fashion.
Grundéns Compostable Packaging: A Complete Overhaul
The impetus for Grundéns to shift away from plastic packaging came several years ago, when executives at the company came across research declaring that by 2050 the world's oceans would contain more plastic than fish.
"That hit home for Grundéns," Azevedo said. "Because if there are no healthy oceans, there are no healthy fish. And, boom, Grundéns is out of business."
Food-grade packaging entered the conversation when an executive brought coffee bean packs into the office, wondering if similar packaging would work for apparel. Grundéns then began reaching out to manufacturers online, until the company landed on one—China-based Shenzhen Stars Trading Co., Ltd. Shenzhen Stars, which handles mainly food-grade packaging, agreed to develop Grundéns' vision, and the quest to build a better polybag began.
Rolling out the bags across Grundéns' operations has been a challenge, owing in part to the global nature of Grundéns' business. With plants across Europe, Central America, and Asia, the company has worked to make the transition as smooth as possible.
"There was initial pushback [on the rollout]," Azevedo said. "Each factory inherently wants to buy their own product from their own supply chain."
Import duties in the EU have complicated efforts to use the new bags in Europe, so Grundéns is currently working to develop similar biodegradable packaging within the EU's borders. Outside of the EU, factories have come on board to make the initiative work. Still, the new bags are already in use across the Americas and Asia.
Solving the Polybag Problem
Polybags present one of the outdoor industry's toughest sustainability dilemmas. The clear plastic bags offer superb product protection during shipping and weigh next to nothing. Polybags are also inexpensive, but they carry a different kind of cost—they're difficult to recycle and often end up in landfills or the ocean.
Historically, bags and plastics billed as "compostable" have presented their own set of problems. Unlike Grundéns' bags, these plastics aren't compostable at home; they require special, hard-to-find facilities known as industrial or commercial compost sites, where they only break down under intense heat and pressure. But because the plastics carry "biodegradable" on the label, customers often throw them in their own garbage or recycling, where they generally end up in landfills, degrading no faster than a fossil-fuel plastic would.
Having confirmed the bags were home compostable, Grundéns needed to check a few more boxes to feel good about the switch to PLA bags. The company had to ensure the bags would measure up to the performance of a traditional polybag, able to protect product over long shipping voyages. The company tested the bags on shipments from Vietnam, China, and Europe, and each test produced the same result: the bags held up.
The bags are twice the thickness of a traditional polybag—a paper outer layer allows for printing and labeling, so that the bags can still be identified and scanned throughout the shipping process. Despite this fact, Azevedo isn't concerned about their weight as it pertains to shipping. The biggest detractor is financial—the bags are pricier than plastic, which the company estimates limits profit by 15 to 40 cents per product—but Grundéns has a simple plan for dealing with the extra expense.
"We absorb [the cost]," Azevedo said. "We negotiate pretty heavily with the supplier to get down to a price that we can absorb. It is a ding on margin, but it's manageable, and we think it's important to do. It's our investment in the future, so to speak."
Bags with a Purpose
Grundéns launched the new bags with its spring 2021 product collection, and executives have already begun to receive positive feedback from customers. 
"Customers are ringing up our service line and saying, 'Hey, we liked Grundéns before, but we love you even more now that you're doing this,'" Ashley Williams, Grundéns' VP of marketing, said. "That's not why we're doing it, but it's always really nice when somebody takes the time to ring you up to say, 'Hey, just want to comment on the packaging, I wish other companies did it.'"
Customers have even been posting the new packaging on social media; Azevedo has seen posts from customers' Instagram accounts featuring the bags. Williams appreciates the bags' popularity, but emphasized that the focus of Grundéns' initiative is still on the planet.
"Sustainability is not a project, or a one-off," Williams said. "It's the way we do things. We have to do it, and we want to do it. We're lessening our impact on the Earth—it's part of our DNA."