Outside Business Journal
How to Make Your Retail Shop Less Intimidating
10 ways to make outdoor specialty shops more welcoming to all people, regardless of race, size, gender identity, or expertise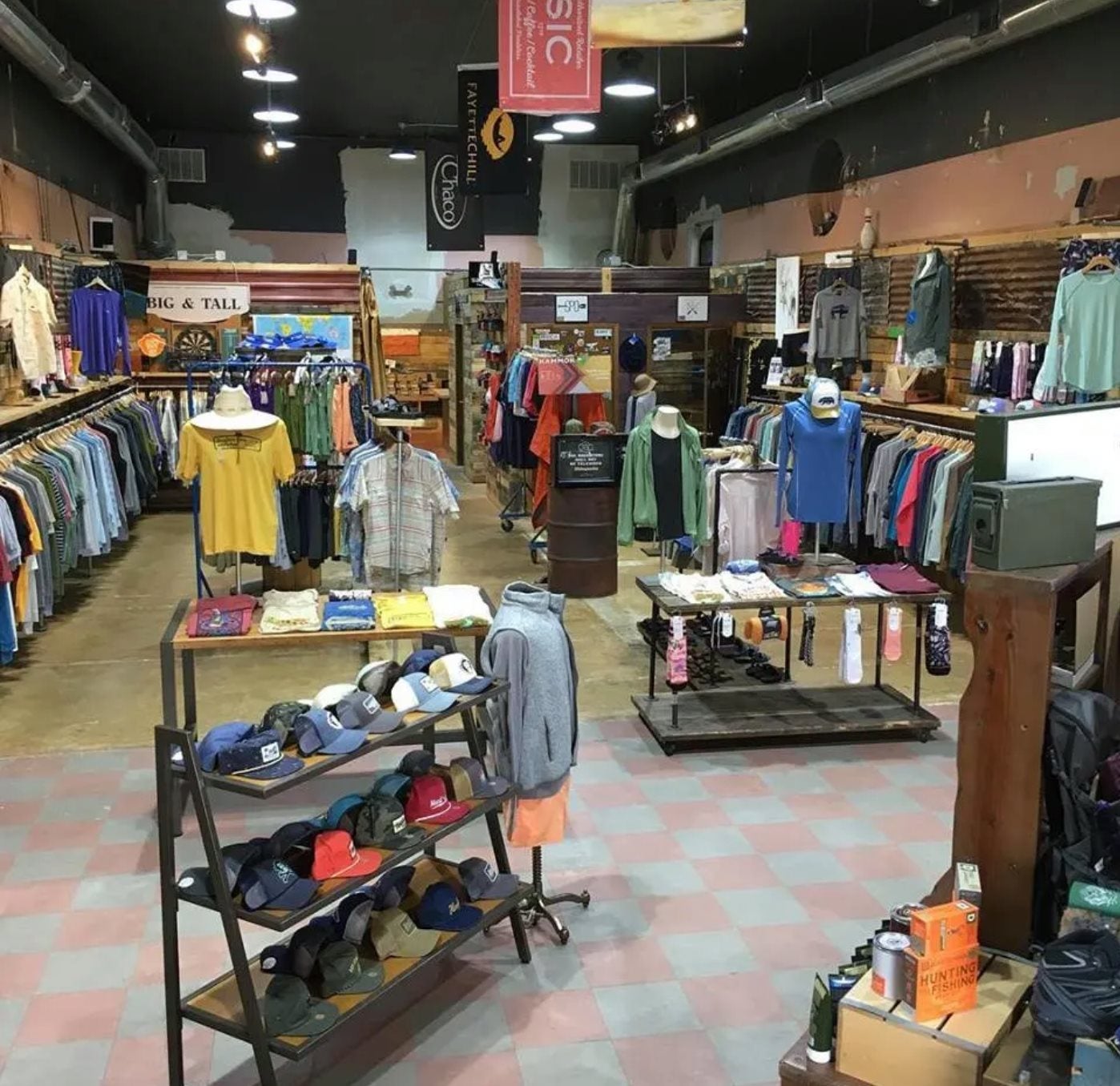 Heading out the door? Read this article on the new Outside+ app available now on iOS devices for members! Download the app.
"The intimidation hits me before I even walk into an outdoor store like REI," said Jahmicah Dawes, who owns the Texas-based outdoor gear shop Slim Pickins Outfitters. "It starts when I roll into the parking lot in my 2007 Chevy Impala with my fly rod sticking out the window. I look around at all the Audis, Volkswagens, and Subarus decked out with bike racks, ski racks, and gear boxes. I already don't fit."
For many—people of color, outdoor novices, plus-size individuals—the act of shopping for gear can be intimidating. Before you even get to the point of checking tags for pricing or sizes, stepping into a store where you don't feel comfortable can discourage participating. In a lot of ways, that feeling of not belonging is the first barrier to creating a more diverse industry.
Get past the parking lot and you might feel overwhelmed by the gear itself. Look up, and you'll see point-of-purchase displays that depict far-off locales with people, most of them white and incredibly fit, getting after something intense. It can feel like the outdoors as depicted are somehow unattainable, especially if the white guy helping you is a seasoned, know-it-all climber. And for Black people, there's always the fear that someone might follow you around the store or accuse you of shoplifting.
"My mom used to work on 57th Street in New York City and one day she sent me across the street with her Amex Gold Card to buy Reusch ski racing gloves from the Scandinavian Ski Shop," said Mark Boles, who owns the Massachusetts gear shop Intrinsic Provisions and, like Dawes, is Black. "I remember essentially being run out of the store by someone there, at which point my mom came down from her office and read them the riot act." Boles was 12 at the time.
Slim Pickins and Intrinsic Provisions are completely different stores, the former in a rural college town, the latter in an affluent suburb with an REI nearby. Still, both Dawes and Boles have built their businesses in a way that the intimidation and bias they experienced wouldn't be repeated.
We spoke with Dawes and Boles, as well as Becky Smith, REI's retail director for the Northeast, to determine ten concrete actions gear shops can take to be less intimidating and more welcoming to all.
Roll Out the Welcome Mat
REI has dedicated greeters at all of its doors, personally welcoming everyone who enters. The company also works to ensure its initial entry displays, the first thing customers see when they walk in, feature something relatable like local maps and shirts. "We try not to lead with the hard products, something that folks might see as a barrier," said Smith.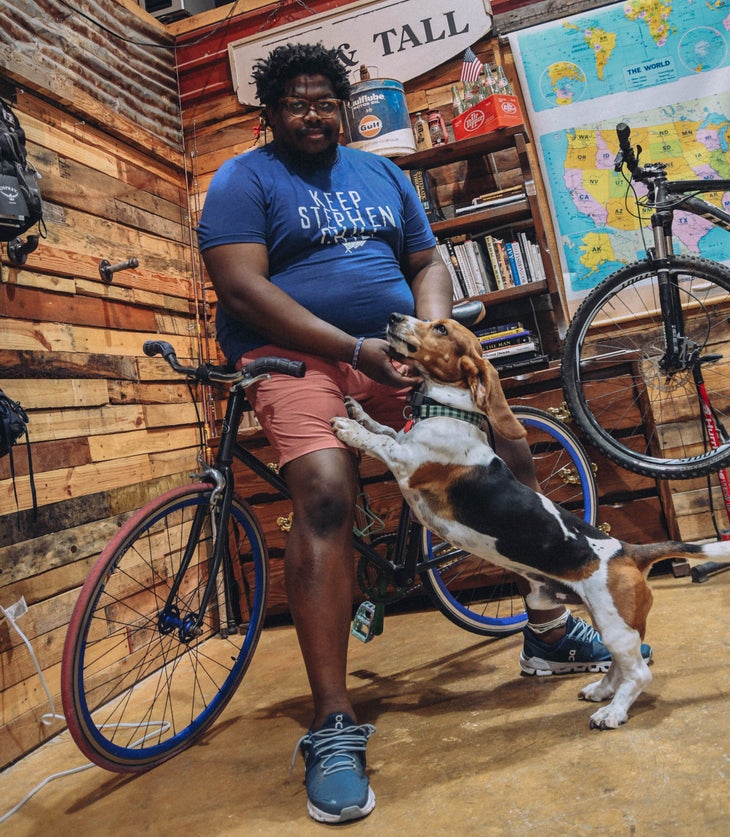 When you walk into Slim Pickins, you'll likely be greeted by Dawes' basset hound, Bill Murray. You might then notice an old record player, spinning old school blues or bluegrass. Up above, the walls give off a vintage vibe, mounted with old skateboards and bikes. "All of these things don't scream hardcore climber or mountaineer or endurance runner," said Dawes. "We want to be able to connect with someone on many different levels before saying we're an outdoor shop."
Make Sure Your Staff Reflect the Community
For a person of color, a plus-sized individual, someone who uses a wheelchair, or a queer-presenting shopper, seeing someone who presents similarly is immediately comforting.
"It all starts with hiring," said Smith, who oversaw the opening of the REI's Washington D.C.'s flagship store. "You have to look at who your local community is and what they need for you. We really strive to ensure that we reflect our local population and that our staff is as diverse, if not more diverse, than it."
That requires not simply hiring who applies, but also reaching out to local nonprofits and BIPOC community partners and asking them to help spread the word about openings via their listservs. If your store is in a Latinx community, make sure you have appropriate signage and employees fluent in Spanish.
When REI was opening in D.C, Smith learned that there was a significant deaf population (because of local schools) in the local community through preliminary research. When building the store, the company kept them in mind when it came to layout and sightlines, and was intentional about hiring five deaf employees.
Invest in Inclusivity Training
Training helps employees become aware of unconscious biases they hold, introduces DEI concepts, and promotes a workplace that feels safe and inclusive. All of REI's staff go through diversity and inclusion training within six months of starting, a process that involves an online component as well as in-person discussions.
"We put our managers through extensive diversity and inclusion training and then they'll lead small breakout sessions to really flesh out unconscious biases and have honest conversations," said Smith. "It's a very vulnerable training and a safe space for having hard conversations with your team."
In that D.C. store, Smith also required staff to go through deaf etiquette training.
Keep the Term "Outdoorsy" Broad
"We don't define what it means to be outdoorsy for people," said Smith. "We're not saying you have to be a rock-climbing, thru-hiking, metric century rider in order to be outdoorsy. We're saying that if you have an authentic feeling towards the outdoors then we have a space for you here on our staff."
We recommend going a step further to ensure that your social media, displays, and in-store events don't just promote one way of being outside.
Don't Make Assumptions
Never guess someone's gender, let alone why they've come to your store, or what their experience level may be.
"There's a Black guy I see cycling every once in a while who's a real diehard, but if you saw him walking around, you'd never know he's riding 30, 40, 50 miles at a time," said Boles. "If you decide to misjudge him, that's not good. So I don't make any presumptions."
At REI, staff members are trained to always ask qualifying questions to help pinpoint what will suit a customer's needs best, such as: What kind of activity will you be doing? How often will you be doing it? Where will you be? What season do you plan on doing it in? When showing customers gear, make sure they know how to use it and if applicable, offer to help them set it up for the first time.
Embrace Gender-Nonconforming People in Your Stores
Betsy Bertram, Brand Manager at Townsend Bertram & Company Adventure Outfitters, penned a piece outlining how her family shop is taking concrete steps to be more welcoming and relevant to gender-nonconforming customers. The five big takeaways: hire trans people and pay them a living wage, include pronoun preference on name tags, make all fitting rooms and bathrooms in your store gender neutral, and be conscious of the gendered imagery in your store and on your social media.
Don't Push the Sale
For a novice, the pressure to buy something, especially if it's expensive, can be a big turn off. "We never push a sale," said Boles. "We want to make the customer happy, even if it's sending them to another store." Alternatively, you can offer a generous return policy. At REI, if a customer buys something and isn't happy with it within a year, they can return it.
Encourage People to Bring Along Newbies
"My first experience in a gear shop was with friends," said Dawes. "That support system takes away the harshness of that first-time feeling of not belonging. In that moment you belong just by association."
Don't hesitate to simply ask your customers to bring along their novice friends, suggests Dawes. Consider hosting school groups, meet-ups, or collaborations with groups that have nothing to do with the outdoors. Offer incentives, such as a 20 percent discount, to first time shoppers, or host a giveaway. There are plenty of ways to entice folks who have yet to experience the outdoors, it just requires a bit of effort and creativity, says Dawes.
Push the Brands You Carry to Do Better
REI, with the weight of its buying power, has a lot of pull when it comes to encouraging its brands to do better. For example, the company pushed Smith Optics and other goggle makers to use the descriptive term "low-bridge fit" rather than the term "Asian fit."
"Most point-of-purchase we get from brands is very whitewashed," said Dawes. "I haven't seen one yet—and that's not to say they're not out there, I just haven't seen it—that has shown a person of color."
Dawes has even volunteered to serve as a model and get involved in the marketing process for at least six brands. So far, no one has taken him up on it. For his part, Boles designed Intrinsic Provisions to be more of a specialty store, focusing on brands that check a slew of rigorous environmental, ethical, and social values. "Nowadays, we will certainly make decisions based on the brand partner's response to the Black Lives Matter movement," said Boles. "Going forward, it will be more and more a part of how we evaluate brands we work with."
Stand For Something and Say It Loud
Social media is one of the best tools we have for stating our values publicly. Say Black Lives Matter, display a rainbow flag, show images of people of all shapes and sizes, stand up for immigrant rights. If you believe the outdoors is for everyone and that there's no one way to be outdoorsy, say it—in your weekly newsletters, at town halls, or via a sign hanging in your shop window. People will respond.
Simply paying lip service is never enough, though, and all superficial displays of solidarity should be backed up with real, sustained action.
"We work with many partners and nonprofits in our local communities so we're not just relying solely on the messaging that we want to put out there," said Smith. "Working in solidarity with others allows us to get the message out that there's space for everyone in our stores and in the outdoors."
Trending on Outside Online