Outside Business Journal
Is It Finally Time for the Backpack Tax?
Hunters and anglers say other outdoor users need to step up as the costs of conservation skyrocket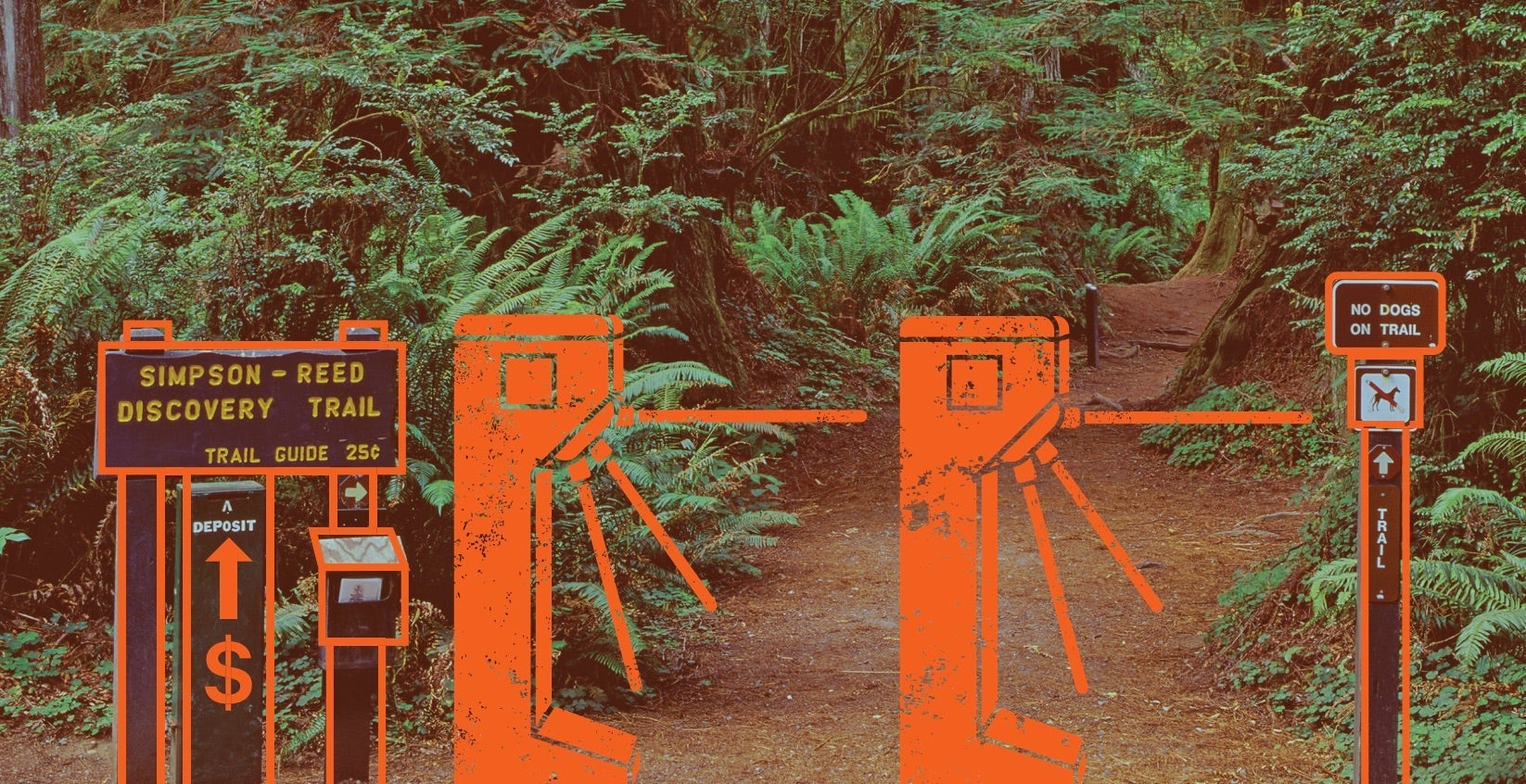 Heading out the door? Read this article on the new Outside+ app available now on iOS devices for members! Download the app.
Land Tawney wants everyone to stop using the term "backpack tax."
People hate taxes. But the idea of taxing outdoor gear to help pay for conservation should be unifying, explains Tawney, the CEO of Backcountry Hunters and Anglers. So instead, he suggests, let's call it an Outdoor Legacy Fund. Let's describe it as an opportunity for everyone who enjoys the outdoors to help contribute to the protection of that same outdoors. Because hunters and anglers can't keep paying more than half of the bill to protect the nation's fish and wildlife through their license fees and excise taxes, especially when only 4 percent of the U.S. population hunts and only 14 percent fishes. But ultimately, the "backpack tax" or Outdoor Legacy Fund or whatever it's billed as, is, in fact, a tax—one Tawney feels gets more critical as outdoor participation continues to surge. He also thinks that, even after decades of fruitless discussion, it's finally gaining steam.
More than Their Share
Our conservation funding system was never built with hikers, trail runners, climbers, or mountain bikers in mind. That's because it was created nearly a century ago, before any of those sports existed as organized pursuits—back when the biggest recreational users of U.S. public land were hunters and anglers.
In the early 1900s, when wildlife species were disappearing across the country, the hunting community and surrounding industry rallied to create what's known as the Pittman-Robertson Act, which levied a 10 to 11 percent tax on guns and ammunition, paid for by the manufacturers, to help fund conservation.
It passed in 1937, and in 1950, the Dingell-Johnson Act also passed, setting aside a 3 to 10 percent tax on fishing and boating equipment. The two acts have resulted in about $23 billion going to states for conservation and recreation projects since their inception. However, income from those acts has been declining for decades as hunters age out and new participation lags. Not that it matters, said Randy Newberg, host of the online show Fresh Tracks with Randy Newberg and one of the nation's most visible hunting personalities.
"The cost of conservation is increasing faster than the cost of excise taxes [ever could]," said Newberg. "If you think the old idea that hunters and anglers, through excise fees and licenses, can foot the increasing conservation bill, I have some news for you. That's just a terminal path."
In the meantime, record numbers of hikers, campers, and other recreationists are flooding the nation's parks and open spaces. It's a welcome development for those who have spent years encouraging outdoor participation. But it comes at a time when more studies show that non-consumptive outdoor recreation is having a real impact on the wildlife that hunters and anglers have been paying to conserve.
A 2019 meta-analysis in the journal Conservation Science and Practice found that 70 percent of the time, the richness and abundance of wildlife suffered in association with higher levels of recreation. And as newer user groups strain trail systems, more states are relying on money from strapped general funds, lotteries, and other sources.
Luke Todd is the owner of The Sports Lure in Buffalo, Wyoming, a store that sits at the base of the Bighorn Mountains. Some estimates showed upwards of 35,000 people visited the Bighorns during July weekends in 2020—roughly the population of Wyoming's third-biggest city. The fish and wildlife felt it, Todd said.
"We hate to have more closed roads and trails," he said. "But [the outdoors] is a very fragile thing."
Improving access is the only way to accommodate more visitors; it's that or start restricting visitation. But to do that, land managers have to either buy new land, or buy easements to access public land across private parcels—an expensive proposition. That's why hunters like Tawney and Newberg say it's time for everyone to chip in.
But Can It Pass?
This isn't the first conversation about instituting some kind of backpack tax. In 2000, the outdoor gear industry helped remove a provision from the final version of the Conservation and Reinvestment Act that would have levied taxes on outdoor equipment. Discussions have continued over the years, but no more legislation has been drafted since then.
But many outdoor brands worry that an additional tax will cut into their revenues—or that they'll be forced to pass the increase onto the consumer, upping barriers to entry. And the financial burdens on outdoor companies have only increased since 2000, said Rich Harper, Outdoor Industry Association's director of government affairs. The industry already pays billions per year in tariffs and local and state taxes, many of which were instituted in the last few years.
The conversation should focus on other options, said Marc Berejka, REI's director of community and government affairs. REI has opposed the idea of backpack tax for years.
"The combined tax revenue generated at the local, state, and federal levels by outdoor recreation exceeds $125 billion," he said. In other words, the outdoor industry—and by extension, outdoor consumers—are already paying plenty in taxes; it's time for the feds to meet the industry halfway. "The government doesn't spend anywhere close to $125 billion in supporting recreation," Berejka said.
In the past few years, Georgia and Texas each passed bills to divert a portion of proceeds from existing sales tax on outdoor recreation equipment. That money now goes into a pot to help pay for local and state parks and historic sites and to protect wildlife and clean water. Texas has had various iterations of the law since 1993, but in 2018 approved spending $277 million, or 89 percent of funds from sales taxes on outdoor gear, on land conservation. Berejka believes states should follow Texas's lead instead of instituting another tax.
Jessica Wahl Turner, executive director of the Outdoor Recreation Roundtable, says conservation advocates should look first at programs that already exist but are aren't fully funded, like the Recreational Trails Program (which uses gas tax to pay for trails) and the Sport Fish Restoration Fund (which is financed through motorboat fuel and fishing equipment sales and import duties on boats).
But Tawney believes passing the buck isn't enough, and that most outdoor users are ready for a backpack tax—even if some of the cost falls to them. "People are willing to do it, but companies are not willing to have that conversation," he said.
While the exact details are far from final, some industry experts have tossed around the idea of a 1 percent tax, which would raise the price of a $100 pack to $101. A 5 percent tax, as was discussed in the '90s, would raise that pack to $105. Backpack tax proponents say that's not a make-or-break amount for consumers. Even so, Tawney advocates for lowering tariffs as a way to prevent increased costs. Plus, he says, if more money doesn't go to conservation now, states and municipalities will begin charging (or raising) trail and user fees—a much larger financial hurdle for those with limited incomes.
Todd, owner of Wyoming's The Sports Lure, says a tax on outdoor gear isn't only necessary, it also just isn't that big of a deal. His parents started the shop in 1968, and all those years have proven that hunters and anglers are proud to invest in the resources they rely on.
"[An excise tax] will be relatively invisible to the consumer and the dealers," he said. "I don't see it as an impediment." Plus, he adds, it would be worse to undervalue, rather than overvalue, our fish, wildlife, and natural spaces.
"We have an embarrassment of riches, and we have to take care of them."