Outside Business Journal
The Challenges of Inclusivity: Opening the Gates
Do you have a noble sense of Leave No Trace? Or is that your racial bias talking? One outdoor enthusiast re-examines her position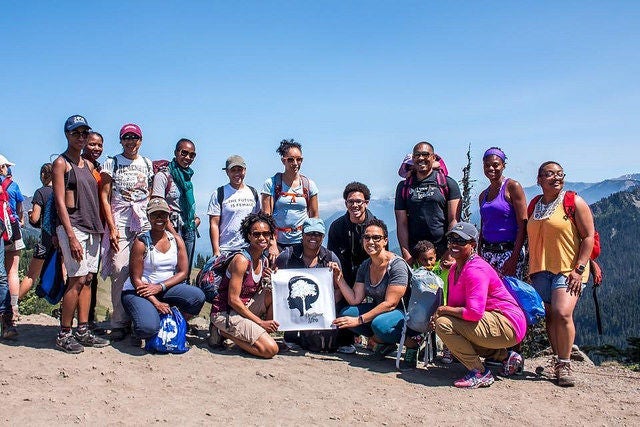 Heading out the door? Read this article on the new Outside+ app available now on iOS devices for members! Download the app.
When I hear about outdoor diversity campaigns, my knee-jerk, gut reaction is fear.
The issue isn't the newcomers. As someone who makes her living writing about the outdoors and sharing it with new audiences, I want to see our numbers grow.
The issue is that I have an environmental science degree. I've spent seasons doing biological field research. I've edited a Leave No Trace column for Backpacker, a magazine that sells solitude on every other cover. I've been trained to value staying on trail, keeping group sizes small and respectful (as per Leave No Trace's recommendation), and limiting impact.
When I read about diversity in the outdoors, I seem to hear that new groups are getting outside, but often in different ways—big group hikes, Quinceañera celebrations, or family reunions, for example.
On their own, I love those things. But over 300 million people visit national parks each year—double the number from 60 years ago, when most infrastructure was last updated.
Environmentalism Gone Wrong
Many environmentalists share my fears of rising impact. But a growing number of reports indicate that, if left unchecked, that personal nervousness can manifest as something far nastier: xenophobia and racism, masked by a self-proclaimed dedication to Leave No Trace ethics.
In reporting this story, I heard plenty of examples of so-called "LNT policing": A Latino family told to stop talking at a campground. A family of Luiseño Indians shamed by passersby for their annual, traditional harvest of poppies during the California superbloom. A group of black hikers chewed out by a white woman, who claimed the dried bamboo and palm fronds the group had brought for their children to play with might be invasive species. And, of course, plenty of white hikers shaming other white folks for stepping off-trail.
"People feel unjustly entitled," said Nadia Mercado, an Osprey hiking athlete and outdoor diversity advocate of Dominican descent, of many longtime outdoorists. "They forget the land is public." That mix of entitlement and fear for the environment can leave veteran hikers extra-sensitive to new groups of people on trails, especially those using the outdoors in ways white hikers might be unaccustomed to.
The more I learned about these instances and ingrained biases, the more I started to ask myself an uncomfortable question: Am I afraid to share the places that I love?
But What About the Environment?
"There's a perception, particularly in the white hiker community, that there's a specific way to behave on-trail," said Jackie Ostfield, director of the Sierra Club's Outdoors For All program. That perception traces back to the fanatical reverence for self-reliance and solitude espoused by 19th-century conservation icons like John Muir, Ralph Waldo Emerson, and Henry David Thoreau. "Going into wilderness for solitude is fine," said Ostfield. "But it's also fine to have a community experience."
Those transcendentalist values appear in the scientific community as well. A common tenant of Western ecological theory is that, in order to be protected, conservation lands must be restored to their pre-settled state. (That's one reason indigenous communities were forcibly removed from early national parks, like Yosemite.) But in many cases, turning the land into a museum isn't practical, or even necessary.
"Native people have been managing land sustainably for a long time," said Lydia Jennings, a PhD candidate in soil microbiology with a concentration in American Indian policy. She argues that, for centuries, scattered bands of human beings have been part of a place's native fauna.
Leave No Trace executive director Dana Watts agrees. She says LNT derives its guidelines from scientific research and input from land management agencies. She acknowledges that the organization could do more to loop in indigenous land stewards as well as people of color, and emphasizes that LNT guidelines are just guidelines. "There's nuance to everything," she said. That includes geotagging, plant harvesting, group size, and off-trail hiking.
The takeaway: you can love the outdoors and want to enjoy it with groups of people.
The Real Meaning of LNT
It's easy to point fingers at the hikers around us, but there's another, bigger culprit for the degradation of public land: lack of government funding.
The only way to change that is to vote for it, and people only vote for the things they love, says Outdoor Afro Founder Rue Mapp. "We have to put our hands on the land," she explained. "That's what instills an environmental or conservation ethic."
Outdoor Afro is a good example. What started as a recreational hiking group has since become a nationwide network of outdoor leaders who have begun leveraging their numbers to enact political change. In 2019, Outdoor Afro dispatched 20 of its leaders to lobby with local congressional representatives, which helped bring about the reauthorizing of the Land and Water Conservation Fund.
Outdoor Afro demonstrates that new groups of hikers aren't the problem: They're a force for change. American public lands are under threat, but I'm starting to realize that the solution, ironically, isn't to shut the gates. It's to open them a little wider.