Outside Business Journal
Malcolm Daly, Industry Legend, Needs Your Love and Prayers
The beloved 65-year old climber, entrepreneur, and retail expert suffered a stroke yesterday and remains in ICU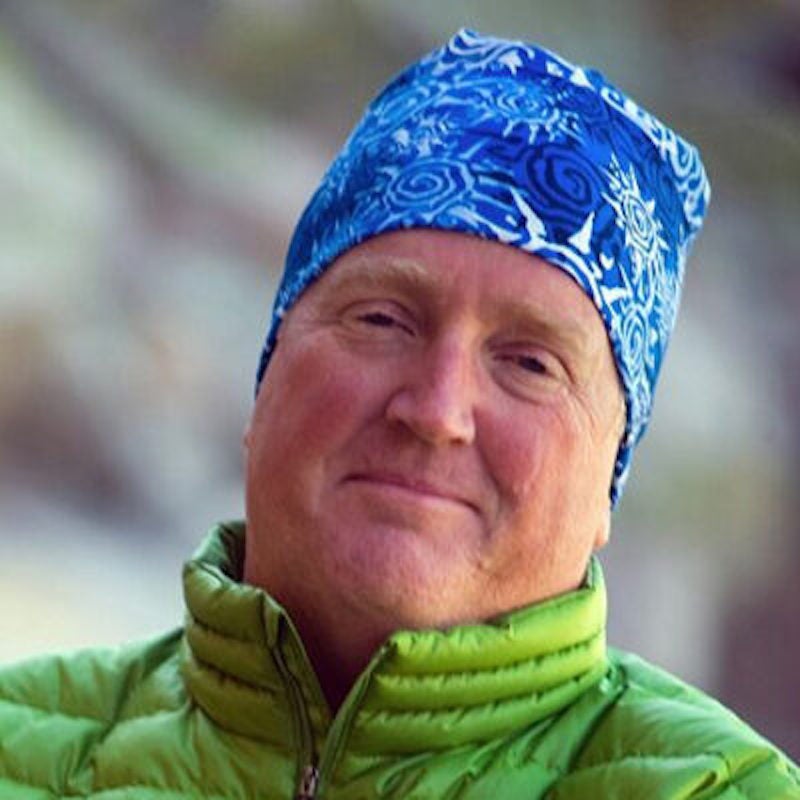 Heading out the door? Read this article on the new Outside+ app available now on iOS devices for members! Download the app.
Malcolm Daly, a veteran of 45 years in the outdoor industry, suffered a stroke yesterday after returning home from a trail ride on his e-bike. Malcom's wife, Karen, reported on Facebook that the stroke was the result of a clot in a large artery in the left side of his brain. Malcolm was helicoptered to Boise ICU, where doctors successfully removed the clot.
We spoke to Karen to get an update on Malcom's condition. The couple had just moved to Hailey, Idaho, two weeks ago. "We were so excited and happy to be off the Front Range and be able to Nordic ski and hike and mountain bike out the door," Karen said by phone.
"When he arrived at the hospital he was paralyzed on the right side," she said. "But the best news is that when they removed the clot, his dexterity and mobility was completely and immediately restored. He's shaky, but he should regain full mobility."
Malcolm's biggest challenge will be the neurological damage, she told us. "They are still testing and assessing, but the language center in his brain is damaged. We don't know the full extent yet, but he will have a long road back when it comes to language. It will be hard, because Malcolm is such a talker, such an extrovert. But he loves a good challenge."
Malcolm is a proven survivor. In 1999, he suffered a terrible fall while climbing in Alaska. Stuck on a ledge alone for 48 hours in below freezing temps while his climbing partner went for help, his determination to survive got him through, albiet with two frostbitten feet. One of his legs was later amputated.
Malcolm Daly is an outdoor industry treasure. He started working in the outdoor industry in 1975, as a sales associate in a climbing shop while attending Colorado State University where he earned a degree in outdoor recreation. He has held just about every role imaginable since then: sales representative, shop manager, wildland firefighter, climbing guide, waiter, cook, marketing director, and product line manager for Lowe Alpine. In 1991 he founded Great Trango Holdings to manufacture innovative climbing gear and women's activewear.
Malcolm is known and loved for many things, but two seem particularly relevant right now: his winning personality and his penchant for giving back. He was a founding board member of the Access Fund, an organization dedicated to keeping climbing areas open, and served on its board for 13 years. In 2007, Malcolm helped found Paradox Sports to help make climbing accessible to people with disabilities. Malcolm was also a founding board member of the non-profits, No Barriers and the Action Committee for Eldorado.
As a straight shooter with an untouchable wealth of knowledge and insight into all things outdoors, Malcolm has been an invaluable contributor and regular source for us here at Outside Business Journal. Most recently he regaled us with stories via video for our Retail College series of online courses. He lit up the screen and dropped bombs of knowledge throughout the courses.
Malcolm's son, Mason, a rep for Patagonia, has set up a GoFundMe page to help the family. "My dad has always been the first person to step up and help people, rally fundraising, and build community. He's done so many good things for so many people. Now his community has a chance to rally behind him."
Be strong Malcolm!