Outside Business Journal
Meet Chad Brown, Founder of Love Is King
Chad Brown has experienced racism in the outdoors countless times, but after being shot at while fishing in Oregon, he decided he had had enough. That's when he founded Love Is King, a nonprofit on a mission to make the outdoors safer for everyone.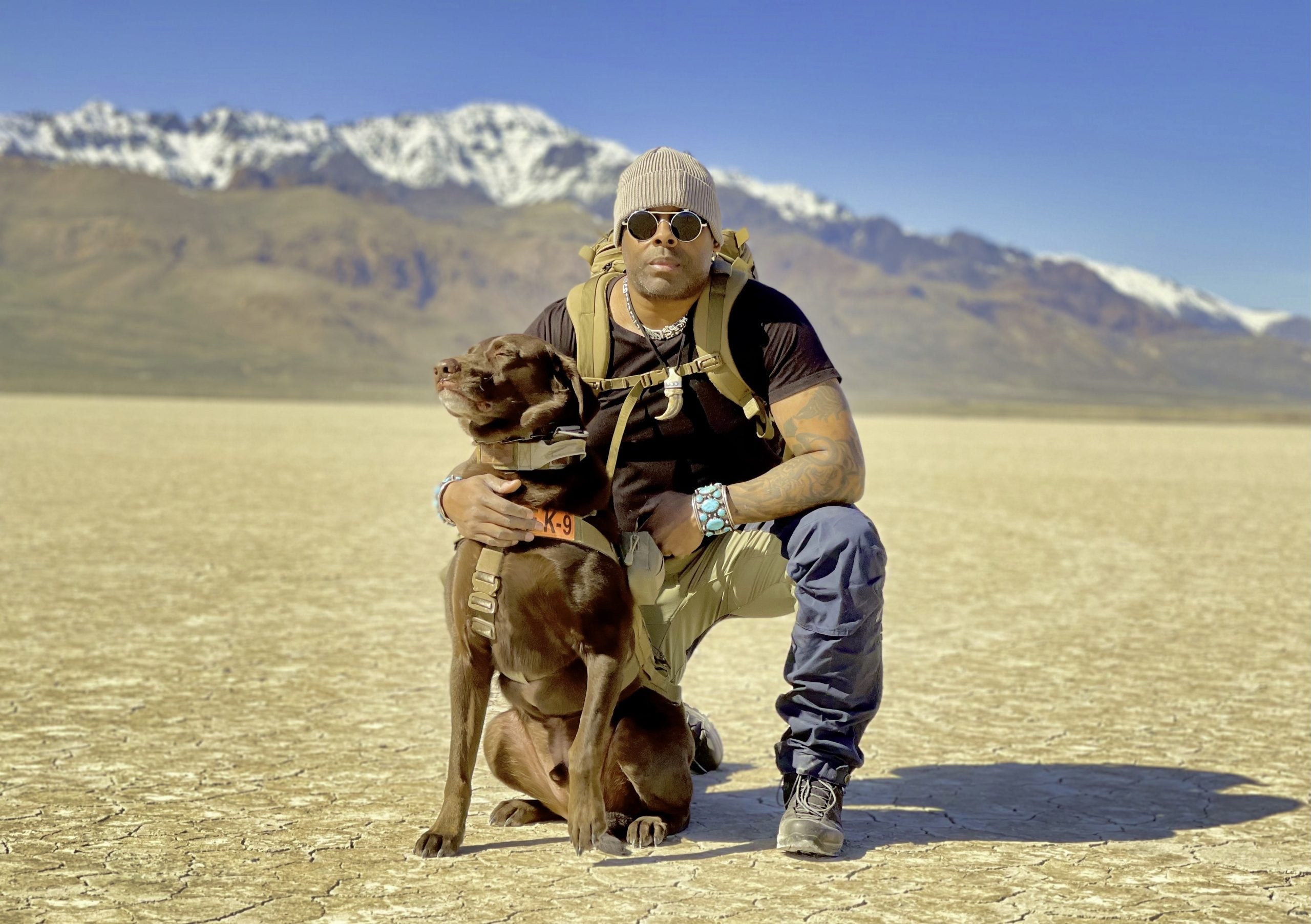 Heading out the door? Read this article on the new Outside+ app available now on iOS devices for members! Download the app.
Chad Brown is a man on a mission. As a Black, disabled Navy veteran with a passion for wild places, he has seen firsthand the healing power of the outdoors, and he's hell-bent on making sure everyone can access it.
Brown is the founder of not one but two nonprofits. In addition to Soul River, which brings veterans and inner-city youth together on wild rivers for mentorship experiences, he also created the group Love Is King, which focuses on safeguarding rights for marginalized and vulnerable communities outside. Love Is King was founded last year, but since then has garnered a lot of attention as it continues taking actionable steps towards creating serenity and healing in the outdoors.
Last week, we sat down for a Zoom chat with Brown to learn more about his work and the movement he's building.
Was there a moment in your life that sparked the idea for Love is King?
Last year, I was out fishing on the Clackamas River in Oregon when a white man appeared and yelled at me to "get off of his river." When I continued to fish, he took out his weapon and fired a warning shot. Then he took aim at me and fired again. Luckily he missed, and that's when I got the hell out of there. Here I am, getting shot at on a river and all I wanted to do was fly fish on our public lands. I'm a 50 percent PTSD disabled veteran. On that day, a lot of stuff unraveled for me. I was bothered, frustrated, angry, crying. It sent me into a downward emotional spiral. It was from this place that Love is King was born—to address toxic hate and to promote safety for all in the outdoors. 
My experience is not unique. Many BIPOC folks have suffered the toxicity of racism in the outdoors. These experiences need to be addressed and combatted. Love Is King is here for that.
What is the group's basic mission?
Love is King is not just a nonprofit. We're on a mission to create a movement. Love is King squashes fear in the outdoors and provides equitable access and safety to enrich experiences for BIPOC and LGBTQ+ communities. People of color and marginalized groups deserve a voice, deserve an advocate, and deserve action to ensure that the freedom to roam is unhindered. 
How does Love is King support marginalized communities in the outdoors?
In the outdoor industry, we talk a lot about access to the outdoors. That's great, but access can't be ensured without safety. Love Is King is about addressing fear and making the outdoors a safe space. We do that by establishing Love Is King Guardians, a diverse group of industry professionals that lead with love. Guardians are inspired by the Guardian Angels, a New York City-based nonprofit that prevents crime in certain communities. Our Love Is King Guardians are passionate, empathetic, and experienced leaders who encourage and nurture positive interactions and conversations. Whether they're veterans, politicians, nonprofit leaders, or community activists, our Guardians leverage their DEI training and leadership skills to ignite change.
How will you bring new voices and changemakers to outdoor conservation?
We do that through something called Operation Roam. Operation Roam pairs BIPOC and LGBTQ+ professionals with conservation nonprofits like Alaska Wilderness League to introduce diverse voices into advocacy work. These conservation nonprofits gain new perspectives, and our Operation Roam participants gain on-the-ground professional development through their involvement with conservation campaigns and efforts to protect our public lands, fresh water, wildlife, and Indigenous nations.
How does white allyship come into play in your work?
Allyship is always important and there are plenty of good intentions out there. But I've found myself in some conversations with white allies and conservation groups where there's a lot of talk and great intentions, but no follow up.
Love Is King is designed to hold people accountable. When we say we're going to do something, we do it. I've had a few organizations that will smile and agree, but they're not ready. I've been told many times by white people in fly fishing and hunting communities that "the outdoors is green and for everybody." The thing is, a white person's experience outdoors is very different from mine and those of many other BIPOC and LGBTQ+ folks. As a Black male, the way I move through this world is different from the way my white allies do.
If you had to define one key to success for Love is King, what would that be?
Action. We can have all the conversations and debates we want, but if there's no change, it's coffee talk. As an entrepreneur, sometimes it can be hard for me to articulate the depth of the vision that I have. I always try to find the most executable way to create a swift win through small, actionable steps.
It's like making a fire: gathering tinder before finding progressively larger pieces of wood to get a flame going. Small actions incubate hope, faith, strength, power, teamwork, and accountability. Small win after small wins allows us to support the movement and create a shared, healthy experience for marginalized communities.
It's like Dr. Martin Luther King Jr. told us: we're going to march to the mountaintop one step at a time. Sooner or later, we're going to get there.