Outside Business Journal
Meet Erin McGrady, Warrior for Inclusion in the Outdoors
Through The Outbound Collective's Writers Residency for Underrepresented, McGrady is sharing her perspective on the outdoor world she loves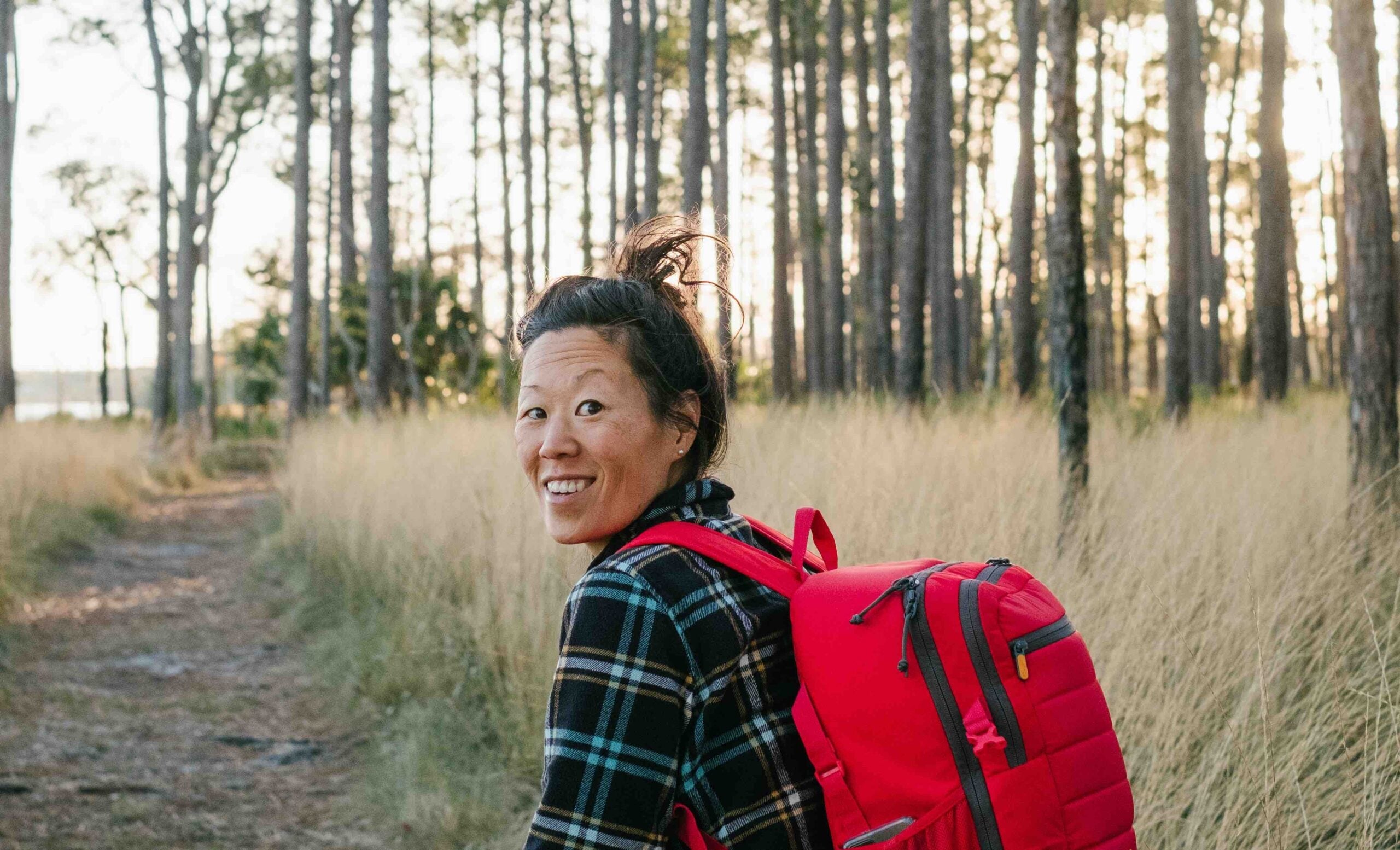 Heading out the door? Read this article on the new Outside+ app available now on iOS devices for members! Download the app.
Erin McGrady, an openly gay Asian American entrepreneur, writer, photographer, and outdoor athlete, is no stranger to dealing with aggression—both micro and macro. From offensive offhand comments to being followed by a vehicle while on a run, these things are what inspire McGrady to advocate for greater outdoor access among the LGBTQ+ community to help make the outdoors a safer place for everyone.
McGrady and her wife, Caroline Whatley, are the creative directors behind the digital marketing agency Authentic Asheville. In addition to working with brands big and small on everything from web design and photography to content creation, the duo also shares their stories of van life and adventures on Instagram (@e.mcgrady and @authenticasheville) and on their camper van travel blog Authentic Asheville. 
McGrady's  experience as an Outbound Collective resident has given her the opportunity to share the many aspects that make up her identity in the great outdoors. McGrady was selected for the Outbound Collective Writers Residency for underrepresented storytellers in October of 2020. The six-month long project was started by Outbound Collective, a virtual community dedicated to sharing the many faces and experiences of  the outdoors and adventure travel. The Writers Residency gives writers from marginalized communities financial compensation, gear, and a platform to tell their stories.

I caught up with Erin this summer as she and her wife traveled through the Southwest. An edited version of our conversation is below.
How did you celebrate Pride Month?
I celebrated Pride Month by exploring some new-to-me places and spaces with my wife. We've been working and adventuring out of our camper van in the Southwest—hiking, trail running, biking, camping— we even went rafting in the Grand Canyon for three days while working as content creators for the Nation's Vacation, a travel website that helps people experience what America's greatest National Parks and protected lands have to offer. Our rafting trip concluded with a 9.5 mile hike up the Bright Angel Trail and though my legs were sore afterwards, the aches were totally worth it. It was an intense adventure but during my down moments I had a chance to really reflect on how thankful I am to be able to write, shoot, and share as an openly gay, brown-skinned woman. I'm grateful to those in the LGBTQIA+ community who have come before me and those who continue to do the work today. I hope to be a part of the change (to a safer, more equitable, and inclusive world), as the work is far from done. 
What have you learned during your Outbound Collective Writer's Residency and what have been some of your favorite projects that came out of this?
The writer's residency allowed me the time and space to dig deeper into my thoughts about my experiences in the outdoors. Though I wasn't much of a Girl Scout (I got too homesick on overnight trips and never actually made it through the night), as I got older I gravitated to all the outdoor activities. Turns out I love camping, kayaking, surfing, riding bikes, and trail running. But I just never quite felt like I fit into those spaces. A lot of it, I think, had to do with the fact that I rarely saw people that looked like me in those places or in the ads selling the gear for those activities. My experience was difficult to talk about, but through the residency I was able to connect with others who have had similar experiences. It was really healing to find community with others who could relate to and support me and who wanted to work to make those same spaces more inclusive and friendly. Some of my favorite projects that came out of this has been working with brands like Stio, Hoka One One, Eagles Nest Outfitters (ENO), and Snow Peak, who aren't afraid to show and tell stories like mine. Actually, let me rephrase that: not only were these brands not afraid to tell stories like mine, they were excited to do so. That's a big shift and one that hopefully will make the outdoors feel more and more welcoming.
What is the Everyone Outside initiative and how are you involved in it?
Everyone Outside is an idea and a hashtag that The Outbound Collective uses to put thoughts, intentions, and words into motion to make the outdoors a more inclusive, safe, and welcoming space for everyone. As part of the project, The Outbound Collective has produced six films with two more in production, sponsored two cohorts of Writers in Residence for Underrepresented Storytellers, and created an Artist Network Initiative. 
You do a lot of sponsored content with partners like Stio, Snow Peak, ENO Hammocks: what is that process like and what defines a good brand partner?
I've been really excited to work with each of the brands you mentioned. They've been a great fit for me because I genuinely like their products. Equally important, they really believe in me and trust in me to create imagery and write stories and share authentic truths. I haven't felt any pressure to conform to be someone I'm not, to hide a part of myself, or to share about something I don't actually like.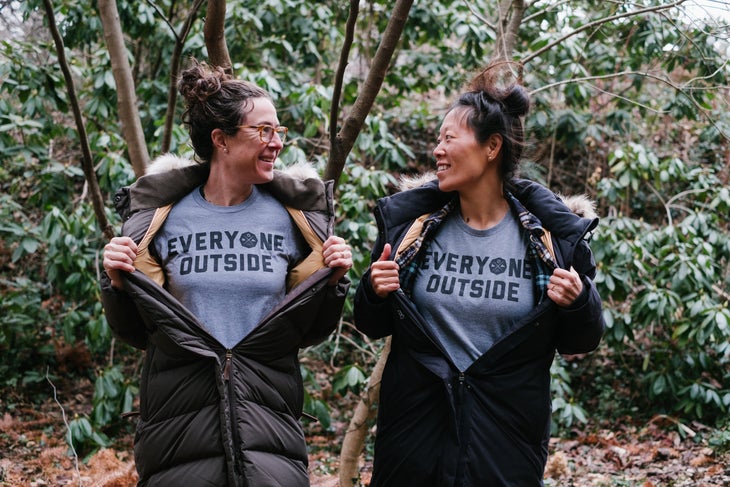 As far as the process, it's pretty straightforward and revolves around good communication. Typically the brand's team shares their goals with us via a deck or we hop on a call. After the information-gathering, we then decide whether or not the project is a good fit for us and if it is we get to work! Caroline and I (it's just the two of us) will then spend a lot of time generating ideas (they've got to feel fun, true to us, and in line with our values), scouting out locations, creating the imagery, writing the copy, editing everything, and then working with the brand to share it with our audiences. 
What is it like as an openly gay woman traveling with your partner? Your posts on Instagram seem fearless and proud. Does that come naturally?
Traveling as an openly gay woman I've experienced everything from feeling relaxed and in a safe space to feeling terrified because my physical safety is in danger. I've been pinned to a wall in an alley by a moving vehicle and followed while running in my neighborhood. These experiences have changed how I move about the world. And while it's obviously easier and more enjoyable for my wife and me to visit places where we don't have to worry about our well being, it's been important to us to travel to places and experience them for ourselves rather than just writing them off because we've heard negative things. As for the fearless and proud part of my Instagram posts, in some ways it comes naturally but there's also a lot of internal, emotional work that gets done behind the scenes. I think what it comes down to is that I just refuse to shrink from shame or fear because there are some people out there who do not like nor accept me. And if it helps just one other person get out there and do what they want to do, then it's worth it.