Outside Business Journal
No Pain, No Change
On the way toward a more diverse outdoor community, mistakes will be made. But one 30-year veteran of the industry sees progress where others see only problems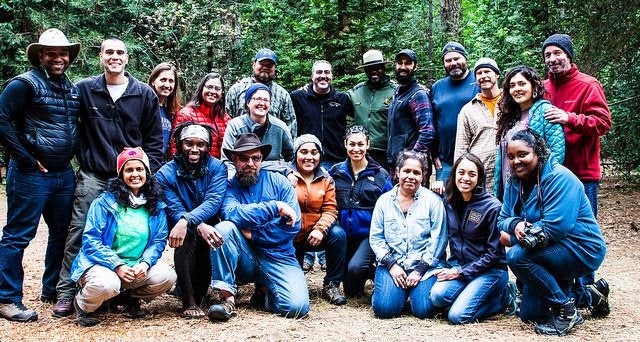 Heading out the door? Read this article on the new Outside+ app available now on iOS devices for members! Download the app.
Like a lot of people who work in the outdoor industry, I got my start in retail. It was 30 years ago this summer, at the REI in Berkeley, California. I'd just graduated from college. I was 23 years old, and it didn't take long to commit myself to a life of work and play in the outdoors. Over the next three years, I also took a few odd jobs as a backpacking guide and a wilderness first-aid instructor. I got into backcountry skiing and rock climbing and enjoyed life as an overeducated dirtbag.
I thought I'd really made it when I landed a job as a sales rep for The North Face in 1992. I showed up in Utah for Outdoor Retailer as a complete stranger to just about everyone. I had yet to meet many of my customers; thus far we had only spoken by phone. I planned to meet one of them at the on-snow demo, in the lodge at Alta.
"How will I recognize you?" she asked. Over the phone, I chuckled and said, "I'll be the black guy."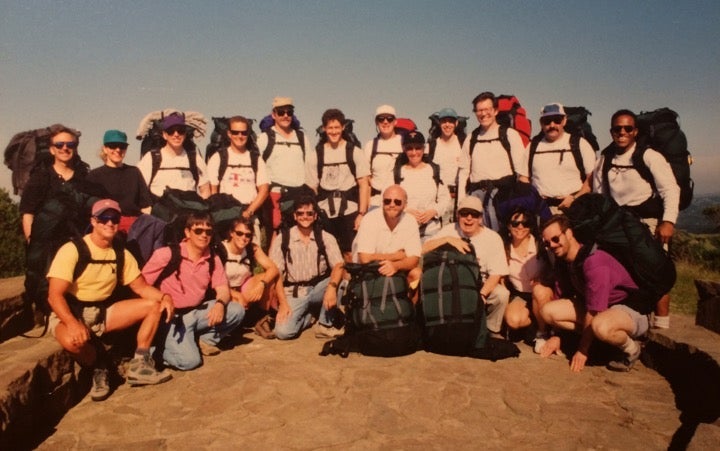 We've Come a Long Way
Three decades ago, I was among a very small handful of people of color in this field—and the only black sales rep for a major brand. After working with companies like Sierra Designs, Montrail, and Trango, I decided that my skills might be better applied to storytelling. So in 2003, I made a career change to become a business reporter, and also began working for Outside Business Journal. Since then, as a journalist, my job has literally been to observe the outdoor industry and report on it. Over that time, I've witnessed a change. When I started my career, the industry's images, ads, stories, and videos were almost completely devoid of people who looked like me, and diversity was rarely, if ever, discussed. Today the issue is recognized as one of the highest priorities we face as an industry and has not one but two acronyms (DEI for diversity, equity, and inclusion and JEDI for justice, equity, diversity, and inclusion). Corporate leaders uniformly agree: The business of outdoor recreation must adapt to the country's changing demographics and culture.
But that doesn't mean we always agree on how to do it. In the last six months, we've entered a new phase on the path toward a more diverse future.
And the way forward doesn't always look pretty. We have disagreements. We have anger. We have rancorous social media feuds. We have calls for resignations and boycotts. But I've watched this issue evolve—through both a personal and professional lens—for 30 years, and I see no reason to be alarmed. In fact, where others see setbacks, I see progress.
Mistakes Will be Made
Progress can be messy. If you're just tuning into the discussion of diversity in the outdoor industry, you've missed some false starts, wasted opportunities, and abysmal failures. Six months ago, Camber Outdoors, a nonprofit whose mission is to promote equity for women and underrepresented communities in the workplace, announced a CEO Equity Pledge. Problem was, then-executive director Deanne Buck, a white woman, described the pledge as "the first of its kind." It wasn't. The pledge, intended to help bring more people of color into the industry, captured much of the spirit and language of a nearly identical enterprise called the CEO Diversity Pledge, initiated several months earlier by Teresa Baker, an African-American environmental justice activist.
In the aftermath of an online uproar—with claims of cultural misappropriation, theft of intellectual property, and the attempt to erase the accomplishments of a black woman—Buck stepped down from her leadership position.

To Camber's credit, it has aimed to learn from this incident and taken steps to make amends. Under the guidance of interim executive director Diana Seung, an Asian-American woman, the organization has suspended its DEI initiatives pending the review and participation of outside consultants with training, expertise, and lived experience in addressing these very complex issues. They opened a dialogue with Baker to incorporate her vision into their plans for the future. Still, Camber has no expectation of getting off the hook anytime soon.
"I don't know if we should be forgiven, to be quite honest," said Seung. "We made a pretty big mistake and we need to own that. We recognize how emotionally impactful that was to the community of people of color and why. And it's unacceptable."
That's a remarkable statement considering where we've come from. Back in the mid-'90s, most organizations didn't acknowledge that the lack of diversity in the outdoors—both in terms of participation and employment—was even a problem. I personally tried for years, to no avail, to convince the clothing brands I represented to more directly market our products to underrepresented minorities. Today, many of those same companies are now scrambling to acknowledge the changing demographics of the U.S. population. Indeed, this whole episode came about because we have not just one CEO pledge, but two.
Diversity is…Diverse
In recent years, with the expansion of social media, grassroots DEI advocates and other passionate individuals have made an impact across the outdoor industry. It doesn't take long scrolling through Instagram to find evidence of a new generation of avid enthusiasts climbing, skiing, mountain biking, backpacking, and paddling all over the planet. That's great, and so is the social and political influence that comes with the growing visibility. Activists have drawn attention to the lack of diversity in mainstream media, as well as the limited number of black and brown folks who work in retail stores, as backcountry guides, on nonprofit boards, and as corporate executives. And of course, they can help find flaws in well-intentioned but ill-conceived diversity initiatives, as with the Camber CEO Equity Pledge.
But as with any thriving, dynamic community, diversity also means diverse opinions. And this can lead to conflict, even among people who are working toward the same goal. Such was the case in November of last year, during the 2018 Shift Festival in Jackson, Wyoming. At the event, which "explores issues at the intersection of outdoor recreation, conservation, public health, and cultural relevancy," several members of the Emerging Leaders Program alleged to have experienced racial discrimination, tokenism, and emotional trauma. The program is intended to train culturally diverse leaders to support Shift's mission, but executive director Christian Beckwith, a white man, was accused by a group of participants of creating an environment that was unsafe and insensitive to the needs of marginalized minorities.
"It is clear that Mr. Beckwith is underprepared and ill-equipped to lead an organization that seeks to center equity work in the outdoors," the group declared in an open letter on the website Medium. A social media campaign was launched to demand Beckwith's resignation from Shift and the Emerging Leaders Program.
Beckwith acknowledged his errors but rejected the idea that he should step down from the organization he created. "I would also like to express that the depth of my remorse is matched by my commitment to ELP alumni and future participants to create a better, safer program, one that helps us develop a movement of people working in concert to protect these places we all love and need so dearly," Beckwith wrote on the Shift website. To that end, he turned the management of the Emerging Leaders Program over to Morgan Green, an African-American pediatrician with experience in social justice and conflict resolution. Though well short of a resignation, Beckwith was effectively removed from the position where, by his own admission, he did more harm than good.
Personal Attacks Are Not Progress
Despite this leadership change, the people calling for Beckwith to step down remained unsatisfied. An onslaught of online personal attacks were waged against several members of the Shift board, who did not agree that Beckwith needed to go. Len Necefer, a Native American scholar, the Shift board chairman, and the founder of the NativesOutdoors, an apparel brand, said these online "callouts" only stifle the prospects of a constructive conversation. "This episode showed me the toxic underbelly of what callouts are," he said. "They're incredibly dehumanizing and they strip any ability to have dialogue."
There can be no path forward if we fail to communicate. And there's nothing like personal attacks to stop the conversation (attempts to reach individuals behind the online callouts were declined or ignored). But I understand that positive communication sometimes takes work. I've experienced public shaming on social media myself, and got sucked into the angry rhetoric and name-calling. For that I humbly apologize (and asked for forgiveness both publicly and privately).
Personally, all I've ever wanted is to see more people who look like me enjoy the same opportunities I have had to spend time in the outdoors. And now that it's happening—now that I see so much advocacy and so many vibrant voices where before there were none—I worry about the tone of the conversation. I worry that in order to avoid being drawn into controversies they have no ability to control, industry professionals like Necefer will reconsider their involvement.
"I don't even know if it's worth trying to think of this as a bigger movement or to even be part of it," he said. "I feel like I just have to defend my own at a certain point because if I go outside of my lane, I'm just going to get torched."
Seattle-based activist Frances Lee recognizes the insidious nature of online confrontations in social movements. They write about the harm callouts can cause from their personal experience. They illustrate how even those who stand up against institutions that marginalize minorities can be guilty of perpetrating that same behavior among their own group of supporters.
"Terms like 'oppression,' 'tone policing,' 'emotional labor,' 'diversity,' and 'allyship' are all used in specific ways to draw attention to the plight of 'minoritized' people. Yet their meanings can also be manipulated to attack and exclude," Lee wrote in an essay for Yes magazine.
But even this detour into callout culture can be seen in a positive light. It's like we've reached a critical mass, and have to contend with some of the unfortunate realities of the larger world. But we have a choice in how we deal with them.
"We don't want to do what the oppressor has done, which is often to marginalize a group of people and in different ways to legislate that marginalization, to make it culturally appropriate to marginalize," said Dr. Carolyn Finney, the author of the book Black Faces White Spaces and a nationally recognized expert on environmental justice. "True reconciliation and redemption only come from owning up to our mistakes and asking for accountability and embracing a spirit of forgiveness."
The Path Forward
Despite all that has happened in recent months, activist Teresa Baker insisted that the only course of action toward a brighter future is to share the work of justice, equity, diversity, and inclusion among those with whom we don't always agree. In a recent statement, Baker formally accepted the apology of Camber Outdoors and recommitted herself to working with industry partners toward the creation of a community in which everyone is welcome to participate and be recognized for the cultural value they represent. Perhaps now, as we enter the 2019 Outdoor Retailer Summer Market, she said, we can engage in a constructive dialogue and walk the pathway forward together.
"My purpose is to do this work as a collective," Baker said. "We need Camber Outdoors to help. We need Shift to help. I want these people to understand that they have an obligation not just to this work, but to these outdoor spaces that we claim to care about. If we care about them, really care, we have to keep fighting through our mistakes."
Yes, I've seen much change in the outdoor industry in the last 30 years. But one thing remains constant. The people of our community share an enduring love of the natural world. It's where we all work and play. Despite our differences, we can all agree that the outdoors should be open and available for everyone to enjoy. In our work to get there, we'll make plenty of mistakes. But we should trust each other and have faith that we're all doing the best we can every step of way.
The 4-Step Plan: What Your Company Can Do to Be More Inclusive

1) Make a statement of intent. It's like an internal promise to stay on track. For an example from the Ice Age Trail Alliance, go to bit.ly/statementofinclusion.

2) Get professional help. It's not enough to hire minorities. Invest in diversity training. Nicole Browning from REI says the brand is working on universal inclusion and unconscious-bias training for all coop employees. Start here: The Avarna Group, the Greening Youth Foundation (GYF), and The Center For Diversity & the Environment.

3) Build relationships with diverse communities. Through content sharing, sponsorships, and co-hosting events, engage with Historically Black Colleges and Universities (HBCUs), NAACP, Urban League, 100 Black Men, and outdoor industry affinity groups (see left). "Through our Explore Fund, we've searched for and supported organizations to help remove barriers and create community for nearly ten years," said Eric Raymond of The North Face. "It's a simple idea that's helped us learn and thrive together."

4) Be intentionally inclusive in your marketing strategy. Your marketing needs to represent the individuals you want to reach and reflect the values of their communities. "The most important thing is that our creative partners share our belief in nature and the trail as a unifier," said Strick Walker of Merrell.
Trending on Outside Online